Outdoor Research Alti Mitts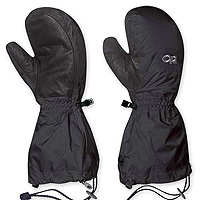 The Outdoor Research Alti Mitts have been updated for 2011/2012 season and are the warmest mitts that Outdoor Research produces. We are talking 8000 metre peaks, expedition-grade warmth here. To achieve this warmth Outdoor Research combined an insulated shell with an insulated inner mitt each with Moonlite Pile fleece palms and 170 g / 5 oz. PrimaLoft One on back of hands and thumbs. To keep the wind and wet at bay the shell includes a Gore-Tex layer which also ensure they breath and prevents your hands from clamming up after hours of wear. The shell has a full leather palm which is the only material I know of that will stand up to wear and tear while still allowing for that tactile sense. On the inside, the removable liner offers more insulation while allowing you to perform more finicky functions without the bulk of the outer shell getting in the way. The Liner is made up of ripstop nylon to shed snow and a leather thumb and finger area to give grip to anything you need to grab. This provides good warmth and versatility for small tasks without exposing your digits to the elements.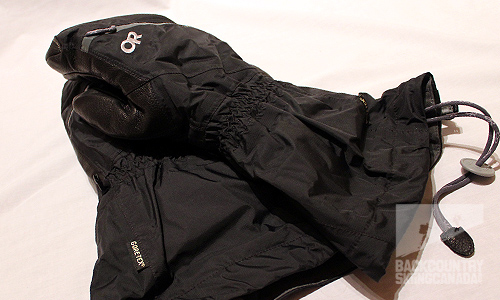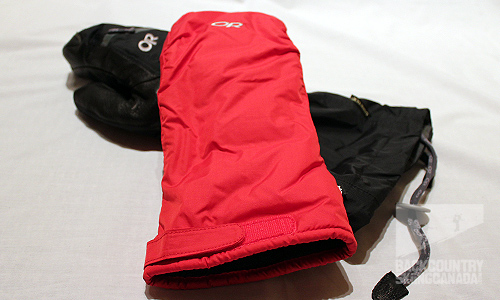 Materials:
The Outer shell is made up of a waterproof/breathable, ripstop Gore-Tex shell with all seams fully taped to ensure no moisture gets in. The shell insulation is PrimaLoft One at 170g on back of hand and thumb, while on the palms Moonlite Pile fleece is used. PrimaLoft One uses a patented micro fibre structure to help your hands retain warmth and conserve energy.The outer shell palm is made of Pittards Armortan leather which is high-quality, durable, water-repellent and offers good grip. The stitching on the leather palm is made of kevlar for increased durability.
The removable Liner shell is made of lightweight ripstop nylon to help it stand up to abrasions. The insulation is again PrimaLoft One at 340g on back of hand and thumb with Moonlite Pile fleece on the palm.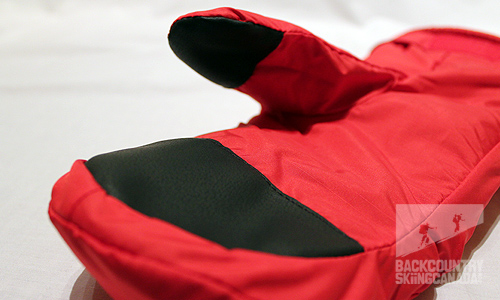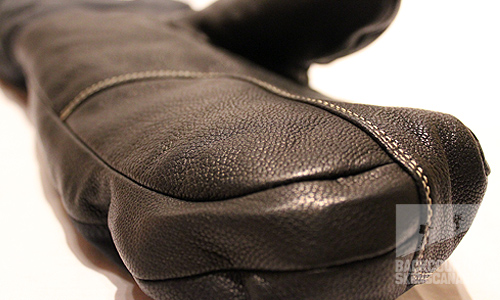 Features:
Pre-curve, boxed construction
Updated thumb crotch construction for enhanced articulation
Carabiner loop on back of hand
SuperCinch™ gauntlet closure
Silicone cuff print to reduce gauntlet slippage
Removable Idiot Cord
Removable Liner: for added warmth and easy drying
ToughTek™ LT tabs keep liner from slipping or bunching
Heat pack pocket on back of hand
Hook/loop anchor points at top and bottom of wrist
Hoop/loop tab adjustment on gauntlet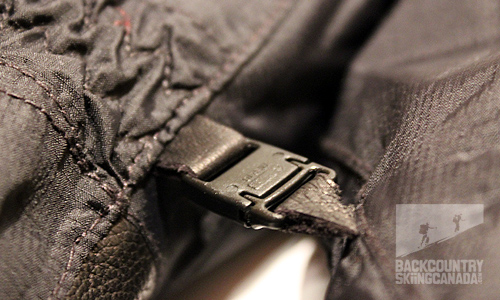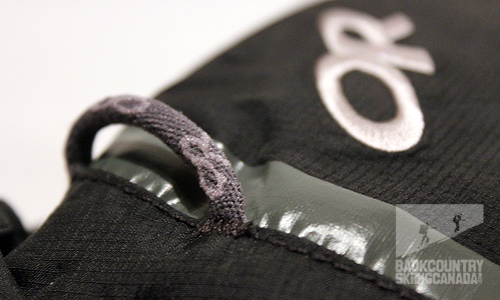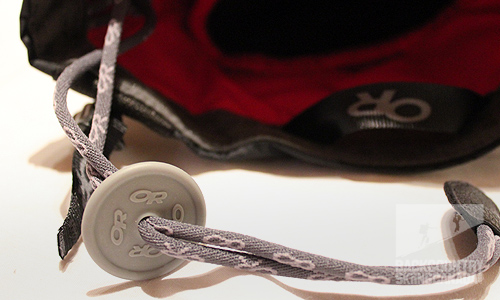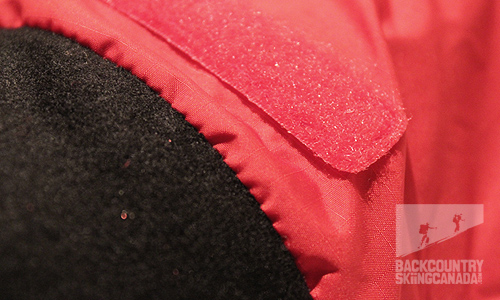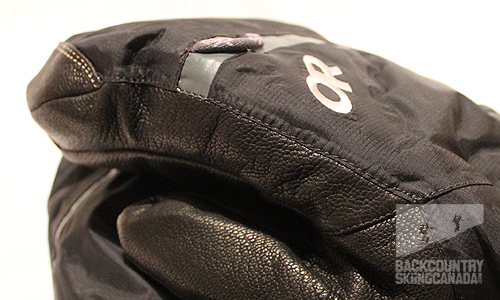 Verdict:
The Kootenay Region of interior British Columbia is not exactly a cold place, however, we do get at least one or two weeks a season where the mercury dips down to a bone shilling -20C. There are also winter trips to the Rockies (a short 8 hour drive away) where the weather is less predictable and always much colder. It is for these times that the Outdoor Research Alti Mitts have come into their element. For day-to-day ski touring these are definitely over-kill unless of course you suffer from Raynaud's, an often debilitating condition where all of the blood supply to your fingers slows to a trickle and they become painfully cold. I know of a number of female ski tourers who are susceptible to this condition and these gloves would be ideal for them.
For overnight and multi-day backcountry skiing trips the outer shell of the Outdoor Research Alti Mitts work extremely well as an over-glove for my lightweight touring gloves, keeping them dry and warm on the way down and at camp. The Outdoor Research Alti Mitts are relatively light given the incredible warmth they provide. Being optimized for warmth the mobility you have while wearing them is compromised, the removable liner provides more reasonable dexterity. If you are looking for even more dexterity then the Outdoor Research Alti Gloves may be more to your liking (for both women and men).
Next to the versatility of the shell and liner combo, my favourite features of the Alti Mitts are the massive cuffs which extend almost to your elbow and allow you to block out any snow that may try and get in. The interior of the cuff is not fleece lined so if snow does come in contact with it a quick shakeout solves the issue. The SuperCinch gauntlet closure further guarantees a complete seal between glove and jacket.
Overall, for the average backcountry skier the Outdoor Research Alti Mitts may be overdoing it for everyday use unless your a little closer to the poles. However, I find them a valuable asset to my safety kit and when it truly feels like hell is freezing over it is nice to know I have an option to keep my digits thawed.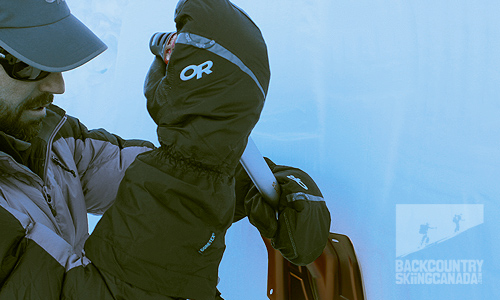 SPECS:
Price: $199 US
Weight: 12.2 oz / 346 g
Colour: Black, Chii
Sizes: S, M, L, XL
PROS:
Warm, super warm. Light and waterproof/breathable with full leather palm to reduce wear and tear. Gore-Tex shell can be worn as an over mitt with light touring glove on the inside.
CONS:
Warmth comes at the cost of dexterity. Not cheap.
Rating: 8.5/10
Fit / Dexterity 1/2
Warmth 2/2
Durability 2/2
Features 2/2
Quality / Price 1.5/2

This is only our opinion. Do you disagree? Did we miss something? Are we totally out to lunch? Join the discussion in the forums here, and let us know what you think. People like/dislike gear for different reasons so chime in and we'll get a well-rounded evaluation. Check back mid-season to see how our review stands up to our in-the-field testing.
Back to the rest of the reviews.