Osprey Ariel 65 Backpack for Women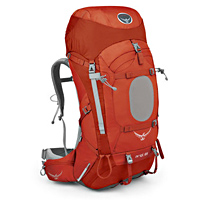 For 2013 Osprey have updated their Aether/Ariel technical backpack series. You may be familiar with the male-specific Aether from Backcountry Skiing Canada's 2011 review and recent 2013 update, both are a relevant read and detail the many features that are common to the Aether and Ariel Series. Chances are you're reading this because you're a gal who loves getting out into the backcountry for skiing, hiking and camping so let's focus on the Ariel, the bright and burly twin sister of the Aether, designed specifically to fit women who like to backpack or mountaineer.
Volume
The Ariel comes in three volumes 75L, 65L and 55L. I previously owned the 75L Osprey Ariel but this time opted for the 65L in an effort to force myself to go more compact and lighter. I've found that if the space is there I will fill it so 65L encourages me to be sensible and forces me to pack strategically for longer trips, I can only aspire to the 55L which would be fine for an overnighter but would leave me short for a five-day hut trip or a multi-week trek.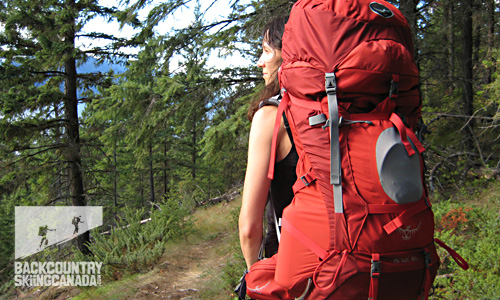 Support
Whichever volume you go for the Ariel is specifically designed to support heavier loads. Osprey make other packs that are lighter-weight but none of them are as stable, robust and comfortable day-after-day when fully loaded for backpacking. There are a number of key features which contribute to the Ariel's ability to carry heavier loads:
Updated for 2013, the Airscape suspension establishes the real structural integrity of the pack. Peripheral metal wire stays (Lightwire) and a centre aluminium alloy stay keep the pack longitudinally rigid, transfer weight to the hips and allow for load transfer as you move all the while supporting your back and shoulders. Airscape ridge molded foam back panel provides additional support and comfort, keeping the air moving so your back can breath. The upgrades can be seen in the comparison below with the pre-2013 design on the left and the updated 2013 on the right.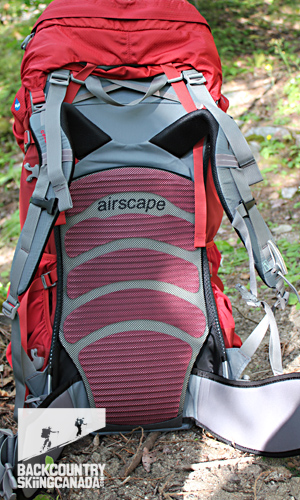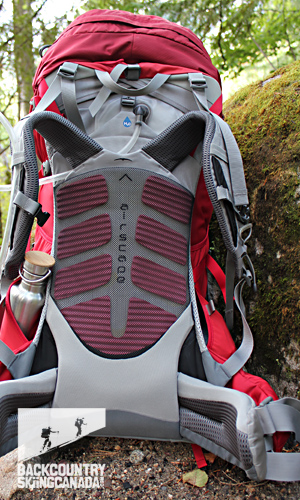 In the above comparison you will also noticed the addition of contoured smooth lumber support for load bearing comfort at the base of the spine in the 2013 model, detail shown below.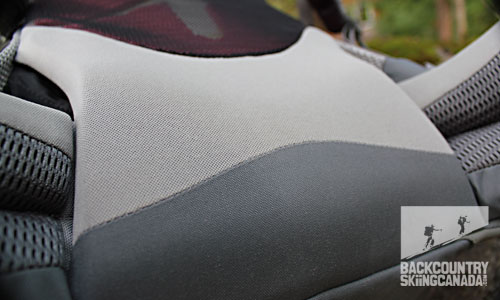 An IsoForm4 CM™ Hipbelt, specifically shaped for women, provides firm anchoring with cushioning at the hips. The IsoForm4 CM™ is also new for 2013 offering better performance and more comfort with heavy loads over previous models. In the above comparison you will notice the 2013 update comes with more articulation and consideration. The hipbelt is designed to mold to your body shape over time and can be instantly molded with Osprey's custom molding system available at many of their retailers (Check out a video on this in the Aether review here).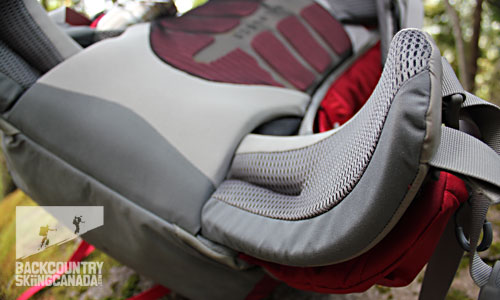 A robust Isoform Harness, also specifically contoured for women, uses spacer mesh fabric to enhance comfort. It's firm enough to hold the weight but cushioned, articulated and rounded off on the sides so it doesn't cut in. You will notice this feels beefer and uses spacer mesh fabric in the 2013 model.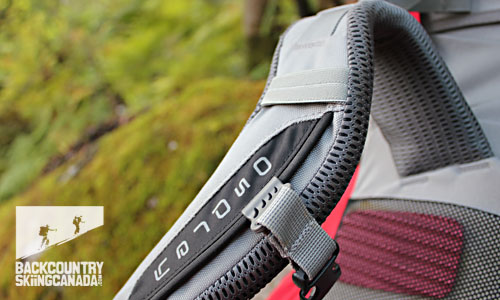 Fit and Adjustment
Osprey have developed an approach to backpacks that attempts to work with wide varieties of body shapes while they are in activity. The Ariel offers different pack sizes/lengths (XS-L) as well as different sized hipbelts which can be interchanged to accommodate unique body proportions.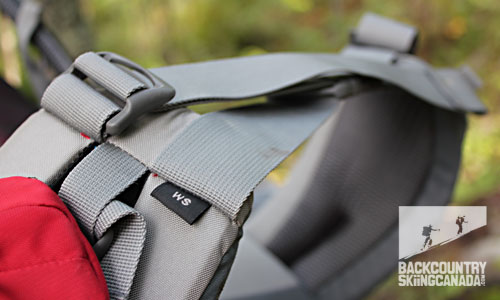 The harness is adjustable via an easily accessed but tight velcro panel allowing for a closer torso fit.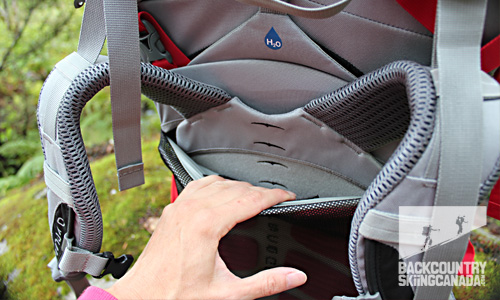 Once the pack is sized correctly Osprey recommend a sequence of adjustments to optimize the Airscape Suspension. Essentially you adjust the suspension to your body and then the pack to the suspension by starting (all straps loose) with cinching the hipbelt first followed by the lower shoulder strap adjusters, then the load lifter straps at the top of your shoulders finishing off with the sternum strap.
Access and storage
Access main compartment by flipping the lid and pulling a cord lock.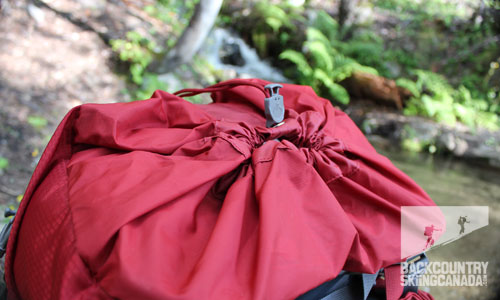 Zippered ample top pocket.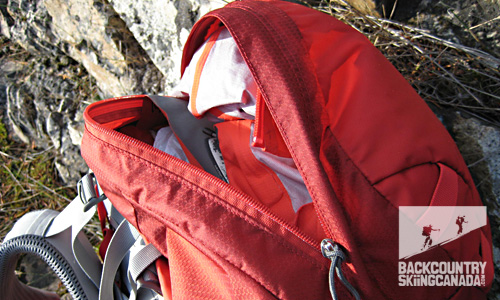 For quick access to gear in main compartment the Ariel features a strong J-zipper on it's front panel.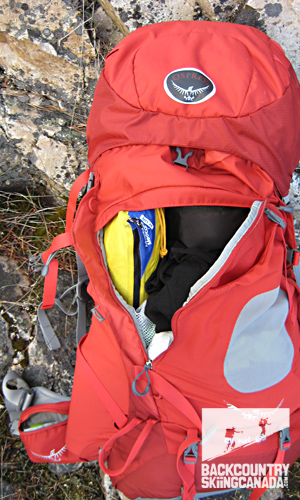 A sleeping bag compartment at the base of the pack includes an internal divider to separate contents.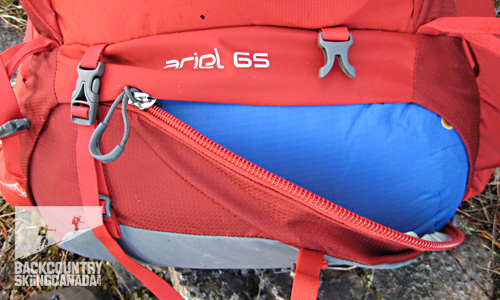 New for 2013, hipbelt pockets provide easy access and secure storage for snacks and devices such as a GPS, headlamp or digital camera.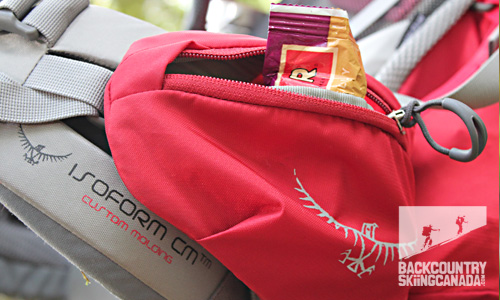 The stow-on-the-go toggle on the harness and loop on the pack allows you to quickly stash you poles as the terrain changes.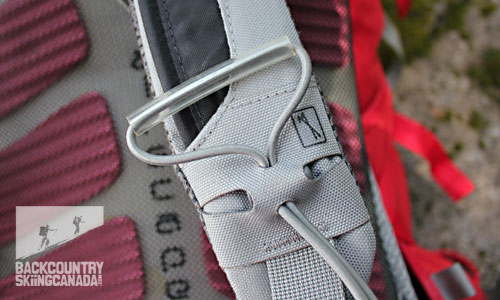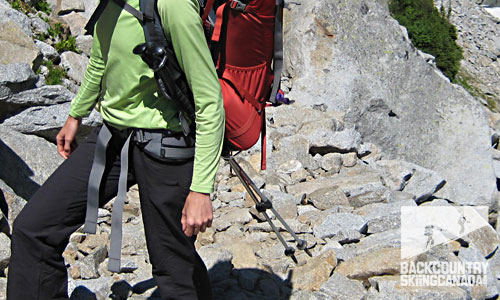 On the front panel is a large stretch mesh front pocket for stashing clothing layers.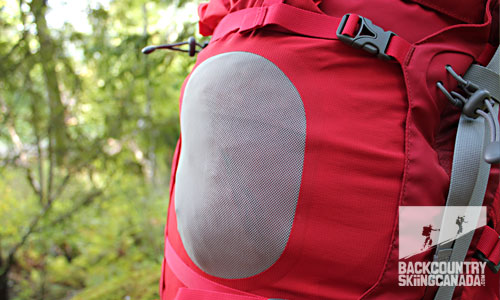 Side pockets feature access from the top or side.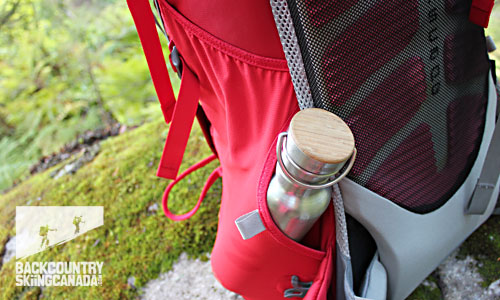 Other Features
New for 2013, the Ariel now features an external hydration sack sleeve in backpanel simplifying refilling and protecting pack contents.

InsideOut™ Compression allows a compression strap on the side stretch woven pocket to be routed externally or internally.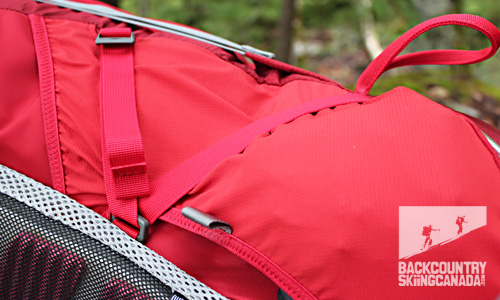 The top pocket quickly converts to a Lumbar Pack with a built-in hipbelt for moving light and fast from camp. This has been refined as part of the 2013 update.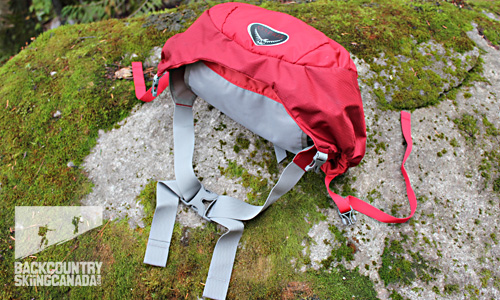 Internal Red Compression Strap compresses loads for added stability.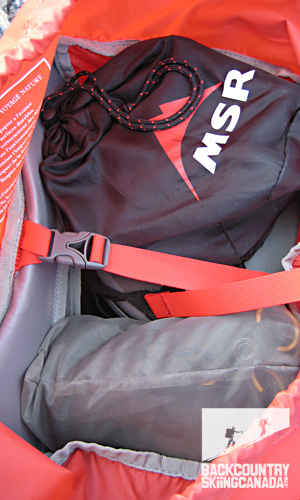 Removable sleeping pad straps.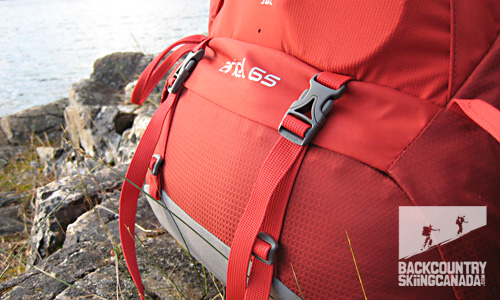 Attach an AddOn™ style pack such as the Daylite daypack or crampon pocket using the built-in cord loops.


Optional Add Ons
Airporter provdes secure backpack travel cover so your pack straps are contained and protected on the baggage conveyors.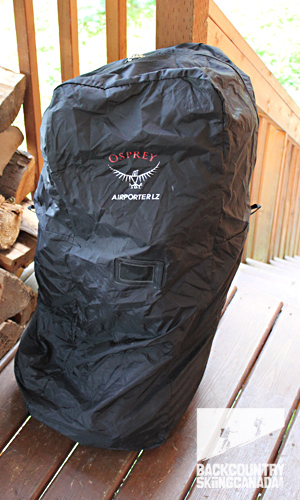 The UL Raincover is lightweight and waterproof so you don't take on water.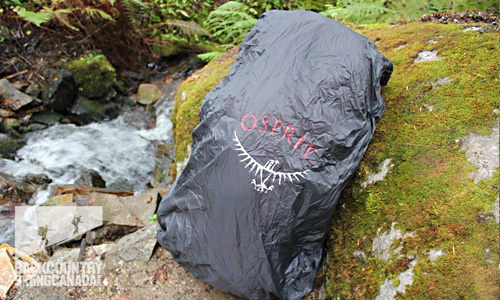 The Daylite is a simple 10 L daypack that can be attached to the exterior of the Ariel if required, shown here at Gokyo Lakes, Nepal.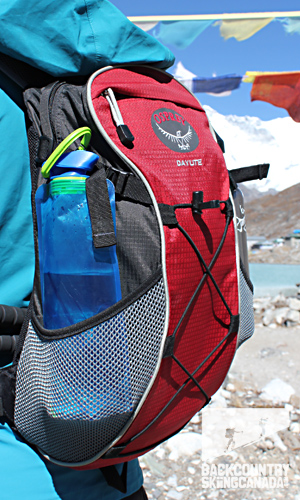 Verdict
I have lost the love for sucking it up and being a martyr when it comes to carrying weight, as I get older I am getting smarter about packing but I am also willing to pay extra for quality technical gear that will give me optimal support and comfort on my way in the mountains. I learned a valuable lesson a few years ago through a comrades misery on the Wapta ski traverse where in an effort to go light he had squeezed all his gear into a smaller pack that wasn't really designed to take weight. Despite his pack being compact, it was a solid nugget of weight and the harness and hip-belt of the compact pack weren't robust enough resulting in shoulder torture from the straps cutting in. An appropriate quality pack—that fits—can make or break a trip.
With the 2013 upgrades Osprey's Ariel backpack easily offers up one of the most supportive backpacks on the market for women and this is something you don't notice until you load 'er up and start walking a few km. This doesn't come as a surprise as designing and manufacturing back packs  is all Osprey have done since 1974—their commitment to making quality packs is evident. In the Ariel, the new Airscape suspension is more refined and keeps the backpack rigid and stable but has a geometry and flex that moves with your body. Ample adjustment is strategically provided so you can respond to your body's needs in different terrain as well as accommodate various load sizes. The new IsoForm4 CM™ moldable hip belt firmly hugs and holds the hips so the pack is more part of your body, I have had hip belts custom molded on previous packs but didn't with this review and found that it performed just as well, likely due to the increased articulation and padding. I actually prefer the idea of the hipbelt molding over time so that it molds with me as I move rather than standing still in store. The 2013 hipbelt is noticably more comfortable than older versions as is the smoother lumbar support, I haven't had tender hips to date.
Other 2013 upgrades that Osprey have made are welcome and innovative. I was longing for hipbelt pockets for snacks or a point and shoot a number of years ago so it's great to see this essential addition. The stretch pocket fabric is lighter-weight than they used to be but appear as durable with a ripstop weave. Moving the hydration sack access to the outside of the pack makes complete practical sense and will work well for most, however, I am not much of a hydration sack user, so I do miss the internal pocket which I previously used for flat items such as maps. New for 2012 was the Stow-On-the-Go attachment which I love and use often for stashing my poles when I don't need them. Likewise the J-zip panel at the front, I don't use it that often but have had to reach in a few times to access a buried item. Converting the brain (top lid) to a Lumbar Pack is handy for bagging peaks on multi-day trips as long as you don't have to carry lots of gear. Would be great if this was an optional add-on and not integrated as it adds unnecessary weight if you never use it. I would prefer this be replaced with a underside pocket. Drop down divider inside the pack makes sense for organising but it can be cumbersome as smaller items can fall below.
I'm not always a fan of up-sells but in this case I would highly recommend the airporter if you plan to fly with your pack frequently. I have also used the Daylight 10L add-on day pack and find it a great size and comfortable, it was my everyday pack on a recent trip to Nepal.
One last note, before you go out and buy one of these beauties, try to get to a store and have one fitted to your size. I would rate fit as the number one priority when you are looking for a pack. This is another bonus of the Ariel, you can order a small hipbelt with a large pack if you are long and narrow or a larger hipbelt with a small torso if you're a petite powerhouse.
SPECS:
Price: $300 CAD
Colour: Vermillion Red, Deep Sea Blue, Summer Wheat Brown (Golden)
Sizes: XS, S, M, L
Weight: 3lb 11oz / 2.13 kg (M)
Capacity: 65L / 3967 cu in (M)
Dimensions: 31 x 13 x 12 in / 80 x 34 x 30 cm
Load capacity: 68lbs or less / 30kg or less
PROS:
Structural integrity of design makes the Ariel highly supportive and comfortable. Women's specific fit which can be fully customized to fit a diverse number of body sizes and shapes. 2013 upgrades including hipbelt pockets, enhanced support and external-access hydration.
CONS:
Lumber pack adds unnecessary weight if you don't use it. Could do with an internal pocket or a top lid underside pocket. Drop down divider inside pack can be cumbersome.
Rating: 9/10
Comfort         2/2
Durability       1.5/2
Features          1.5/2
Innovation        2/2
Quality / Price  2/2

This is only our opinion. Do you disagree? Did we miss something? Are we totally out to lunch? Join the discussion in the forums here, and let us know what you think. People like/dislike gear for different reasons so chime in and we'll get a well-rounded evaluation.
Back to the rest of the reviews.
---