Osprey Kode 42 Backpack
After owning the same ski touring pack for the last four years I questioned whether there was much I was missing from all the new packs that have been released recently. I have watched with interest as brands have built packs that organize gear better, ski better and carry the kinds of loads that backcountry skiers tend to pack in their backpacks. I have witnessed countless models come and go often frustrated that they often don't accommodate the more popular shovels and probes on the market in their dedicated avalanche tool pockets. If you are shopping for a new pack always bring your probe and shovel with you to ensure that they will fit what ever new pack you may be considering. Sometimes this is a detail that pack designers overlook. When it comes to a touring pack organization is key, I like having an area for my shovel and probe separate from everything else and a dry pocket for my skins is always nice as well. Fabrics have to be durable and water resistant as they will often be placed in the snow and brushed up against ski edges, rocks and trees. Saving weight is important but don't sell yourself short, you want your pack to durable and last you a long time.
The Kode 42 Pack from Osprey has a very good layout, fits all my touring gear and has room for extras. I like to take an insulated jacket, spare gloves, basic first aid kit and a big water bottle along with my probe and shovel. If I took this pack on an over night I have found space for a sleeping bag and sleeping mat without a struggle. The back panel of this pack is shaped to fit smoothly to the wearers back and doesn't come down as low as a typical hiking pack. This makes the pack great to ski with because the hip belt doesn't interfere with natural movements. Besides the fit and layout, the features I am really impressed by are the number of pockets, the use of snow shedding durable fabrics throughout, the sliding sternum strap that is easy to adjust, the one handed hip belt adjustments, the easy ski carry system and compression, and the avalanche tools pocket that functions with the gear that people actually use here in the kootenays (3 meter probes and full size shovel blades.)
The dedicated avy tools pocket easily fits a G3 Avitech shovel and G3 320 Tech Probe. Also has a space for a snow saw or snow study kit.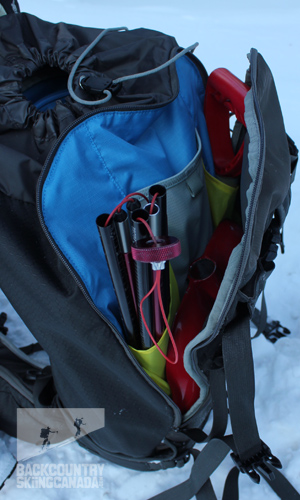 I like how large the back panel opens up, you can really spread it out like suitcase luggage. Drawback is that there are two buckles to undo on the shoulder straps to do this. I found this a bit annoying as it seems like these could be easily designed to go under the straps without limiting access too much.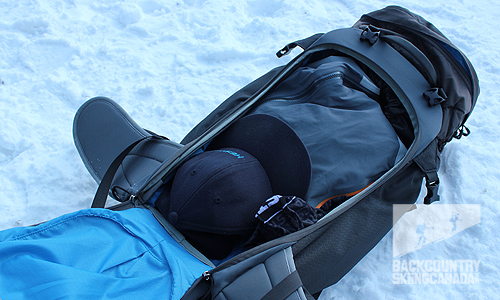 The Osprey Kode 42 is the largest in the Kode series and is definitely the size that I would personally go with. If you are going on smaller day hikes, riding the lifts or doing slack country skiing you might consider the smaller packs in the Kode series or perhaps something even more compact to save weight and bulk. Osprey also produces a line of very compact packs with avalanche tool pockets called the Karve series. I'm sure there is a market for these packs but I would rather not limit my ability to be prepared for the worst by only having 15-20L to play with.
Top Lid has a place for skins with a divider for snacks or goggles.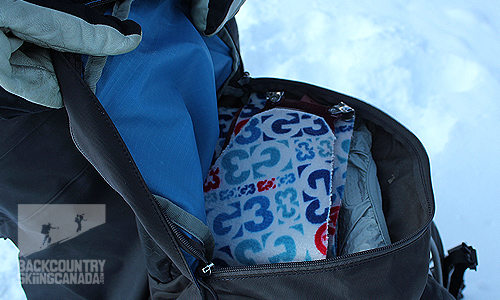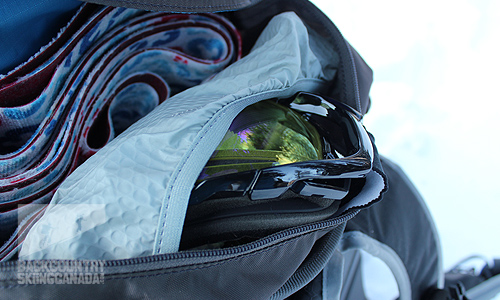 A zippered pocket for a hydration bladder in the back panel that connects to an insulated sleeve in the shoulder strap.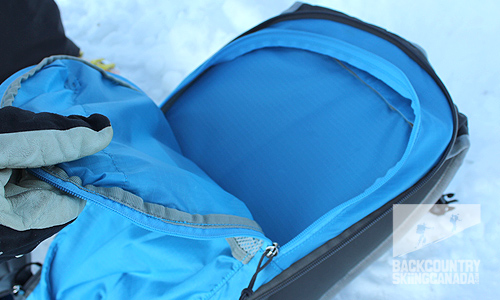 Both sides of the hip belt have nicely sized pockets. Great for snacks, shades or sunscreen. All zipper pulls are looped for easy one handed use with gloves on. Hip belt has a quick release and the webbing is doubled back so you pull to the front of your body, makes things very easy to adjust.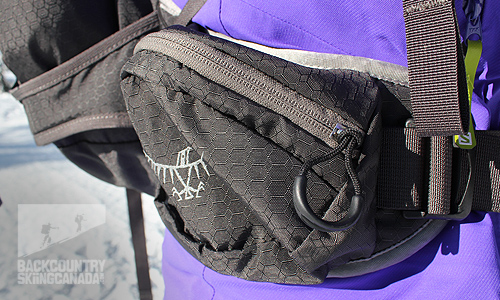 The very top pocket of this pack also works as helmet storage for the walk up. In order to use this feature you sacrifice a pocket but the pack has many more pockets so I'm sure you won't be wishing you had more places to organize things.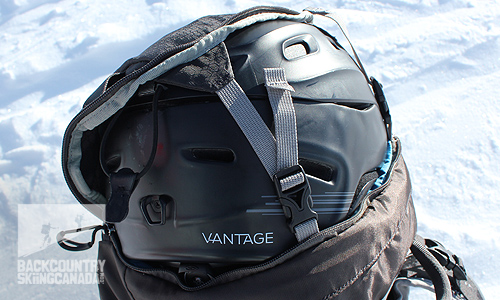 A nice sized mesh pocket with a key chain clip, great for personal effects, cash, cards and the like.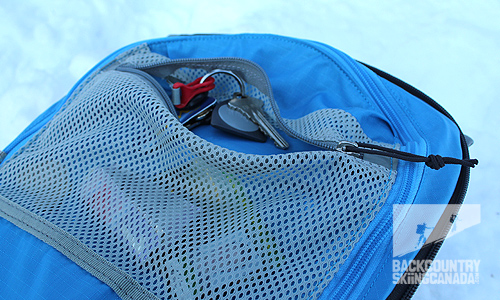 Classic top entry with an easy to use draw cord.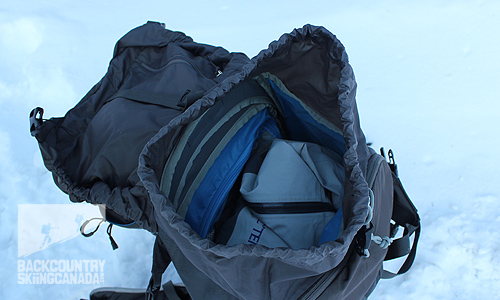 Sternum strap has some stretch to it and is on a easy to adjust slider and the buckle has a built in whistle.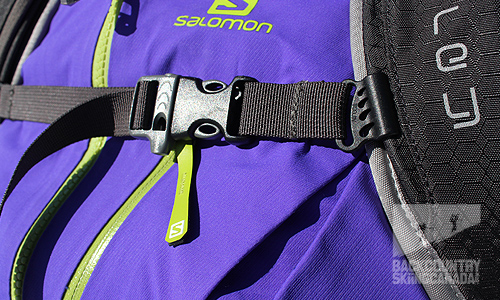 One more pocket under the lid, great for small items like fire starter, headlamp or duct tape. There's also a compression strap under the lid that can be used to secure a jacket.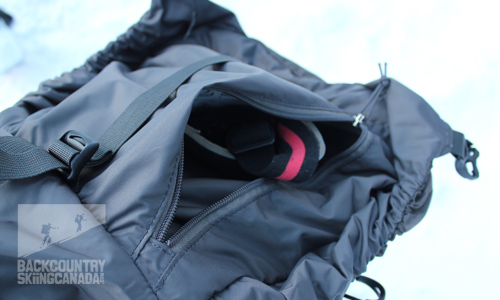 Vertical ski carry works great and fits even very wide skis. The ski pictured is 119mm underfoot! Boot packing with these on my back felt secure and balanced and the straps were very easy to tension. The ski and snow board carry straps form the compression straps so there is not a lot of extra buckles and webbing that can get in the way.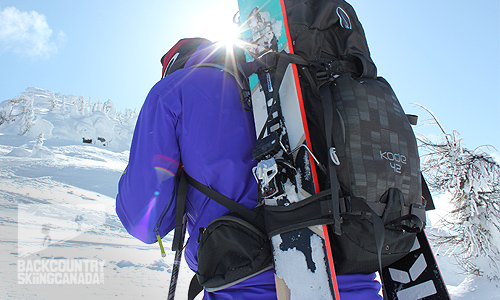 I have been using the Osprey Kode 42 for the last few months touring around Whitewater Ski Resort and I must say that I am impressed with the way this pack fits. I tend to prefer a pack of this size for most days that I go out ski touring, I find packs around 40 litres to be versatile enough that I can own just one winter pack for all my ski touring adventures. Keeping in mind I am a taller person at 6' 2" and the extra bulk and weight doesn't bother me when I am not using all the space and have things compressed nice and compact.
Aesthetically this pack is great. It has clean lines and everything compresses down neat and tidy.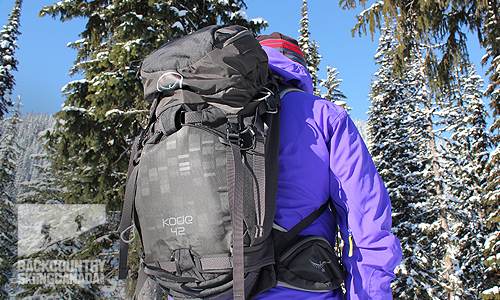 Being that I have only had this pack a short while I can't speak from personal experience to it's overall durability. However, the fabrics look very robust and Osprey has taken a good amount of care to keep weight and toughness in balance. I spoke with a good friend who has the Osprey Kode 32 and she has used it for skiing and travel for the last year and nothing had become worn or broken. Interesting was the fact that the even though this is a ski touring back pack, she commented that it was a great pack for travel as it kept things organized and the way the back panel zipped open makes for a great suit case. She stated plainly that it was the best pack she had ever owned. I hope to update this review next season when I have more miles on my Kode 42 but for now I trust it and expect it to last.
Features:
- Goggle pocket
- Helmet Storage in Lid doubles as a pocket
- Climbing skin pocket
- 2x Hipbelt Pockets
- Ice-ax carry
- Insulated hydration sleeve
- Snowboard Carry
- Vertical Ski Carry
- Diagonal Ski Carry
- Snow kit pocket and shovel handle, probe sleeves (internal)
- Lower reinforced loops for a-frame ski carry
- Abrasion-resistant Pu texture to front panels protect pack from sharp edges
- 2x zippered fabric hipbelt pockets
- Ice tool loop
Verdict:
If you are the type of person who likes to carry lot's of extras when you enter the back country then this is a great pack for you. It has enough space above and beyond just the essentials making it a good choice for extended day trips. It easily fits a compact sleeping pad and sleeping bag along with my avalanche gear so this pack works great for an over night hut trip. Professionals, Guides and Patrol will really like the organization that this pack provides. I would recommend this pack to anyone looking for a slightly larger backcountry ski / snowboard touring pack. The layout really works to keep things organized and most importantly when I have it on my back it feels great.
SPECS:
Price: $190 CAN
Volume: 42L
Colours: Black, Blue Smoke
Sizing: S, M, L
Weight: Aprox. 3lbs 11 oz/ 1.67kg*
*As this pack is not available until Fall 2013 the specs may change. The weight shown is for the L Kode 38, which is 41L and has a lot of the same features.
PROS:
The pack fits great, doesn't interfere with skiing, follows the curve of my back perfectly and is awesome even with the heavier loads I experienced with a steep boot pack with skis on my back. The side straps for skis work great with wide skis and building compression straps integrated with the side carry makes the pack very clean and saves weight. This pack fits my probe and shovel and helps organize the rest of my gear very nicely.
CONS:
You have to undo buckles on the shoulder straps to really open up the back panel properly, I find this a nuisance as I hate dealing with buckles when my hands are cold. The same goes for accessing the avalanche tools pocket, to do it right you need to undo the top buckles that holds the lid down, you can access things without doing this but it's cumbersome. The top lid helmet carrying system eliminates a pocket when in use and since everything is so well organized I don't think there is much opportunity to use this pocket when you have your helmet on your head. Will be testing using this pocket for skins as I rarely need a skin pocket and helmet stash at the same time.
Rating: 9/10
Comfort / Fit 2/2
Features 1.5/2
Durability 2/2
Function 1.5/2
Quality / Price 2/2

This is only our opinion. Do you disagree? Did we miss something? Are we totally out to lunch? Join the discussion in the forums here, and let us know what you think. People like/dislike gear for different reasons so chime in and we'll get a well-rounded evaluation.
Back to the rest of the reviews.
---