Ortovox Kodiak Shovel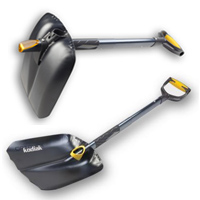 Beacon, Shovel, Probe. These three main ingredients of backcountry skiing have been burned into my skull by teachers, friends and backcountry enthusiasts alike as the bare minimum you should take touring. While looking to select these three products: make no sacrifices. A user friendly, durable and trustworthy, beacon, shovel & probe combo could make the difference between life and death. The Kodiak Shovel by Ortovox has evolved backcountry shovel standards to strong and lightweight, easy to assemble and simple to use. Both unique and trusted features make this product one you will love and trust in the backcountry.
Based out of Germany, Ortovox has been in the mountain safety business for over 30 years and has one of the world's best selling transceivers on the market. They make everything from merino mountain wear to backpacks, and safety products for both professional man and dog, not to mention the MountainSkyver, a compact downhill mountain bike. I work in the snow almost 7 days a week and have had lots of time to use and test the durability of this shovel. It has treated me very well and I consider it one of my best weapons in my arsenal.
The lightweight handle of the Kodiak comes with a crescent/D-shaped, gripped handle which is easy to use with both gloves and mittens. The shaft itself is ergonomically designed for ease of assembly and use. Its oval or egg shape makes it obvious to assemble quickly and resistant to breakage. Once together it is comfortable to hold and move snow effectively. Your back will thank you for using its telescopic feature which lengthens the shaft more then most shovels on the market. The bottom of the shaft is protected by a guard that prevents snow from getting into the hollow cylinder, keeping the locking buttons and telescopic slide safe from the elements. One unique feature of the shaft is the gridded grip tape located above the blade assembly. This was a nice feature initially that gave added grip for your hands, however the grip tape wore off completely within a week of its use. The integrity of the shovel remains high without the grip tape as its performance has not been affected.
The shaft's shape also maintains ample strength for both modes of moving snow: standard and hatchet. Basic backcountry shovels can only be put together in its standard form. However the Kodiak may be assembled into its hatchet mode that allows a large amount of snow to be moved quickly & efficiently. This makes analysis pits less of a chore to dig and fill in, as well as avalanche rescue more effective. In my daily use of this shovel I use both modes equally and I consider the hatchet to be a beneficial advantage to my work.
The blade of the shovel, made of "tempered aluminum", is the perfect size. It is small enough to maintain a low weight, but large enough to move a decent amount of snow. The beveled edges provide a solid base to hold and move snow and rivets on the top give added strength when stomping the blade into the ground. The standard shape with a flat back keeps it in place in your pack, but the feature that sets this shovel apart from most, and my personal favourite feature is the serrated edge that cuts through thick layers of snow and ice with ease. This feature alone has made my job easy with snow removal. Surprisingly the serrated edge has not caused any damage the interior of my pack or its contents.
The yellow Ortovox handle gives added grip for your gloves in all weather.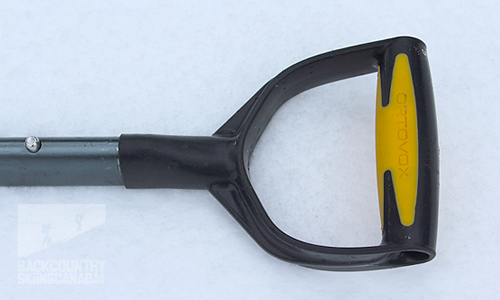 This shovel has taken lots of abuse and still performs at the top of its game.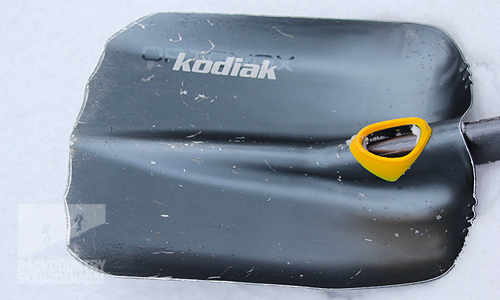 The D or crescent shape is great for all types of gloves.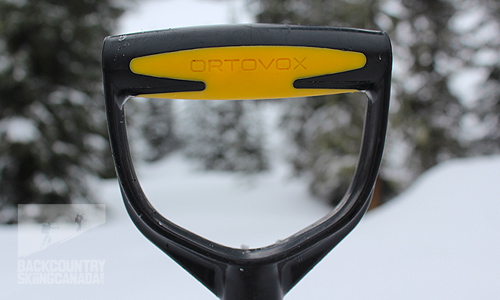 The serrated edge cuts through all types of snow and ice, making snow removal a breeze.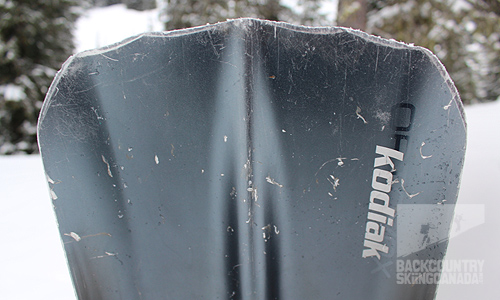 Your back will thank you for using this shovel fully extended.

The rivets on top of the blade give added support while the snow guard on the end of the shaft keeps unwanted snow out.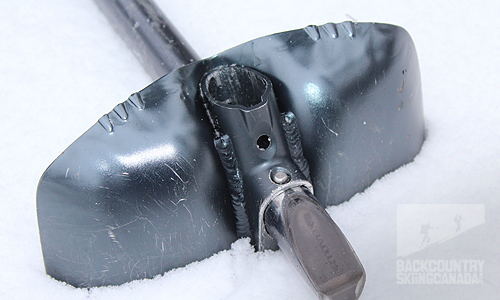 The compact blade makes packing your bag a breeze without sacrificing the shovels efficiency.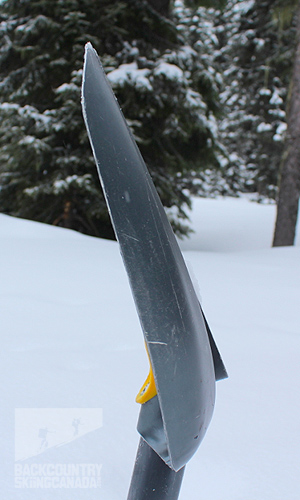 Hatchet, scoop or hoe mode makes moving snow too easy.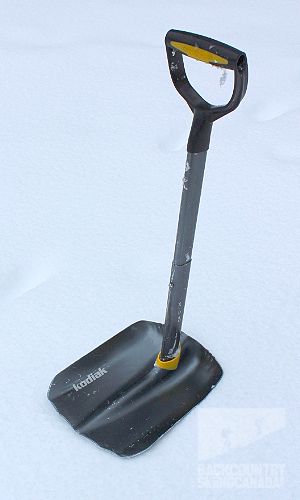 Features:
- Cresent/D-shaped handle
- Telescopic Shaft
- Shaft Grip
- Serrated Blade
- Rivits
- Hatchet Mode
Verdict:
This shovel has taken much damage from my use over the past few months and it still functions as well as the day I got it. Being lightweight and durable is what any backcountry user looks for in their products, and is why this shovel would please the most avid, hardcore, backcountry skiers. The loss of grip tape on the shaft doesn't affect the shovels performance, so no big loss. Having 2 methods of use makes this shovel more versatile and one of the best on the market.
SPECS:
Price: $90 CAD
Weight: 770 g / 1lb 11.8oz
Shovel Length 49-88 cm / 2ft 8in
Blade Size: 30 x 23 x 6 cm / 11 x 8.5 x 2.5in
Colours: Black & Yellow or Blue & White
PROS:
Durable & Lightweight, Hatchet Mode, Serrated Blade, long & comfortable shaft.
CONS:
Grip tape on the shaft wears off. No holes to use as a dead man anchor.
Rating: 9/10
Ease of Use 2/2
Technology 2/2
Features 1.5/2
Weight 1.5/2
Quality / Price 2/2

This is only our opinion. Do you disagree? Did we miss something? Are we totally out to lunch? Join the discussion in the forums here, and let us know what you think. People like/dislike gear for different reasons so chime in and we'll get a well-rounded evaluation.
Back to the rest of the reviews.
---