Oakley Style Switch and News Flash Sunglasses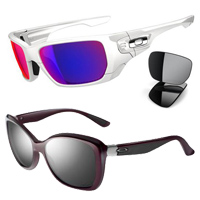 Oakley definitely has a style all its own. Whether you're hanging in your muscle car near Venice Beach or lounging on a cigarette boat in the middle of Lake Skaha, you can spot a pair of Oakley sunglasses from a mile away. Big, bold, brash – their tag line should read "When they're on your face, they're in their face." It's hard to believe that a brand with such audacious offerings as the "Flak jacket" and "Batwolf" had a humble beginning in the garage of Californian Jim Jannard 38 years ago. (He named the brand after his English Setter.) Jannard invested $300 of his own money to start the company and, interestingly, $300 will be just enough to buy you a pair of the Style Switch sunglasses that I'll be reviewing in this article. Oakley also sent along a pair of the women's polarized News Flash sunglasses, which a fellow reviewer took on. (Hey, I wasn't about to walk around town with women's sunglasses on.)
Oakley Inc. is based in Foothill Ranch, California, and is a multi-billion-dollar company owned by Italian group Luxottica, which also owns such brands as Ray-ban and Vogue. Aside from sunglasses, Oakley also manufactures goggles, watches, backpacks, shoes and clothing and currently owns more than 600 patents for eyewear, materials and performance gear. One such patent is the "Switchlock" interchangeable lens technology, which you'll find in the Style Switch glasses: it allows the user to open the frame to swap different coloured lenses so as to avoid lugging three pairs of sunglasses around. Other patents, trademarks and copyrights include Oakley's "Plutonite" lenses, "Polaric Ellipsoid" geometry and "O Matter" frame material, all of which will be explained in more detail below.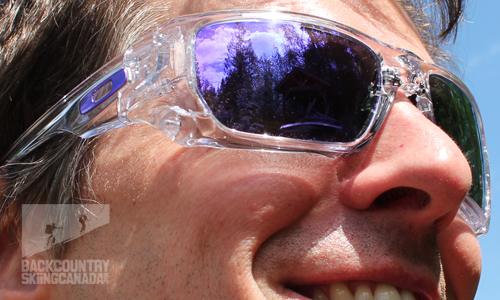 Features of the Oakley Style Switch Sunglasses:
- Switchlock interchangeable lens technology
- Three-Point Fit that holds lenses in precise alignment
- Durable and lightweight O Matter frame material
- HD polarized lenses that minimize glare
- Iridium lens coating
- Dual lens polaric ellipsoid geometry (two lenses cut from single toric shield)
- Impact resistance meets or exceeds Z80.3 optical and basic impact standards
- Ultra violet protection of Plutonite lens material that filters out 100% of UVA/UVB/UVC & harmful blue light up to 400 nm
-Available with Oakley prescription lenses
The full frontal glamour shot.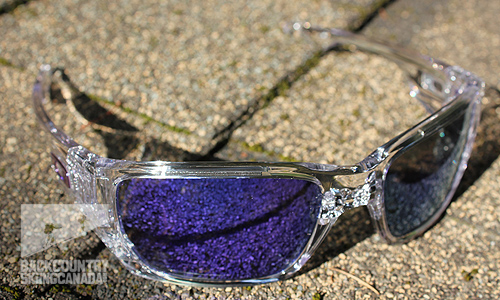 The following images illustrate how to switch out the lenses.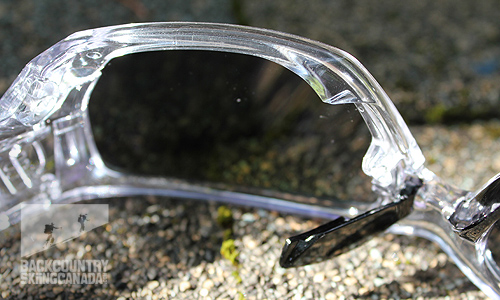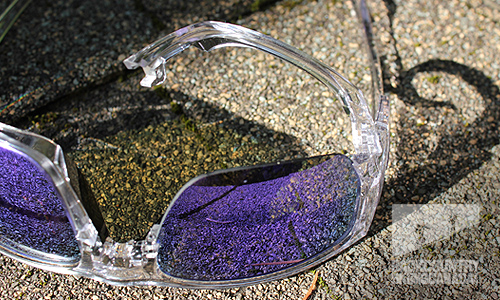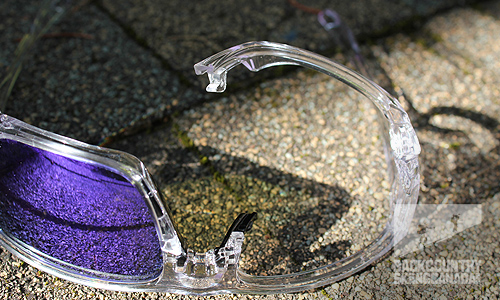 And finally the case, or lack of it.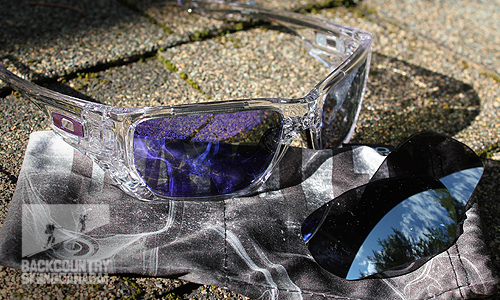 ---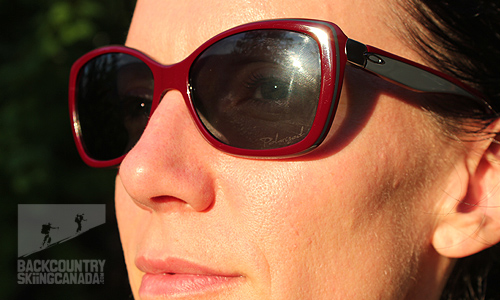 Features of the Oakley Polarized News Flash Sunglasses:
- Handmade acetate frame in multilayer design
- Unobtainium pads on inner facing of earstems for a secure fit
- Detailed hinges with metal icons
- Protection that meets or exceeds ANSI Z80.3 optical and basic impact standards
- Plutonite lens material that filters out 100% of all UVA, UVB, UVC and harmful blue light up to 400nm
- Minimized glare via HDPolarized optics technology
- Available with Oakley Authentic Prescription Lenses
- Exclusive women's eyewear case included
Some glamour shots of the News Flash Sunglasses.
>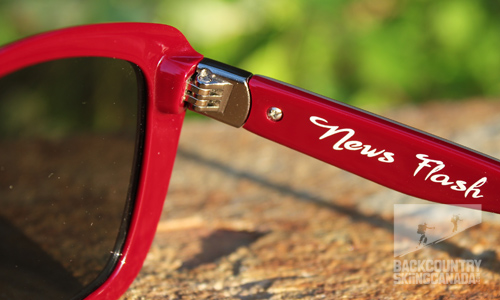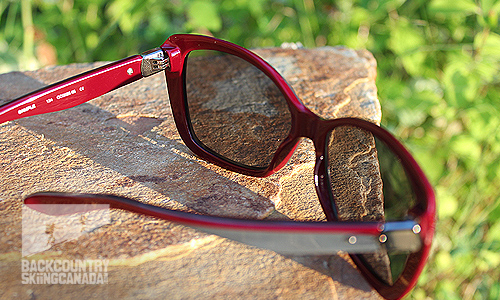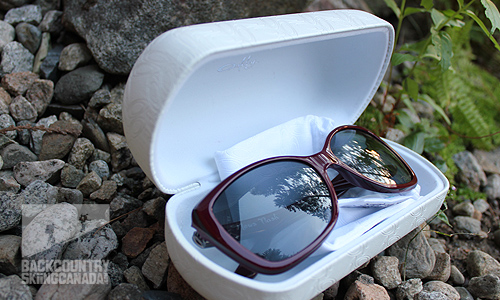 Verdict:
Around the same time I was sent the Oakleys, I also received another brand of sunglasses with an interchangeable lens system that used magnets. It allowed me to compare the mechanics of each: one involved easily popping out the lenses and reattaching another set using the magnets; and the Oakleys involved unsnapping and swiveling open the nose piece, pivoting the lower bar of the frame outwards on its hinge and sliding out the lens. Including the hinges on the arms, there are exactly six moving parts on the Oakley Style Switch sunglasses, which concerns me. Each hinge is made of plastic and I can't help but wonder how long it would take before I snapped them, especially when the lower bar is open and the frame is especially vulnerable. Granted, this may never happen but, personally, I've done worse to beefier frames. That said, it is great to be able to swap out lenses in a frame, no matter how involved the system may be, and the Style Switch come with two different sets of lenses.
The lenses are where Oakley really shines. According to the company literature, the "High Definition Optics (HDO®) can give you unrivalled clarity. Each lens set is cut from a single toric shield to achieve the look of a continuous contour, and Polaric Ellipsoid™ geometry maintains true vision at every angle of view." In other words (and using non-trademarked language) the lenses are extremely clear, especially the polarized ones. This could have something to do with the fact the interchangeable lenses are seated securely into the frame, rather than just affixed to it. Again, according to Oakley, "With conventional interchangeable lens designs, uneven pressure can distort the lens shape, sending light rays in directions that diminish your vision. Not so with Switchlock Technology…Made of Plutonite to filter out every eye-chafing ray of UV, the lenses are available in a full spectrum of options." Whatever the reason, it's obvious to the wearer that the lenses in the Style Switch are extremely crisp and clear. Especially the polarized ones which "beat down 99% of reflected glare with premium filtering while Iridium® coatings balance light transmission and reduce glare even more."
The one other thing I like about Oakley's Style Switch sunglasses is they are perfectly sized to my face. Traditionally I've had difficulty finding sunglasses that fit because my face is relatively small but my nose isn't – it's long and slopes down from the middle of my forehead. It wasn't until I wore the glasses and then read the literature that I realized these were specifically designed for me: "We made this lifestyle design for medium-size faces, so if most frames feel too big or too small, you just found the perfect fit." Indeed.
As you can tell from the communication snippets above, Oakley's marketing strategy is as audacious as its designs. If you like being seen while you see clearly, pick up a pair of the Style Switches. Be warned, however: at $275 a pop, these are more of a Rolex for your face than a Timex. My one final critique of the glasses: what's with the flimsy bag that was sent with them, Oakley? Frankly, if I'm going to pay $275 for a pair of sunglasses I'd like to protect my investment with a hard case.
As for the pair of women's Polarized News Flash Sunglasses that was sent, here is what that reviewer had to say about them: Why did I choose these glasses? I was inspired by a trip down to Arapahoe Basin, where the main lodge is full of historical photos and news articles. Early photos from the '40s and '50s showed women like Edna Dercum hiking the resort area while it was still being surveyed and developed. These women were pioneers in their time, and yet, they didn't lose composure, there was something poised and distinctly feminine in the clothes they wore and the way they held themselves. Is there not anything sexier than a women who is comfortable being a women whilst still getting out and holding her own up in the mountains? I am tired of being one of the boys; here's to being the gorgeous woman I am while backcountry skiing. Will the News Flash sunglasses help with that? Well, they're only an accessory, so for now I'll hold on to the reminder they give me of those classy mountain ladies from the '40s and '50s. The one downside about the sunglasses is their design allows light to enter through the sides so they're not ideal for long extended trips on snow but they're fine for a daytime jaunt.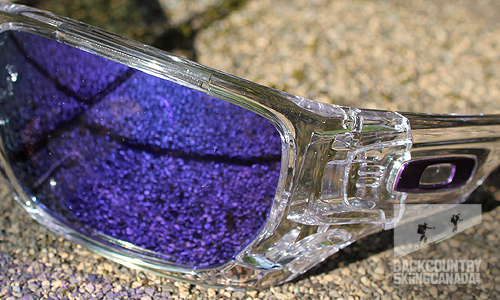 Oakley Style Switch Sunglasses
SPECS:
Price: US$275
Colours: Crystal Black/Black Iridium Polarized & Chrome Iridium; Matte Dark Grey/Grey Polarized & Fire Iridium; Polished White/Positive Red Iridium Polarized & Black Iridium
PROS:
They are a medium-sized frame that fits my face; it comes with two pairs of lenses and they are super clear (especially the polarized ones).
CONS:
Their design is audacious; The interchange system requires many moving parts and I worry that the six plastic hinges on the glasses could break; they're expensive at US$275 and they only have a one year warranty and not a lifetime warranty like other manufacturers.
Rating: 6/10
Innovation 1/2
Function 1/2
Aesthetics / Fit 1/2
Features 2/2
Quality / Price 1/2
---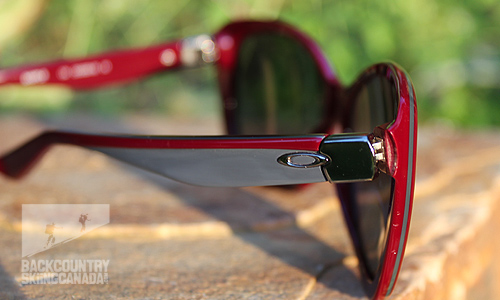 Oakley Polarized News Flash Sunglasses
SPECS:
Price: US$240
Colours: Black Shadow/Bronze Polarized; Pomegranate/Grey Polarized
PROS:
The handmade acetate frame is sturdy and lightweight; the shape of the frame is comfortable on my face, (I haven't experienced any aches from the frame design); the lenses have superb clarity; and I like the cat-eye feminine design.
CONS:
The design allows light to enter through the sides so they're not ideal for long extended trips on snow and they only have a one year warranty and not lifetime like other manufacturers.
Rating: 7.5/10
Fit / Comfort 1.5/2
Vision 1.5/2
Features 1.5/2
Quality 2/2
Price 1/2

This is only our opinion. Do you disagree? Did we miss something? Are we totally out to lunch? Join the discussion in the forums here, and let us know what you think. People like/dislike gear for different reasons so chime in and we'll get a well-rounded evaluation.
Back to the rest of the reviews.
---