Nonetheless Garments Polartec Neoshell Heavy Jean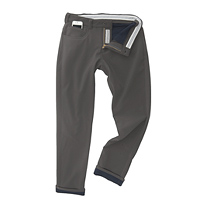 Designed as a hybrid pant for style-savvy urban commuters, the Nonetheless Garments Polartec® NeoShell Heavy Jean is ideal for cycling the mean streets in cold weather, stopping in at the pub on the way home, and everything in between. They are so brilliantly conceived and well-crafted that their functionality far exceeds their original purpose.
But before we get into the pant's Bauhausian alchemy of form and function, a little about Nonetheless. Conceived by founder Jonathan Shaun after a conversation with a friend at a Burton Snowboarding event in 2009, and launched that same year, Nonetheless is a small Chicago clothing company that holds rigorously to its twin ideals of quality and sustainability. The impressive result is a small line of beautifully crafted urban warrior clothes that use the best of what outdoor clothing technology can offer, all the while incorporating zero-waste and cradle-to-cradle production methods. And yet, this combination is not at all 'goody-two-shoes'…it's more 'no compromise'.
I came by these pants at the tail end of the x-country ski season and felt the immediate lift that the right piece of gear/clothing can provide. I've since come to rely on them for skiing, alpine hiking, spring gardening, cold-weather camping and chillier nights of stargazing on the deck. With the Polartec® NeoShell, Nonetheless Garments has manufactured the ultimate 3-season pant—super stylish and functional.
The pants have a number of key features that had me thanking the designers out loud.
First of all, the internal front pockets are decadently deep. At different times, they've held ski gloves, garden trowels & seed packets, my phone and keys, and cold hands needing a warm up. The depth and design also guard against loss…nothing's falling out of these pockets. Back trouser-style pockets are simple and perfectly sized for phone and wallet.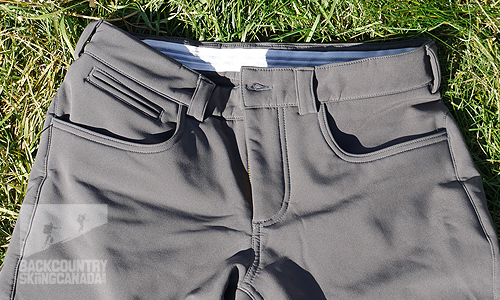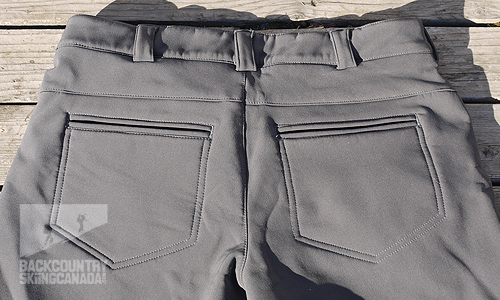 The fifth pocket seen below may be a little small for today's smartphones but it's big enough to hold you "debauchery" as Nonetheless claims on its website.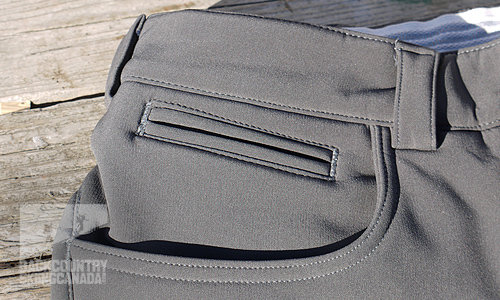 The unique Gull Wing gusseted crotch allowed for maximum range of motion, as good for crawling over a boulder as it is for crouching over a bike or garden bed. Here is a pic of the full pant at rest, from the rear.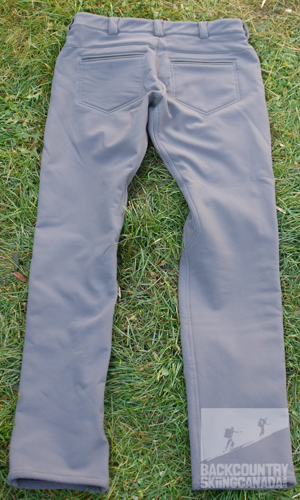 And then there's the lining and breathability. I'm a person who heats up almost instantly when I exercise, and then turn a nice pre-hypothermic blue the second I stop. It can make it hard to get dressed for a day that holds an outdoor/indoor combo platter. Thankfully, the lining provides an immediate layer of warmth and comfort, without feeling bulky or stifling. The Polartec® NeoShell fabric technology allows for excellent 2-way air exchange that I haven't experienced before in any other weatherproof pant. The combination allows for excellent warmth and cooling, hence the exciting bike/bar option. This jean is the heaviest of Nonetheless Garments offerings and is listed as a good option for cold-weather commuting in the literature. Take a look at the fleece lining as pictured below and it'll all make sense.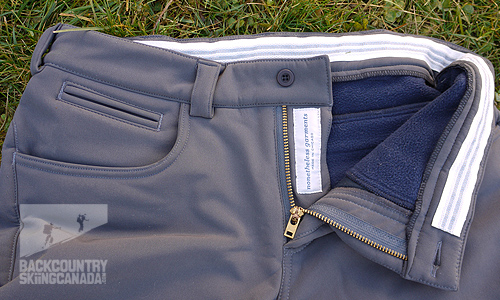 The jeans have a nice slim cut in general, with 7" anti-sprocket leg openings, balanced with lots of stretch (thanks to the 4 way stretch of the NeoShell) and slightly more generous cut in the thighs. All in all, it's a tailored yet flexible pant and works well for different builds. In fact, both my partner and I wear them, and there's not too much that's similar about us.
The waistband is fitted with a thin rubbery Purpose Aggressive Gripper that keeps the pants comfortably in place (see pic above). No riding up, no slipping down. Combined with the stretchiness of the pant itself, this feature is what makes the pant work so well for so many.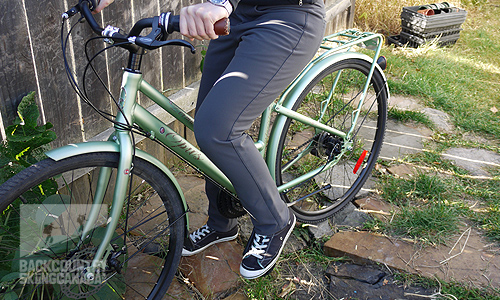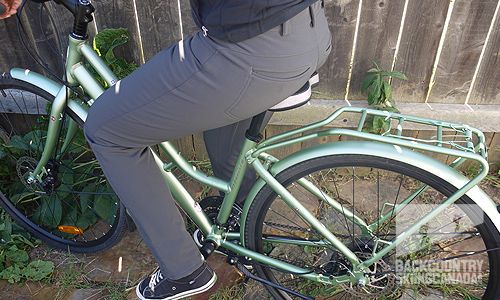 Verdict:
I love the small design-house care that's obviously gone into Nonetheless clothing line. (They have a few other similarly superior pants and shirts.) They clearly set out to actually fill a need according to their own exacting standards. And they nailed it. The NeoShell Heavy Jeans are stylish in a quirky, double-take way. They are also remarkably functional as a cold-weather-proof pant.
SPECS:
Price: $258.00
Colour: Gray with blue Kush lining.
Size: 30/32, 32/32, 34/33, 36/34
Material: Polartec ® NeoShell
Weight: Heavyweight. Cold climate pants.
PROS:
- Simple, timeless functional design
- Useful in town and out.
- Indoor/outdoor crossover
- Designed for a man, works for a woman too.
- Exellent breathability and flexibility.
CONS:
- Price is definitely an issue. Not mountain hillbilly-friendly
- Sizes and colour limited.
RATING: 9/10
Innovation 2/2
Function 2/2
Aesthetics 2/2
Features 2/2
Quality / Price 1/2

This is only our opinion. Do you disagree? Did we miss something? Are we totally out to lunch? Join the discussion in the forums here, and let us know what you think. People like/dislike gear for different reasons so chime in and we'll get a well-rounded evaluation.
Back to the rest of the reviews.
---