Native Eyewear Boomer and Kicker Goggles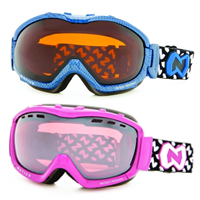 The Native Eyewear's Boomer and Kicker Goggles have been framing some of my turns this ski season. Native Goggles were new for us so we were keen to check em out and see how adapted they were too backcountry skiing. You may already be familiar with Native sunglasses that we reveiwed earlier this year, most of which come with interchangeable lenses and are specifically designed for outdoor pursuits.
It seems Native pays a lot of attention to the fact that you are not always going to be outside in the same light conditions. They package all of their goggles with two lenses, their SportFlex™ Lens (VLT 60%) for low light conditions (pictured below)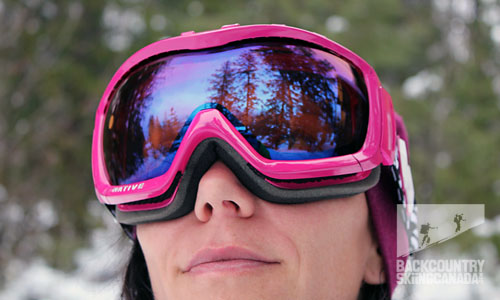 and their Chrome Reflex polarised lens (VLT 35%) (pictured below)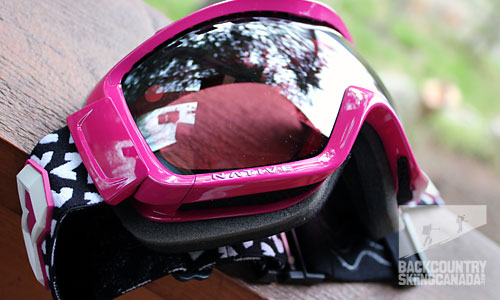 or their Amber polarised lens (VLT 25%) for brighter days. VLT stands for Visual Light Transmittance is the amount of visible light that can pass through the lenses. To accommodate the changing of these lenses in the boomer and Kicker models, Native have developed their GLIDE-LOK system where the top of the goggle frame can hinge open allowing you to easily slide the lens in and out. The goggle comes with instructions on how to do this and Native also has a quick video demonstrating how to do this on their website.
Back to the lenses ... Each lens comes with a permanently adhered anti-fog treatment on the inner lens with a scratch-resistant coating applied to the outer lens. The polarized lenses are optical quality and impact resistant (polarization will basically increase depth perception and contrast resulting in a clearer picture). All Native lenses block 100% UV A & B rays (the harmful ones). And in case you were wondering, the spherical shape of the lens is designed to optimize field of vision. Here's the interesting thing—one lens is actually created from two single lenses bonded together like your double glazed windows to form a barrier that helps avoid fogging. To further assist in fog reduction Native have designed the lenses to vent from the back to the front, kind of like a wicking system, I was wondering if the dot on the top right corner of the lens had something to do with this.
The anti-fog measures continue into the frames of both models with strategically placed vents to encourage airflow. These are filtered with high permeability mesh to keep the snow out.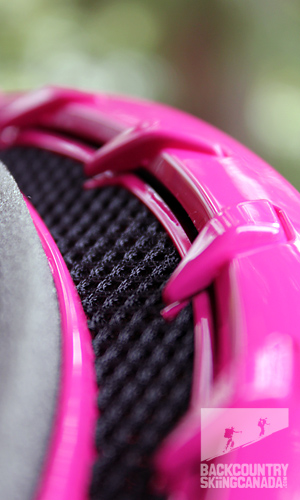 The frames are finished with what Native calls their "Triple-Layer Contoured Face Foam" basically designed to form to your face with an outer layer designed to wick moisture.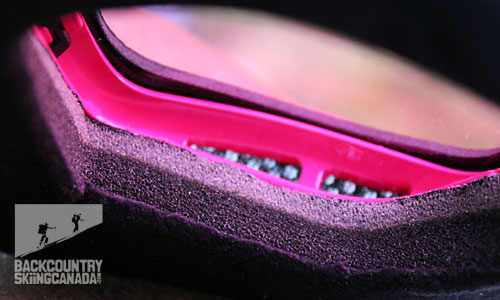 A unique feature of the Native Boomer and Kicker goggles are the Helmet Strap Extender and Adjuster Buckle. Basically allowing you to add a length to the goggle strap without having to mess around with the strap adjusters.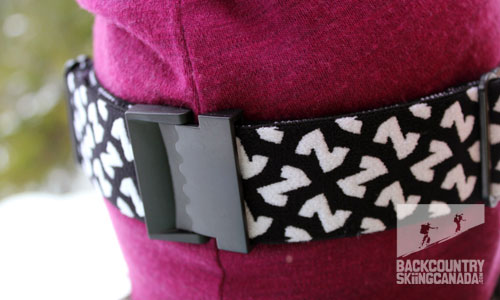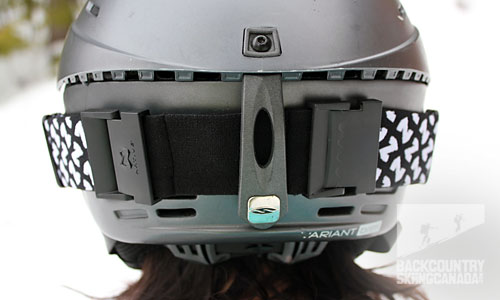 Verdict
If you are on the market for a well designed, highly practical, decent quality goggle at a good price it's hard to go past Native Eyewear's Boomer and Kicker Goggles. With the two lenses they are serious bang for your buck. Competitors usually charge for additional lenses starting at approx $40 a lens so you do the math. In our local we really do need two lenses, the depths of winters are overcast and low-light and the SportFlex Lens has been ideal for this. I am yet to switch it out for more than a day as spring is still more than a month away but on the odd clear sky day when I did test the Chrome reflex they kept me from squinting. Aside from the lenses my fav feature is the Helmet Strap Extender. It's a neat feature for ski touring where the switch between toque (beanie) and helmet can be a regular occurrence. A word of advice, try these goggles on with your helmet to ensure compatibility before you purchase, I am in the Smith Varient and they do work but they are not a seamless fit (the helmet pushes the goggles down if I hit a bump hard).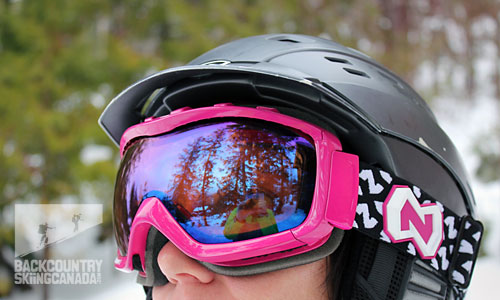 The quality of the goggles is spot on everywhere except for the foam on the inside, it looks a little on the flimsier side (as it can on most goggles). The design itself is not revolutionary (in comparison to the frameless styles coming out these days) but these win bonus points in the rating for coming with two quality lenses.
SPECS:
Price: $139/$149USD
Weight: 0.7oz / 20g
Size/Fit: Small - Large (Boomer), Medium - Xlarge (Kicker)
Colours: Charcoal/Gunmetal Fuse, Asphalt/Iron Fuse, Blue Carbon Fiber, Carbon Fiber/Asphalt Fuse, Red Carbon Fiber / Asphalt Fuse, Iron, Platinum/Iron Fuse, Snow, Pink
PROS:
Two lenses for the price of one which makes them suited to variable light conditions. Helmet Strap Extender.
CONS:
Make sure it's compatible with your helmet. The inside foam looks like it could wear easily over time. Dot on the lenses can be disctracting in your field of vision.
Rating: 7.5/10
Comfort / Fit 1.5/2
Features 1.5/2
Function 1/2
Quality 1.5/2
Price 2/2

This is only our opinion. Do you disagree? Did we miss something? Are we totally out to lunch? Join the discussion in the forums here, and let us know what you think. People like/dislike gear for different reasons so chime in and we'll get a well-rounded evaluation.
Back to the rest of the reviews.
---