Native Eyewear Bolder and Trango Sunglasses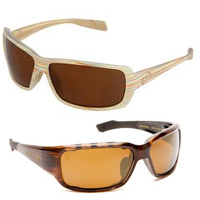 I spent this summer viewing the world through a pair of Native eyewear sunglasses and am keen to try them backcountry skiing this winter. Native eyewear, out of Denver, Colorado, design glasses for adventure and mountain sports. Their sunglasses are feature-packed and most come with interchangeable lenses so they are adaptable to diverse conditions. Of interest is that many of Native's sunglasses with interchangeable lenses are as fashion style as they are sports style, something that no other manufacturers have been really offering until now.
Here at Backcountry Skiing Canada we tried out two styles of Native sunglasses:
the Bolder, a solid classic ...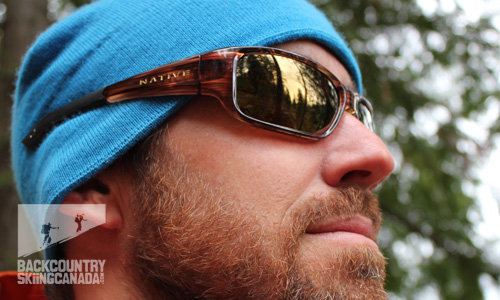 and the Trango, part of Natives innovative N3 Series™.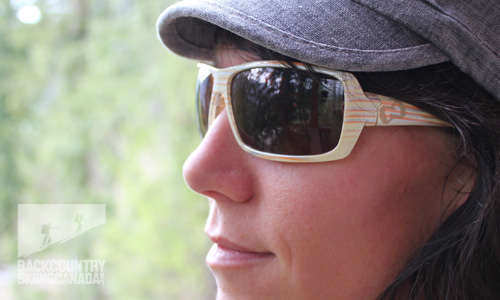 N3 Lens Technology™
N3™ lens technology is touted as the most innovative and advanced polarized lens on the market, the lenses are designed to be highly impact resistant. The technology includes Infrared reduction four times other glasses on the market, as well as UV protection up to 400nm and are precisely engineered to filter the blue light and minimize haze resulting in greater clarity, color and contrast.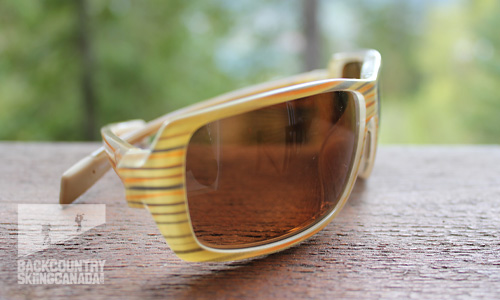 ⁃ Co-injection molded frames—seamlessly incorporate softer grippy molding right into the plastic, so that the frame sits more comfortably against your skin and is less likely to slip in wetter conditions.

Other Native Sunglass Features
⁃ Venting—keeps lenses fog-free during high-output activities. Some models come with strategically place side and hybrid vents which allow for maximum ventilation while blocking extraneous incoming light.
⁃ Mastoid Temple Grip—ensures the ends of the glass arms hug the mastoid bone behind the ear comfortably and securely
⁃ Anti-Ocular Intrusion system—designed to prevent lenses from shooting toward the eyes in the event of an impact.
⁃ Rhyno-Tuff™ Air Frames—propriety high-performance thermoplastic material that is ultra-lightweight and durable.
⁃ Cushionol Nose Pads and Temple Boots—non-slip grips that enhance comfort.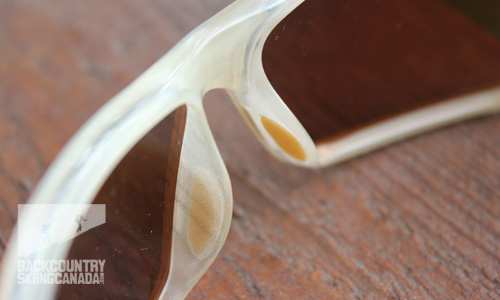 ⁃ Cam-Action Hinges at the temples.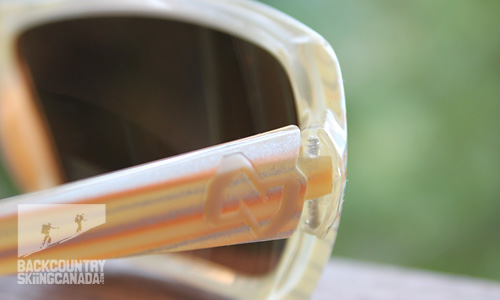 ⁃ A compact and sturdy, zippered carry case.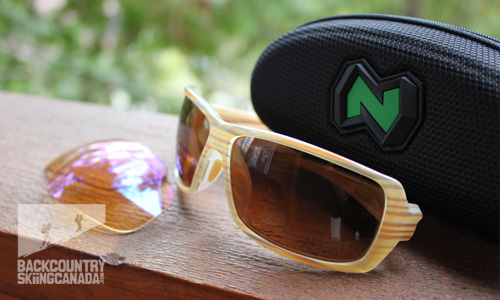 Changing your lenses
Native's interchangeable lenses allow you to adjust your eye protection based on light levels and the condition of your surroundings. Changing the lenses is fairly straight forward and goes something like this for Native's Single Snap-Back™ Lens system:
1. Grab the frame firmly with one hand
2. With your free hand pinch the outside of the lens.
3. Push the lens slightly toward the nose area then out of the frame.
4. Insert the new lens into the bottom area of the frame then lay the lens flat on the frame
5. With your thumb press the lens into the frame until you hear a soft click.
Lifetime Warranty
Lifetime warranty which includes free replacement of glasses with manufacturing defects in the first year of original purchase. After the first year, there may be a warranty fee.
Specs:
Price: $109-149USD
Colour: Frame (Iron, Asphalt, Wood, Maple Torte, Sahara Snow, Gunmetal, Pearl Swirl); Lenses (polarized silver reflex, polarized blue reflex, polarized bronze reflex, polarized copper reflex, polarized copper, polarized brown, polarized copper, sportflex, clear crystal carbonate).
Verdict:
With the addition of their new Odyssey Series, Native have stepped it up a notch in the technology department. What we found was that this was essentially an enhancement of what is already a solid formula. Our experience using the Bolder sunglass, which precedes the Odyssey Series, was that it was a comfortable fit for many (for guys especially), it had superb lens clarity and robust well-articulated frames. The Trango has those same attributes with a noticeably more refined frame as a result of the co-injection molding. As with any sunglass you really need to try them on to get the right fit, I found the Trango sat a little high on my nose though they are very comfortable and grip well (without irritation) due to the more rubbery frame ends.
The ability to change lenses is highly practical if you are in variable terrain such as forest to alpine or on multi-day trips where the weather and light conditions can change. The sportflex lens works particularly well in low light conditions, such as dappled light or low-light in the woods. We found them particularly well suited to mountain biking and hiking where keeping a pair of glasses on will save you from a twig in the eye. From my experience hiking and biking with these I am expecting them to be well suited to backcountry skiing as well. Unlike other manufacturer's interchangeable lens technology Native's doesn't have small parts that feel like they will break, however, at first the lens change can feel a bit awkward. The lens also tend to get marked up with fingerprints when changing, so you'll need to keep a lens cloth handy.
Both of the glasses we reviewed came in a bomber compact carry case to protect them when not in use—a great bonus.
One thing I would do differently before choosing one of Natives sunglasses is research the lenses better to suit my activity. Native has a number of premium quality polarized lenses available. If I where to choose a pair of Natives that were perfect for ski touring I would choose a sunglass with the silver or blue reflex lens as these lenses are suitable for extremely bright sunlight. Couple that with the sportflex lens for low-light conditions and you will have most snow conditions covered. You can buy lens kits seperately from Native but at the time of this review the kit for the Trango wasn't available.
PROS:
Superior lens technology and lens clarity. Innovative interchangeable lens system. Diverse application, comfortable. Ideal for mountain and adventure sports.
CONS:
Every noggin is different so fit can vary greatly. Can take a bit of practice to change lenses without feeling like you are going to break the frame or lens. The case zippers have been known to break off and this is what happened with both of our cases. This will hopefully be rectified soon.
RATING: 8.5/10
Fit / Comfort 1.5/2
Vision 2/2
Features 1.5/2
Quality 2/2
Price 1.5/2

This is only our opinion. Do you disagree? Did we miss something? Are we totally out to lunch? Join the discussion in the forums here, and let us know what you think. People like/dislike gear for different reasons so chime in and we'll get a well-rounded evaluation.
Back to the rest of the reviews.
---