Nathan Hydration Gear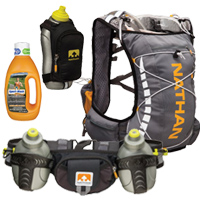 Nathan is a company which makes running gear for road warriors, ultra runners, triathletes, couches to 5Kers, and every dedicated athlete in between. They include industry-leading and best-selling hydration vests, belts, handhelds, bottles, running packs, active visibility and reflective vests, and other gear, all designed to help you run stronger and longer. This review will focus on the Nathan VaporWrap, the Nathan SpeedDraw Plus, the Nathan Trail Mix 4, the Nathan Lock Laces and finally the Nathan Sport Wash.
---
Nathan VaporWrap
The Nathan VaporWrap vest is a technical race vest designed for long-distance running. Unlike a traditional backpack, which rests on the wearer's back and is held on by straps that arc around the shoulders, the race vest wraps around the torso. This unique design is used in an effort to reduce bounce, or the uncomfortable upward and downward movement of weight during a runner's stride.
As everyone's body, and in particular their torso proportions are slightly different, the VaporWrap has a very technical fit system. With 6.5L of carrying capacity in conjunction with a 2L bladder, the VaporWrap is on the bigger side for a race vest, but handles the extra storage with ease.
Taking the time to figure out the many straps and adjustment features is key with this vest. Slinging it on, loading on the weight and going for a long run will likely turn disastrous if it has not been properly fitted and adjusted.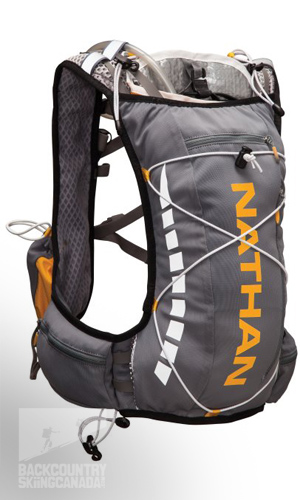 Features:
- UTMB (Ultra-Trail du Mont-Blanc®)-capable with expandable cargo space
- Bladder Control System keeps water and gear close to the body for maximum no-bounce comfort
- Secret center back pocket holds ice pack for added body cooling
- Strategically-placed Shock Cords with one-pull tension lock offer customizable trekking pole configurations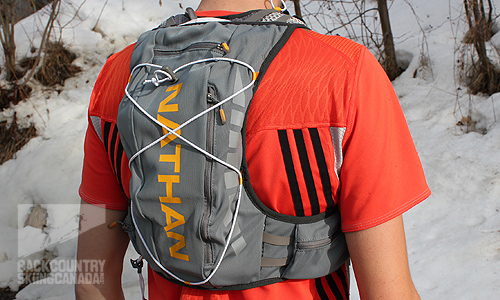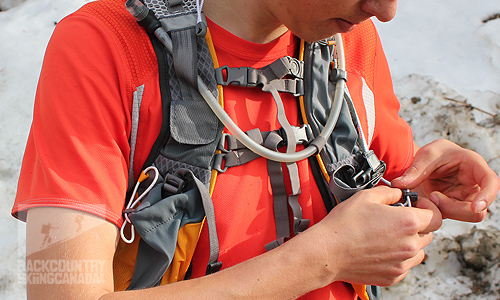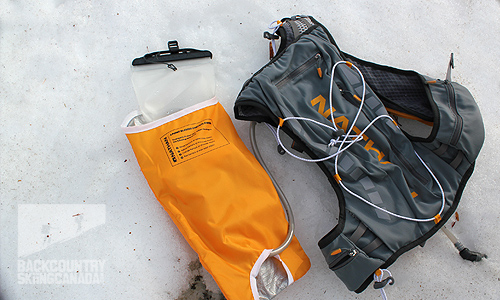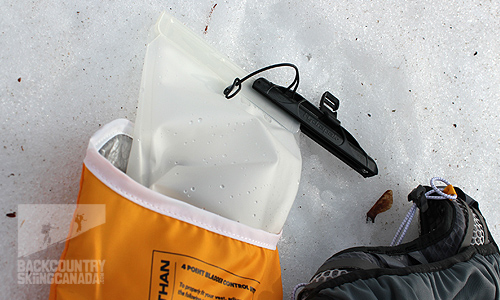 Specs:
Price: $195 CAN
Weight: 652g / 23oz
Storage Capacity: 8.19 L / 500 cu in without bladder, 6.55 L / 400 cu in with bladder
Bladder Volume: 2 L
Rating: 9/10
Innovation 1.5/2
Function 2/2
Aesthetics 2/2
Features 2/2
Quality/Price 1.5/2
---
Nathan SpeedDraw Plus
The SpeedDraw bottle is a high-tech water bottle and storage system designed to maximize hydration, nutrition and comfort. While a waist belt or backpack is a great hydration solution, often it is simply too much gear to carry given the length and conditions of the run. However, it would not be prudent to carry no water or food.
The SpeedDraw bottle aims to alleviate this dilemma. It offers a 500ml bottle, as well as a small compartment for an MP3 player or food in an ergonomically designed package.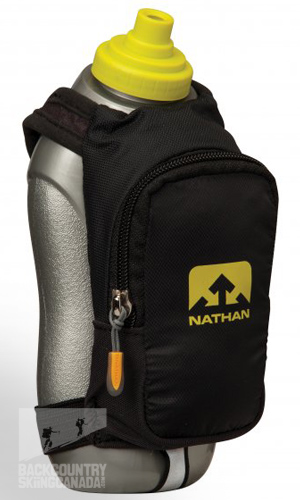 Features:
- Hi-viz reflective SpeedDraw Flask with Race Cap offers quick bursts of fluid
- Fully adjustable hand strap with thumbhole enables grip-free running
- Large, expandable, zippered pocket carries phone, keys, ID and other running essentials
Specs:
Price: $45 CAN
Weight: 110.6g /3.9oz (with bottle)
BPA Free, dishwasher safe
535mL / 18oz
Rating: 9.5/10
Innovation 1.5/2
Function 2/2
Aesthetics 2/2
Features 2/2
Quality/Price 2/2
---
Nathan Trail Mix 4
The Nathan Trail Mix 4 makes carrying 1.2L of water feel as effortless as possible. The highly adjustable belt, swivelling buckle, and overall lightweight design make for a truly bounce free run.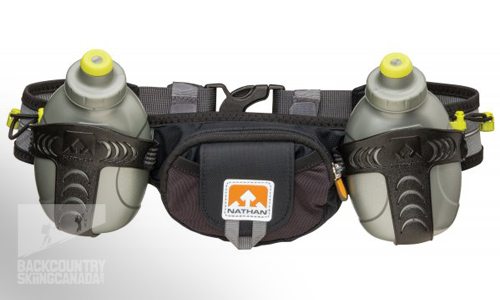 Features:
- First four-Flask belt with dual adjustment points for perfect fit
- Mono-filament 20% stretch belt for the perfect bounce-free ride
- External Power Stretch Mesh pocket and zippered pocket keep key essentials organized and secure
Specs:
Price: $70 CAN
Flasks are BPA free, flasks and caps dishwasher safe
4 x 300ml / 10oz flasks
Rating: 7/10
Innovation 1.5/2
Function 1/2
Aesthetics 1.5/2
Features 1.5/2
Quality/Price 1.5/2
---
Nathan Lock Laces
Hailed by Nathan as the world's easiest lacing system, there is no doubt the Lock Laces are a breeze to use. Installing the laces was some what simple, and the locking mechanism feels both robust and secure. A wide spectrum of colours means there are a pair of laces to match even the most flamboyant of outfits.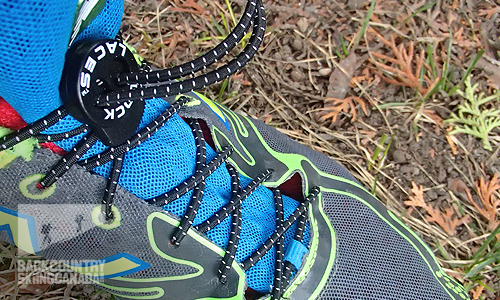 Features:
- Patented lock and clip system keeps laces secure and tight
- Quick and easy for one-time set-up
Specs:
Price: $60 CAN (pack of 6)
Colours: Too many to list
Rating: 7.5/10
Innovation 2/2
Function 1/2
Aesthetics 1.5/2
Features 2/2
Quality/Price 2/2
---
Nathan Sport-Wash
Sport-wash is a technical laundry detergent designed to restore performance in technical garments. While traditional detergents leave a slight residue film on clothes, sealing in bacteria, Sport-Wash leaves no such residue, enabling your garments to perform as intended. The detergent is vegetable based, and completely biodegradable. It is available in 42oz, 20oz and travel packet sizes.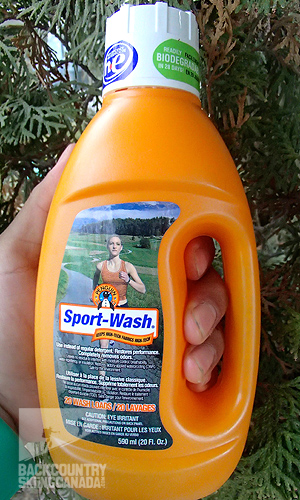 Features:
- Removes odor, stains, and residues- Prevents color-fading and damage
- Biodegradable and vegetable-based
- Works in place of regular detergents, with high-efficiency machines, and with all major performance apparel
Specs:
Price: $14 CAN
Sizes: 20oz, 42oz, travel pack
Rating: 6.5/10
Innovation 1.5/2
Function .5/2
Aesthetics 2/2
Features 1.5/2
Quality/Price 1/2
---
Verdict:
VaporWrap
The number of buckles, bungees, and metres of webbing put into this vest is slightly mind-boggling. While this may deter some users, the fit system works very, very well. 2L of water, a passel of gels, granola bars and electrolytes, a rain jacket, camera, and a cellphone are all swallowed easily by the VaporWrap, disappearing as if into a void unaffected by gravity. Bounce is negligible, even on the most technical of descents, and leaves the user comfortable without having to worry about regular hydration.
SpeedDraw Plus
The bottles shape, as well as hand "harness" is very comfortable, and helps reduce hand fatigue from gripping the bottle. The pocket on the outside is large enough for most smartphones, and the high-flow cap is great for sucking back fluids on hot days.
Nathan Trail Mix 4
The storage compartment on the back is big, but for a belt carrying 1.2L of water, and thus designed for longer runs, it could be larger. The storage compartment is directly on the back of the belt, and makes access difficult. The flasks are excellent; flexible, dishwasher safe and BPA free. The soft, oversive caps are easy to pry open with teeth, or numb fingers.
Nathan Lock Laces
The only downside to the laces is the stretchy material allows for more movement of the foot, and does not lock the foot in place as securely as conventional laces.
Nathan Sport Wash
Perhaps our noses have been numbed from years of inhaling stinky gear fumes, but the Sport-Wash had little noticeable difference on our clothes. That said, it certainly didn't hinder performance, smelled great coming out of the wash and is 100% biodegradable. It's a great product, but not quite necessary.
Pros:
-All the Nathan gear reviewed was of excellent build quality, and appeared to be quite durable, and well thought out.
- The VaporWrap proved to excel at carrying a large amount of water without any significant bounce, even on steep, technical descents.
- The SpeedDraw Plus's harness was very comfortable, and helped reduce hand fatigue. Great for those mid-distance runs where water is a necessity, but the VaporWrap or Trail Mix is too much.
- The Trail Mix 4 effectively distributed weight and the slight stretch in the belt afforded more comfort.
- The Lock Laces were simple, easy, and once set up, fast.
- Nathan's Sport-Wash smelled great and is vegetable based as well as 100% biodegradable.
Cons:
- The whistle on the VaporWrap had a tendency to bounce around and would often work its way loose after being tucked away. A more colour coordinated system for the many adjustments and buckles would go a long way towards a hassle free set-up.
- While it felt snug and effectively held the hand onto the bottle, the strap on the SpeedDraw Plus got sweaty in hot weather.
- The Trail Mix 4's storage compartment is hard to reach, and quite small for a water belt capable of carrying 1.2 litres of water.
- The Lock Laces took a bit of fiddling and were time consuming to set up. The stretchy material of the laces let more movement than ideal when running, especially at a high intensity.
- While the Sport Wash didn't hinder performance, it didn't help either, giving it no advantage over a regular laundry detergent in this reviewers opinion.

This is only our opinion. Do you disagree? Did we miss something? Are we totally out to lunch? Join the discussion in the forums here, and let us know what you think. People like/dislike gear for different reasons so chime in and we'll get a well-rounded evaluation.
Back to the rest of the reviews.
---