Mountain Hardwear Thermostatic Jacket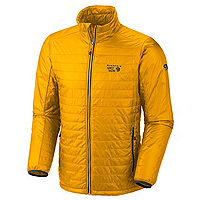 The Thermostatic Jacket is a lightweight, synthetic down offering from Mountain Hardwear. Weighing in at a scant 261 grams, the jacket's thin face fabric and streamlined design create a featherlight package. New from Mountain Hardwear for Fall 2013, it has garnered praise and awards, winning a 2013 ISPO award for mid-layer insulation.
The jacket utilizes Mountain Hardwear's proprietary Thermal.Q Elite insulation. This insulation works to mimic the structure of natural goose down using 100% waterproof, synthetic fibres. A lattice of thick, rigid fibres helps create structure and maintain loft while a multitude of thinner fibres fills in the structure. This creates a warm synthetic structure with excellent compression rebound, which will not absorb moisture. Mountain Hardwear claims Thermal.Q Elite is "20% warmer" than the industry standard for synthetic insulation.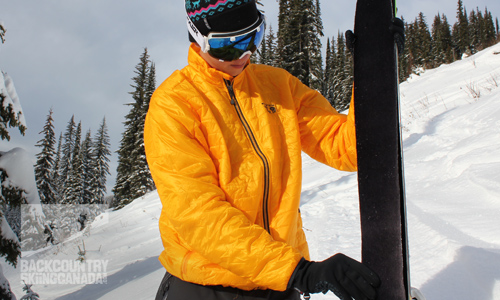 Silky smooth face fabric in bright "Super Solarize" yellow.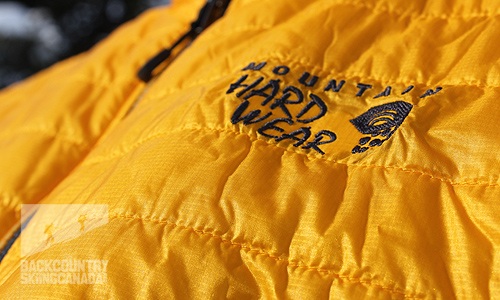 Features:
- Two front hand warmer pockets
- Dual hem drawcords for quick fit adjustments
- Low profile elastic cuffs for easy layering
- Jacket stows in pocket
Low profile zipper garage reduces unnecessary zipper movement when fully done up.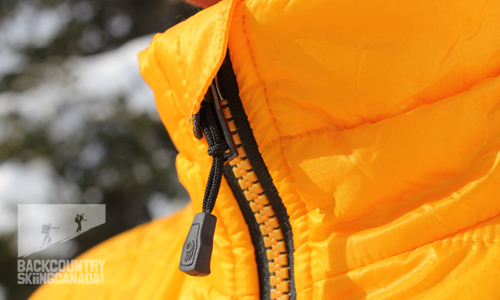 Simple draw cord at the hem for easy adjustment.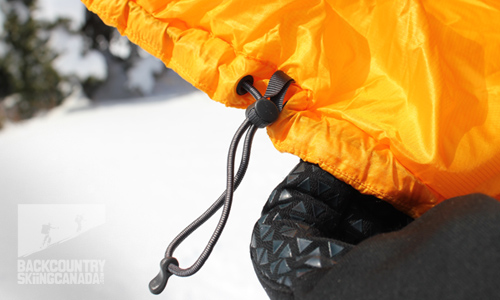 Elastic cuffs are low profile and very comfortable.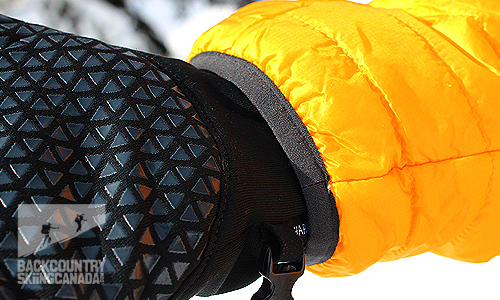 Not too much going on in here! The jacket is as low profile inside as it is on the outside.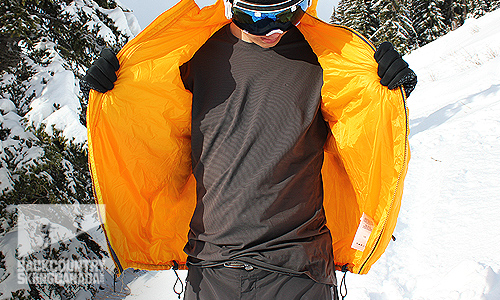 A less than trim fit results in extra fabric.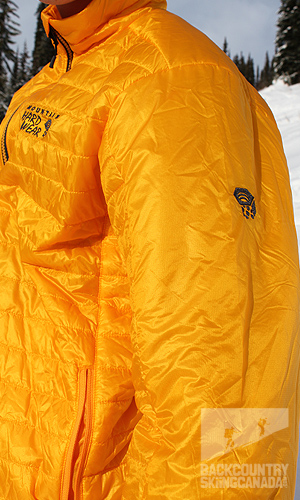 Verdict:
Silky smooth fabric and superlight construction and materials make the Thermostatic an exceptionally comfortable jacket to wear. It layers very well, and packs down capably. The Thermal.Q Elite insulation maintains its loft very well. A lack of hood makes for an even lighter package.
However, these attributes come at the price of durability and warmth. The Thermal.Q insulation is good, but lacks volume and the outright warmth necessary for colder days on the slopes. A lightweight face fabric eliminates a few extra grams, but leaves the jacket prone to rips and tears on the chairlift, branches or unruly skis edges and pole tips. A lack of hood cuts weight and size, but does nothing to boost the jacket's warmth (check out the Thermostatic Hooded Jacket if you want to keep your noggin warm as well).
The Thermostatic is an excellent mid layer for the very weight-conscious, warm blooded skier looking for a streamlined, lightweight insulation layer without any extra bells and whistles.
If you are looking for a light weight packable down insulation version of this jacket then the Mountain Hardwear Ghost Whisperer Hooded Down Jacket may be for you, have a read here.
This jacket's lightweight design is intended for slipping under a shell or for wearing as a stand-alone jacket.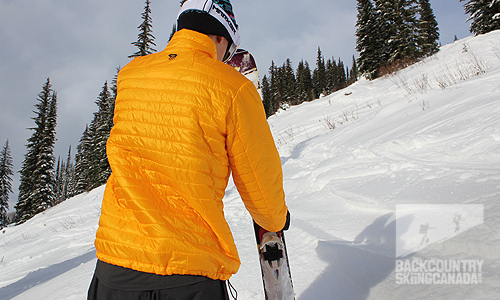 SPECS:
Price: $200 CAN
Colours: Shiraz, Black, Mountain Red, Super Solarize, Sherwood, Collegiate Navy
Sizes: S, M, L, XL, XXL
Fabric: 15D Ripstop 100% nylon
Insulation: 60 g Thermal.Q Elite
Weight: 261g / 9.2oz
PROS:
- The Thermostastic jacket excels as an extremely lightweight and packable jacket. Silky fabric makes it easy to scrunch up and tuck into a pack, as well as being very comfortable.
- Sleek, bright, clean lines, no unnecessary bells and whistles.
- There is nothing unnecessary on the jacket. For the weight conscious skier or simply those who prefer to keep things simple, the Thermostatic is an excellent choice.
CONS:
- The jacket fits quite large. For slimmer folks, and those who prefer a trim fit, the height to width ratio will make sizing challenging.
- Durability may also be of concern as it is meant as a very lightweight and packable piece, however I noticed a couple of loose threads after only several days of light wear. Be wary of skiing heavily treed runs or snagging branches on the skin-track. The Mountain Hardwear Thermostatic Jacket is better suited to a mid layer given its ultra-thin exterior fabric.
Rating: 8/10
Fit 1.5/2
Packability 2/2
Warmth 1.5/2
Features 1.5/2
Quality / Price 1.5/2

This is only our opinion. Do you disagree? Did we miss something? Are we totally out to lunch? Join the discussion in the forums here, and let us know what you think. People like/dislike gear for different reasons so chime in and we'll get a well-rounded evaluation.
Back to the rest of the reviews.
---