Mountain Hardwear Stretch Ozonic Jacket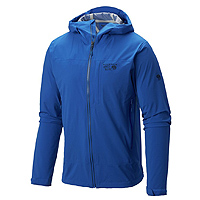 Mountain Hardwear's Stretch Ozonic jacket is a waterproof, breathable 2.5 layer shell with all-over, four-way stretch. At just 8.4oz (9.7oz for the men's version), it feels more like a jersey than a jacket, while still providing excellent protection from the elements. Best suited to aerobic activities like backpacking and hiking, the Stretch Ozonic Jacket moves with you, keeps you dry, and is way more comfortable than your typical waterproof shell.
We tested the men's and women's versions in winter ski touring, and in summer hiking, mountain biking, backpacking and kayaking. Read on to see what we thought of this innovative new jacket from Mountain Hardwear.
The Design:
The Stretch Ozonic jacket is designed with Mountain Hardwear's Dry.Q® Active technology. This 2.5 layer fabric delivers the super light, stretchy, soft feel of a running top, combined with fully waterproof capabilities – kind of a dream combo if you ask us. Add in a great adjustable hood and structured brim, water tight front zip, big hand warmer pockets, and you have a comfy, highly functioning piece of gear.
It is no surprise that this innovative material comes from a company with a long history of creating high performance gear for adventurers. Like all Mountain Hardwear products, this jacket is beautifully constructed and stitched, and built for battling the elements.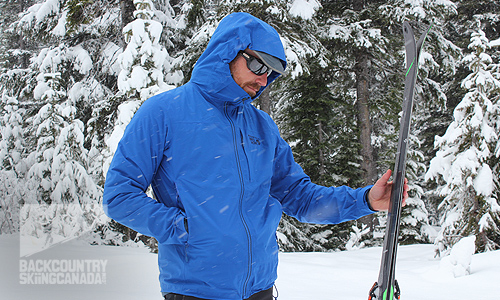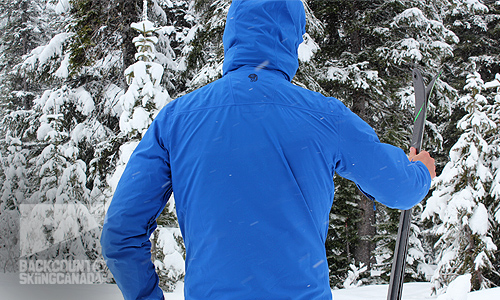 How it works (women's):
My favourite feature of the Stretch Ozonic jacket was how tiny it was. It literally fits into your pocket. At just over 8oz, I now tend to take it everywhere with me, stashed in a little corner of my pack. For sports where weight really affects performance, I would highly recommend this jacket. It is almost hard to believe that something resembling more of a shirt than a coat can keep you so dry, but thanks to Dry.Q® Active, we've advanced past the stiffer fabrics of typical hardshells.
It performed very well in wet conditions and wind. I found the women's size Small to be fairly generous, and was able to pair it with a down insulation layer for added warmth on backpacking trips. Again, the 8oz size was great for backpacking, as well as the ability to move freely and easily. I did not feel that this shell restricted my movement, making it comfortable to wear for extended periods of time.
Versatility is one of the Stretch Ozonic's best features, and I loved wearing it up in the mountains in my hiking boots as much as on the water in my kayak. It's ideal when one jacket can cover you for a whole range of sports, with the added bonus that it works just as well in day to day life around town too.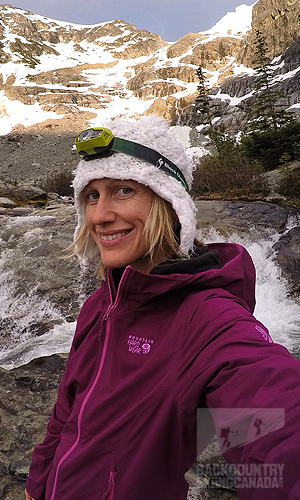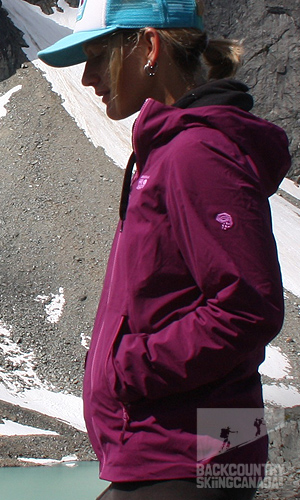 How it works (men's):
Even though the Mountain Hardwear Stretch Ozonic Jacket is specifically designed for backpacking and wet weather travel, I wanted to put it to the test on the skin track to see if it was equally suited to ski touring. To do this I spent the later months of the ski season ski touring around Whitewater Winter Resort in the Stretch Ozonic Jacket. I was confident that its' four-way stretch would be ideal for the motions of skiing. In addition to this its minimal 2.5 layer design, it packed down to nothing so it would fit easily in my ski touring pack since this is where shells spend the majority of their time when ski touring.
After several half and full day ski tours, I have to say that I was pretty happy with the performance of the Stretch Ozonic Jacket. It's windproof/waterproof qualities were more than adequate and the amount of mobility and stretch was a welcome quality on the skin track. Rather than the shell draping off my body and feeling loose and shifting constantly, the Stretch Ozonic Jacket had an active cut that moved with me rather than against me. While I would consider this the Stretch Ozonic's biggest plus, it's minimal pack size was a very close second. Even though backcountry skiing may not be it's intended use the Stretch Ozonic Jacket was more than at home in the backcountry during the winter months.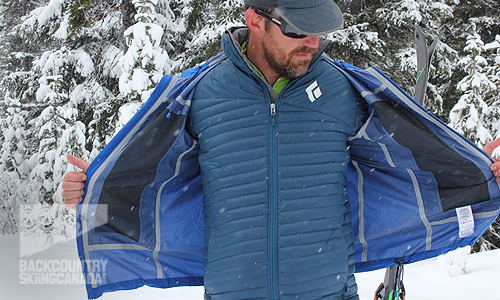 Features:
- Auquaguard VISLON zipper and chest pocket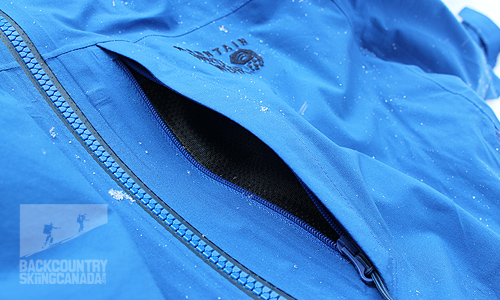 - 2-way adjustable hood with structured brim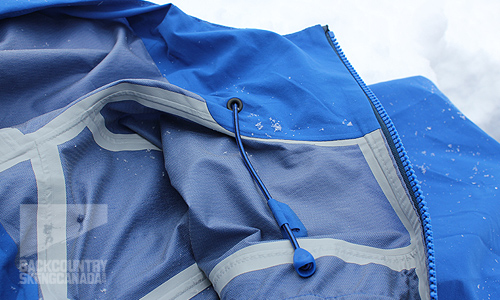 - Dry.Q Active 40D 2.5L Stretch - waterproof, breathable technology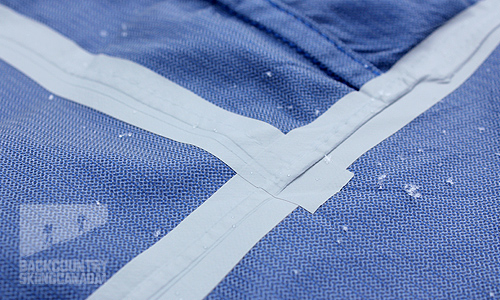 - Pit zips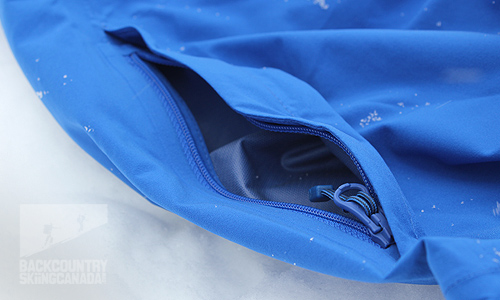 - Harness and pack compatible zippered hand warmer pockets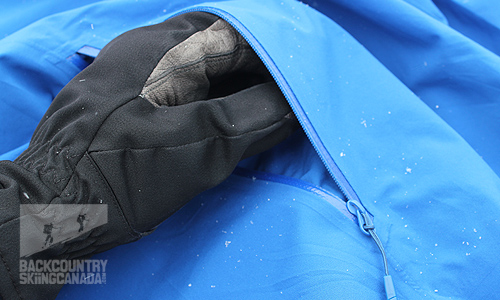 - Velcro cuffs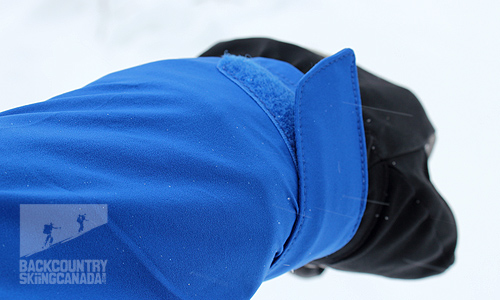 Verdict:
Overall, this jacket is a winner! With a minimal design, the Stretch Ozonic's best features are the waterproof 4-way stretch and lightweight design. Mountain Hardwear's incredible fabric eliminates the uncomfortable factor in wearing a waterproof rain shell, making it easy to wear this jacket for more than just wet weather. It is a great wind blocker and overall lightweight layer for aerobic sports.
The cut of the women's version felt slightly more boxy than feminine, however this hasn't dissuaded me from wearing it on all of my adventures lately.
We were impressed with the Stretch Ozonic's versatility, as it performs as well on the lake as on the skin track. Designed specifically for hiking and backpacking, this is a fantastic addition to any overnight or day pack.
SPECS:
WOMEN'S
Price: $220CAN
Sizes: XS, S, M, L, XL
Fit: standard
Weight: 8.4oz / 237 g
Colours: Ocean Blue, Black, Dark Raspberry
MEN'S
Price: $220CAN
Sizes: S, M, L, XL, XXL
Fit: standard
Weight: 9.7oz / 276 g
Colours: Ginkgo, Black, Azul, Flame

PROS:
- Weighs almost nothing
- Easy to pack
- Great performance in wet conditions
- Stretchy, soft materials
- Ideal for aerobic sports
- Fits well with insulation layers
- Great value
CONS:
- Women's version doesn't have a very flattering shape for us ladies; it's more of a boxy cut
- Longer pit zips would be nice to dump excess heat
Rating: 8.5/10
Fit/Mobility 1.5/2
Packability: 2/2
Waterproof/Breathable 2/2
Features: 1.5/2
Quality/Price: 2/2

This is only our opinion. Do you disagree? Did we miss something? Are we totally out to lunch? Join the discussion in the forums here, and let us know what you think. People like/dislike gear for different reasons so chime in and we'll get a well-rounded evaluation.
Back to the rest of the reviews.
---