Mountain Hardwear Clothing Review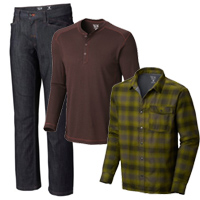 Mountain Hardwear has always been a stand up technical brand but there were days when I'd wish they had some not-so-technical clothing options, more of a lifestyle look than the fully branded mountain look. That day is here and you can now blend in with city folks while still rocking your Mountain Hardwear threads. With minimal to no branding, the Mountain Hardwear Men's Trekkin Flannel Shacket, Stretchstone Denim Jeans and Trekkin Thermal Henley will have you fitting in around town, out for dinner or just hanging around the house. Each of these garments holds true to Mountain Hardwear's mantra of producing quality technical garments all at a reasonable price; however this time there's less emphasis on the technical and more on the lifestyle.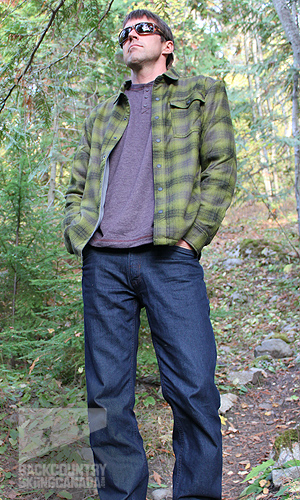 ---
Mountain Hardwear Mens Trekkin Flannel Shacket:
Price: $110 CAN
Colours: Redwood, Shark, Collegiate Navy
Sizes: S, M, L, XL, XXL
Weight: 572g / 1lb 4oz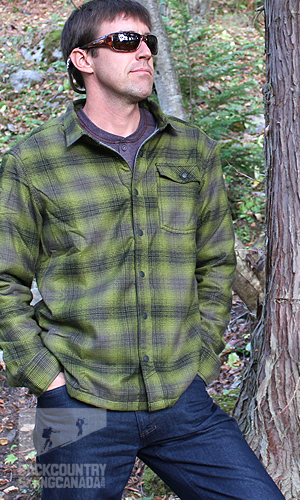 You've likely already guessed the 'shacket' is a combination of a jacket and a flannel shirt. If the looks didn't give it away the play on words surely has. Flannel is a staple, especially here north of the 49th parallel and the dual purpose jacket/flannel shirt is an ideal fall layer. Mountain Hardwear replaced the traditional buttons with snaps so you have even more convenience in a pretty darn good looking package. They also kept it pseudo-technical with a 100% polyester fabric that incorporates a Wick.Q™ face finish to help move moisture and a micro-fleece liner that's not just soft but also keeps you super warm. Top it off with a relaxed fit and easy style and you've got a functional tough 'shacket' for the long haul.
Fabrics:
Body Fabric: Wick.Q™ Flannel Twillweave
Body Fabric Content: 100% Polyester
Features:
- The look and versatility of a flannel shirt with the warmth of a microfleece lining
- Single chest pocket keeps key, ID and other valuables secure
- 100% polyester means faster drying time
- Wick.Q™ moisture wicking keeps you cool and dry
- Snap buttons down front close securely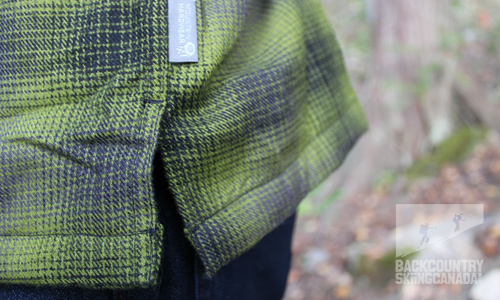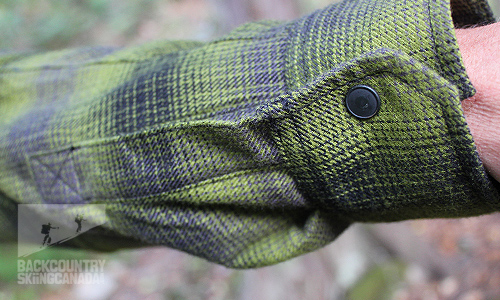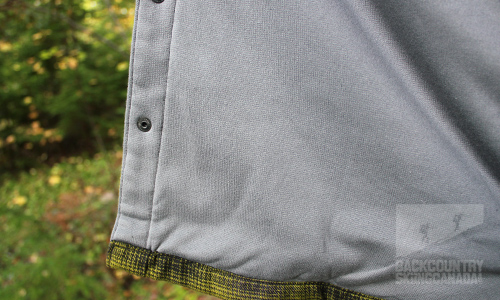 ---
Mountain Hardwear Men's Stretchstone Denim Jeans:
Price: $100 CAN
Colours: Light Wash, Dark Wash
Sizes: 28, 30, 32, 33, 34, 36, 38, 40, 42
Weight: 610g / 1lb 6oz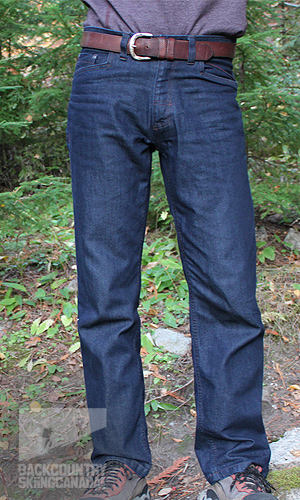 A pair of dungarees is essential to anyone's wardrobe and Mountain Hardwear has put their spin on this classic. With a DWR finish to help repel water and a good amount of stretch compared to traditional blue jeans the Stretchstone Denim Jeans can 'pass mustard' at a climbing crag just as easily as they do at the local pub. With subtle Mountain Hardwear styling like orange thread highlights, hexagon rivets and technical YKK zip they offer up traditional blue-jean style and fit with the bonus of performance.
Fabric:
Body Fabric: Stretchstone DWR Denim
Body Fabric Content: 73% cotton, 25% polyester, 2% Lycra® elastane
Features:
- Standard straight leg fit
- Stretch for comfort and activities
- Five pockets
- DWR finish repels water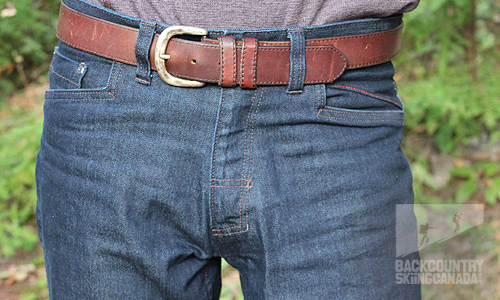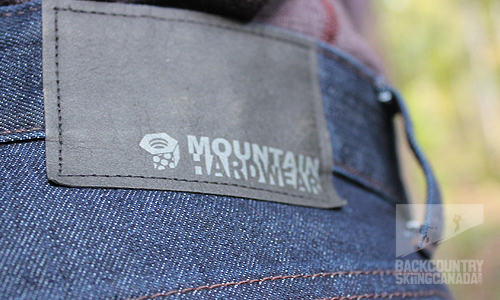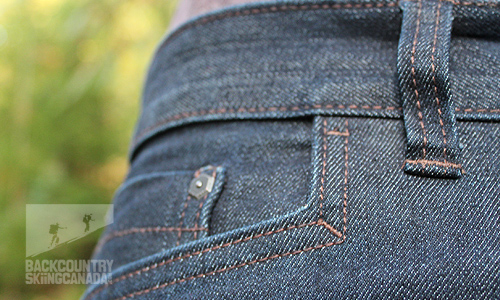 ---
Mountain Hardwear Men's Trekkin Thermal Henley:
Price: $60 CAN
Colours: Cinder, Graphite, Basil, Collegiate Navy, Elm, Shark, Black, Shiraz
Sizes: S, M, L, XL, XXL
Weight: 237g / 8.4oz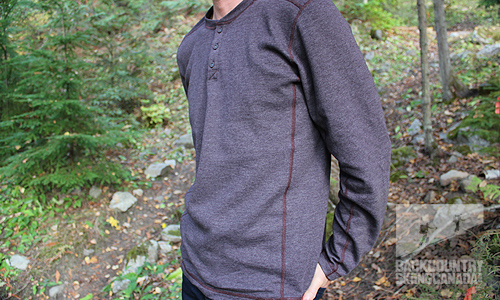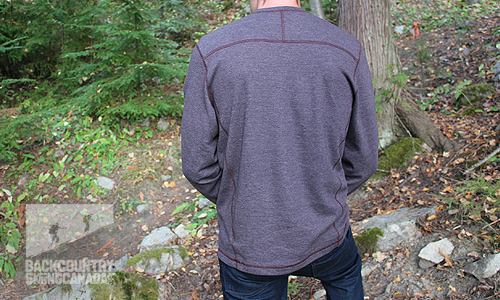 The classic Henley has been around for quite a while and the Mountain Hardwear Trekkin Thermal Henley combines the look and comfort of a classic long underwear top with a touch of technical performance. A natural/synthetic blend, which is mostly polyester with a touch of wool thrown in, provides warmth with superior moisture management. The Trekkin Thermal Henley is at home in the city but it can easily thrive in a backcountry environment.
Features:
- Wicking, fast drying fabric
- Flat-lock seam construction eliminates chafe
Fabric:
Body Fabric: Wick.Q™ Thermal Waffle Knit 220g
Body Fabric Content: 65% Polyester, 35% Cotton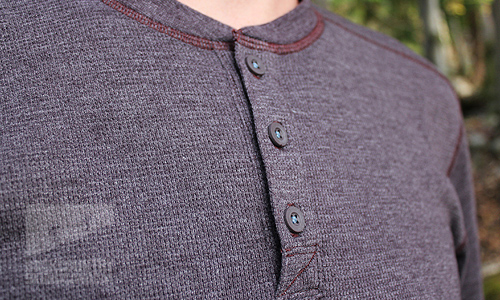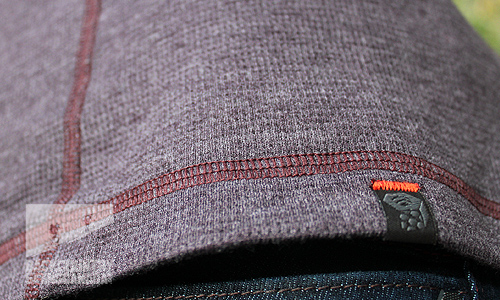 ---
Verdict:
While there is still a DWR on the Stretchstone Denim Jeans, flat-lock seam construction on the Trekkin Thermal Henley and Wick.Q™ technology in the Trekkin Flannel Shacket, these three pieces of clothing mask their technical side well. At first glance they are casual clothes without a Mountain Hardwear logo in sight but with a fit that's spot on and quality manufacturing that you have come to trust from Mountain Hardwear. You could rock these on a quick hike or climb but they are most at home, well… at home.
PROS:
- Subtle branding is a nice change for more of a lifestyle feel when you don't necessarily want to look like you just spent the week in the mountains.
- Good rugged quality.
- Reasonably priced.
- Stretchstone Denim Jeans are tough and take abuse
- Trekkin Flannel Shacket is a warm and versatile jacket/sweater for hiking and just hanging out.
- Trekkin Thermal Henley works on its own or as a base layer if needed.
CONS:
- I'd prefer if the Trekkin Thermal Henley had an opposing v-cut on the hem.
Rating: 9.5/10
Innovation 1.5/2
Function 2/2
Aesthetics/Fit 2/2
Features 1.5/2
Quality/Price 2/2

This is only our opinion. Do you disagree? Did we miss something? Are we totally out to lunch? Join the discussion in the forums here, and let us know what you think. People like/dislike gear for different reasons so chime in and we'll get a well-rounded evaluation.
Back to the rest of the reviews.
---