Mountain Smith Mayhem 35+ Backpack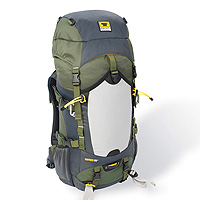 Mountainsmith has been producing high quality outdoor equipment for over three decades and has a strong following due to innovative and durable designs. We tested the Mayhem 35+ backpack and were impressed by its all-around usability, thoughtful features and attention to detail. 
At 35 litres (expanding to 45 litres), the Mountainsmith Mayhem falls into a unique category, allowing it to easily handle day trips while expanding to accommodate gear for a bigger summit push or a weekend trip. It has a smorgasbord of features for whatever the need – ski and snowboard carry straps, ice axe loops with handy fasteners, hydration bladder compatible (bladder not included)…the list goes on. Simply put, this pack fulfills a variety of needs, be it summer or winter.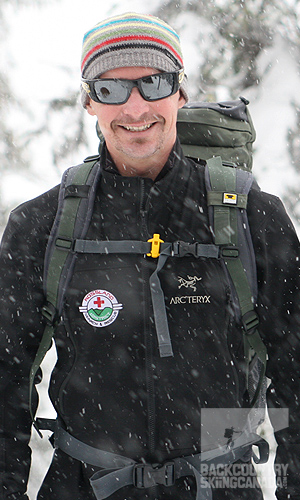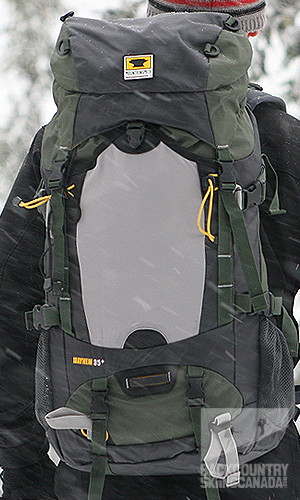 The construction of the Mayhem is impressive, with durable 450d PET body fabric (100% from recycled plastic bottles), 420d Nylon body fabric, 840d Nylon Ballistic reinforcements and 210d poly liner. Top that off with YKK zippers and 3M reflective cord in the right places. The amply padded shoulder straps are connected to an "X-Frame" load dispersion system consisting of crossing aluminum back supports. The system was easily adjustable and can fit a broad range of body sizes.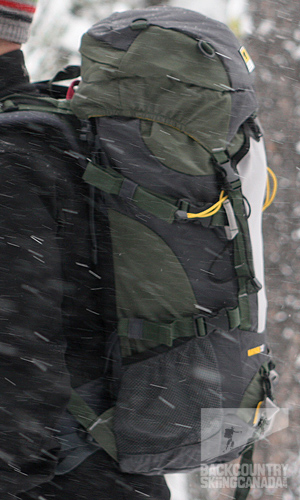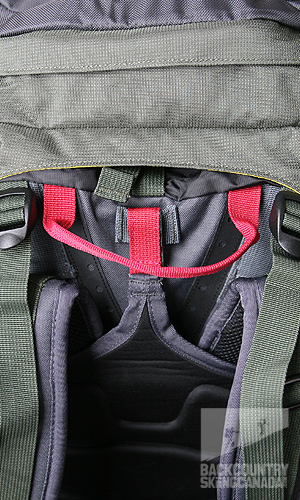 The hip belt is minimalist in design, which has its advantages and drawbacks. While I prefer less padding and bulk on the hip belt, some may find the lack of support, especially with heavy loads, hard on the shoulders. Overall, this is a remarkably comfortable pack that comes it at a surprisingly light 3lbs 4 oz – particularly when you consider the multi tasking the Mayhem can handle.
The Mayhem is a top-load pack with an expandable top compression strap for ropes and accessories, capped by an adjustable height lid with ample storage for easy access to whatever you need at hand. On the front panel is a soft, expandable pocket for a shovel. While I found this pocket too small for my Black Diamond shovel, it did offer easy access/storage of climbing skins (on warm days), but that means keeping your shovel inside with all your other gear. 
Other nifty features on the Mountainsmith Mayhem include a handy water bottle pocked on the side, emergency whistle on the chest strap, compression straps on the top, side and bottom, and a burly haul handle.
Removable whistle on the chest strap is a nice safety touch.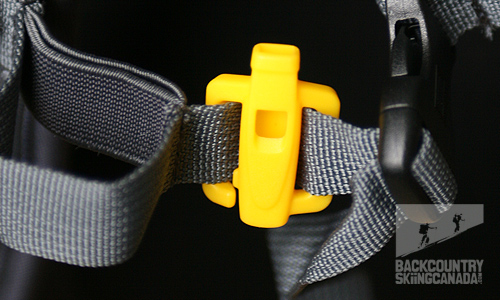 From buckles to seams, the Mayhem is sturdy.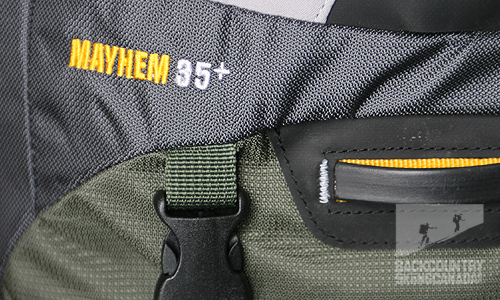 Aluminum "X" frame is comfortable, light and easy to adjust.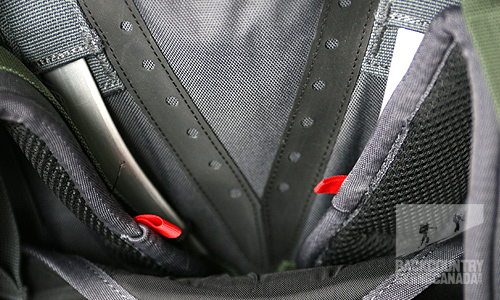 Neat ice axe fasteners make attaching tools a cinch.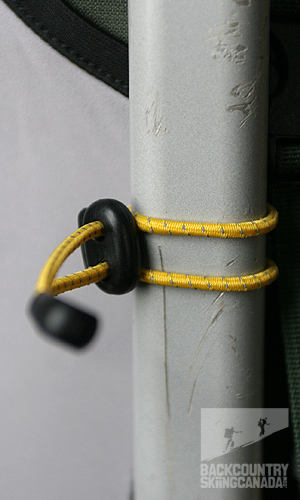 The Mayhem is water bladder compatible (not included).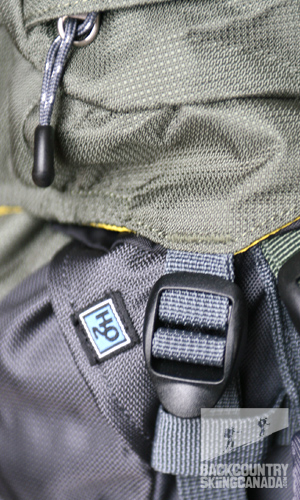 The Verdict:
The Mountainsmith Mayhem 35+ is an impressive backpack that can multitask at just about anything. Its comfortable fit, range of features and light weight are all strong selling points, not to mention its surprisingly low cost of $139. It may be too big for day trips and too small for multi day camping, but for everything in between, it is one fine pack that can take a licking and keep on trekking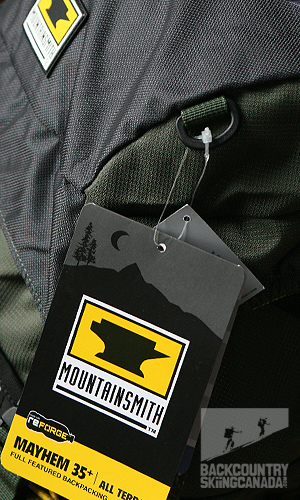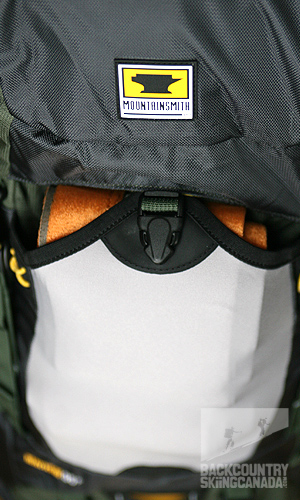 SPECS:
Price: $139 US
Weight: 3lb 4 oz / 1542g
Colour: Green and Grey
Volume: 35+ litres (up to 45 litres)
Fabric: Recycled 450d PET/420d nylon/840d ballistic nylon/210d poly liner
PROS:
- Excellent build
- Smart features for diverse uses
- Light weight
- Comfortable
- Adjustable
- Inexpensive
CONS:
- Top load only – side access for the size would be nice
- Thin waist belt may not provide enough support for some
- Shovel pocket too small (but fits skins for warmer days)

This is only our opinion. Do you disagree? Did we miss something? Are we totally out to lunch? Join the discussion in the forums here, and let us know what you think. People like/dislike gear for different reasons so chime in and we'll get a well-rounded evaluation.
Back to the rest of the reviews.
---