Mountain Hardwear Typhon Glove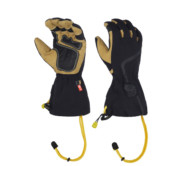 Some manufacturers really seem to pour it on when it comes to claims about their products and Mountain Hardwear is no exception. They claim that the new-this-season Typhon is "Absolutely Waterproof" with "Zero Water Penetration" (which kind of sounds like the same thing, no?). Claims aside, the Typhon is a great glove for touring or lift service days. It has been my primary glove for most of the season and I am pretty happy with how they perform. We typically see temps not too far below zero C here in the Kootenays so I haven't yet had the opportunity to test them in extreme cold. I always pack mittens and, from my experience thus far, I don't think the Typhons would keep my fingers warm below 10 below.
As with many pieces of gear, gloves are doing their job if you don't notice them. The Typhons are comfortable, dry (haven't ever wetted out) and allow you to leave them on for all but the most delicate and finicky tasks. For touring, I have taken off the shell on occasion and used the liners on the uptrack. The outer mitt is lined with fuzzy stuff so there are essentially three gloves in one: 1) liner, 2) liner and outer and 3) just outer.
Part of the special sauce in this glove is something they call "OutDry." This is a process whereby a membrane is bonded directly to the outer gloves' inner side. This means there are no spaces between the shell and the waterproof membrane so water can't get in. I have to admit that I don't entirely understand the mechanics of OutDry. What I do understand is that they have always kept my hands dry and comfy, so something must be at work. Another explanation from Mountain Hardwear on OutDry's performance involves air. Apparently the system envelopes one's hand in warm, dry air which "reduces the risk of condensation from excessive perspiration, and maintains stable hand temperature." Translation? Your hands stay warm and dry.
Palms up. Durable goatskin – so far, so good.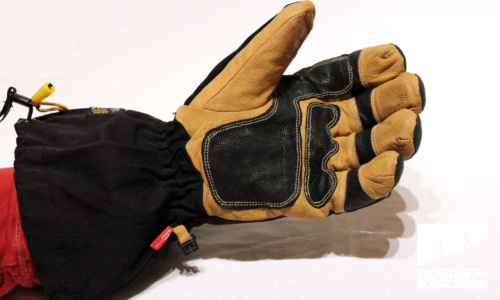 Palms down. Breathable, softshell layer. Articulated fingers.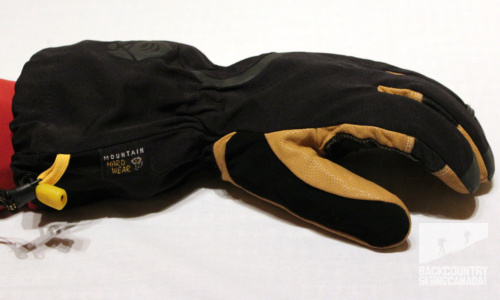 Forward shot showing caribiner fastener finger.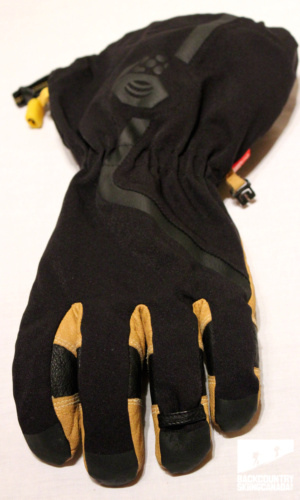 Pulls—yellow for tight, black for loose. Over the cuff gauntlet.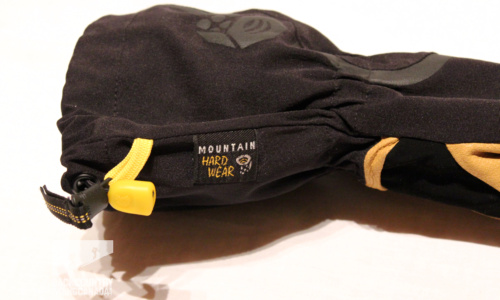 The system exposed. Outers and wool/poly inners.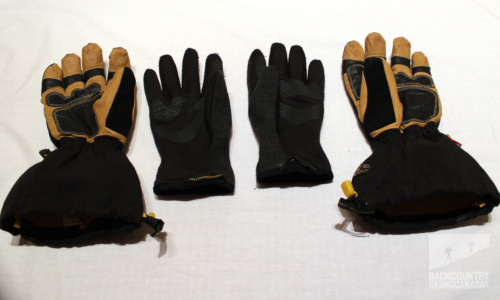 Liner showing wear on reinfocement patch (a little too soon IMHO)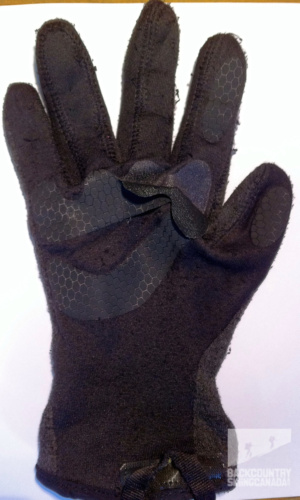 Typhon on hand 1.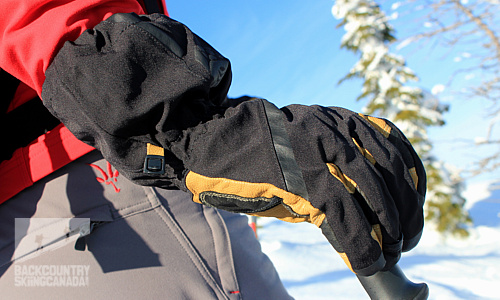 Typhon on hand 2.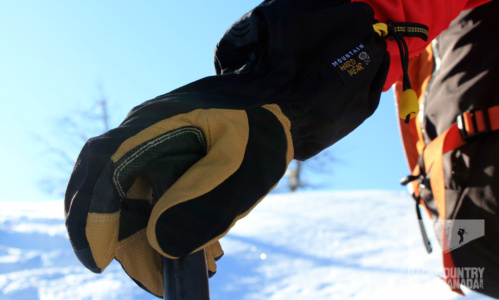 Verdict:
Will these gloves change your life and save the world? Probably not. Will they keep your hands happy and do they allow you to perform with a high level of dexterity? Yes! They do what a glove should do. Note that I haven't taken them out in a torrential downpour to test their "absolute waterproofness" nor will I likely ever. I should add that the Typhons also come equipped with leashes which come off easily if you are a non-leash guy or gal like me. See pros and cons below for more thoughts. (If you are looking for the femal version of the Mountain Hardwear Typhon Glove then look for the Mountain Hardwear Women's Echidna Glove).
SPECS:
Price: $130.95
Sizes: Small, Medium, Large, Extra Large
Weight: 256 grams/9 oz (large pair)
Colors: Natural/black men, black/black women
PROS:
A good, solid, mid-weight glove that performs as promised. Three part system allows for flexibility.
CONS:
Aesthetic is a little "busy" for me but that is entirely subjective. I was a little dissapointed to see the reinforcement peel of the liner a this stage. Gloves are a little tricky to get off sometimes—the liner comes out on your hand when you don't want it to. I can never remember which pull does what. Some gloves have different pulls on different sides of the gauntlet. This could be easier to remember, for morons like me, than the colour-coded system.
Rating: 8/10
Fit / Dexterity 1.5/2
Warmth 1.5/2
Durability 1/2
Features 2/2
Quality / Price 2/2

This is only our opinion. Do you disagree? Did we miss something? Are we totally out to lunch? Join the discussion in the forums here, and let us know what you think. People like/dislike gear for different reasons so chime in and we'll get a well-rounded evaluation.
Back to the rest of the reviews.
---