Mountain Hardwear Snowtastic Jacket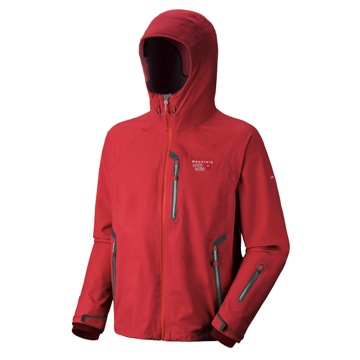 Mountain Hardwear's Snowtastic Jacket qualifies as a soft-shell but has more of the properties of a hard-shell, so we have placed this jacket squarely in the hybrid category. Not available until the fall of 2011 the Snowtastic jacket offers waterproof breathability thanks to Mountain Hardwear's new proprietary DRY.Q fabric. This new fabric is the underlying technology for Mountain Hardwear's most aggressive apparel for mountain adventures. The Snowtastic Jacket offers many features that are not commonly found in a single jacket, this adds to the overall weight but makes it a versatile jacket for cold conditions. A lightweight plush interior lining provides slight insulation and serious comfort. If you get a little hot under the collar there are pit-zips to help you keep your cool.
DRY.Q
Mountain Hardwear's latest innovation is a new waterproof breathable fabric that is being dubbed 'DRY.Q' and comes in three classes – Elite, Active and Core. The Snowtastic Jacket utilizes the 'DRY.Q Elite' fabric which is the most hardcore of the three. Traditional waterproof-breathable systems work by moving moisture out through the shell fabric. The trouble is, you have to get hot before they start working. That means waiting until you're clammy and damp before the breathability kicks in. Apparently with DRY.Q you don't have to build up condensation and moisture before it starts to breath. Mountain Hardwear claims that DRY.Q's air-permeable membrane allows air and not just moisture to pass outward through the fabric. That always-on air flow won't wait for you to get hot first and thus eliminates the sweat/freeze cycle. It would be nice to know the geek-factor numbers for CMF's and l/m2/sec (how waterproof and breathable it is in a scientific sense) to fully understand how DRY.Q stacks up against other fabric, however being a new entry onto the market this data was not available at the time of this review.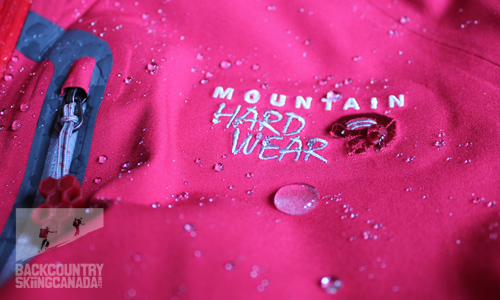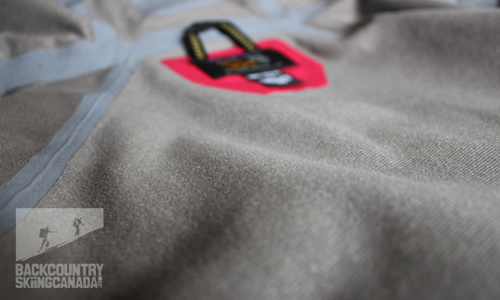 Features
Pit-zips: A 'must have' on my hard-shell feature list, pit-zips help vent when the skin track goes vertical or your furnace gets stuck on over exertion.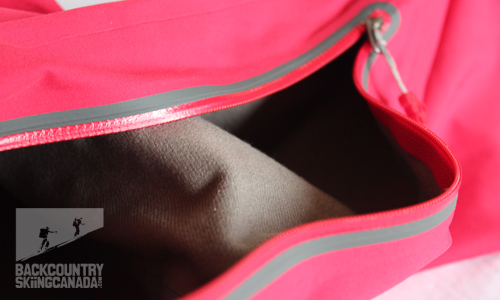 Removable Powder skirt: Most jackets these days have such an active fit that many manufacturers have done away with the traditional powder skirt. I am still a big fan of them when it's really deep. The Snowtastic gives you the option so you can save on weight and bulk when you need to.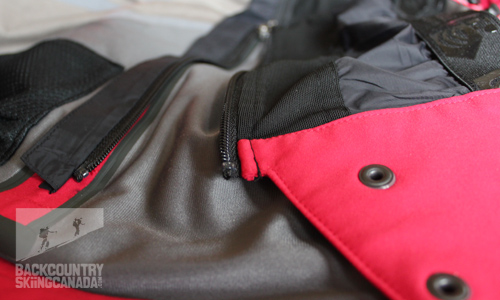 Helmet compatible hood: Dual adjustable hood large enough to accommodate a climbing or ski helmet with a semi-rigid brow to keep the rain out of you face.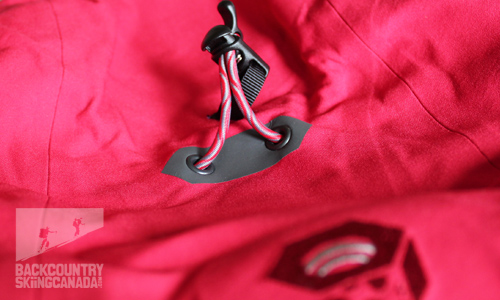 Chest Pocket with Media port: The external chest pocket can accommodate cell phones, MP3 players, small point and shoot cameras or anything that requires a media port for headphones to be passed through to the inside for comfortable wearing.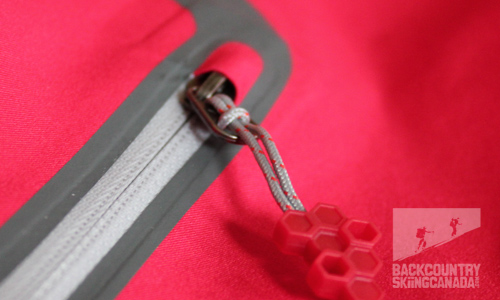 Sleeve pocket: A very small forearm pocket for very small things I suppose - have not found a use for this one just yet.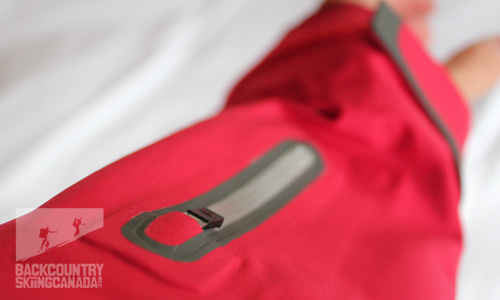 Internal Pockets: One small zippered pocket and one mesh pocket for small items you need to keep out of the elements.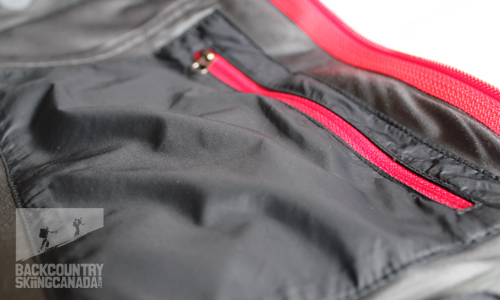 Exterior Pockets: Chimney style pockets with the right being standard size and the left extra-extra tall.
Waterpoof zippers: All five external zippers are waterproof with zipper garages to keep their contents dry and secure.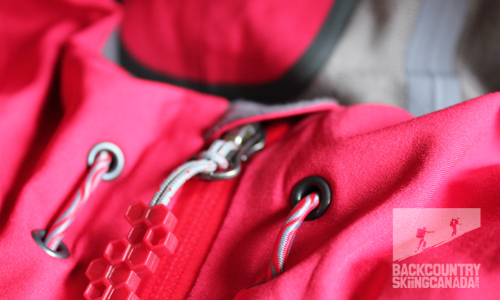 Thumb loop internal cuffs: A unique feature to keep your sleeve stationary and the wind and snow out should you go for a yard sale on the ski down.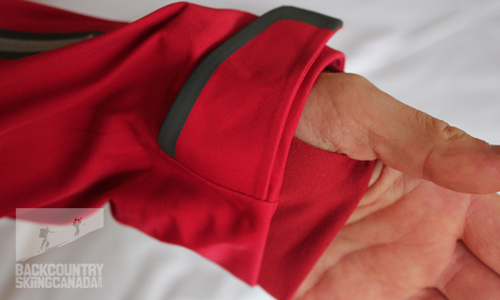 The Verdict
Mountain Hardwear's Snowtastic Jacket is very comfortable to wear thanks to its soft-shell feel inside and out. It comes without the traditional hard-shell noise and rigidity. It has the bonus of a super low-profile interior plush that feels good against bare skin and helps wick the moisture thanks to the hydrophobic properties of the polyester. Whilst these qualities say softshell it really goes beyond that creating a new generation of hardshell.

With Winter quickly waining we have not yet had the opportunity to fully test the Mountain Hardwear Snowtastic Jacket in a true ski touring test environment. We plan to update this review in the fall of 2011 to let you know how this new DRY.Q fabric really works in all conditions and if it holds up to Mountain Hardwear's claims. Check back then and we will be sure to have some vertical under our skis and some beta for this review.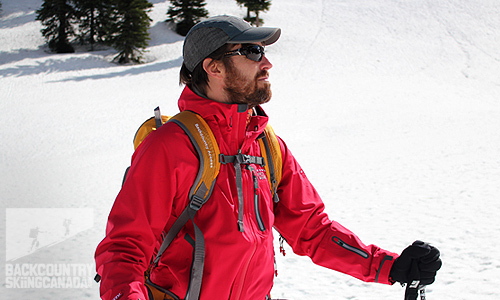 SPECS:
Price: $480 US
Size: S, M, L, XL, XXL
Colour: Dark blue, Red, Black, Bright Yellow
Weight: .9kg / 1lb 16oz
Available: Fall 2011
PROS:
A full featured jacket that feels like a soft-shell but performs like a hard-shell. Removable powder skirt and many other features not typically found in a single jacket.
CONS:
For the backcountry skier this is not a very compact jacket thanks to all of it's bells and whistles. For a more lightweight ski touring specific jacket have a read through our Mountain Hardwear Drystein Jacket review. The pockets are not located out of the way of pack straps and harnesses. A 'nice-to-have' would be the ability to stove the hood when not required.
Rating: 7.5/10
Fit / Mobility 2/2
Packability 1/2
Waterproof / Breathable 1.5/2
Features 1.5/2
Quality / Price 1.5/2

This is only our opinion. Do you disagree? Did we miss something? Are we totally out to lunch? Join the discussion in the forums here, and let us know what you think. People like/dislike gear for different reasons so chime in and we'll get a well-rounded evaluation. Check back mid-season to see how our review stands up to our in-the-field testing.
Back to the rest of the reviews.
---