Verdict:
I can't emphasize enough just how light Mountain Hardwear's Ghost Whisperer is: it's like wearing a layer of tissue paper that's as soft as Charmin Ultra. Yet it's as warm as a freshly laundered towel. This down jacket will forever go with me in my pack because my back will never notice it's in there. In fact, this jacket may go with me everywhere because I can literally put it in the back pocket of my jeans. At first glance, the Ghost Whisperer seems exceptionally thin – too thin considering you can see light through the seams. Plus I question what would happen if the jacket were to get drenched. But that's what outer shells are for. This really is the perfect layer when you're resting at the summit or on the deck with a cold beer. For weight and functionality, the Ghost Whisperer is hands-down the best down hoodie out there.
That said, there are certain things you'll sacrifice with the Ghost Whisperer. Firstly, this is a minimalist jacket to the extreme. There isn't even a drawstring for the hood. (The one cinch strap is at the hem.) This is annoying when the wind picks up and inflates the space around your head. And while the two hand pockets are sufficient (they do have zippers) it would be better if they were located higher on the jacket so a harness or the waist strap of a pack don't interfere with them. Also, this definitely is not the warmest down jacket on the market but ultimately it's meant to be used as a layer under a shell anyway, which is sufficient for –15°C in my experience. Also, it's important to mention that this jacket fits big: definitely try it on or carefully examine the size specifications on the Mountain Hardwear Web site because my 5'11" 165-pound frame was swimming in a size large. The final thing I have to say about Mountain Hardwear's Ghost Whisperer jacket is: what's with the colours? Thank God there's a black option because no backcountry hardman wants to wear "Capri," "Steam," or "Radiance."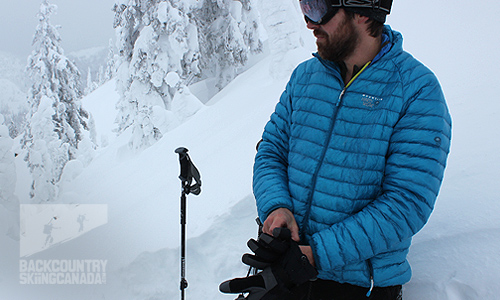 SPECS:
Price: $300.00 CAN
Insulation: 850 fill down
Weight: 212 grams / 7.5 ounces
Fabric: 7 denier ripstop nylon
Colours: Capri, Steam, Radiance and Black
PROS:
LIGHT! The Ghost Whisperer packs up to the size of a softball and weighs less than one (212 grams). Used as a layer it's very warm and, because of its size, this jacket will now be a permanent fixture in my backpack.
CONS:
No drawstring for the hood. The front pockets could be higher to avoid interference with waist belts. And the available colours are Capri, Steam, Radiance and Black. (Thank God for the last option.)
Rating: 9/10
Fit 2/2
Packability 2/2
Warmth 1.5/2
Features 1.5/2
Quality / Price 2/2

This is only our opinion. Do you disagree? Did we miss something? Are we totally out to lunch? Join the discussion in the forums here, and let us know what you think. People like/dislike gear for different reasons so chime in and we'll get a well-rounded evaluation.
Back to the rest of the reviews.
---