Mountain Hardwear Boldog gloves with OutDry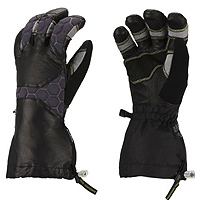 I'm always a bit leery when a manufacturer claims its product is completely waterproof – unless that product happens to be a snow tire I suppose. Pool liners, rubber boots, rain jackets, a roof – I've owned them all and every single one eventually succumbed to the persistent intrusion of H2O. So when I received the Boldog Gloves by Mountain Hardwear and read the packaging that claimed its "OutDry waterproof technology provides a fully waterproof and windproof laminated outershell" I immediately scoffed and headed for the sink. Sure enough, after 10 minutes of submersion in ice water up to the wrist, my right hand was still warm and dry in the glove. It was also incredibly comfortable: whatever Mountain Hardwear uses to line the inside of these things feels like velvety soft lamb's ears. What I was most surprised by, though, was how tight the gloves were – an extra-large barely fit my hand and I normally swim in a large. It wasn't until I got out of the kitchen, though, and took the Boldogs skiing that I fully appreciated their value. These are a durable, waterproof, warm and utilitarian pair of gloves that are excellent whether you're skinning up the back 40 or hurtling down the resort runs.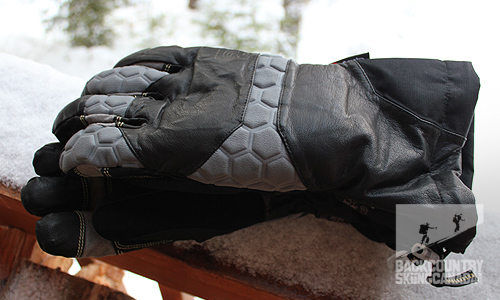 Features:
- "Extreme Precurve" patterning with Kevlar stitching provides unprecedented fit and dexterity
- OutDry® Waterproof Technology is directly bonded to the glove's outer shell
- Durable, water-resistant goatskin leather fingers and palm, with additional pigsuede reinforcements on the fingers and thumb.
- Soft wool/polyester-blend lining
- Thermic Micro™ insulation at the back of the hand
- Full coverage gauntlet
- SimpleCinch one-handed gauntlet closure with Cyberian cordlock
Pigsuede reinforcements on fingers and thumb where you need them to reduce wear.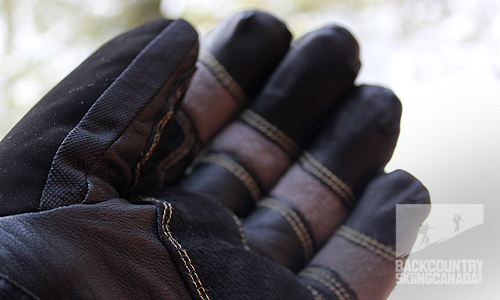 Precurve design and soft thumb for nose wiping.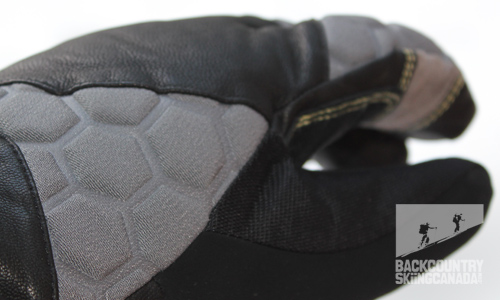 Soft and flexible material on the wrist and knuckles to help with dexterity.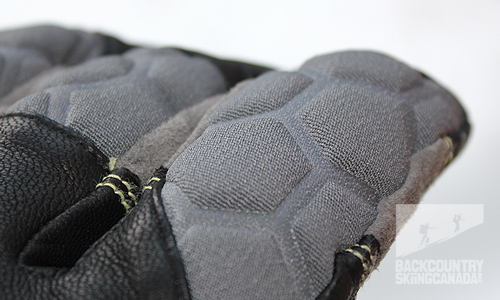 You can see the precurve easily from this angle.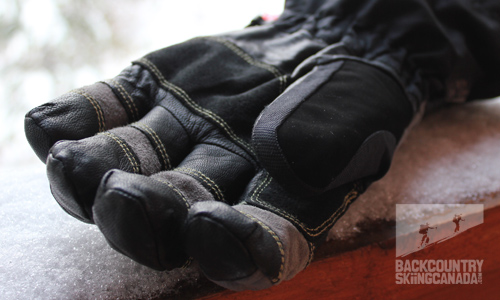 SimpleCinch one-handed gauntlet closure with Cyberian cordlock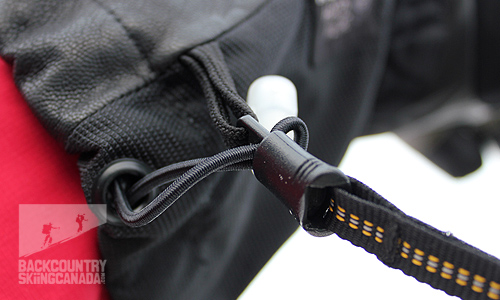 High cuf to keep out the snow.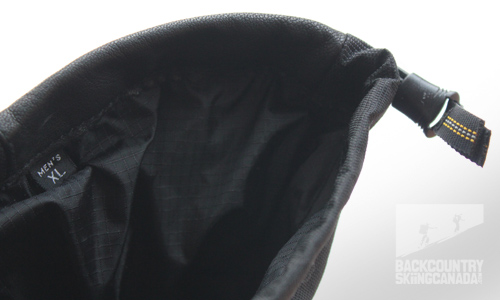 Goatskin leather abounds on the Boldog glove.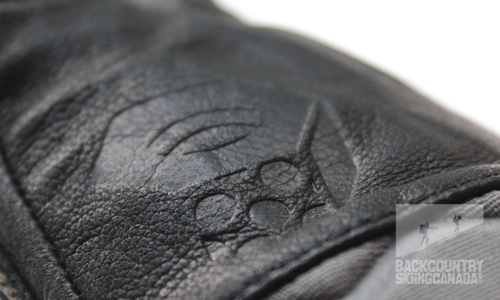 Verdict:
I'm really picky when it comes to gloves and I'll gladly pay a small fortune if it means I won't have to succumb to the unsightly "backcountry windmill." (You know the move: poles in your armpits and hands waving up, down, up, down just to regain circulation.) In the past I've settled for a thick, leather-hybrid glove for the skin up and, for the down, encasing it in a waterproof shell. With the Mountain Hardwear Boldog, though, a shell is redundant because the entire thing is waterproof. Seriously. I took out a pair on one of the biggest powder days of the year and, normally I'd experience a bit of inner dampness by the last run but not with these puppies. Due to the fact the "Outdry" waterproofing technology is bonded directly to the outer shell, there isn't any seepage whatsoever, even through the seams. And, as mentioned above, the inner lining, which is a 30:70 ratio of wool and acrylic, is amazingly soft and warm. That said, the Boldogs definitely have issues in terms of sizing. Firstly, they are a bit bulky: even with their "Extreme Precurve" pattern, I found my dexterity was compromised when I tried to adjust cordlocks and fasten the buckles on my helmet and waist belt. And secondly, what's with the tiny XL fit? Do they have a bunch of 12-year-old product engineers at Mountain Hardware? I could barely fit my hand into an extra-large. Everyone take note: my middle finger is 8.5 cm long (3.25") and the span from the tip of my thumb to the tip of my pinky when my fingers are splayed is 23cm (9"). In other words, I do not have huge hands but the extra-large were a tight fit and that's the company's biggest size. If you have meat hooks on the ends of your arms, knuckle your way into something else.
Ultimately, though, I was impressed with the Boldogs. They look cool and they're durable, they're waterproof without being clammy, the inner linings are incredibly comfortable and, most important of all, they're warm.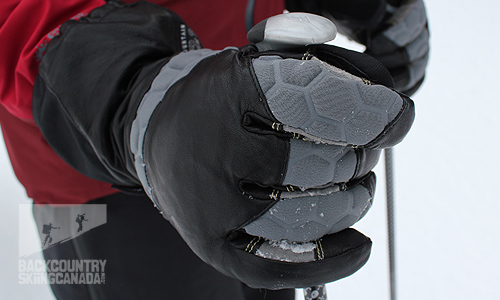 Specs:
Price: $175 US
Colour: Morrell, Inca Gold, Black
Size: XS, S, M, L, XL
Weight: 272g / 9.6oz
Material: Shell - Goatskin Leather, Lining - 70% acrylic, 30% wool
Waterproofing: OutDry, Q.Shield DWR
PROS:
Warm and waterproof with a comfortable inner lining.
CONS:
A very tight fit. (I'm typically a L but even the XL were tighter than I would like.)
Rating: 8/10
Fit / Dexterity 1.5/2
Warmth 1.5/2
Durability 2/2
Features 1.5/2
Quality / Price 1.5/2

This is only our opinion. Do you disagree? Did we miss something? Are we totally out to lunch? Join the discussion in the forums here, and let us know what you think. People like/dislike gear for different reasons so chime in and we'll get a well-rounded evaluation.
Back to the rest of the reviews.
---