Montane Fast Alpine Stretch Neo Jacket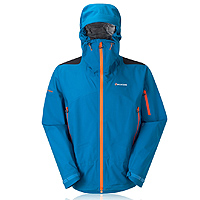 The Fast Alpine Stretch Neo jacket is the first Montane garment I've ever reviewed and the initial thing I thought of when it arrived was, "Why are tech clothes from the other side of the Atlantic so Euro?" I guess it's because, well, they're from Europe, or in the case of Montane, from England. Or maybe it's the jacket's colour (electric blue with tangerine zips) that brought to mind outfits worn by Scandinavian and Slavic athletes at the last winter Olympics. Whatever the case, it's always so easy to spot clothes made by European brands whether at the ski hill or in the backcountry. Not that that's a bad thing – it's just my own observation. And no matter the look, really what we're really interested in is just how well the pieces perform. In the case of Montane's Fast Alpine Stretch Neo jacket, I decided to first look into the history of the company before giving it a test run.

Formed in the Northumberland area of the UK in 1993, Montane's raison d'etre is "lightweight and breathable" and they have a number of different products that utilize some of the best tech fabric on earth from Pertex to, one of my personal favourites, eVent. It's responsible for some of the toughest contests on earth, from the 430-km winter Spine Race in the UK and the Iceman Polar ski race in Greenland, one of the few competitions to be held in the arctic. Then I learned Montane sponsors British climbing hardman Andy Kirkpatrick and I was sold. (For those who don't know, Andy is famous for tackling some of the hardest and most unforgiving climbs on earth, usually in the winter.) Any company that outfits Andy Kirkpatrick on his insane adventures are due respect.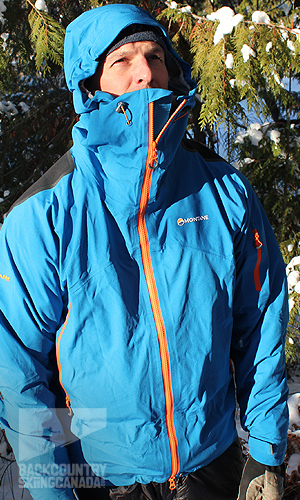 Features:
- 50 denier Polartec® NeoShell Stretch fabric
- Bonded Diamond Face fabric on shoulders and forearms
- Pertex® Microlight Mini Rip-stop windproof internal waist snow skirt
- Fully adjustable climbing helmet-compatible hood with three points of adjustment
- Two A-line pockets with YKK matte AquaGuard® zips positioned well clear of backpack or climbing harness belt
- Left arm sleeve pocket with YKK matte AquaGuard® zip
- Internal left-hand side bonded mesh pocket with hook and loop closure
- Two-way full length YKK AquaGuard® VISLON® front zip
- Easy grab U-shaped pulls on all zippers for use with gloves or mitts
- Brushed microfleece on inner collar facings next to mouth, chin and rear neck
- Shaped 'ratchet cuffs' bonded for durability
- D-ring sewn in upper sleeve to attach glove or mitt cord
- Bonded lower adjustable hem to prevent spindrift entry and heat loss
Two hand warmer pockets and an internal mesh stash pocket provide space for your stuff.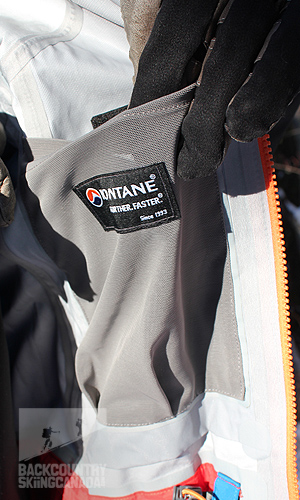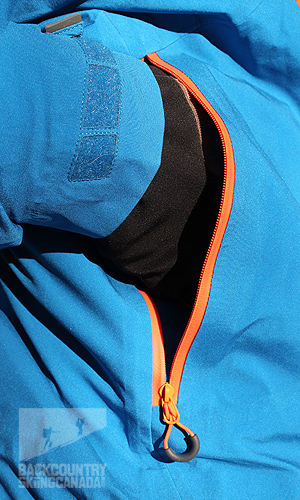 The super high collar provides über protection from the elements. In the middle picture you can see the zipper garage and dual hood adjustments, while the last one shows you how snug the hood can become with or with-out a helmet.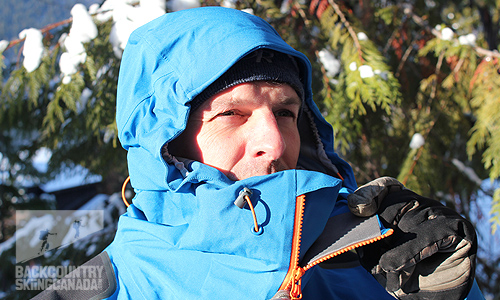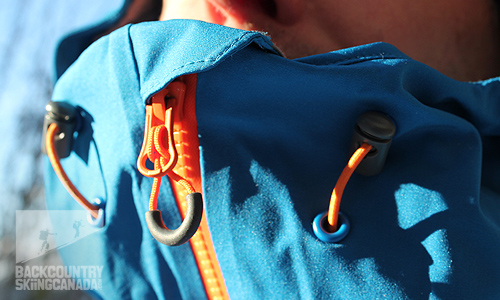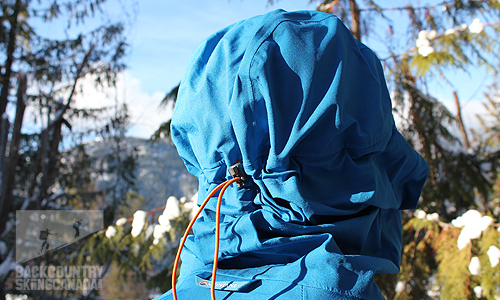 The super light powder skirt has a funky tensioner and clasp system, the latter has a minor learning curve.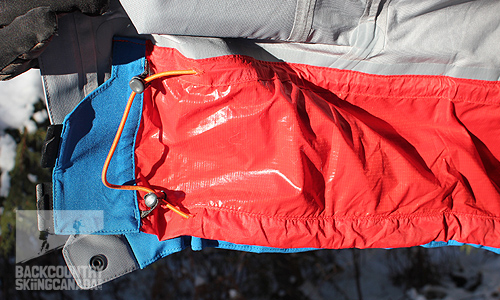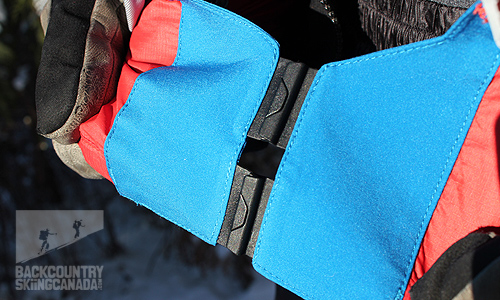 Reinforced patches on the shoulders and elbows offer extra wear protection for those who like it rough.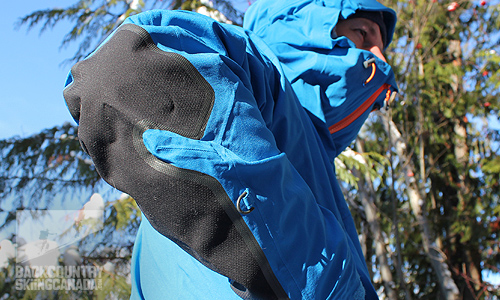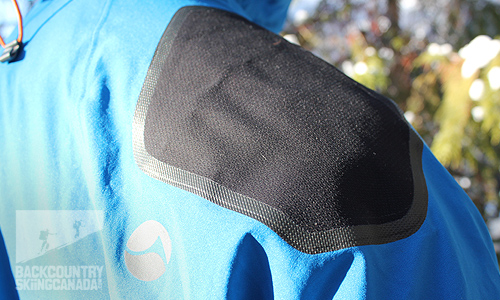 Single handed cuff adjustments as easily made thanks to the innovative loop design.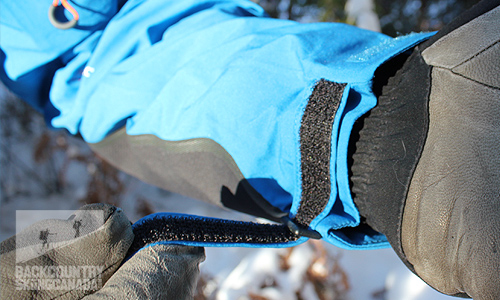 A small sleeve pocket for those who like them or simply a design accent.

Verdict:
Aside from the Euro look, the first thing I noticed about the Montane Fast Alpine Stretch Neo Jacket was its texture – the Polartec NeoShell Stretch fabric is like a cross between a soft shell and a hard shell. As the name suggests, it has stretch but there's a durable feel to the 50D Polartec fabric that the company says is "hydrophobic and microporous with a tightly controlled pore size to enhance breathability and air flow." In the field the jacket did breathe well in +1 to -5°C conditions and, despite the 1990s look, the reinforced Diamond Face patches on the shoulders ensured my backpack straps didn't scuff the fabric or cause moisture seepage areas. I like the large two-way main zipper as it's easy to use with gloves on and there's a storm flap with rain drain edge behind it to ensure any moisture is whisked away. The two front pockets are high enough that they didn't interfere with my waist belt and the inner pocket is large and stretchable. There's a sleeve pocket as well but I've never understood what those are for, unless you need some place to put your smokes.

One thing I had never seen before on a jacket was the Pertex Microlight rip-stop internal waist snow skirt that resembled a piece of parachute fabric. Nor had I seen the style of the skirt's clasps before. There are two of them and they're a male-female clasp system made from plastic. Why the company didn't use normal buttons or Velcro I don't know but I wonder how durable the plastic clasps are in frigid temperatures. The skirt has a quadruple cinch system, which seems like a bit of overkill, but it definitely works as evidenced when I took a header into a powder stash. The one thing I couldn't understand about the garment though was why it was so roomy. Aren't Europeans supposed to be thinner than us North Americans? Why then does a medium jacket feel massive on my 5'11", 165-pound frame? I definitely recommend trying one on before you purchase as you may find yourself needing a smaller size.

Other features that I liked about the jacket were the ratchet cuffs that easily and tightly adjusted around any style of glove and the helmet-compatible hood that has not one but three points of adjustment. And when the hood is not in use, an internal elastic compression strap keeps it low profile.

All in all Montane's Fast Alpine Stretch Neo jacket is an impressive garment made of new-age fabric that offers lots of features and functions. It isn't exactly the style I would wear and I wonder about the durability of the plastic clasps and inner snow skirt but hey, if it's good enough for Andy Kirkpatrick then it's okay by me.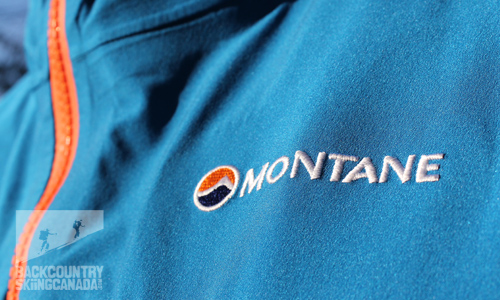 SPECS:
Price: $550 US
Size: S, M, L, XL, XXL
Colour: Shadow/Alpine red zips; Black/Kiwi zips; Electric blue/Tangerine zips
Weight: 600g / 21.2oz (M)
PROS:
Breathable, stretchy Polartec Neoshell fabric with reinforced shoulders to lessen wear and tear from a backpack. The deep hood cinches three different ways and the ratchet cuffs are virtually air-tight no matter what form of glove you wear.
CONS:
The reinforced patches are a throw-back to the 1990s and the style isn't for me (but you be the judge). I also wonder about the durability of the plastic clasps and inner snow skirt.
Rating: 8/10
Fit/Mobility 1.5/2
Packability: 1.5/2
Waterproof/Breathable 2/2
Features: 1.5/2
Quality/Price: 1.5/2

This is only our opinion. Do you disagree? Did we miss something? Are we totally out to lunch? Join the discussion in the forums here, and let us know what you think. People like/dislike gear for different reasons so chime in and we'll get a well-rounded evaluation.
Back to the rest of the reviews.
---