Mile High Mountaineering Salute 34 pack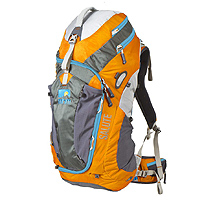 Mile High Mountaineering is one of the most innovative pack companies I know of. Their packs are well designed, look great and function well on the trail. In 2012 we here at Backcountry Skiing Canada reviewed the MHM PowderKeg 32 ski touring pack. We loved this pack and, consequently, it won our prestigious Gear of the Year Award.
The subject of today's review, the MHM Salute 34 pack, is designed with the same chassis and principles as the Mile High Mountaineering PowderKeg 32 ski touring pack. These principles include creating an innovative, feature rich pack with a clean exterior design. We've been eagerly waiting to get our hands on the Salute 34 and it proved to be every bit as great as we had hoped.
The main ground-breaking (and super exciting) feature of the Salute 34 is it's unique Snake-Loader zipper system which opens the entire pack up from top to bottom like a rope bag. This is great as it means you can instantly access the top, bottom, middle or the entire pack with just this one zipper. It snakes from the top of the pack in a long "S" formation right to the bottom. This zipper system works better than I had imagined and has set the bench mark for all other pack reviews to come. Traditional top loading packs are just a pain in the butt to access gear from, no longer for this reviewer.
In order to create a clean exterior design, MHM created pockets to store excess straps in. For example, the two compression straps located on either side of the pack and the ice axe loops on the bottom of the pack are housed in out of the way in recesses where they can easily be accessed if you need them but won't ever get in the way. Following the same idea, the Salute 34 has a built in "Packslicker" rain fly as MHM calls it. This rain cover is found on the bottom of the pack in a zippered compartment and provides protection from the elements in a matter of seconds should a storm blow in. This has to be one of my favourite features of the Salute 34. There have been too many times in the past when I have been caught in a rain storm and my pack gets saturated because I either forgot to bring along a rain cover or decided it wasn't going to rain. Never again.
With nine pockets in total the Mile High Mountaineering Salute 34 pack has you covered when you are looking for a place to store your gear of varying size and importance. Far too may packs just provide a bare bones shell with the traditional top pocket and perhaps one small hip belt pocket if you are lucky. Not so with the Salute 34, you get two hip belt pockets that are large enough to actually be usable, two side pockets ideal for water bottles, a top pocket for quick access items, two internal plasticized pockets to keep things like maps and valuables dry and protected, one exterior mesh dry locker pocket for storing a jacket or helmet and one internal mesh pocket for your water hydration system or other items like maps, gloves and toque. With this many pockets it is always quick and easy to find the item you are looking for; no more pulling everything out of the body of your pack while you search for one item.
The fit on the Mile High Mountaineering Salute 34 pack is really similar to that of the PowderKeg 32 pack, which is to be expected since they share the same chassis and fitting technology. In a word (or two), MHM packs just fit well. This fantastic fit is due in part to what's called the "M-Flex Frame System." Included in this system are a curved perimeter wire frame and rigid back frame sheet which give the Salute 34 pack support and rigidity both when loaded up or completely empty. In addition, the back panel, hip belt and shoulder pads are pre-formed to your body's curves; all you have to do is take a look and you will see their unique shape. To increase the comfort even more, each of these areas is padded with perforated cushioning and mesh overlay fabric to allow air to flow through. This cushioning provides the right amount of padding without feeling bulky or sloppy while still being supportive to the load that you're carrying. The final and arguably the biggest innovation in Mile High Mountaineering's fit regime is the "VariCant dual-pivoting hip belt". This fancy term simply means that the hip belt arms pivot independently of one another so that the pack load stays centered on your back as you bend from side to side when you are walking, hiking or scrambling.
Fabrics:
Main Pack fabric: 315 denier ripstop Invista CORDURA® Plus, Nylon 6.6, 80g PU/DWR.
Bottom Fabric: 840 denier Invista CORDURA® HD, Nylon 6.6, 80g PU/DWR.
Orange Color Fabric: 210 denier HT honeycomb Kolon, Nylon 6.6, 80g PU/DWR.
Features:
- 4 poly-tube gear loops.
- M-Flex™ suspension system with wire perimeter frame/HDPE frame sheet.
- VariCant™ dual-pivoting/adjustable hipbelt.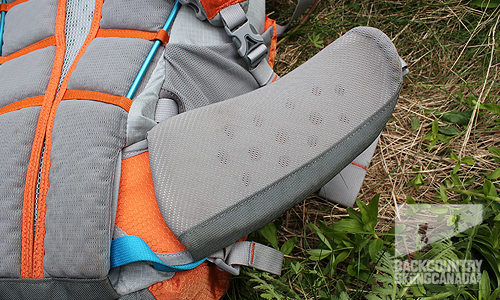 - Snake-Loader™ zipper system with heavy duty #10 zipper.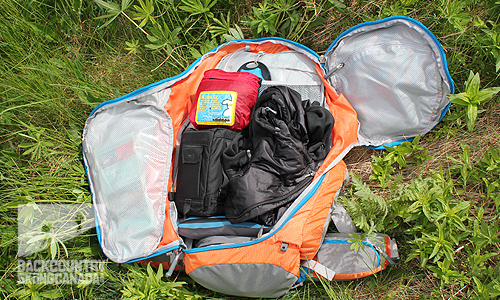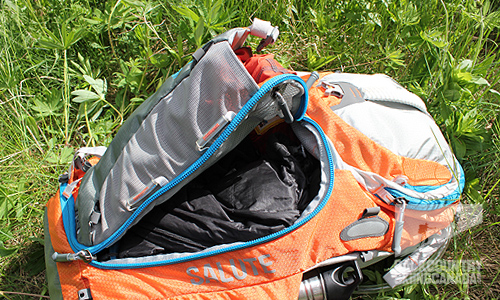 - Perforated foam backpanel, shoulder straps and hipbelt.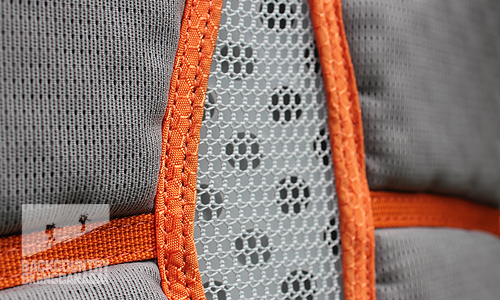 - The integrated Packslicker™ rainfly is located at the bottom of the pack in this zippered pocket and is there when you need it.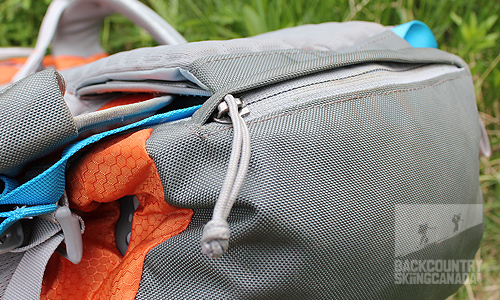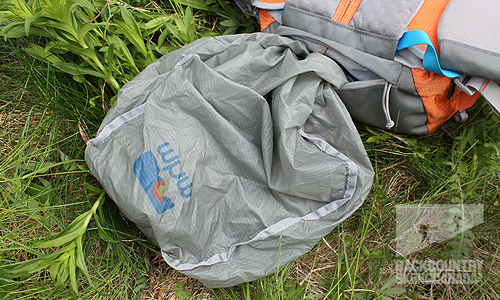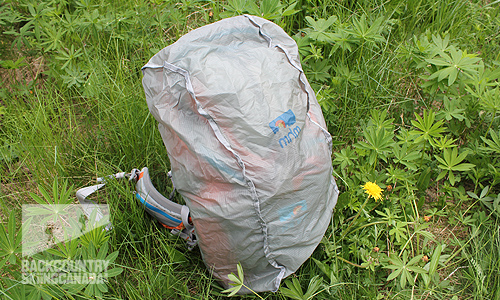 - Deployable ice-axe straps.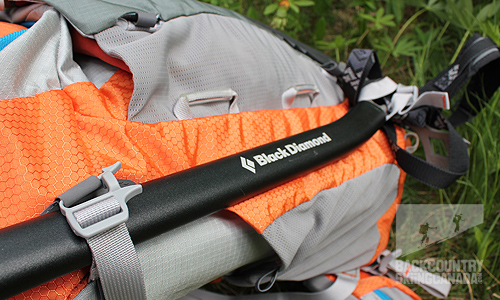 - 4 deployable compression straps.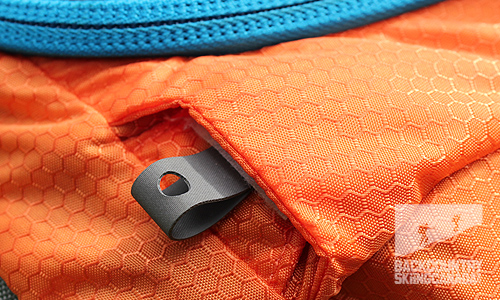 - 9 pockets in total including two on the hip belt and one mesh pocket on either side which is perfect for carrying a watter bottle (or two).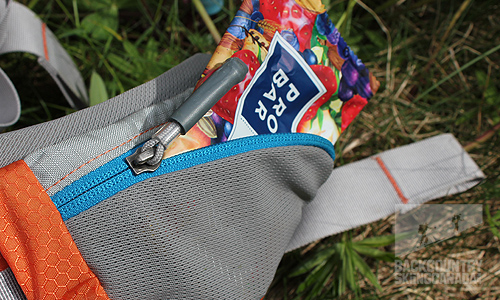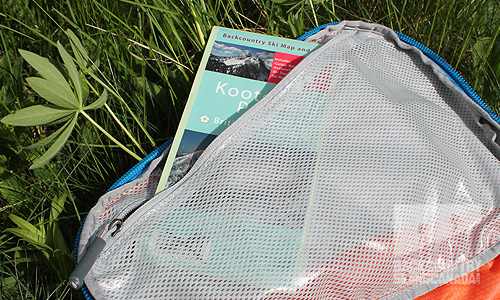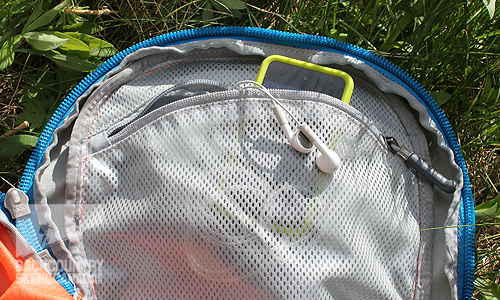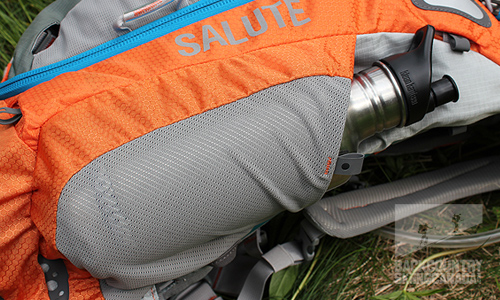 - Large external over-loader stuff pocket is ideal for on-the-go storage or for wet things.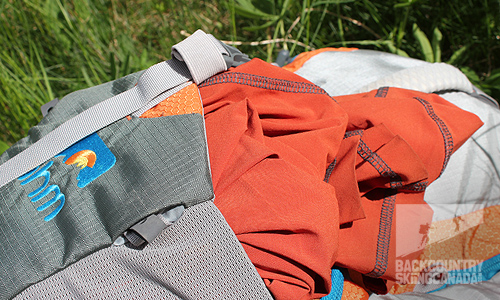 - Hydration bag compatible.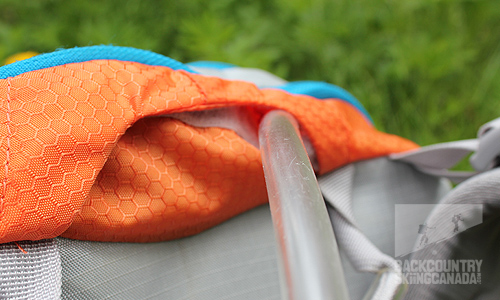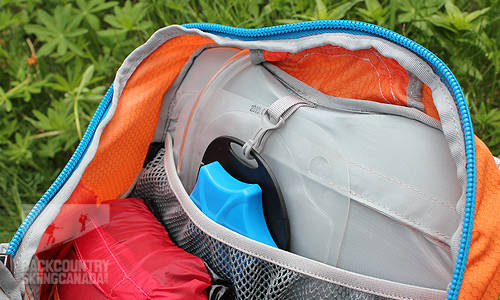 Verdict:
Mile High Mountaineering has scored another win in my books with the Salute 34 pack. They have stuck to the design principals that made the PowderKeg 32 an award winner and upped the ante with the integration of the Snake-Loader zipper. This level of access to a pack is a game changer and may force you to re-think your choice of hiking day pack. Add to this the built in rain cover and a host of other features mentioned above and you can see why it's easy to love this pack.
As with the MHM PowderKeg 32 there is still some room for improvement with this pack and I have compiled a few points below. While none of these are earth shattering to the overall functionality of the pack they are none-the-less valid and would only make a great pack even better in this reviewer's opinion.
- The integrated Packslicker rainfly is an ideal feature for a day pack as you never know when you are going to need it and when you finally do require its services it proves to be indispensable. The zipper placement, however, is prone to collect dirt and water since it lies directly on the bottom of the pack. There is a flap to help minimize this but if it was placed slightly higher on the bag or even if the zipper flap was reversed it would help to resolve this issue. Since the rain cover is stowed in the bottom of the pack (you can un-clip it and remove it if you like) it does provide a bit of padding for when you are carrying fragile items like a DSLR camera, which is a nice bonus.
- I don't see a need for the top soft handle when there is a more traditional haul loop/handle on the top of the back side. While this handle does add some aesthetic value to the design I didn't find that I ever used it.
- The clip for the external pocket or dry locker, as I called it, crosses over the Snake-Loader zipper so it forces you to un-clip it each time you want to fully unzip the pack. While not a huge issue it did impede usability somewhat. I know that this clip orientation provides more capacity for the external pocket but I think the clip could have been located under the zipper rather than over it and thus eliminate the problem while still providing ample storage space in the pocket itself.
- In the top pocket an internal key clip is needed so that you can affix a key ring to it and reduce the risk of loosing your car keys while on a hike.
- The integrated hydration compatibility is a great feature but a clip or retention device is needed for the hydration hose on the shoulder strap to keep it in place.
- It would be nice to see a 4th zipper pull on the Snake-Loader zipper so that you can keep two pulls centered on the top of the pack for top loading access and keep the other two mid way down for side access. The 4th zipper pull would allow you to have even quicker access to the top of the pack as you could simultaneously unzip the top in both directions at once while still leaving mid to bottom access as an option.
Enough of the critical eye already, we'll finish off the review with a few of the details on the Salute 34 that you may not notice immediately but add up to produce a well thought out, designed and manufactured pack. First, the laser cut drain holes in two side pockets (ideal for water bottles) and the back panel wet locker are nice aesthetic features but also work well if you do collect some water or dirt in those pockets. Similarly the hidden ice axe loop and side carry/compression straps are pretty slick and ideally hidden until required so that the pack doesn't suffer from "strap dangle-itis" that was so popular in the 80s. And finally, I love the two internal pockets with plasticized protection, great for storing valuables, small items that may get lost or items that need to stay dry.
Overall the Salute 34 is an awesome pack and I can't wait to test a trekking pack from Mile High Mountaineering to see what they have conjured up to improve that product segment as well.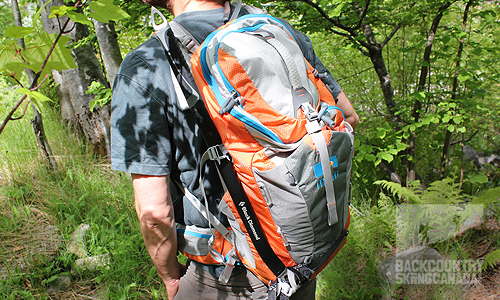 SPECS:
Price: $229 US
Colours: Orange, Blue
Volume: 34 liters
Weight: 3lb 8oz / 1587g
Awards: Men's Health Magazine "top 5 products for 2012"
PROS:
- Very comfortable and form fitting
- Unique snake-loader zipper allows full access to the pack interior and does not get stuck
- Integrated rain cover is genius
- More pockets than you know what to do with, great for storing and protecting your gear
- Hidden compression straps and ice axe loops keep them out of the way and provide a clean beautiful design
CONS:
- No chest strap clip for the hydration hose
- Secondary handle not really needed
- Dry locker clip is not ideally located
- Integrated rain cover zipper is not ideally located and collects dirt easily
Rating: 9/10
Innovation 2/2
Function 1.5/2
Aesthetics / Fit 2/2
Features 1.5/2
Quality / Price 2/2

This is only our opinion. Do you disagree? Did we miss something? Are we totally out to lunch? Join the discussion in the forums here, and let us know what you think. People like/dislike gear for different reasons so chime in and we'll get a well-rounded evaluation.
Back to the rest of the reviews.
---