Marmot Renya Softshell Jacket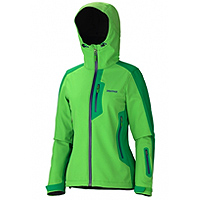 About a month ago a box arrived with a Marmot Reyna softshell jacket inside. I have worn it on every adventure, in a whole range of weather conditions since. January in the BC coast mountains is a mixed bag of surprises - rain, sun, snow, hail, temperature inversions, fog and wind, and anywhere between -25C and +5C. Living here I have acquired more types of jackets than any other item in my wardrobe. I am happy to report that one Marmot Reyna is equal to about five other jacket layering combos together.
I am going to jump ahead and give you the verdict on this jacket straight out of the gate: I love it. High five to the Marmot Reyna! Here's why.
The Company:
First off, the Reyna is made by a company that has been producing quality gear for a long time. Marmot was founded in 1974 by two friends, Eric Reynolds and Dave Huntley, who started making down jackets and sleeping bags in their college dorm room a couple of years earlier. Marmot was one of the first companies to experiment with Gore-Tex and is now the oldest customer of Gore in the gear world (37 years and counting). They use high quality technical fabrics and materials in their products, one of which I will describe next.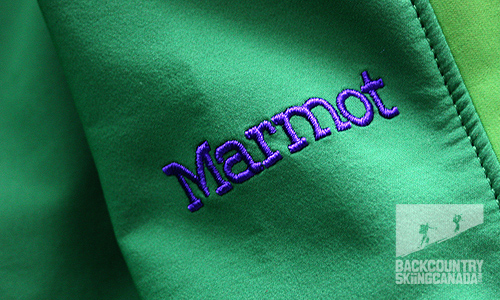 The Idea:
Softshell technology combines the best of two worlds - your warm fleecy layer and outer hardshell - and delivers a versatile high functioning piece of clothing.
The Marmot Reyna is in equal parts lightweight and tough. It is constructed with Polartec® Power Shield®, a warm durable material that is 98% windproof, breathable, water repellant, abrasion resistant, stretchy and creates a rapid moisture vapor transfer.
Marmot has developed a line of softshells called the M-Series. The Marmot Reyna is an M2 softshell, meaning that it is designed for aerobic activities in moderately cold temperatures where breathability and warmth are both key. The M1 is the most breathable, built for warmer weather and high aerobic activity, while the M3 is meant for intermittent activity in very cold conditions. The Reyna (M2), being in the middle for warmth and activity level was perfect for January in the coast mountains. I was the most comfortable in this jacket between -10C and 0C, needing to add a fleece layer under it below -10C and stashing it in my pack over zero (on the uphill at least).
In the field:
I was a little doubtful about how dry this jacket was going to keep me slogging through the snow on the uphill climbs because although it is very light, it's a fairly substantial piece of clothing. I decided to give it a good testing, ascending a few thousand feet as fast as I could go, and was surprised to find my backpack completely soaked with sweat but the jacket dry both inside and out! Not only was this great for the actual climb up, it also allowed me to wear the Marmot Reyna on the down without switching my layers. I used the hood quite a bit for more warmth heading down and unless it was really cold, my hard shell spent most of the journey in my pack instead of being the usual outer layer. With my skepticism happily quashed, I proceeded to take the Reyna on every uphill adventure this month. Verdict: success.
The details:
The Marmot Reyna has 5 pockets. There are two big outer side pockets which sit high enough to accommodate a harness, but are deep enough to comfortably warm up your hands. The zippers go up so high that when you have them open, they almost double as side vents. There's a tiny pocket on the lower left arm, which I never found a good use for in the backcountry, but it could be used for a ski pass or some apres beer money. There's a chest pocket on the left with interior headphone access, and a soft hidden chest pocket on the inside right. All of the exterior pockets have sealed water resistant zippers. There are velcro adjustable cuffs, drawstrings at the hem and three ways to adjust the hood. The jacket is lined with a super soft fleece layer. It uses Angel-Wing TechnologyTM aka the ability to move your arms around without the jacket riding up.
To top off the technical features, it comes in a bright leaf green color so you'll stand out in the snow, and in town afterwards. The fit was perfect; it was comfortable under a hardshell, over another fleece layer, and great on its' own with just a thin first layer as well.
Front and back glamour shots.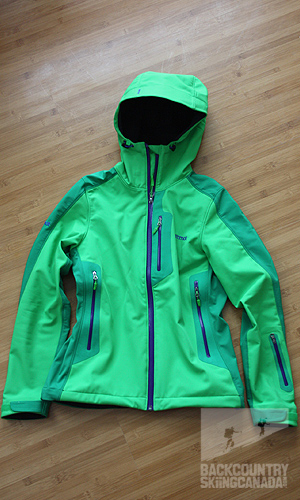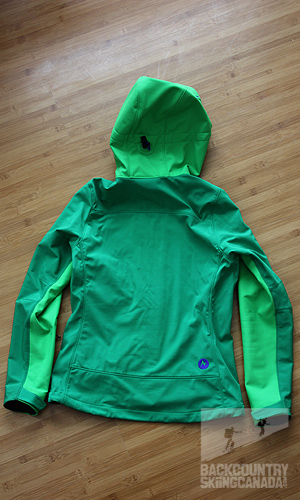 The features:
Polartec® Powershield®
Marmot M2 Softshell
Attached hood with laminated brim and peripheral cord
Water-resistant zippers
Asymmetric cuffs with velcro adjustment
5 pockets
Elastic draw cord
Angel-wing movement
Polartec to the core.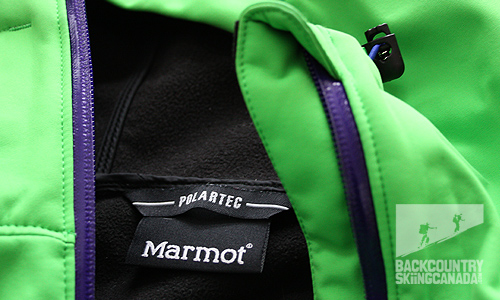 Hood adjustability maximized.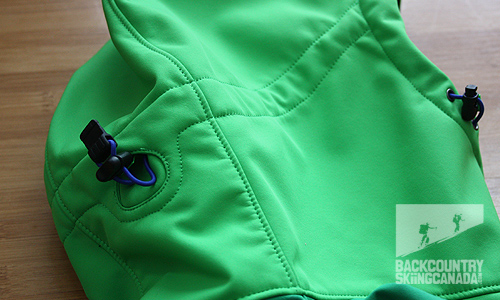 Pocket with media port.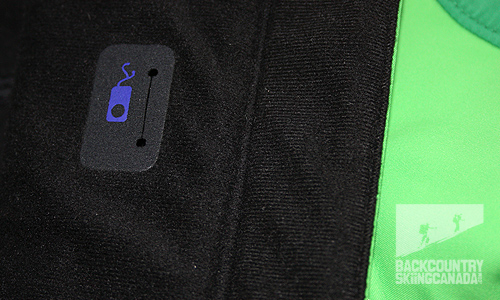 Verdict:
As you can see, I have a lot of good things to say about this jacket. It's performance is top notch, it is well constructed, and Marmot really knows how to cut a nice shape for us ladies. The fit is A1. Of all the jackets I have for cooler temperatures, I think this is definitely going to be the one that gets the most use.
I read some other reviews of this jacket and one complaint was that it was stiff. I found this to be true only in the first day or two of use - after a couple of good trips in the mountains it's as soft as ever. I make my living being critical (creative director) and even so, I can only think of one thing I would change on this jacket, and that is the lower pocket on the cuff - I'd be happy without it. Otherwise, nice work Marmot. The Reyna rocks.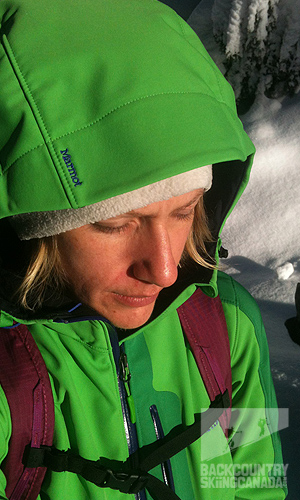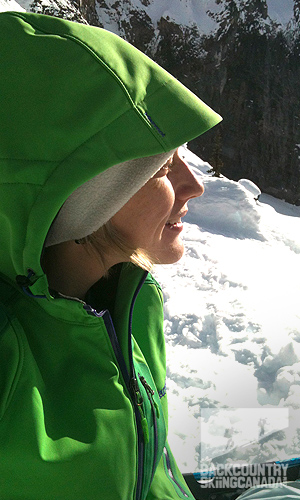 SPECS:
Price: $300
Colours: Bright Grass/Dark Fern; True Black/Dark Steel; Vibrant Purple/Deep Purple
Center Back Length: 25in / 63.5cm
Overall Weight: 1 lbs 2.7 oz / 530.1 g
Main Material: Softshell WPB 100% Nylon Plain Weave 7.7 oz/yd
Main Material: Polartec®Power Shield® 88% Nylon, 12% Elastane 6.1 oz/yd
Sizes: XS to XL
Fit: Athletic
PROS:
Excellent performance in the field, thanks to the high quality technical fabrics; versatile for a range of weather conditions; allows for fewer layer changes en route; fantastic fit in all areas (including the best fitting hood of any jacket I've worn); works as a stand alone jacket or can easily and comfortably be layered up to suit the activity level and weather; beautiful color and design.
CONS:
The sleeve pocket and interior right pocket are not entirely necessary in my opinion, and I wouldn't mind the jacket shape being cut a tiny bit longer on the back than the front, to match the shape of my hardshell.
Rating: 9/10
Fit / Mobility 1.5/2
Packability 1.5/2
Warmth / Breathable 2/2
Features 2/2
Quality / Price 2/2

This is only our opinion. Do you disagree? Did we miss something? Are we totally out to lunch? Join the discussion in the forums here, and let us know what you think. People like/dislike gear for different reasons so chime in and we'll get a well-rounded evaluation.
Back to the rest of the reviews.
---