Louis Garneau T-Flex 300 Mountain Biking Shoes and Edge Helmet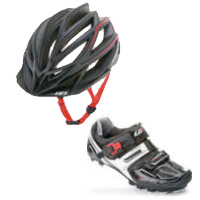 The good people at Louis Garneau sent us some gear to test and we are eager to share our impressions. Louis Garneau is one of those quiet Quebec-based companies that has been chugging away for decades and has recently burst onto the scene as a major player in the bike world. Founded by Louis Garneau (some things just make sense) in 1983ish, the company now makes everything from apparel to a full range of bikes.
M. Garneau was a road and track cyclist and, as well as now being known for his cycling gear, he had a brief brush with fame when he put his arm around the queen for a photo opp—a move that had members of Canada's Monarchist League reeling. We were invited to test two items: the T-Flex 300 Mountain Biking Shoe and the Edge Mountain Biking Helmet. This reviewer hasn't had an upgrade in either department in a long time so the items were very welcome.
T-Flex 300 Mountain Biking Shoes:
Let's take a look at the shoes first. Let me start by saying that I am a fan of simplicity and what struck me first about these shoes was their lack of it. Aesthetically, they are busy. Red, white, and black. Shiny faux leather, rough ballistic-type fabric, etc. This seems to be pretty common with a lot of biking gear these days—especially the "race ready" stuff.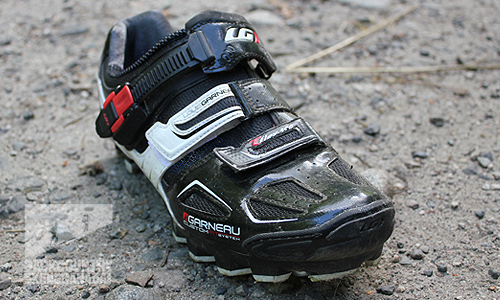 How 'bout some details. Here's a close-up of the ratchet buckle feature. Very handy and robust. Looking at the picture above, you can see how the LG logo appears on a wider piece of fabric. This means when you crank down on the ratchet, a wide area is tightened and your instep is very secure.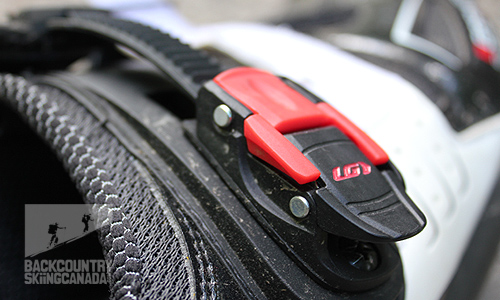 I have an old pair of Shimano XPD pedals and the T-Flex 300s snapped in like a charm. There are two nuts –crampons--that one can screw in just below the toe for added traction (see at right). I screwed 'em in and they seem to work fine.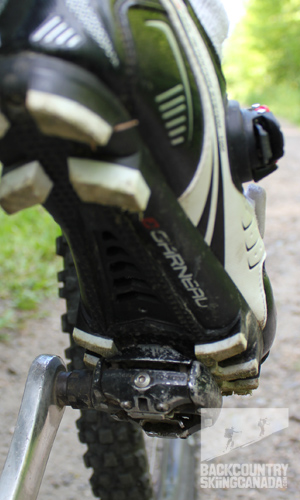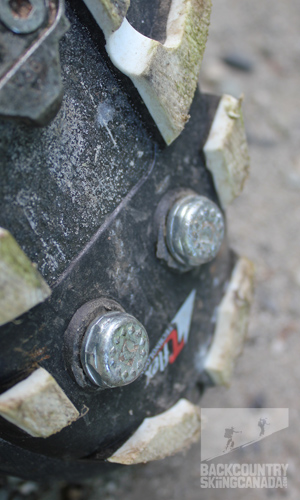 Fully adjustable SPD cleat. 'natch.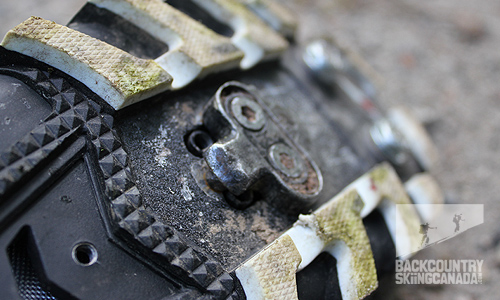 This here below is one of a couple features that I thought was very smart. I think they call it an "Air Power Blade" and it's basically a little wedge that you can have on or off on the bottom of the shoes. Take 'em off and the shoe is a lot cooler. It's also a little more vulnerable to water seeping in. We don't have a picture of it here but the shoes also come with two insoles: one set for cooler weather, one for hotter. And you can really feel a difference.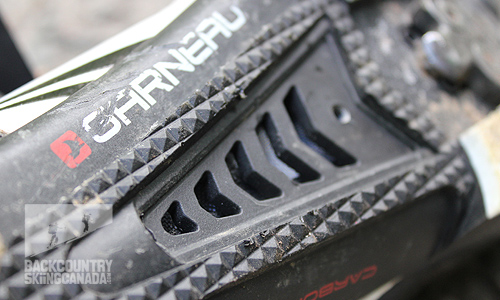 Here's a simple shot of the shoe in action. One more feature that warrants mention is found in the inside back of the shoe. The fabric is rough in such a way that it helps to keep your heel and Achilles tendon stay in place. It's comfy too.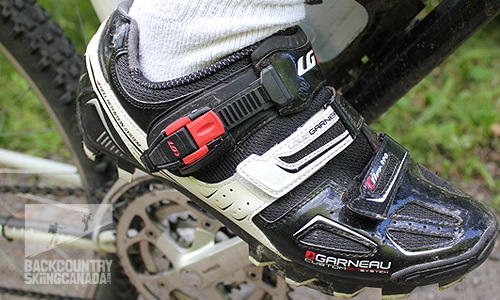 Features:
- Carbon Air Power Blade outsole
- Air Power Blade can be removed for extra ventilation or left on to prevent infiltration
- Flex zone from studs to forefoot
- HRS-100 system reinforced with a 0.6-mm membrane
- 100% heat moldable shoe at 150 °F (65 °C)
- New upper strap with laterally and vertically fully adjustable EVA padding
- Varnished microfiber leather upper and cycling mesh upper
- New ratchet reinforcement with lateral and vertical positioning
- Interchangeable Coolmax Ergo Air insoles
- Visual display of cleat position compatible with SPD cleats
- Removable crampon system under toes
- Molding instructions on included shoe bag
Verdict:
The T-Flex 300 Mountain Biking Shoe has grown on me over the last few months. I ride mostly cross country and the foot–to-bike energy transfer is superb. I don't really like the shiny leather look but if you keep them dirty enough, it's really not an issue. I found the thermoformability aspect a bit of an over-promise. There isn't that much material inside to mold so I was a little underwhelmed by the post-cook fit. I discovered that wearing them for a couple weeks made the fit improve to the point where they were very comfortable.
SPECS:
PRICE: 199$
Colour: Black, red and white
Approximate weight (size 41/1 shoe): 370g/13.05 oz
Sizes: 36 – 44.5
PROS:
A solid shoe that performs well on XC trails and single track. Nice and cool. A high performance set of features (especially designed for hot and cool climes).
CONS:
Thermoformable feature didn't do much for me and I'm not a fan of patent leather in this application.
RATING: 7.5/10
Innovation 2/2
Function 2/2
Aesthetics 1/2
Features 1.5/2
Quality / Price 1/2
---
Edge Mountain Biking Helmet:
This helmet replaced a 5-or-so-year-old Bell helmet that was cracked and should already have been in the dump. The Edge is designed for mountain biking and has a good solid feel to it. It also features enough vents that overheating wasn't an issue in the super hot B.C. Interior sun.
I haven't crashed yet so I can't speak to its effectiveness in head protection but the fit, comfort, feel and cosmetics all score high marks.
The Edge outside and in. Vented much? 22 in total.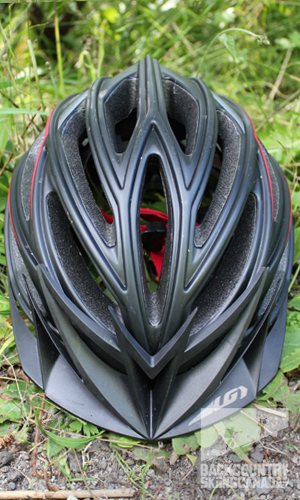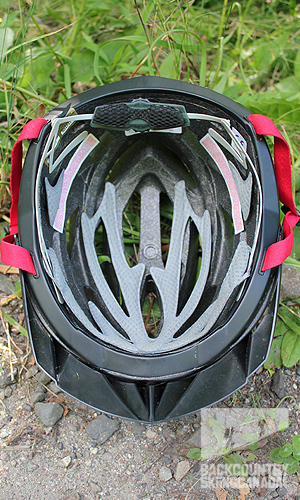 Visor? Check.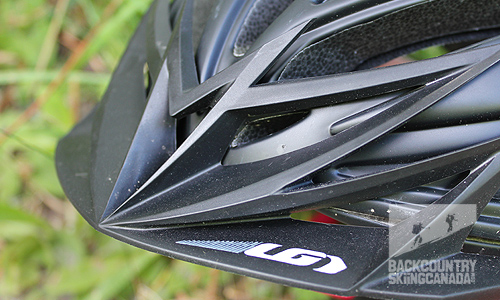 Spider Lock rear ratchet knob. I find that I put it on and tightened it up every time. Makes for a very good fit.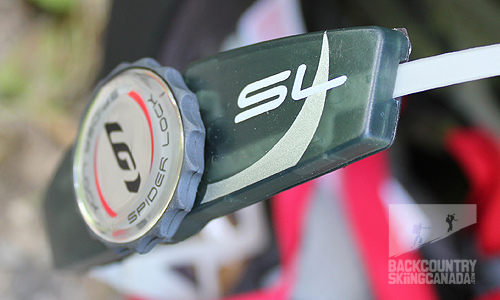 The Edge on a head. Pretty low profile. Slick.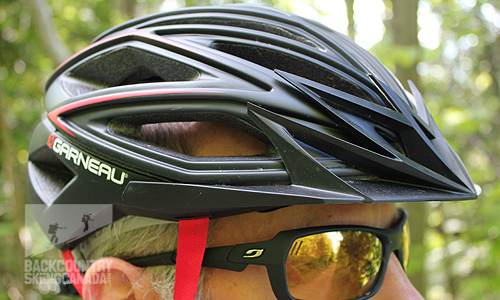 Features:
Certifications: CPSC-ASTM-CEN-AS 2063
Vents: 22
Shell: Uses U-BarTechnology, the plastic shell is made with U-shapped ribs (plastic is folded 6 times) which act like an exoskeleton for reinforcement.
Strap: Uses a lightweight rack-and-pinion systmem, micro-adjustable using only one hand and the Steplock Divider which is a cam locking device to quickly adjust strap position.
Padding: Sealed airdry padding is washable and ergonomically designed.
Visor: Can be installed with the included V-Pro system.
Internal frame system: Reinforces the helmets structure and enables huge vents to be created without jeopardizing protection.
Verdict:
Good helmet that meets the key criteria of the fit, comfort, feel and cosmetics. The 22 vents make for a very well ventilated helmet. I've worn it in cooler temps and it doesn't feel too cool either. The spider lock allows for a custom fit every time, the visor operates well as a sunshade but isn't so long that it blocks you from seeing what is in front when your head is down. It has become my only helmet for beating around town on a hybrid and when XC mountain biking. It also feels solid enough that should I crash, heaven forbid, it'd do a good job at protecting my grey matter. But that's thankfully conjecture.
SPECS:
Price: $99.99
Colour: Black
Weight: 10 oz/285 g
Sizes: small 6 1/2-7; 20 1/2" - 22"; 52-56 cm, medium 7-7 3/8; 22" - 23 1/4"; 56-59 cm, large 7 3/8-7 3/4; 23 1/4" - 24 1/2"; 59-62 cm
PROS:
Cool, well vented, and solid helmet. Understated look (pas trop flash).
CONS:
The chin strap is long and tends to dangle a little more than I'd like.
NOTE: We aren't making any claims as to the protection this helmet might provide in the event of a crash. We, luckily, haven't had any experiences that would aid us in this kind of evaluation.
RATING: 8.5/10
Innovation 2/2
Function 2/2
Aesthetics 1.5/2
Features 2/2
Quality / Price 1/2

This is only our opinion. Do you disagree? Did we miss something? Are we totally out to lunch? Join the discussion in the forums here, and let us know what you think. People like/dislike gear for different reasons so chime in and we'll get a well-rounded evaluation.
Back to the rest of the reviews.
---