Liquid Image Apex HD+ Camera Goggles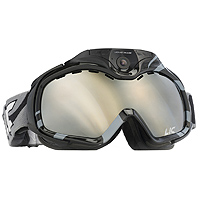 Although I am about to offend the majority of male skiers ages 16 - 34 I still have to make my next statement: Having a Go-Pro fixed to your helmet looks ridiculous. It's one of the main reasons I have never invested in a POV (Point of View) camera. The other down fall of most POVs is the whole "Is this on?, hey, Am I on?, Is this working?" routine every time you want to shoot a video. Sound familiar? Bad design all the way around in my humble opinion. So how do you make it better? Well, Liquid Image has made it better by taking the alien third eye off your head and placing the camera discretely in a piece of equipment we already wear, ski goggles. They call it the Apex HD +Camera Goggles.
Liquid Image is a US based company that have been producing goggles and Action Cameras for all types of sports including scuba diving, motocross and snow sports since 2002. They've now taken this knowledge and created the Apex HD+: a compact camera built into the bridge of your ski goggles that is capable of recording video at 1080p and 720p at 30FPS and 60FPS respectively. How much technology can you fit into one pair of goggles? A lot. To the left of the camera, the Apex HD+ has a built in microphone which you can tilt 30 degrees. Attached to the inside of the straps on either side of the goggles are the batteries and controls. The right side holds a rechargeable lithium-ion battery while the left side has a slot for the included micro-SD card, USB port and a concealed HDMI port for downloading and viewing content respectively, as well as a 1cm x 1cm LCD display and two operational buttons.
These two buttons on the left side operate all features of the camera. The first button is the Power/Mode button which turns the unit on and off as well as allowing you to cycle through the four different camera modes: 720p video, 1080p video, 12 Mega Pixel photo and continuous photo mode. The second button is used to take pictures and start/stop the video as well as the WiFi mode.
Similar to other POV cameras, the control feedback is via audible beep patterns to tell the user what is going on. In addition to this there is a heads up LED light inside the goggles that communicates which mode you are in and if you are recording or not. When you turn the camera on you will hear one beep and see a blue light that indicates that you're in 720p 60FPS video mode. Another press on the power button and you're in 1080p 30FPS video mode, indicated by a green light. Another press and the beep and red light indicates you're in single photo mode. One more beep and a purple light and you're in continuous photo mode where it snaps one photo every two seconds. Hold the power button down and a series of beeps tells you the camera is about to power off. While recording video the blue or green light will flash so that you are sure you are in fact capturing what you see. Gone are the days of having to ask your buddies whether or not your camera is actually on.
I first saw the Liquid Image Apex HD+ Camera Goggles at the 2013 SIA show and knew instantly that this was a product whose time has come. With so many people answering their inner narcissistic child and needing to document their exploits with video and still photos I am pretty sure that this will be a big seller and take a large bite out of the Go Pros market. After all, why attach a camera to the top of your helmet when this all-in-one POV camera and goggle eliminates the need for an additional piece of gear. You typically wear your goggles while skiing, so it only makes sense to combine the two.
The camera is integrated pretty seamlessly into the goggle design.

Close up of the lens with wind guard.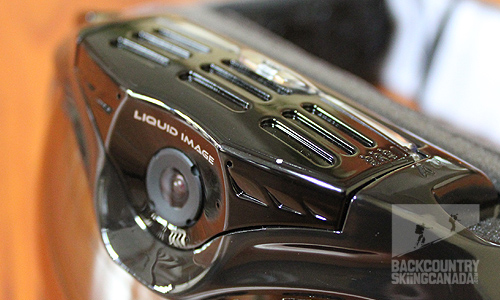 Plenty of goodies accompany the goggles including an additional lens and strap as well as cable, card adapter and bag.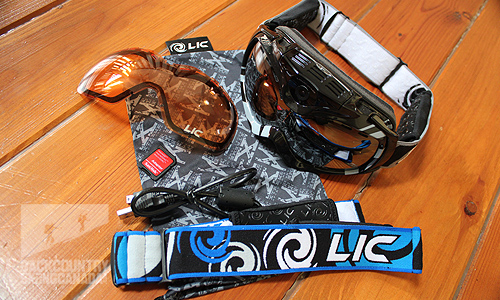 Battery Life:
The Apex HD+ WiFi version sports a rechargeable lithium-ion battery which lives on the inside of the goggle strap and has a life of between two to two and a half hours. A built in auto shut off ensures that the camera does not stay powered up or in standby mode indefinitely which saved dramatically on battery life during our testing. Recharging the battery takes about four hours and uses MiniUSB that hooks up to your computer or via a wall plug adapter. A small digital display (1cm x 1cm) gives feedback on the battery's life and recharging status.
Micro USB attached directly to your computer for quick content down load and recharge.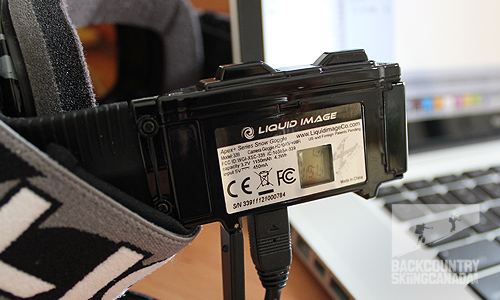 The battery is housed in a waterproof casing on the inside of the goggle strap.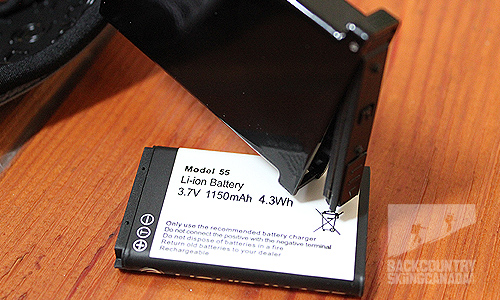 Quality:
We found that the video quality was top shelf in all conditions from sun to heavy snow and fog. Similarly, the still images were crisp and the slight fish eye encompassed a wide field of vision. Downloading content via the micro SD card and the included micro SD card adapter was seamless as was using the included cable for download and recharging. On the goggle side of things, the optics are clear and crisp in all light conditions and the field of vision acceptable considering price point and that the additional technology takes up space. The Liquid Image Apex HD+ WiFi Camera Goggles ship with two anti-fog, 100% UV Protected lenses, one for cloudy days and the other for sunny days.
Bottom view.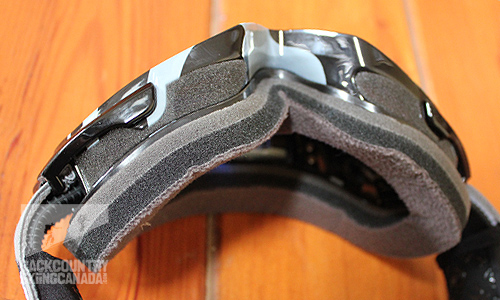 Cushy foam for comfort.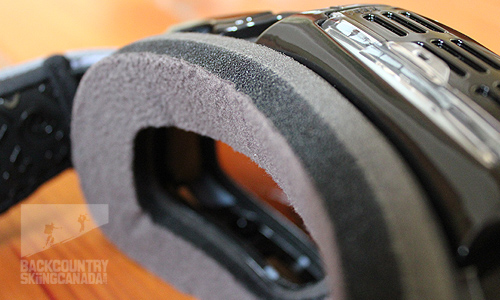 WiFi App:
Liquid Image has developed a free mobile app called Action Connect for iOS and Android phones. This app works in conjunction with your WiFi enabled Liquid Image Apex HD+ Camera Goggles, which are WiFi enabled. Your smartphone or tablet is instantly turned into a viewfinder that lets you review footage or view (almost) live footage (there is a slight delay in transmission). Your mobile device will also function as a remote control to activate the camera's different modes and control certain aspects of the camera. The final uses for the app are to delete content and/or share it via Facebook and YouTube.
Features:
Video: 1080p is1920x1080 pixels at 30 fps, 720p is1280x720 pixels at 60 fps
Audio: Built-in microphone with wind guard technology for high quality sound
Goggle lenses: Two anti-fog, 100% UV Protected lens (339 White comes with Gold Ionized & Amber lenses. 339 Black Ionized & Amber lenses.)
Goggle strap: Two straps (339 White comes with Grey/White strap and an extra Blue strap. 339 Black comes with Black/Grey strap and an extra Blue strap.)
Camera Lens: 135 degree wide angle camera lens
Photo Resolution: 12MP (Captures Single Shot and Continuous)
Sensor Type: 12 Megapixel Sensor
Video Format: H.264 compression
Storage Memory: MicroSD card, up to 32GB capacity, comes with an 8GB Micro SDHC card (Use only Class 6 and higher Micro SDHC cards with this camera)
PC Connection: USB 2.0 (data connection and battery charging)
Power and Battery Type: Rechargeable Lithium-Ion
Battery Life: 2 - 2.5 hours
Charging: Via USB to computer or included USB Power Adapters, takes proximately 4 hours
Viewing: Built in Wi-Fi
On the Inside of the goggle strap you'll find the battery on one side and controls on the other.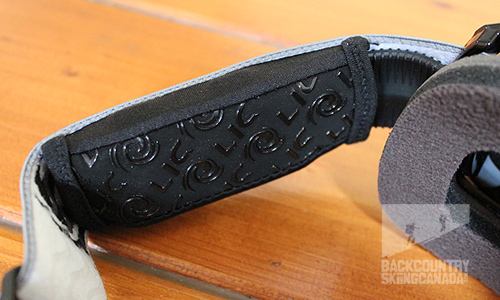 Here the controls are remove from the strap housing.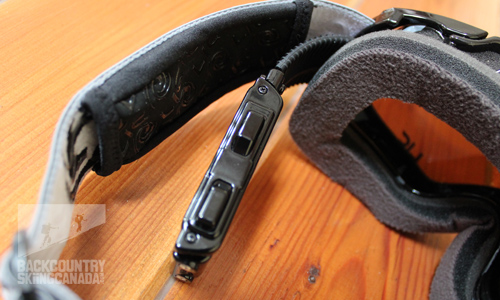 The battery compartment can be found in the strap on the left side.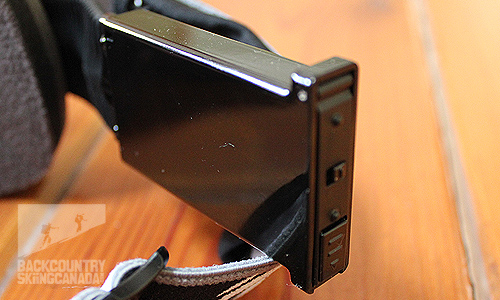 Changing the lens over is a pretty stadard procedure. Snap the sunny day lenses out...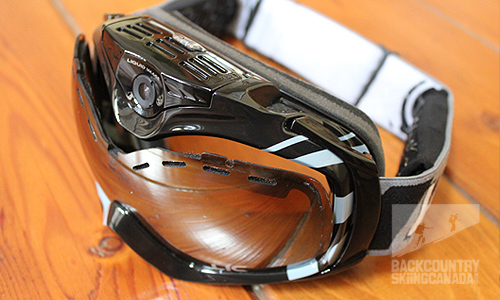 and pop in the cloudy day lenses.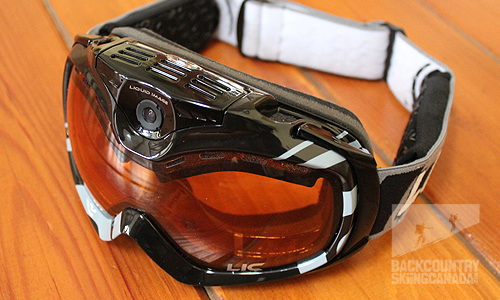 The heads up display is a coloured light to tell you what mode you are in and if you are shooting and recording.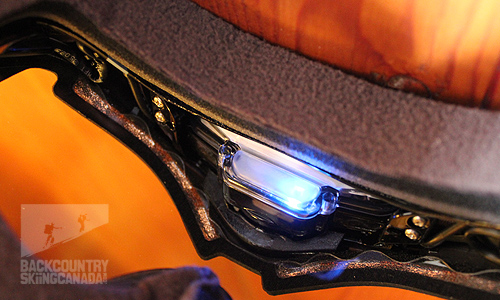 Verdict:
At $399 you sure get a lot for your money with the Apex HD+, especially when you consider that the goggle optics are quite good and a competing Go Pro would run you $250 - $500. You also get a spare lens for cloudy days as well as an 8GB Micro SDHD card and adapter and spare goggle strap. Your investment is covered by a 90 day warranty which, considering the nature of the product it is reasonable to see why it is limited to just three months. The Liquid Image Apex HD+ WiFi Camera Goggles are designed to be water resistant and to withstand rain, sleet and, of course, snow as well as a brief submersion in water. We did run our Liquid Image Camera Goggles on some pretty snowy days and the moisture was kept at bay with the equipment only requiring the same end of day dry out as any pair of goggles. As we mentioned above we also found the quality of the optics, the video footage and the photo clarity to be excellent. Despite all these positive points, we did find a few possible areas of improvement:
- The battery compartment and SDHC card slot are initially hard to access but given that you won't have to access these often except for downloading images and video via the cable you get used to it.
- The camera lens can be rotated up to 30 degrees (we didn't find this necessary) but requires a screw driver to adjust so it's not easy to do in the field.
- The locking mechanism on the control side occasionally comes unlocked when you try and remove the control from the goggle strap sleeve and similarly the buttons occasionally get depressed turning the unit on.
- The built-in microphone had low volume level in our testing but the wind deflector did block out a good portion of the noise due to wind which was a great feature.
- The small 1cm x 1cm screen was useful to convey information but it can only be viewed when you take the control unit out of the goggle strap. It would be nice to have a hole in the strap to view the display while still installed within the strap.
- Peripheral vision isn't ideal but is not bad considering the goggle has to house a camera, controls and battery.
- Action Connect, which is the free app, is useful but the user interface could be improved as it can be finicky and isn't intuitive.
- The control and battery units are rectangular in shape and could be more streamlined as they get uncomfortable to wear if you are not a helmet head.
- Continuous photo is a great option but with a 2 second burst mode it is not fast enough to capture sequenced action (other durations are five or ten second intervals).
All of these thoughts on how to improve this product should be taken with a grain of powder (er, salt) however, as this is an innovative product at a reasonable price. The quality is very impressive on all fronts and the technology behind the Liquid Image Apex HD+ WiFi Camera Goggles is truly impressive. My gripes are not show stoppers but rather small fixes that I am sure will come in future models.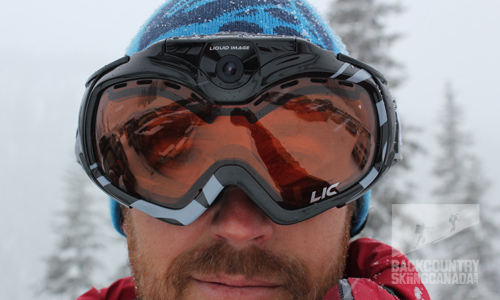 Check out the following video and photos captured with the Liquid Image Apex HD+ Camera Goggles to see how they perform. Please note that the video is raw footage with out any editing however it has been compressed by youtube. The photos have been scaled and cropped and again some compression has been applied so this will affect quality to some degree.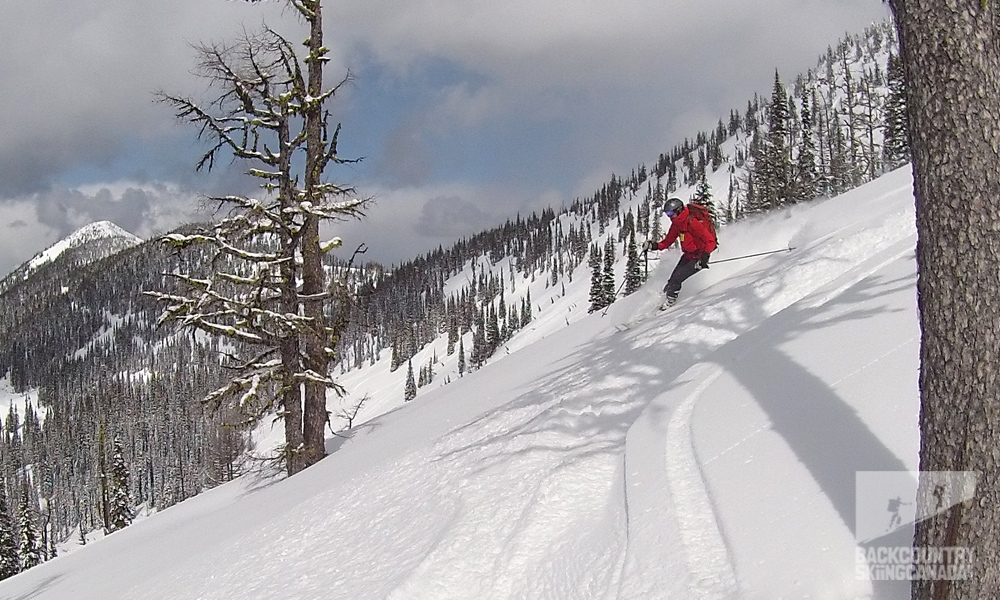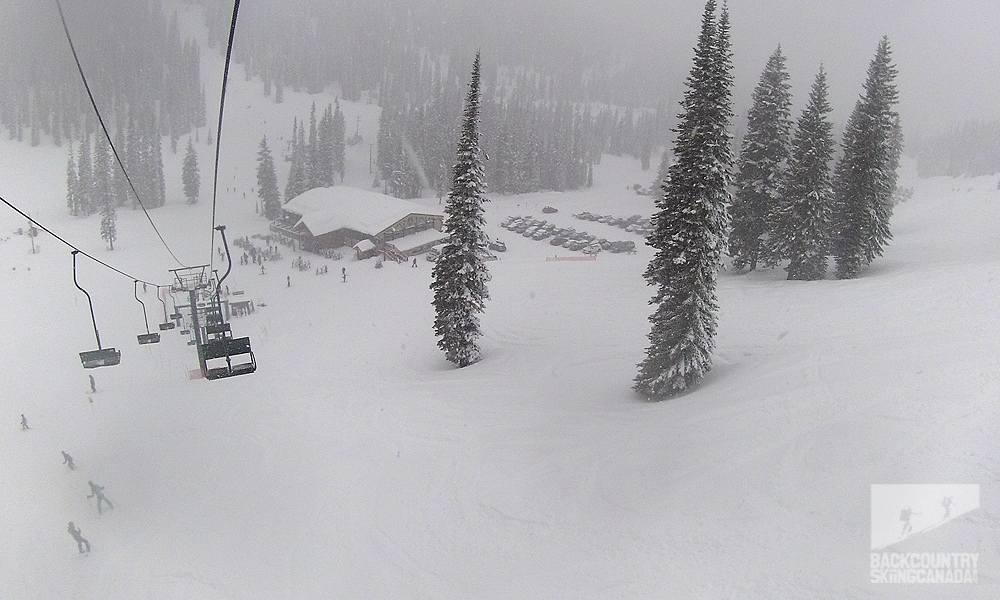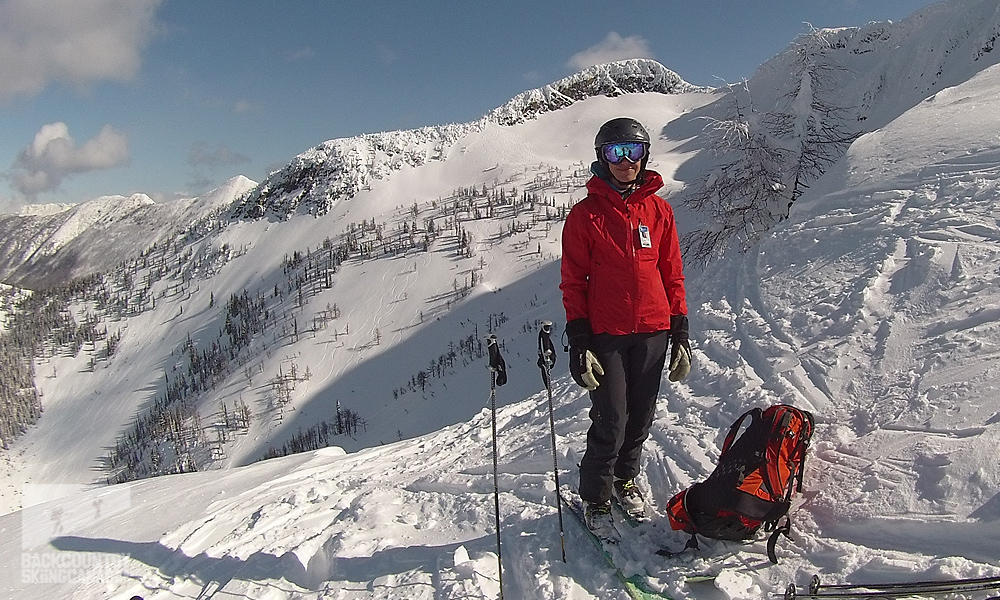 SPECS:
Price: $399 USD
Weight: 245g /.54lbs
Colour: White, Black
PROS:
Combining goggles and POV camera is genius, easy to operate audio and visual cues inside the goggles, video quality is top rate, Wi-fi enabled feature is ideal for on the go review and editing, interchangeable lens and clear optics for all conditions.
CONS:
Audio levels could be higher, iPhone app is not intuitive enough, battery pack and controls need a more streamlined shape for those of us who do not wear a helmet as they put pressure on your temples, field of view is hampered by the low points under the camera but you get used to this after the first few times you wear them.
Rating: 8/10
Ease of use 2/2
Features 1.5/2
Quality 1.5/2
Size / Weight 1.5/2
Price 1.5/2
This is only our opinion. Do you disagree? Did we miss something? Are we totally out to lunch? Join the discussion in the forums here, and let us know what you think. People like/dislike gear for different reasons so chime in and we'll get a well-rounded evaluation.
Back to the rest of the reviews.
---

Backcountry skiing is an inherently dangerous activity that requires experience and knowledge to travel safely. Any of the routes on this site may be dangerous depending on conditions. You are responsible for your own safety in the backcounty—the team behind backcountryskiingcanada.com disclaim any responsibility for any injury resulting from people travelling on routes described on this site. To read our Terms of Use and get all the details, read HERE.
---