La Sportiva Boulder X shoes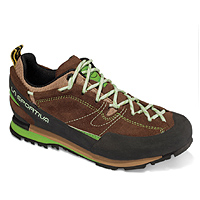 The La SPortiva Boulder X shoe is part of a long line of well-made, innovative hiking and approach shoes by La Sportiva. The most notable features of the shoes are its durability and comfort. They're useful for a variety of adventures; long talus fields, technical scrambles, rugged accents and hiking.
The lofty 5 layer constructed sole is topped with 2mm polypropylene LaSpEVA insole, providing superior cushioning to keep your foot comfy on long treks. Included in those layers are the Vibram Lite Runner sole, which provides extra cushion and comfort on uneven slogs. The 2.5mm composite moulded nylon Trail Bite Shank provides stability and pronation control amidst natural foot flexion, creating an incredibly supportive flexible low profile boot! The built-in EVA MEMlex absorbs shock on shifting descents and the RockShock shock absorbing EVA heel plate prevents rock bruising.
The toe-to-toe Mythos lacing is easy to adjust and eliminates hot spots while keeping your foot protected from intruding rocks, dirt and moisture; especially during bushwhacking and off trail adventures! Like other La Sportiva's, the lacing system is creatively woven through the back of the shoe, keeping your heel in place. The low profile shoe allows for more flexibility and natural range of motion that many high ankle boots hinder.
The double stitched seams of the Roughout leather upper makes for durable long lasting protection in any season. A favourite feature of the Boulder X is the sticky slingshot rubber rand that's strategically wrapped from the upper heel, sides of shoe and around the entire toe box for extra traction and durability.
The Vibram Idro-Grip V-Smear outsole paired with the Impact Brake System lugs provide for outstanding traction and grip on granite and sandstone boulders as well as mud and loose sand. To top it all off, the gnarly out-sole of the boot has extra thick EVA Micropore edging platform that will last a lifetime.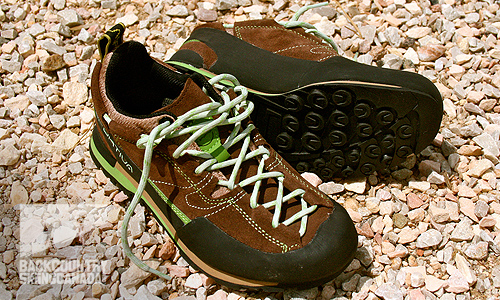 Features:
Construction: Board Lasted
Upper: Leather
Lining: Mesh (back half and tongue only)
Midsole: Micropore EVA
Insole: 2mm Polyproylene/2mm La SpEVA
Sole: Vibram® Idro-Grip V-Smear™ Impact Brake System™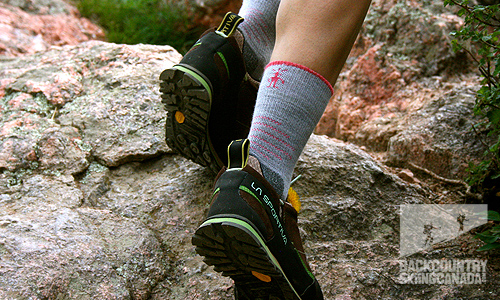 The toe-to-toe Mythos lacing offers up a snug fit.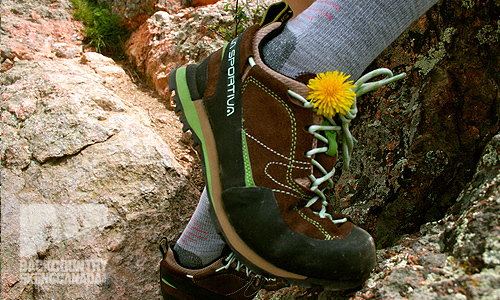 Vibram soles ensure a good grip on any surface.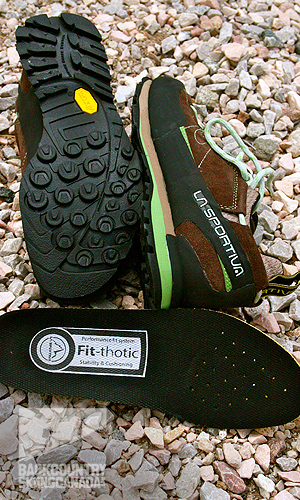 You never know what adventure they'll take you on.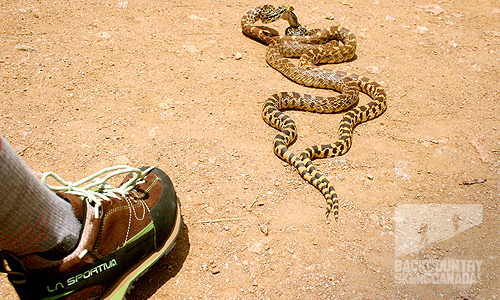 Verdict:
The Boulder X shoe offers superlative performance that can withstand weather and trail conditions without compromising comfort or durability. Due to the outstanding durability and comfort, the shoe is significantly heavier than most approach shoes. You may notice this extra weight when carrying the shoe on your pack for a big wall climb, however during the grueling trek up the mountain you will come to appreciate the additional padding underfoot and the uber sticky rubber that allows you to efficiently find your footing and scramble proficiently.
In the hot months of summer, thin breathable socks will contribute to a cooler experience, as the leather uppers provide for little ventilation. Less ventilation can be a good thing on dusty, loose, rocky trail where you will find your foot well protected from sand, debris and small rocks. The amazingly comfortable and protective lacing will keep your feet dry in wet conditions, and your heel firmly rooted in the shoe, while the sticky rubber toe rands offer durable protection and traction. This well-crafted shoe is designed to be enjoyed in a variety of different trail, weather and mountain bound activities. The shoe runs slightly smaller than other La Sportivas, try a ½ size bigger and enjoy the seemingly customized cushioning. This boot fits great for a narrow foot; I felt immediately comfortable in the boot and experienced zero blisters.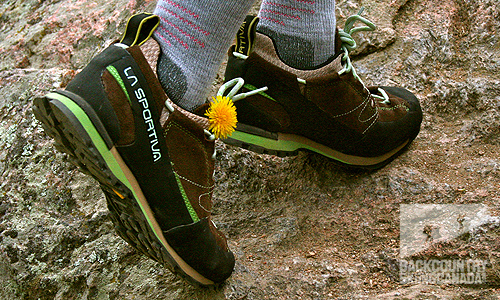 SPECS:
Price: $105US
Weight: 408g / 14.39oz
Sizes: 35 - 42 (half sizes)
Ideal Terrain: Approach and Hiking, technical terrain that requires friction and footwork.
PROS:
-Low-bulk profile
-Super Durable
-Great traction
-Stickiest rubber toe rands for all rock surfaces
-Solid lug and tread pattern
-Flexible, extremely comfortable and supportive sole
-Weather resistant leather
-Great value
CONS:
-Not the lightest approach boot, but its superior comfort and durability are worth the extra weight.
-Limited breathability
Rating: 8.5/10
Innovation:        1.5/2
Function:           2/2
Aesthetics/Fit:   1.5/2
Features:           1.5/2
Quality/Price:     2/2

This is only our opinion. Do you disagree? Did we miss something? Are we totally out to lunch? Join the discussion in the forums here, and let us know what you think. People like/dislike gear for different reasons so chime in and we'll get a well-rounded evaluation.
Back to the rest of the reviews.
---