LARABAR fruit and nut energy bars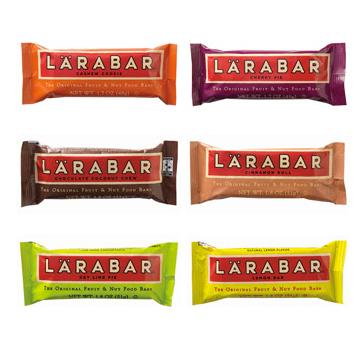 Everyone has their own motivations for backcountry skiing, for me getting out into the mountains is about getting back-to-basics, clearing my head (if it needs it), setting my own pace and being inspired. Alright, alright … it's also about the fresh pow. Over the last decade the simplicity I love about being in the mountains has slowly filtered into my food choices so I was pretty excited when I first stumbled across LÄRABAR.
LÄRABARs were the creation of Lara Merriken of Colorado. Lara started out experimenting in her own kitchen producing and packaging the first batch of 500 bars by hand. A decade later, the recipe hasn't changed and LÄRABAR are now producing millions of bars every year and distributing internationally. When you try one of these babies you'll understand why they have been so successful.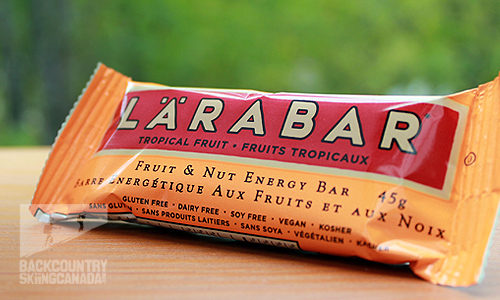 Ingredients:
It's no surprise that these bars were inspired at 10,000 feet on a hiking trip in the American Rockies. Their philosophy is about keeping things pure and simple and a bar doesn't get much simpler than this. Each bar contains as little as three ingredients and a maximum of nine ingredients. The ingredients are a ground-up blend of unsweetened fruits, nuts and spices. They are not baked or cooked. If you have a sweet tooth don't be put off by the 'unsweetened' as these bars pack their punch with natural dried fruits. The flavours range from the classic to the unique, from old-fashioned Pecan Pie to up-beat Key Lime Pie. Pecan Pie for example only has three ingredients - dates, pecans and almonds.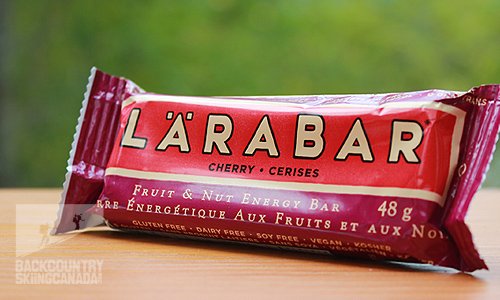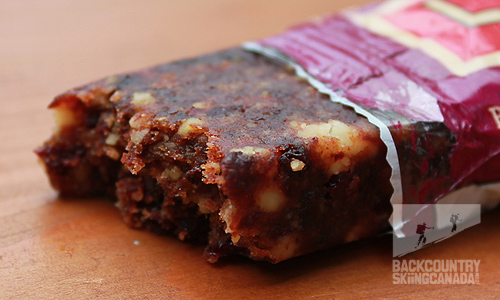 Health:
Last year, food author, Michael Pollan released his book Food Rules: An Eater's Manual. In his manual for healthy eating Pollan suggests:
- Don't eat anything your great grandmother wouldn't recognize as food.
- Don't eat anything with more than five ingredients, or ingredients you can't pronounce.
Everything you find in a LÄRABAR is recognizable, better yet, the list of what's in a LÄRABAR is short. This simplicity also makes it easier for people with food sensitivities and allergies. I was diagnosed with Celiac disease well over a decade ago and finding good snack alternatives with no hidden ingredients has been challenging. Most commercial power bars and snack bars rely heavily on the use of fillers such as granola or oats, which contain gluten proteins that can be irritating for some people and extremely harmful to others. All LÄRABARs are gluten free.
Aside from being gluten free LÄRABARs are also dairy Free*, soy Free*, vegan*, kosher, no added sugars or sweeteners*, non-GMO, no added sulphites, no preservatives, fillers, or colourings. *Does not include the Chocolate Chip varieties.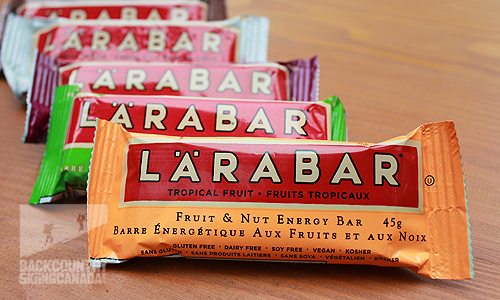 Verdict:
Let's be honest here, at the end of the day when you are out there in mountains, what you really want is something that tastes good. Taste is a subjective thing but in my opinion LÄRABAR have it going on. The flavours are unique, diverse and downright delicious. It feels like a treat to eat one of these, not just like you are eating for the sake of filling your belly or for a hit of energy, though they will give you that too. Don't be put off by the weight and size - these bars will hit the spot. If it's an energy boost that you are looking for, LÄRABARs contain as many calories as any of their competitors. If you get off on being healthy then these bars also feel good because they have an ingredients list that anyone can understand and that can be rattled off in one breath. In the case of LÄRABAR gluten free doesn't mean substance free, they have a dense consistency and with all the nuts packed in they will satiate a snack attack on the up track. Speaking of up track, these bars also won't freeze or go hard when you are skiing in the backcountry on a frigid day.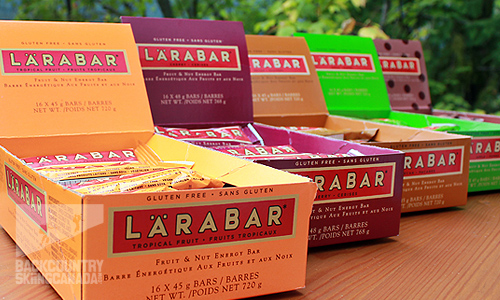 SPECS:
Price: $25.45 US for a box of 16
Flavours: Apple Pie, Banana Bread, Blueberry Muffin,Carrot Cake, Cashew Cookie, Cherry Pie, Chocolate Chip Brownie, Chocolate Chip Cherry Torte, Chocolate Chip Cookie Dough, Chocolate Coconut Chew, Coconut Cream Pie, Ginger Snap, Key Lime Pie, Lemon Bar, Peanut Butter & Jelly, Peanut Butter Chocolate Chip, Peanut Butter Cookie, Pecan Pie, Tropical Fruit Tart
Weight: 45g-51g
PROS:
A bar that's as pure as the mountains we ski in. Simple ingredient list with delicious and unique flavours. Gluten free.
CONS:
Biodegradable packaging would be worth considering.
Rating: 9/10
Ingredients      2/2
Taste               2/2
Effectiveness   1.5/2
Weight             2/2
Quality / Price 1.5/2

Join the discussion in the forums here, and let us know what you think. People like/dislike gear for different reasons so chime in and we'll get a well-rounded evaluation. Check back mid-season to see how our review stands up to our in-the-field testing.
Back to the rest of the reviews.
---