Kuhl Clothing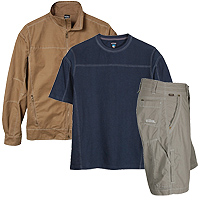 Kühl designs and manufactures clothing from performance fabrics for those who enjoy an outdoor lifestyle. Their clothing is innovative and full of features that improve fit, comfort and versatility for mountain adventures. As a bonus, they also look good enough to wear around town or even go out on the town.
Kühl was originally born from a company called Alfwear, which was the creator of the Peruvian inspired Alf hat. Alfwear was founded by John "Alf" Engwall, Conrad Anker (the legendary Mountaineer) and brothers John and Kevin Boyle. In 1990 Kevin Boyle transformed that company into what is now Kühl. The company was launched with the creation of the signature Euro-style Polartec piece of the day, the Jacquard jacket. Kühl integrated the original thumb-loop cuff system and underarm gusset into this jacket and, with that, it soon gained cult status. Fast forward to 2012 and the Kühl line has expanded to include jackets, tops, pants and shorts. Their list of innovative designs and fabrics has grown to include: the Thor 1/4 Zip Sweater, the Sabre Full Zip Sweater, the Burr Jacket, the Thunder Short Sleeve Shirt, the Rambler Shorts, the Renegade Pants and the Revolver Pants. All of these products will be the focus of this review, if you are interested in a more recent review of newly released 2013 Kuhl clothes then click on over here to check it out.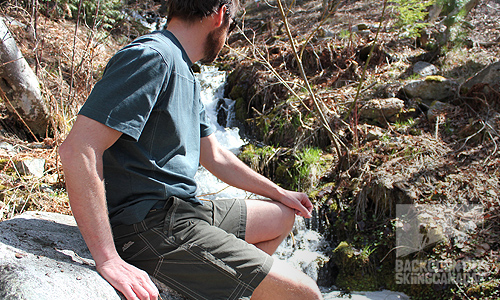 Some of the Kühl terminology and technology built into the pieces we reviewed are defined below for your reference.
Thermokre: A temperature regulating blend of wool and fleece. The outer wool blend layer is designed for style and durability. The inner microfleece, on the other hand, creates a thermo layer that keeps you warm and comfortable in a range of conditions.
Flat Lock Seams: A smooth, flat seam created with a special sewing machine
Chianti Fleece: A blend of temperature regulating wool and fast drying polyester fibres that provide a smooth finish. This material combines the best properties of wool with the performance and freedom of care that a synthetic fleece offers
Wildfibre: A type of organic cotton, grown without pesticides or fertilizers. Although it costs more it is better for the environment.
Kühlair: A type of pocket that is made of mesh to allow ventilation against your skin and minimize perspiration.
Born Free Gusseted Crotch: An added fabric panel which is inserted into the pant leg and crotch area to extend the range of motion for the pant.
Free Ryde Waist: The Kühl Yoke Waistband follows the natural contour of your body; your hips rise in the back and so should your pants. This contour fit keeps your pants in place as you move and has a longer than normal length from belt top to crotch for extra room to extend your range.
UberKühl: A bi-component fabric which is stronger, lighter, and dries faster than cotton.
Tuffflex: A durable, lightweight, quick drying, wrinkle resistant woven stretch soft-shell with a soft brushed back for comfort.
Athletik Fit: A specific design of pants that offers more room in the thigh area and a wider pant leg which provides functional and unrestricted movement.

Articulation: A way of joining fabrics that allows for active motion at the knees, elbows and shoulders. Gusseted panels provide more fabric while darts gather the fabric to allow for natural range of motion.
UPF: The Ultraviolet Protection Factor rating system measures the UV protection provided by fabric. A fabric rated UPF 30 is blocking 96.7% UV while a UPF of 50 blocks 98% of the UV radiation.
Vintage Pantina Dye: Originally developed in Italy, this is a double dye process which will naturally fade with age, exposure and wash to create a unique character.
French Snap: This is essentially a second button closure system behind the zipper takes the pressure off the exterior snap and prevents it from popping open or pulling too hard on the fabric.
---
Kühl Thor 1/4 Zip:
Price: $99 US
Colours: Olive, Graphite, Brown
Sizes: S, M, L, XL, XXL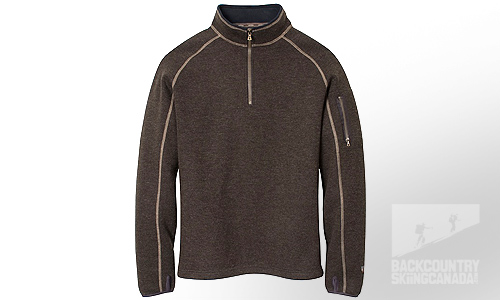 The Kühl Thor 1/4 Zip sweater takes the standard fleece top to a whole new level. It combines wool and micro fleece to get the best of both worlds; the exterior wool is bonded to the fleece to provide functional insulation and stylish comfort. Toss in Kühl's trade mark thumb loop cuffs and precision Swiss made Riri zippers and you can batten down the hatches in adverse weather. An underarm fleece gusset improves mobility and a stash pocket on the sleeve provides a nice bit of style and a place for those important smaller things.
Features: Thermokre, Flat Lock Seams, Gusseted pits
---
Kühl Burr Jacket:
Price: $115 US
Colours: Khaki, Raven, Brown
Sizes: S, M, L, XL, XXL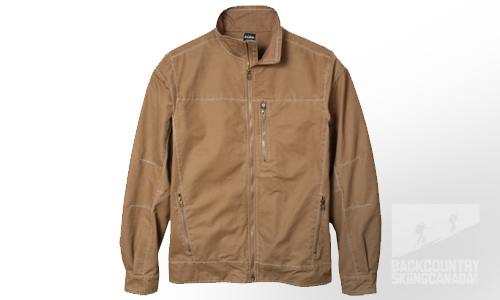 The Kühl Burr Jacket is a combination of combed cotton canvas striped ottoman fabric on the outside for durability and micro-fleece for warmth on the inside. The rugged look of the Burr Jacket is contrasted by its soft texture and patina finish which give it that "lived in" look. The beefy YKK full zip and chest pocket zipper are reliable and strong while the double needle saddle stitching provides nice detail and low bulk seams. The generous cut and articulated sleeves provide good range of motion and room for additional layers should you need them; although this jacket will keep you plenty warm on cooler spring and fall days.
Features: Articulation, Vintage Pantina Dye
---
Kühl Sabre Full Zip:
Price: $125 US
Colours: Burgundy, Charcoal, Steel, Brown
Sizes: S, M, L, XL, XXL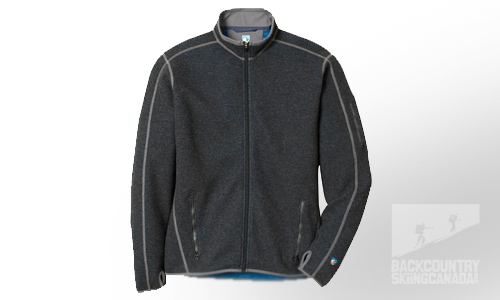 The Kühl Säbr Full Zip sweater is much like the Thor 1/4 Zip; it combines the softness of fleece against your skin (no itch) with wool's beautiful textured appeal. You get a garment that looks and feels like wool, but is easy to take care of. With 43% polyester, 42% wool and 13% nylon you get the quick drying, wicking properties of the polyester, the temperature regulation and moisture wicking properties of wool and the shape retention of nylon. The full length locking zipper lets you keep your cool if you heat up and the Flat Lock Seams increase strength and comfort next to your skin. The wool exterior is non-piling and the collar and trim use a contrasting micro-fleece to make the Sabre Full Zip Sweater stylin'. Thumb loop cuffs and precision Swiss made Riri zippers round out this sweater.
Features: Flat Lock Seams, Chianti Fleece, Gusseted pits
---
Kühl Thunder Short Sleeve:
Price: $48 US
Colours: Navy, Brick, Spruce, Olive, Black, Espresso
Sizes: S, M, L, XL, XXL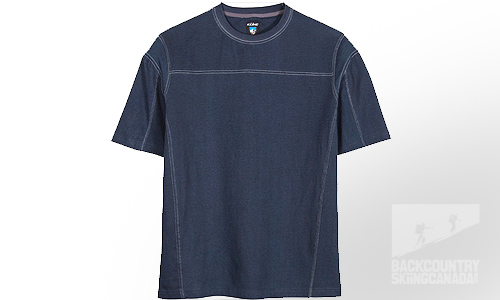 This t-shirt ain't no ordinary t-shirt. The Kühl Thunder SS or Short Sleeve is 100% pigment dyed cotton (60% organic) and enzyme washed for the "lived in" look. The seams are double needle saddle stitch for increased strength, reduced bulk and a subtle design feature. Kühl also took the gusset and used it in an innovative way; they placed it on the shoulders for improved freedom of movement. This means that you can raise your arms and reach without having the Thunder Short Sleeve T-shirt pull on you or slow you down.
Features: Shoulder Gussets, Wildfibre
---
Kühl Ramblr shorts:
Cost: $60 US
Colours: Gun Metal, Khaki, Brown
Sizes: 30, 32, 34, 36, 38, 40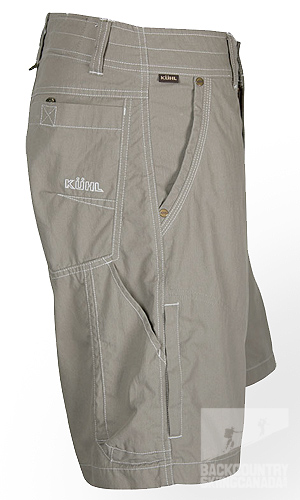 Kühl's Ramblr shorts are made from 74% cotton and 26% nylon. This combination is lighter, stronger and faster drying than canvas but still has that durable feel thanks to its 5.1 oz/sq. yd fabric weight. This fabric, which Kühl calls Überkühl, is made with a bi-component oxford weave that is soft to the touch and dries really quickly after a down pour or lake swim. The Free Ryde waist, gusseted crotch and 10" inseam make for an active but not baggy fit. The Kühlair vent system of four mesh lined pockets allows your body to breath and for you to stay cooler. Another nice feature is the new 3-D cell phone pocket which ensures quick access when you have a call but does not let your digital device slip out even when bending over or walking up steep terrain. To ensure your pack does not make these shorts into low riders there is a "french snap" that keeps your shorts up but does not dig into you. This is essentially a second button closure system behind the zipper that keeps everything smooth and out of harms way (if you know what I mean). It also takes the pressure off the exterior snap and prevents it from popping open or pulling too hard on the fabric. (See the photo at the end of the review for a more detailed look).
Features: Born Free Gusseted Crotch, Vintage Pantina Dye, Überkühl, Kühlair, French Snap
---
Kühl Revolver Pants:
Price: $75 US
Colours: Gun Metal, Black, Khaki, Brown
Sizes: 30x30 to 40x34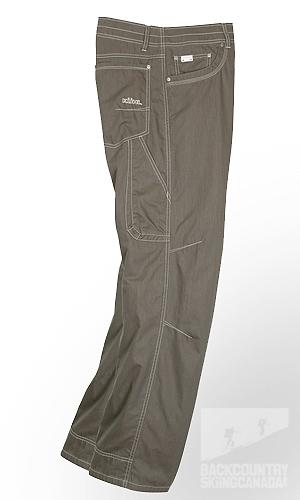 The Kühl Revolver Pants are a lightweight pant with a cotton/nylon blend; cotton for comfort and nylon for its quick drying properties. These pants do not have as much stretch or range of motion as the Renegade pants but the gusseted crotch and articulated knees still allow them to move with you. The Athletik Fit accommodates more muscular thighs while the Free Ryde Waist and Fiochi Italian snap keep you comfy. In addition, the double layer scuff-guard at the cuffs and pockets helps reduce wear and tear. As a bonus, the pants are small and compressible and, therefore, do not take up much room in your pack. Finally, the cell phone pocket is always nice to have and rounds out the Kühl Revolver Pants well.
Features: Free Ryde Waist, Articulation, Born Free Gusseted Crotch, Athletik Fit, French Snap
---
Kühl Renegade Pants:
Price: $85 US
Colours: Carbon, Khaki, Brown
Sizes: 30x30 to 40x34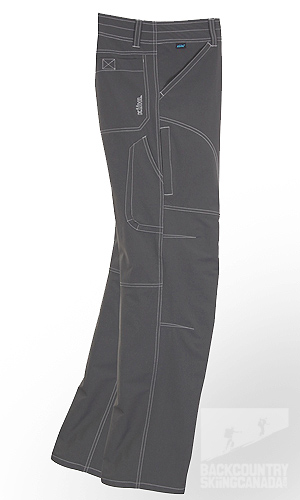 The Kühl Renegade Pants use Kühl's 91% nylon, 9% spandex Tufflex fabric and are a true softshell hiking pant. These pants provide incredible 4-way stretch with articulated knees, gusseted crotch and ergonomic design. Six pockets with mesh lining, including a cell phone pocket, provide ventilation and lots of room to keep items easily accessible. Double needle bar tacks at critical junctions provide reinforcement and an added DWR sheds light moisture. These pants are wrinkle resistant and dry super quickly.
Features: UPF 50, Tufflex, Kuhlair, Athletik Fit, Articulation, Free Ryde Waist, Quick Dry, Wash and wear, Born Free Gusseted Crotch, French Snap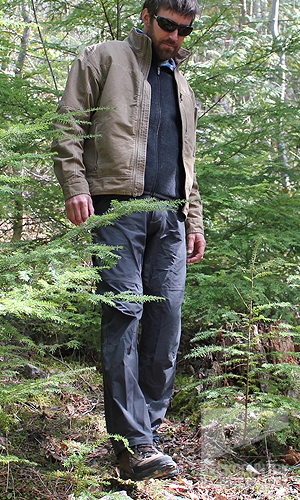 Verdict:
What's left to say about Kühl clothes that we have not already said? As a company, Kühl is certainly pushing the boundaries with new features and fabrics in clothing; they have a way of making clothes simple while incorporating a lot of great features. For example, little details like contrasting stitching on their Flat Lock Seams or beefy zips and rivets go a long way to increase the quality of the products.
Furthermore, their combination of wool and micro-fleece (called Thermokre) is great because it feels super warm and it looks almost as comfy as it is. Also, the Wildfibre organic cotton makes the Kühl Thunder T-shirt more than just an ordinary T-shirt. We also found that, with all of the products we tested, gusseting played a big part in the comfort of the product as it ensures a full range of motion for most activities.
We found the subtle Kühl branding on each item to be a refreshing change from most brands which put it front and centre.
The Kühl style says mountain rugged but street wise at home, on a hike or at the cafe. Overall, we feel that the products we reviewed are simple, understated, functional and, well, all in all, are really nice clothes.

PROS:
Stylish, functional, practical, fairly priced, and well designed and made. Plenty of pockets on every piece and the mobile phone pocket is genius. The relaxed fit is super comfy and the sizing is bang on for every piece.
CONS:
Most pants and shorts have the 'french snap" closure system which I found useful to keep things secured but overall it just got in the way and I found I did not use it. The beefy YKK full zip on the Burr jacket looks good but can gouge your hand if you are not careful.

This is only our opinion. Do you disagree? Did we miss something? Are we totally out to lunch? Join the discussion in the forums here, and let us know what you think. People like/dislike gear for different reasons so chime in and we'll get a well-rounded evaluation.
Back to the rest of the reviews.
---