Klymit Inertia X Frame and Cush Seat Pillow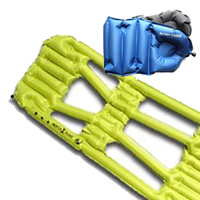 At just 258 grams and a 1.5" profile the Klymit Inertia X Frame sleeping pad is seriously minimal. It compacts down to something smaller than the size of a can of coke and blows up with three measly breaths. This is a radical design departure from traditional big and fat sleeping pads. The extent of the difference is immediately obvious by just looking at the Klymit Inertia X Frame sleeping pad; it's full of holes. Not to worry though, these holes are intentional and are part of the "body mapping technology". What Klymit has done is remove any part of the sleeping mat that your body does not require and is deemed not necessary for structural integrity. Your pressure points when you lie down are your head, shoulders, hips and heals. It follows that only these areas really need padding when you sleep; so Klymit removed the rest of the padding, in what they call 'loft pockets.'
So it all seems to make logical sense up to this point, but does the Klymit Inertia X Frame sleeping pad weight to comfort ratio play in your favour?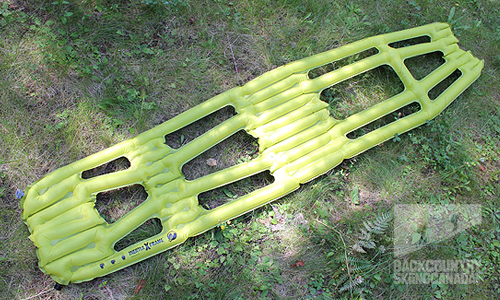 Full of holes? Not really, those are "loft pockets".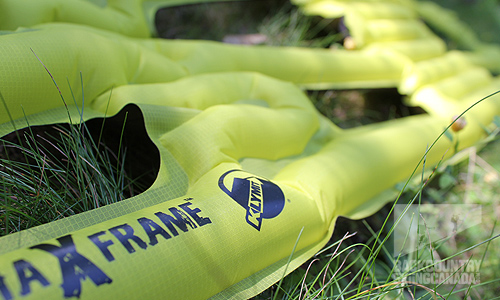 Klymit Inertia X Frame sleeping pad and Klymit Cush Seat / Pillow together.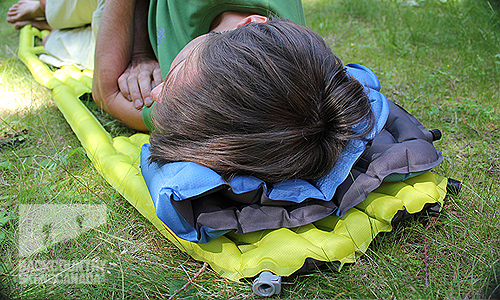 The integrated loft pockets of the Klymit Inertia X Frame sleeping pad are designed to let your sleeping bag's insulation fill in these areas and, as such, you are relying as much on your sleeping bag as on X Frame to keep you warm at night. For the pad to be most effective it needs to go inside your sleeping bag, something most of us are not used to. Thanks to the X Frame's thin profile and narrow width, however, this is not an issue. The other benefit of this set-up is that you will have less trouble staying on the sleeping pad. Since it is smaller than the average sleeping pad and the fabric is a little slick staying on it can be a bit tricky when it is outside the bag.
The 30(top) and 75(bottom) denier ripstop fabrics of the Inertia X Frame provide good protection from punctures but as with any sleeping pad you should always be aware of what you are placing the Klymit Inertia X Frame onto before calling it a night. Klymit does provide an 11g patch kit should you need it as well as a 36g hand pump for those who like a stiffer pad.
75 Denier ripstop fabric to help minimize abrasions and punctures.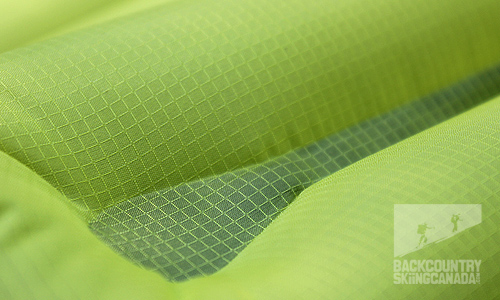 Air goes in and air goes out through the simple to use 2 way valve.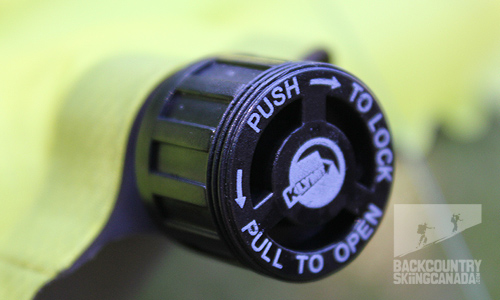 36 gram hand punp to get things extra firm and provide less contact with the ground.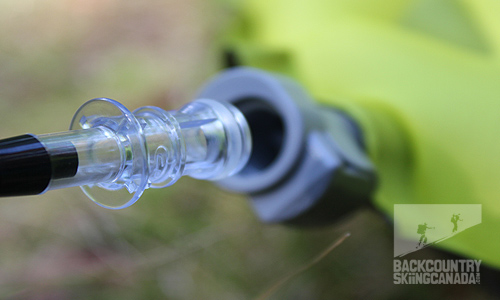 Klymit Cush Seat / Pillow:
The Klymit Cush Seat / Pillow is a multi-configurational pillow that folds four ways to offer a variety of thickness as well as built-in, contoured ear pockets. It's also a 1 - 2 person seat cushion for lunch breaks on the rocks or a rest stop on the snow while ski touring. Just be sure to designate a pillow side and a seat side so that your evening pillow is not soiled from the day's rest stops. Following Klymit's mantra, the Klymit Cush Seat / Pillow is a light and compact product which inflates with a single breath.
The Klymit Cush Seat / Pillow with ear pocket vissible.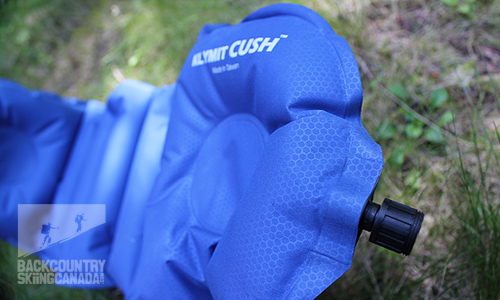 Fold for a two, three or four layer pillow or seat pad.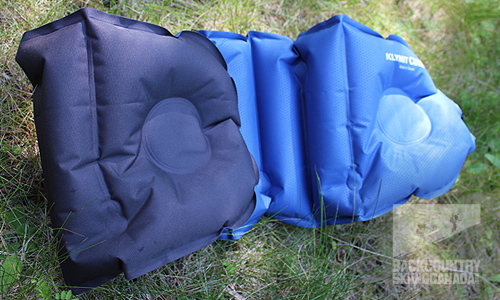 Butt + Cush Seat = Comfy.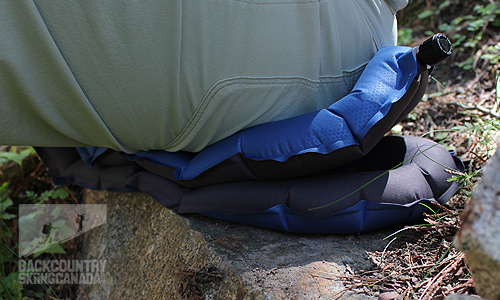 We said it was small but check that out!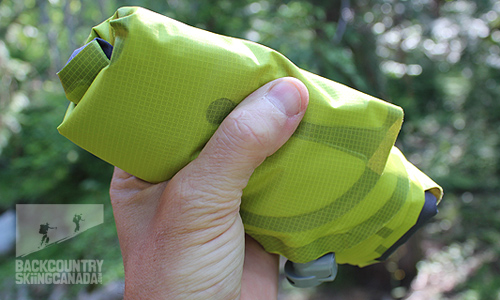 Plenty of room to spare in the bag provided.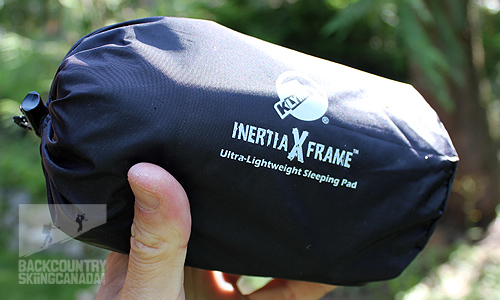 Klymit Inertia X Frame with patch kit and hand pump (they all fit inside the bag).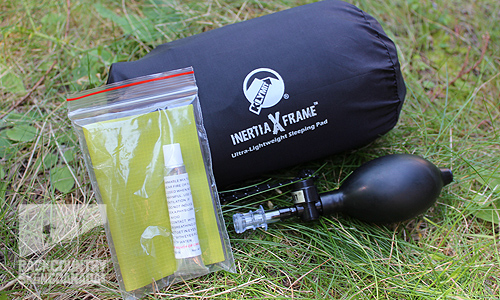 Verdict:
In order to really get a feel for how the Klymit Inertia X Frame sleeping pad works we decided to test it in a few very different scenarios. The first was on a glacier traverse where we camped on a Nunataq (rocky bit sticking out of a glacier). The overnight temperature went down to 7˚C and the rock surface we placed the Klymit Inertia X Frame sleeping pad onto was likely in the same ball park. Throughout the night you could definitely feel the cold from below, however this was with the Klymit Inertia X Frame sleeping pad under my sleeping bag and not in it. I found the sleep restful and the comfort level more than acceptable. With more sleeping pad bulk I would have been more comfortable but I was trading a minimal difference in comfort for a gargantuan difference in weight.
In order to make a comparison, subsequent tests were conducted with the Klymit X Frame in my sleeping bag, both above and below tree line with temperatures in the 6-10˚C range.
I found placing the X Frame inside my sleeping bag not only increased the insulation value from below but it also prevented it from sliding around as much. At low elevation, on the relatively warm ground, I found the X Frame performed flawlessly. In the alpine I upgraded my down sleeping bag from my zero degree Celsius bag to my -10˚C bag and this seemed to make a world of difference. The added loft of the down and insulation it provided made the cold from below a non-issue. Having hiked for half a day and several thousand feet of elevation gain it was nice to have a sleeping pad whose weight didn't slow me down.
Along with the obvious weight savings and the compactability, the fact that it only takes three breaths to inflate the Klymit Inertia X Frame sleeping pad and one to inflate the Klymit Cush Seat / Pillow are the real pluses of this design. While everyone else is going blue in the face I am already chilaxin'.
I found it most comfortable to inflate the Klymit Inertia X Frame sleeping pad by mouth only, which provides about 1.5 - 2 psi. The included hand pump will get this pressure up to 2 - 4 psi and give the X Frame more height and get you off the ground just a little bit more, however I found it a little too hard for my sleep preferences. Not a problem though as I am happy to leave the 36g hand pump at home and go even lighter.
I quite liked the air channels in the Klymit Inertia X Frame sleeping pad as they gave great support to my back and it was akin to sleeping on a slightly stiffer mattress. With the loft pocket strategically placed under my back I found that my hips did not cause the air to shift and bulge inside as does on other sleeping pads. This made for an incredibly comfy sleep consider it's only 1.5" thick. We also found the fabrics to be tougher than what their diminutive size suggests.
On the down side the Klymit Inertia X Frame sleeping pad is very narrow and I found that my arms were on the ground and got cold when I slept on my back. I made an effort to keep them up on my stomach and it seemed to remedy the problem though was still not ideal. The Klymit Inertia X Frame sleeping pad is designed for people in the 5'10" - 6' range as you need to ensure that your head, shoulders, hips and feet align with their respective padded areas and not the negative space in between. If you are outside of this range you may not find the X Frame works as well for you. If you need more padding and less 'loft pockets' then consider the Klymit XL, beware though as this one is double the weight at 476g.
The Klymit Cush Seat / Pillow is one of my favourite new pieces of gear. It offered up many pillow configurations and allowed me to listen to tunes while falling asleep and not crush my ear against the ear bud thanks to the built in ear pockets. Despite this, there are three improvements that Klymit could make to the Cush. First, it would be great if the Klymit Cush was designed with one side made from a softer more plush fabric as the 75 denier brushed Polyester was still pretty basic for a pillow surface. Second, the ability to affix the Cush to the Klymit Inertia X Frame would prevent it from moving around during the night. Third, the ability to secure the Cush Seat / Pillow in the variety of pillow configurations would also be nice to ensure it stays as a 2 layer pillow and does not unfold by morning. Some sort of tab or velcro could easily remedy both of these issues. As far as the seat option goes I am looking forward to fully utilizing this feature this winter when I can take the Klymit Cush Seat / Pillow along on ski tours and pull it out for lunch stops or even emergency bivies when you need to stay off the snow for warmth.
Overall, I would give the Klymit Inertia X Frame sleeping pad a high rating for its comfort relative to its small size and weight. There are, however, a few recommendations that could make this good product a great one (see Pros/cons below). I did find that I sacrificed some warmth from below on colder nights but the weight savings offset this once I knew what to expect and configured things accordingly. Although the manufacturer suggests placing a foam pad under your bag to increase insulation and comfort, this defeats the benefits of the X Frame's weight savings in my books. Who wants to carry two sleeping pads after all? Instead, for colder summer nights I brought a warmer sleeping bag and for winter use I would go with a much thicker, down insulated pad for warmth. Perhaps Klymit has something in the works?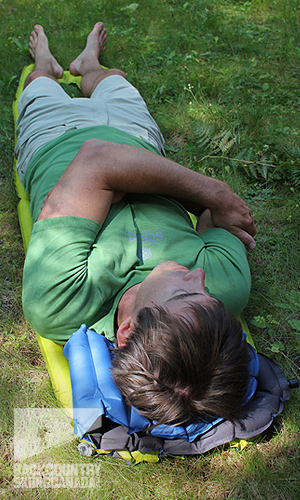 SPECS:
Klymit Cush Seat / Pillow:
Price: $19.85 US
Weight: 85g / 3oz
Size: 29" x 9" x 1.5" / 74cm x 23cm
Warranty: Limited lifetime
Fabric: 75 denier brushed Polyester on top and 75D polyester on the bottom
Klymit Inertia X Frame sleeping pad
Price: $99.95 US
Weight: 258g / 9.1oz
Dimensions: 72" x 18" x 1.5" / 1.8 m x 0.45 m x 3.81cm
Packed Size: 3" x 6" / 76mm x 152 mm
Includes: Dry Air Pump, Stuff Sack, Patch Kit
Warranty: Limited Lifetime
Fabric: 30 denier ripstop on the top and 75 denier polyester on the bottom
PROS:
- Very comfortable to sleep on considering its thickness and loft pocket integration
- Super light / compact
- The price is right
CONS:
- It would be nice to see a one-way valve used so that it is easier to blow up and deflate
- It's tricky to roll back up due to its unique shape
- This is definitely a three season sleeping pad.
- The Cush pillow could use a softer texture on the top for added comfort
- Klymit needs to add some width around the shoulder and arm section so you can keep your ams up off the cold ground, this addition should not compromise weight too much
RATING: 7.5/10
Innovation 2/2
Function 1/2
Aesthetics 1.5/2
Features 1.5/2
Quality / Price 1.5/2

This is only our opinion. Do you disagree? Did we miss something? Are we totally out to lunch? Join the discussion in the forums here, and let us know what you think. People like/dislike gear for different reasons so chime in and we'll get a well-rounded evaluation.
Back to the rest of the reviews.
---