KIND Bars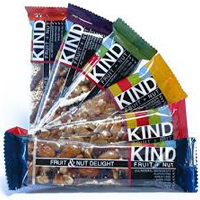 Kind is based out of New York, USA and markets their brand to the broad spectrum of healthy and active lifestyles. Whether in the city or the backcountry, an active lifestyle may require energy boosting snacks. Regardless of where you live and what you are doing, many can benefit from nut and fruit between meals. Kind has 22 varieties in 6 lines of snack bars and granola.
Kind's mission is to spread and celebrate kindness, as well as make delicious and nutritious snack bars for anyone in need. The ingredients found in Kind bars are ones you can "see & pronounce" and the allergen information and nutrition facts are clearly printed on the back.
Founded in 2004 by David Lubetzky, Kind was able to reach one million dollars in sales it's first year running. They have been moving forward steadily ever since. It's not all about profit for Kind; their goal is "making kindness a state of mind". Kind donates big money to 12 different causes a year that are socially impactful. Each month, a $10,000 grant is given to a person, group or organization that has received the most public votes for their idea proposal for "making the world a little kinder and/or helping people who need it most". Not surprising coming from Lubetzky who previously founded Peaceworks, a not-only-for profit business that pursues both profit and peace.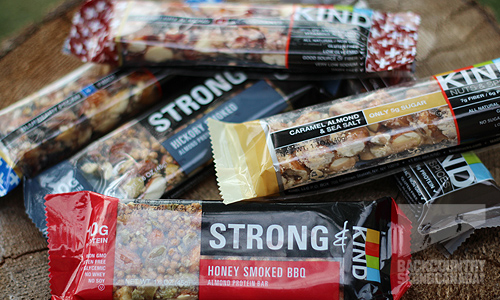 Kind has a variety of snacks categorized by Fruit & Nut, Nut & Spices, Plus, Strong and finally, Healthy Grains (bars & clusters). All are available individually, by the case or variety pack. Their website allows you to filter snacks by ingredients and allergies so you can find exactly what you want. Ingredients include whole nuts, fruits and whole grains for essential fibre, protein and antioxidants. They are available for purchase online, and with a "frequent snacker" subscription to save 37% off retail price.
---
Strong & KIND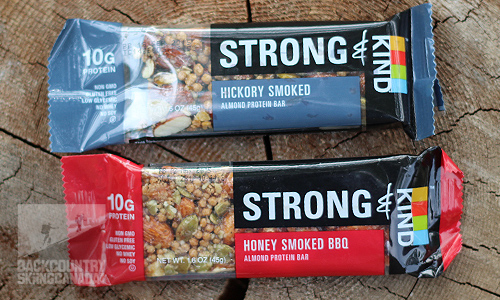 Strong & Kind are a more hearty line of bar for a quick savory flavour, these two have a smoked flavour, complimented by a variety of nuts and spices. The hickory smoked almond protein bar is packs a hickory-smoked punch around almonds, pumpkin seeds, honey, onion and garlic. The natural hickory & smoke flavours and smoked sea salt leave a mouth-watering flavour and with 10g of protein you should be satisfied with just one. For a little less smoke, try the honey-smoked bbq, a combination of flavours that meld into one delicious hunger satisfier. It leaves a little kick in the chops with cayenne child & black pepper. The packaging keeps Kind bars very moist and seals in each flavour.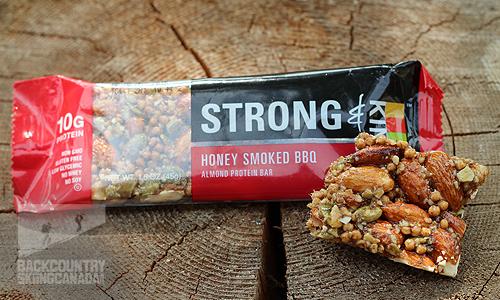 Details: 10 Grams of Protein & 9 essential amino acids. Non GMO, Gluten Free, Low Glycemic, No Whey, No Soy, Low Sodium & a good source of Fibre.
---
KIND Plus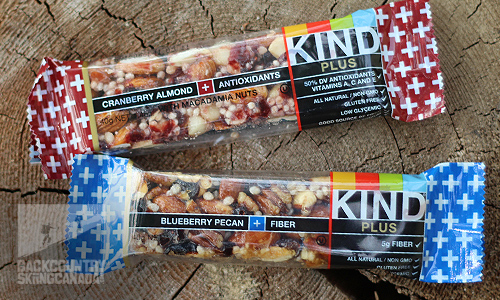 My first impressions of these bars were they were very sticky and very sweet. The natural blueberry flavour is complemented nicely by pecans, almonds and cashews with apple and raisins fruit. The Cranberry Almond is also moist and delicious, with macadamia and honey endorsing the tasty treat. These snacks are quite sticky and definitely finger licking good.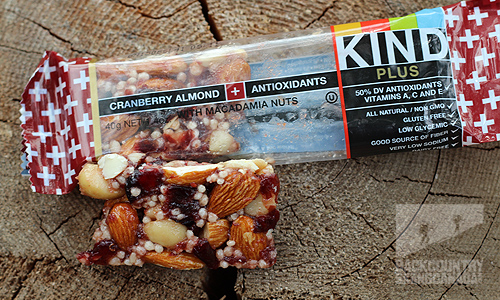 Details:
All Natural, Non-GMO, Gluten Free, Low Glycemic, Very Low Sodium, Dairy Free, Cholesterol Free (excluding dark chocolate flavours), 4 Grams of Protein.
---
KIND Nuts and Spices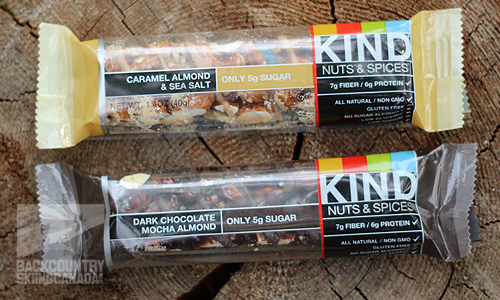 The Nuts & Spices series of KIND Bars remind me of a dessert bar with a nut layer topped with a sweet glaze. The dark chocolate mocha almond bar is very chocolately and delicious. The caramel almond & sea salt offers more of a salty taste but the caramel is quite evident. The almonds leave the snack bar crunchy, chewy and filling. Caramel drizzled almonds with sea salt will dazzle your taste buds and help remind you to drink more water.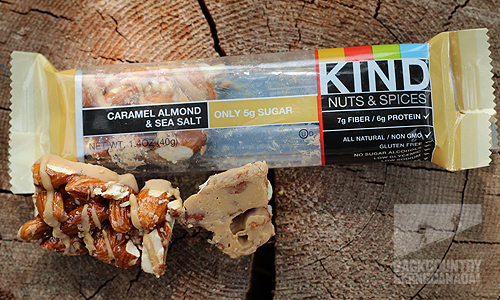 Details: All Natural, Non-GMO, Gluten Free, Low Sugar Alcohols, Low Glycemic, Very Low Sodium, 0g Trans Fats, 5g Sugar / 7g Fibre / 6g Protein.
---
Verdict:
As you can see Kind have a wide variety of flavours within their series of different bars. Weather you are pushing to summit a mountain or a quick snack after a lunchtime workout you will be able to find a bar tailored to your needs and tastes. All bars are made with natural ingredients that you can pronounce, and are healthy with essential nutrients. Quality packaging ensures flavour and freshness is sealed in, and is marked with dietary restrictions and allergens. I found every bar I sampled to be especially flavourful and satisfying and would recommend to anyone for a snack between meals or energy booster on a mountain ridge. Remember these bars are not intended to be a meal replacement.
SPECS:
Strong & KIND (Almond Protein Bar)
Price: $36 for 24 bars ($1.50 each) or $100 for 72 bars ($0.72 each)
Flavours: Hickory Smoked, Honey Smoked BBQ, Roasted Jalapeno, Honey Mustard
Weight: 45g / 1.6oz
Calories: 230
Ingredients: Made from all-natural ingredients; whole almonds, seeds and pea protein.
KIND Plus
Price: $100 for 72 bars ($0.72 each) Dark Chocolate flavours only available in cases of 12 for $19.99 ($1.67 per bar).
Flavours: Cranberry Almond, Blueberry Pecan, Pomegranate Blueberry, Almond Walnut, Almond Cashew, Dark Chocolate Cherry Cashew, Peanut butter Dark Chocolate.
Weight: 40g
Calories: 180-200
Ingredients: PLUS+: Antioxidants, Macadamia Nuts, Flax, Peanuts, Pistachio, Omega 3, Fiber, Vitamins A, C, & E
KIND Nuts and Spices
Price: $100 for 72 bars ($0.72 each) Sea Salt flavours are also available in cases of 12 for $19.99 ($1.67 per bar).
Flavours: Cashew & Ginger Spice, Dark Chocolate Chili Almond, Maple Glazed Pecan & Sea Salt, Madagascar Vanilla Almond, Dark Chocolate Cinnamon Pecan, Dark Chocolate Mocha Almond, Caramel Almond & Sea Salt, Dark Chocolate Nuts & Sea Salt.
Weight: 40g
Calories: 200
 
PROS:
- Delicious
- All natural ingredients
- Effective packaging
CONS:
- No variety pack available for Strong & Kind Series
-Packaging not recyclable
Rating: 9/10
Ingredients      2/2
Taste               2/2
Effectiveness   1.5/2
Weight             2/2
Quality/Price   1.5/2

Back to the rest of the reviews.
---