Jetboil Sumo Group Cooking System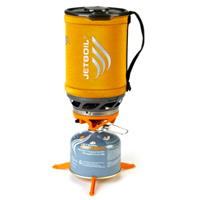 We got our mitts on a Jetboil Sumo Group Cooking System in the spring and we want to tell you about it. The Jetboil is a system—and that has its pros and cons. Everything fits together perfectly if you follow the program but you can't really mix and match with all other offerings from Jetboil. I have had an MSR Whisperlite for about a decade (see our review of the current "Universal" model here) and I was always challenged with the conflagration that would inevitably come with starting the thing up (as well as the lack of a good simmer). The Jetboil is easily one of the easiest stoves to ignite—never a need to phone the fire dept.
The company came to be in 2001 in Manchester, New Hampshire, when the two founders began experimenting with the most efficient way to transfer heat. The flux ring represents the fruits of their labour and it succeeds in heating liquids very quickly. Jetboil's makers also claim that the stove uses half the fuel of traditional stoves. I've definitely noticed that water heats up super quick. One litre reaches a boil in 4 ¼ minutes.
The Sumo is sold as a group cooking system but, from my experience, I say it's a small group. Say you are heating water for three freeze-dried meals, you'll use 1 ½ litres of the 1.8 litre capacity. I picked up a Jetboil fry pay too. It's big enough to accommodate a mid- rather than full-sized tortilla. Such are the decisions one has to make when heading off into the mountains. Judging from the recipes on the Jetboil website, the cooking possibilities are almost endless. I cooked one of those New Orleans pre-packaged jambalaya rice dishes and threw in a little sausage to "meat up" prior to a big hike out. The stove performed extremely well (though the stank was a little hard to exorcise). What impressed me most about the stove in this instance was its ability to deliver a steady, even simmer as well as a full crank. If you can get over the steep walls and "depth" of the cooking vessel (bring a long-handle spoon) you can cook just about any liquid-based meal in there.
Let's see if a picture is worth a thousand words, eh?
Here is the SUMO plus some other accessories (not included). This represents three distinct items: 1) the Jetboil Sumo Group Cooking System, 2) the Jetboil Sumo Companion Bowl Set and 3) the Fry Pan.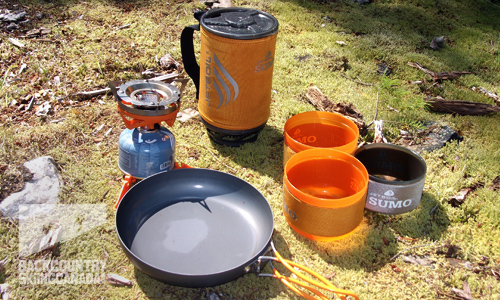 Here is the FluxRing on the bottom of the Sumo pot. And the fry pan below. This nifty little feature is the key to Jetboil's heat transfer magic and lets you cook a litre of water in 4.25 minutes. Good news in any situation.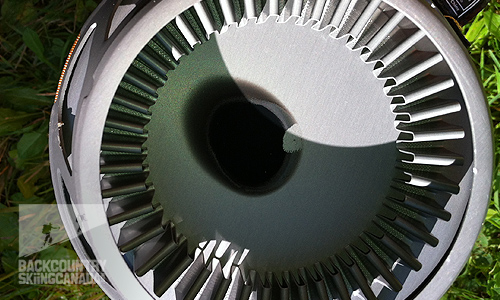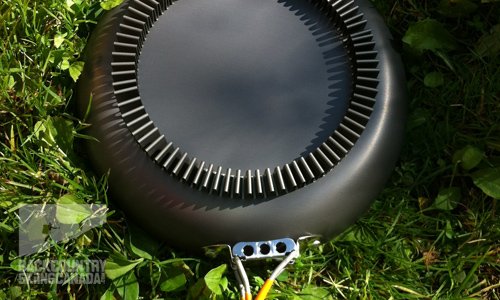 Here is the burner part without the pot support. Full bonehead disclosure: I used the stove without the pot support and burned some of the plastic orange part of the stove. Nothing too damaging but I felt like the instructions could be beefed up a little to insist that the support should be used when cooking with anything other than the provided pot (which allows the heat to escape a bit).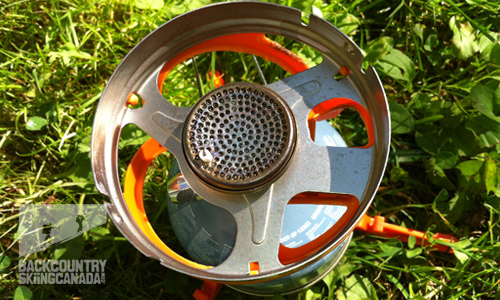 Here, now, is the pot support. I am of about average intelligence and I found the pot support a little difficult to figure out. I couldn't get it to sit on the burner pictured above. I eventually figured it out but, with this stove as with all others, be sure to test it out at home before heading into the backcountry. There was no prob with subsequent usages.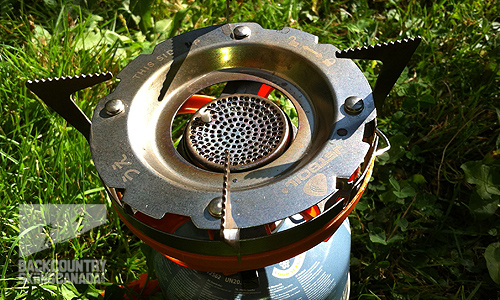 Here's a close-up of what makes the Jetboil so cool. The heat from the burner goes direct to the FluxRing and heats up the liquid at a remarkably fast rate—and with a significant savings of fuel. The pot actually pops of easily and makes for either a giant coffee cup or a handy vessel from which to eat.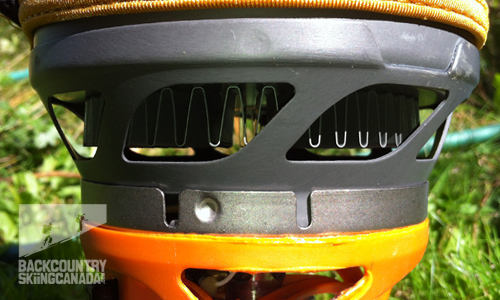 Here is nice and simple feature that allows for easy simmering or cranking of heat.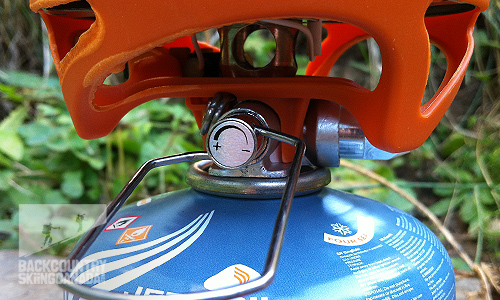 Here's another bonus feature that'll save you from fumbling with your lighter—a cool little igniter button. You can see where I inadvertently melted some of the plastic at the right. Chances are, other people may make the same mistake. Maybe not if they've read this review.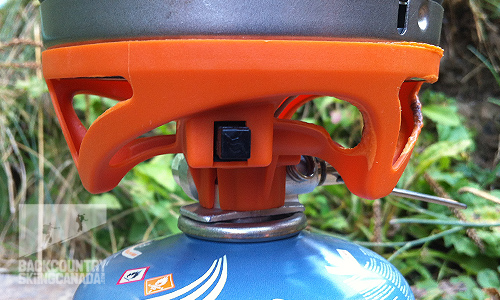 Fry pan in action.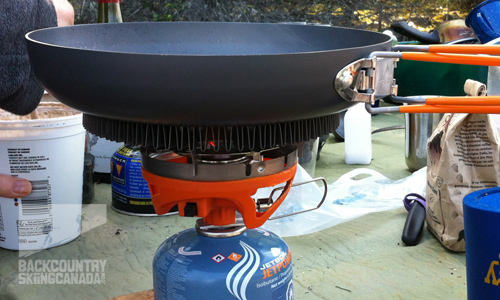 Here are two shots of the stove in action on a recent canoe/camping expedition.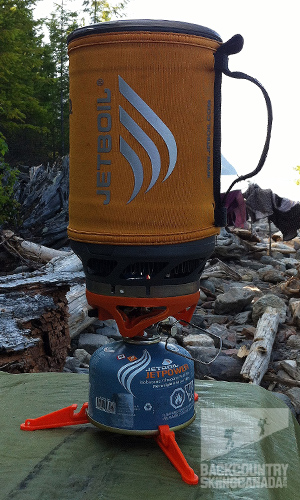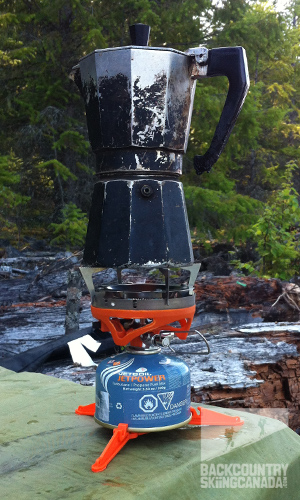 Features:
• Thermo-Regulate™ technology - consistent heat to 20°F
• 1.8 Liter FluxRing® cooking cup
• Insulating Cozy and secure strap
• Convenient, reliable push-button igniter
• Pot Support and Stabilizer tripod included
• Drink-through lid with pour spout & strainer
• Compatible with all PCS family add ons except the Coffee PressSUMO Group Cooking
Verdict:
The Jetboil is an awesome stove to heat water or cook water-based foods fast (rice pilaf, etc). The system really shines with the SUMO pot together with the stove component—pictured at right, above. I felt like the frying pan didn't really add much to the program. The FluxRing part takes up more space than I'd like (but the fry pan is an ad-on anyway). The stove shines in situations where you need to get warm food (or drink) into your belly fast. Or, even, when you want to stop for a coffee on a long backcountry ski tour. Many of the Jetboil cooking components work with each other and some don't. I may consider picking up a .8 litre FluxRing companion cup and chucking the thing in my ski pack to impress ski buddies at the change-over.
SPECS (for the SUMO alone):
Price: $129CAN
Weight: 16 oz / 453 g* system weight does not include pot support, fuel stabilizer and measuring cup
Volume: 60 oz / 1.8 Liter
Boil Time: 32 oz /1 Liter = 4 minutes, 15 seconds (avg over life of Jetpower canister)
Water Boiled: 24 Liters per 230g Jetpower canister
Dimensions: 4.9" x 8.25" /125 mm x 210 mm
PROS:
Light and fast heating system. Doesn't take up much room in your pack if you leave the fry pan at home. Self containted. Many accessories and add-ons to acquire and play with. Versatile cooking pot/eating & drinking vessel.
CONS:
Instructions could be a little better. Gas canisters aren't very eco friendly. The 100g (at about $5 CDN) version is easier to accommodate packing but it doesn't last very long. 230g will last longer (obviously).
RATING: 8/10
Innovation 2/2
Function 1.5 /2
Weight 2/2
Features 1.5/2
Quality / Price 1/2

This is only our opinion. Do you disagree? Did we miss something? Are we totally out to lunch? Join the discussion in the forums here, and let us know what you think. People like/dislike gear for different reasons so chime in and we'll get a well-rounded evaluation.
Back to the rest of the reviews.
---