Innate backcountry storage products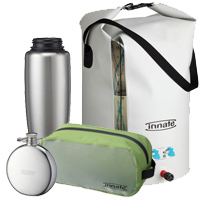 In 2011 we reviewed several products by Vancouver based Innate Gear who specializes in designing and manufacturing backcountry storage products. Back then we profiled the Innate Outdoor Travel Towel, the Innate MC2 Food storage container, the Innate Kaze Modular Vacuum Bottle, the Innate Mentor Storage Sacs and my personal favourite, the Innate Portal Deluxe Travel Envelope. This time around the good folks at Innate have sent us out several new products, some just released in time for summer use. In all we tested twelve items from water bottles to light weight wallets and everything in between. For insulated containers, we will be looking at two vacuum bottles: the Innate Cha Vacuum Bottle and the Innate Tea Culture Vacuum Flask. Staying within the liquid containment and transport realm we will also cover the Innate Viam Water Bottle, Innate Mega Fresco V2 Stainless Steel Water Bottle, Innate Aqueduct Water Transporter and the ever popular Innate Classic Flask. For food storage on the go we will give you the straight goods on the Innate MC Snap Food Container. Moving on over to personal storage products we have the Innate Caravan Compartments, the Innate Portal Waist outdoor Travel Pouches and finally the Innate Portal Billfold and Innate Portal Card Sleeve.
As you have no doubt gathered from this rather extensive list, Innate makes a heap of products to store your stuff - be it hot or cold liquids, food, the all important money and financial necessities or just your 'stuff'. Between this and the previous review we have pretty much reviewed the entire Innate product line. Why? Well, they design innovative products with durability and functionality at their core. They also strive to use recycled or repurposed materials and facilities and processes with environmental management systems. This is all backed up by tracking and third-party testing. Did I also mention they are Canadian, eh?
Innate Cha Vacuum Bottle:
Price: $15 CAN
Capacity: 500ml / 17fl oz, 350ml / 12fl oz
Weight: 320g / 11oz, 240g / 8.6oz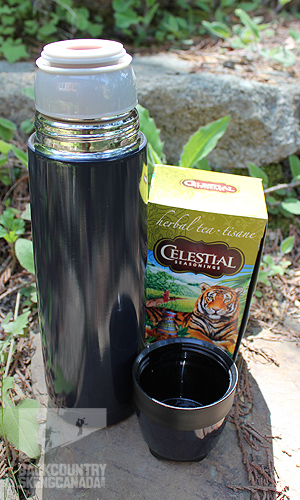 The Innate Cha Vacuum Bottle is made from 304, 18/8 stainless steel and will keep your tea/coffee piping hot for 9 hours or your cold liquids cold for up to 18 hours. The proprietary ergonomic lid doubles as a drinking cup and is easy to open even with gloves on. There is a push-button valve integrated into the stopper to aid in pouring and to help keep spills to a minimum. At 240 grams this bottle is a no-brainer to throw in the day pack for a hot or cold 'bevie-break' when you need one.
---
Innate Tea Culture Vacuum Flask:
Price: $18 CAN
Capacity: 350ml / 12oz
Weight: 240g / 8.5oz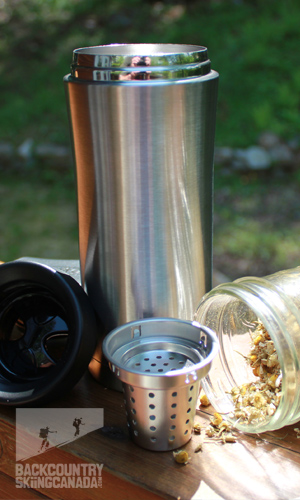 The Innate Tea Culture Vacuum Flask was designed for those backcountry and city tea drinkers out there. The proprietary sipping collar makes it easy to sip on the go without wearing your beverage. The removable infuser basket lets you use tea leafs instead of tea bags should you choose and is made of perforated stainless steel and not wire like other brands. The vacuum container is made with 304, 18/8 stainless steel and will keep hot things hot for 6 hours and cool things cool for 12. With a price tag of only $15 this is one of our faves and a bargain price at that.
---
Innate Viam Water Bottle:
Price: $7.25 CAN
Capacity: 600ml / 20.5 fl oz
Weight: 82g / 2.9oz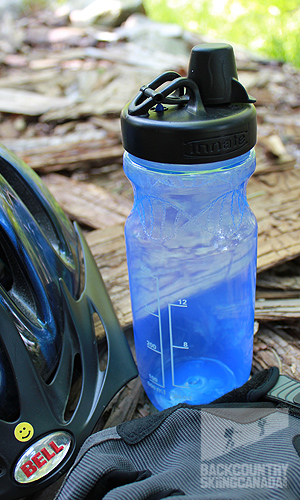 The Innate Viam Water Bottle is new this spring and is made of taste-resistant polypropylene with no BPA or phthalates anywhere. The 'grab and squeeze' nature of this bottle make it an on the go companion without the weight that metal bottles can add. At only 82 grams it provides room for 600ml of liquid; this is a good weight to volume ratio. In addition, dirt and grime stay off the bite valve with the one-handed flip top cover. My favourite thing about this product is that it is a wide mouth bottle that fits most water filters and hydration pack systems.
---
Innate Mega Fresco V2 Stainless Steel Water Bottle:
Price: $18 CAN
Capacity: 1.2L / 40fl oz
Weight: 220g / 8oz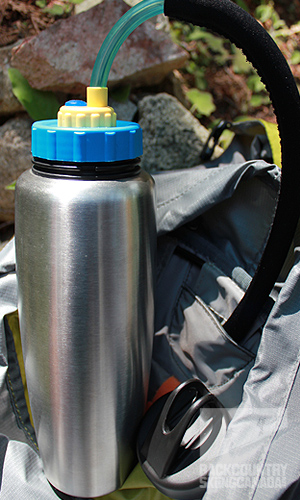 The Innate Mega Fresco V2 Stainless Steel Water Bottle is your alternative to Polycarbonate, PET or aluminum bottles. It is made with premium 304, 18/8 food grade stainless steel and the inner bottle is finished using an electrolytic charge and dolomitic sand blasting process so no inner coating lacquers with BPA are used. The lid has a clip so you can be sure you won't lose this one out of your pack pocket. It does not come with the Innate Flow Controller accessory but it is ready for one if you want to ensure you drink in a civilized fashion. The plastic wide mouth design eliminates the possibility of lips sticking to metal in winter and ensures easy access for cleaning. In my mind, the best feature of this product is that the threads also fit most pack hydration systems and backcountry water filtration devices; filter water directly into the bottle and then hook it straight up to the pack hydration unit - win, win!
---
Innate Aqueduct Water Transporter:
Price: $34
Size: 50cm Height / 25cm Diameter
Capacity: 15L / 4 gal
Weight: 220g / 7.8oz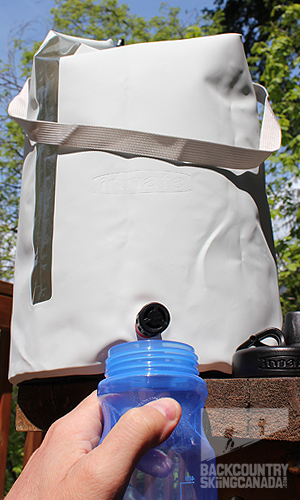 This is a product that I have been waiting all winter to get my hands on and thankfully it's now available. The Innate Aqueduct Water Transporter is designed to hold 15 litres of water and provide easy dispensing as you need it. We all know how much water we use while camping and to have a storage device that weighs only 220 grams and packs down to nothing is a real bonus. Whether you are car camping, picnicking, backcountry base camping or just hiking for the weekend, this baby will allow you to store a massive amount of water, carry it to your camp and then easily share with all your friends. It's constructed using stitch-less, welded seams and food-grade urethanes and an abs water dispensing valve. It includes a roll-top closure system to keep out the dirt, a recycled polyester yarn carrying handle and a tipping loop handle to make pouring easier. There is also a clear marked water volume panel on the side for those particular backcountry chefs. Overall, this product is another well thought out idea that fills a much needed void in my backcountry camping set-up.
---
Innate Classic Flask:
Price: $20 CAN
Capacity: 148ml / 5fl oz
Weight: 147g / 5.1 oz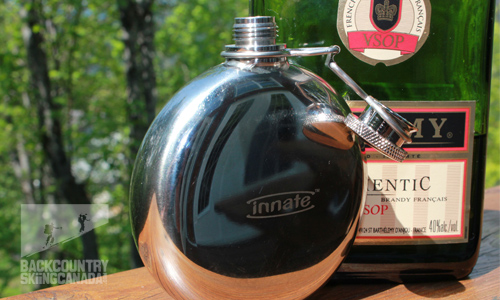 If you like a shot of the hard stuff in the backcountry or simply want to be an urban drinker with style then the Innate Classic Flask is for you. Made of premium 304 stainless steel with lead-free food grade construction it features a unique "keyhole" lid retainer so after one too many you won't wonder why they didn't make the flask with a lid. (in other words, you can secure the lid to the flask to keep it safe).
---
Innate MC Snap Food Container:
Price: $20
Capacity: 775ml / 26oz
Weight: 220g / 8oz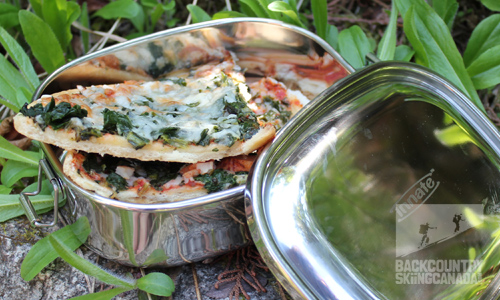 Food storage on backcountry adventures is always a challenge; it is important to keep the dirt, air and moisture out while keeping your food fresh, contained and safe. Made of 304 18/8 stainless steel and with a lid gasket to ensure a good seal (while not water tight unfortunately), the Innate MC Snap Food Container rises to this challenge well. The lid is held in place with sprung snaps to ensure a snug fit. Being almost indestructible, the Innate MC Snap Food Container is perfect to ensure your sandwich or tiramisu doesn't get flattened on the way to that perfect lunch spot.
---
Innate Caravan Compartments:
Price: $21 CAN
Size: Large - 36x24x10cm / 14.2x9.5x4", Medium - 25x18x10cm / 9.8x7x4", Small 22x12x8cm / 8.7x4.75x3.1"
Weight: Large - 80g / 2.8oz, Medium - 50g / 1.8oz, Small 30g / 1.06oz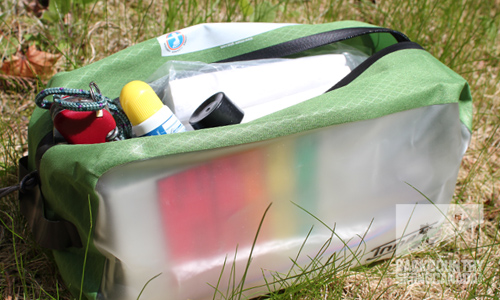 Want to keep things dry and organized while in the backcountry? The Innate Caravan Compartments might be just what you are looking for. The compartments come in three sizes (small, medium and large) and have a large window so you can quickly see your things. The weatherproof construction uses stitch-less welded seams and PU coated zips. The exterior grab handle is welded in place and most of the materials used to produce them are repurposed. The rectangular open top design provides a much more accessible and organized way to keep your things in order, especially compared to traditional stuff sacs where you do just that, "stuff".
---
Innate Portal Waist Outdoor Travel Pouch:
Price: $16
Size: 25x14cm / 9.8x5.5"
Weight: 40g / 1.4 oz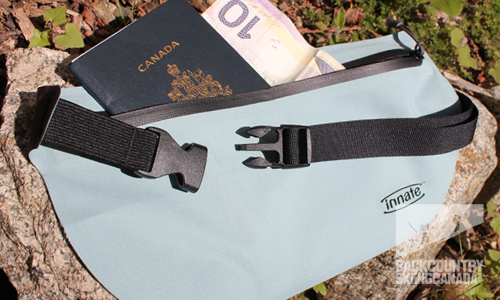 This essential travel item keeps your valuables safe and concealed when there are more than just bears to worry about. The Innate Portal Waist Outdoor Travel Pouch is weather proof, stitch-less and provides a light and compact way to keep things secure and out of sight. It's made from repurposed and recycled brushed polyester fabric (so it's soft against your skin) with PU coated zips and high-frequency welded seams. It has a single main compartment with an adjustable recycled yarn webbing belt (with some elastic give) and a side release buckle for quick on and off.
---
Innate Portal Billfold:
Price: $17
Size: 19x9cm / 7.5x3.6"
Weight: 14g / .5oz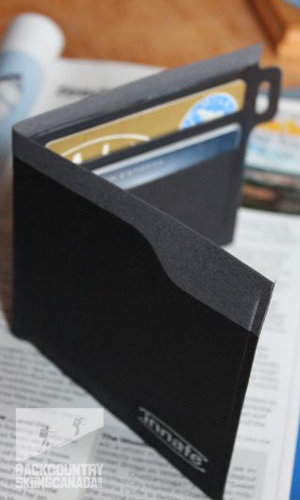 Another one of my faves is the Innate Portal Billfold which is now my go to backcountry wallet. Pare down your George Kastanza sized wallet into just the essentials of an ID, cash and credit cards and you'll never look back. Stitch-less construction keeps the wallet light, flat and simple. A combination of repurposed and virgin materials provide some protection and water repellency while the reinforced (10kg tested) clip point keeps it secure in your pocket or backpack.
---
Innate Portal Card Sleeve:
Price: $7.50 CAN
Size: 10.5x7cm / 4.1x2.76"
Weight: 7g / .25oz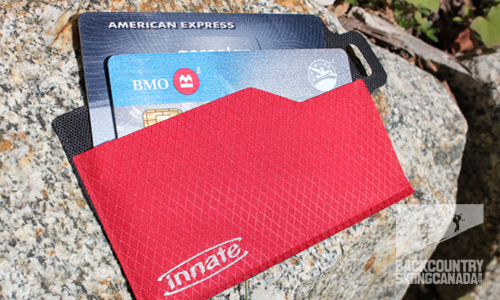 Not unlike the Innate Portal Billfold, the Innate Portal Card Sleeve is a simplified way to carry the essentials. The only difference between the two is that the Innate Portal Card Sleeve won't carry as much - but it will carry a ski, gym or transit pass in the recycled polyurethane window panel. At only 7 grams this is true minimalism for those backcountry gram counters.
Verdict:
Innate has a wide product line for your summer/winter backcountry (and city) adventures. All of their products are well thought out and offer a unique design approach to an otherwise simple product niche – the storage of stuff. We give them full points for adding a new twist to these products and bonus points for thinking about the environment while producing them - every little bit helps.
PROS:
Well designed, environmentally conscious and affordable products - enough said.
CONS:
Stitch-less construction on some products is actually radio frequency weldeding and I wonder about the longevity of this process - seems stronger than glues but only time will tell. More funky colour options and patterns would spice things up a bit. The MC Snap lid should be water tight so you can travel with liquidy food with confidence.
---