Innate Backcountry Storage Gear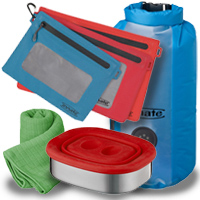 Innate Gear is based out of Vancouver, they have a line of travel/outdoor gear with an eco friendly angle. They claim that their products are leaner, cleaner and greener. A quick cruise around their website shows that unlike a lot of the other outdoor gear companies, this claim is not simply green washing. They appear to be a company that is a based on solid environmental and ethical principles. They admit that buying their products is not 100% "green" but they are very open about their processes and what they are doing to make a difference.
Green or not is their stuff worth having? Here is a quick review of five of their products. None of the items reviewed are backcountry specific, but all of them could have applications on your next tour. Here is what I thought of them.
Outdoor Travel Towel:
Price: $17 - $34 CDN
Size: Small 65 cm x 32.5 cm / 25.5" x 13", Medium 97 cm x 46 cm / 38" x 18", Large 137 cm x 72 cm / 54" x 28.5"
Nice and plush. Packs down small, Quite absorbent. What else could you ask for in a pack towel? My concern was that it was going to start to get that poly funk, that makes some pack towels unusable after a while, but after a few uses, still stink free.
Backcountry application: The small size would be nice for a sponge bath on your next hut trip.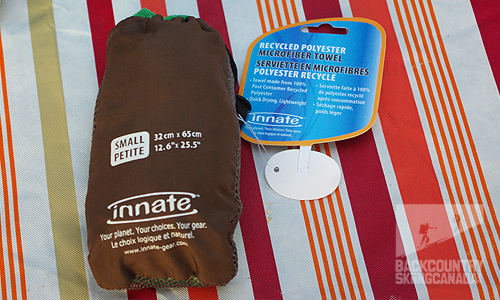 MC2 Container:
Price: $20 CDN
Weight: 240g / 8.5oz
Capacity: Container - 775 ml / 26 oz, Silicone Lid - 400 ml / 13.5 oz
Basic concept with a twist, the lid of this stainless steel food container, turns into a bowl. Nice two in one concept. It would be a good option for those who like to be well equipped on backpacking trips. I have been using it mostly as a lunch container for work, and it is great for that.
Backcountry application: I wouldn't bother skiing with this, the bowl/lid is a little hard to get on at the best of times – mix some cold hands in, and you have a recipe for frustration.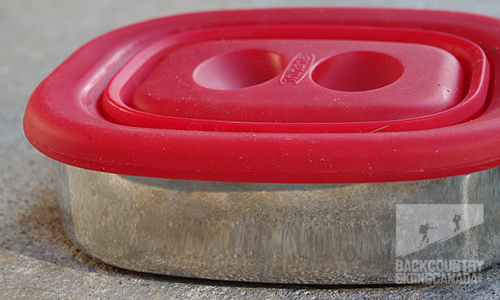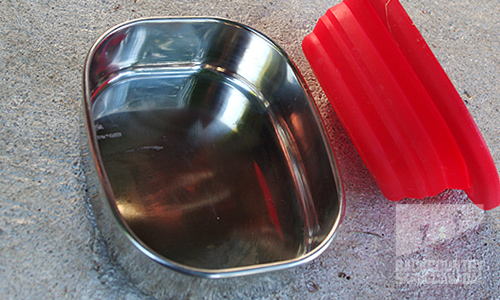 Kaze Modular Vacuum Bottle:
Price: $23 CDN
Weight: 340g / 12oz
Capacity: 340 ml / 12 oz
Colour: Stainless Steel, Green Tea, Fuchsia, Charcoal
This is pretty much a small thermos with a removable handle. I love it. Works great as a travel mug, and once the handle is off, fits nicely in a bag. Keeps my tea hot, and doesn't leak.
Backcountry application: Fill it up as a mug in the morning, once you are ready to start skinning up, lose the handle and toss it in you pack. (Warning: it is under half a litre, so if you are going to need more than two cups of coffee it is not the answer).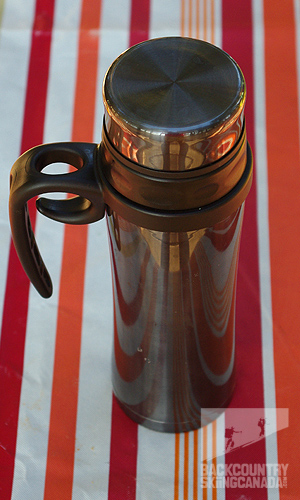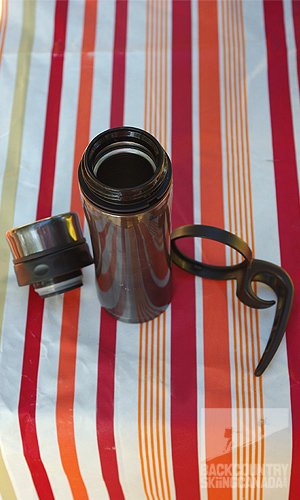 Mentor Storage Sacs:
Price: $28 - $40 CDN
Weight: Small 60g / 2.1oz, Medium: 80g / 2.8oz, Large: 100g / 3.5oz, Extra Large: 110g / 3.9oz
Size: Small 7 Litre (17cm X 45cm) 425 cu in. (6.7" X 17.7"), Medium 10 Litre (17cm X 55cm) 610 cu in. (6.7" X 21.6"), Large 15 Litre (21cm X 58cm) 915.cu in. (8.3" X 22.8"), Extra Large 20 Litre (21cm X 73cm) 1,220 cu in. (8.3" X 28.7")
A dry bag with an air purge valve. Nice to have an option for a "greener" dry sack, but the purge valve is kind of a pain. It sticks into the bag, making it a little trickier to stuff it right full, and also if something other than clothing is up against the valve, it doesn't purge so well.
Backountry application: For a one night hut trip you could put your sleeping bag in this and strap it to the outside of your day bag, and it wouldn't get wet while all the sweet sweet pow falls on you.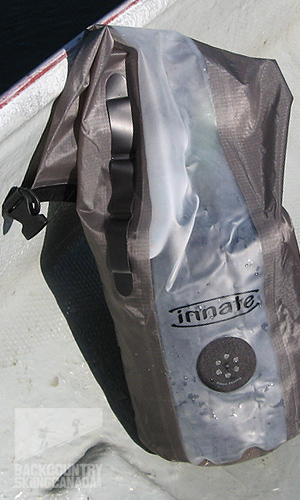 Portal Deluxe Travel Envelope:
Price: $28 - $40 CDN
Weight: Small 24g / 0.85oz, Medium 32g / 1.1oz, Large 36g / 1.3oz
Size: Small 24cm X 18cm / 9.5" X 7.25", Medium 30cm X 18cm / 11.75" X 7.25", Large 31cm X 21cm / 12.25" X 8.25"
These are pretty cool, they are basically removable water tight pockets. I have been using them to keep all the random things I shove into the main pocket of my pack organized. One for my snacks, one for my snow study stuff, one for compass, lip chap, multi tool, headlamp and other misc. They come in different sizes and have windows, so you know what is in them without opening them up.
Backcountry application: See above, saves a lot of pack rummaging, and you can throw them on the snow and nothing gets wet or lost.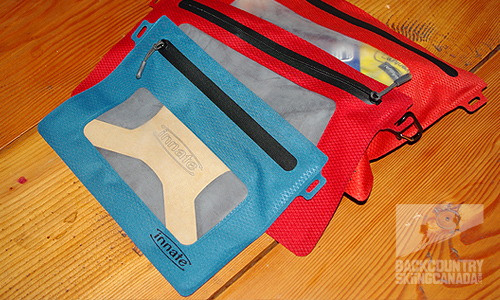 PROS:
Well designed products from a company with solid environmental and ethical principles.
CONS:
TheMentor Organizing Sacs valves limit the amount of stuff you can stuff.
This is only our opinion. Do you disagree? Did we miss something? Are we totally out to lunch? Join the discussion in the forums here, and let us know what you think. People like/dislike gear for different reasons so chime in and we'll get a well-rounded evaluation. Check back mid-season to see how our review stands up to our in-the-field testing.
Back to the rest of the reviews.
---
UPDATE APRIL 2013:
Innate makes a plethora of storage products for the backcountry user and over the past two years they have all performed their intended use as promised. Not a single product we tested has broken or show any signs of wear and tear. We also reviewed a second batch of their products over here and they are similarly performing flawlessly. This is a smaller Canadian company so why not support them, eh?
---

---
Backcountry skiing is an inherently dangerous activity that requires experience and knowledge to travel safely. Any of the routes on this site may be dangerous depending on conditions. You are responsible for your own safety in the backcounty—the team behind backcountryskiingcanada.com disclaim any responsibility for any injury resulting from people travelling on routes described on this site. To read our Terms of Use and get all the details, read HERE.
---