In Search of Powder a Story of Americas Disappearing Ski Bum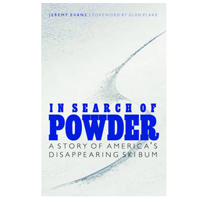 I received a copy of In Search of Powder by Jeremy Evans with a touch of skepticism. The premise of the book was sound – a look into the social, cultural and economic ramifications that have resulted in the disappearance of the modern ski bum – but I was conflicted by the knowledge of many people who continue to dedicate their lives to skiing and snowboarding, making significant sacrifices to live in the proverbial "white room."
Evans weaves his personal sacrifices to chase powder while witnessing mega resorts and mansions spring up from the snowdrifts of his Lake Tahoe home, lamenting the displacement of friends and heroes, and the commercialization of skiing and snowboarding. As a journalist, Evans is thorough in his research, amasses impressive interviews and tells stories with a simple clarity. Indeed, the picture painted is a demise of an idyllic lifestyle – one of self-imposed poverty, hedonism and unadulterated adventure.
Peeling back the resort onion, Evans reveals demographic shifts in ski towns that have successfully snuffed out the ski bum. Immigrants, who are willing to work for minimal wages, have replaced a workforce formerly occupied by the seasonal ski bum. This is due to a number of factors, including exorbitant housing costs (where second homes of the wealthy have forced young families to flee), spiraling student loans of 20-somethings and other life expenses, and the new generation's fixation on careers and wealth accumulation rather than dropping out to embrace the ski bum lifestyle.
In the chapter Resorting to Madness, (referring to a documentary film of the same name by Hunter Sykes and Darren Campbell) Evans most effectively gets to the point: "On average, 10,600 baby boomers have been celebrating their forty-fourth birthdays every day since 1989, meaning ski resorts are loosing their most reliable customers year after year." With this comes a fierce competition among resorts to make a profit, and the model that's emerged is to sell real estate rather than lift tickets.
"Ski bums are indeed disappearing because of the reasons I've mentioned: An increasing immigrant population, second-home owners, ski towns becoming resort towns and resort regions, and ski resort owners focusing on amenities rather than the sport itself," concludes Evans. "…Until now, my intent was to provide a background on the evolution of mountain communities whose local economies were stagnate and rejuvenated by skiing, the interesting characters who helped turn them into ski towns, why resort towns morphed into resort towns designed for tourists, and the people left behind in their wake."
From here, Evans delves into the commercialization of skiers and ski culture, the highly paid professional skiers and boarders and the phenomenon of the modern ski porn flick, X-Games marketing and the unprecedented risks taken by athletes in the high mountains.
While In Search of Powder focuses solely on the preeminent ski resorts in the U.S., I couldn't help but look to the resorts of Canada to ask if the same is true. Of course, the corporate real-estate-for-profit model is alive (but not necessarily kicking). But there still is a died-in-the-wool presence of people living to ski and making career and lifestyle sacrifices to shred powder every chance they get.
Sure, they may be working more (or more creatively) and not making tomato soup out of ketchup, but they are living their own "ski bum" dream. And the rise of the backcountry skiing phenomenon may be part of this – in record numbers people are shying away from the resorts to experience skiing in a raw and untamed way, and in this there is a freedom from the hotels, lift lines and exorbitant expense.
Evan's brings it all back into perspective in his Epilogue: "I once wrote in the Tahoe Daily Tribune that the sequel is never the same as the original. Whenever there is a break in the river, the water always flows a little differently after that. For ski bums, one's time on earth should be reduced to one fundamental element: Enjoy life. The search for powder can be anything for anyone."
Perhaps Keith Erickson, a former ski bum who makes his home with his family near Mammoth Mountain, said it best. Erickson explains to Evans, "At some point, if you want to ski the rest of your life, you can't be a ski bum anymore. You have to be a serious skier. That's what I tell people now. I'm not a ski bum. I'm a serious skier."
At that's at the heart of In Search of Powder – as skiing has become serious business, it's only the serious skier who can continue to live the dream.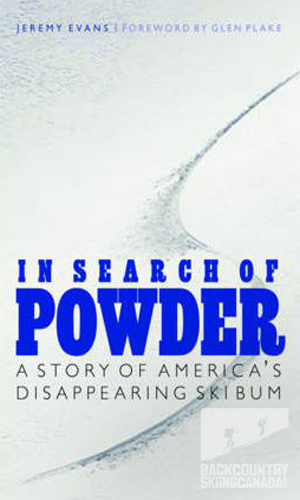 SPECS:
Author: Jeremy Evans
Publisher: University of Nebraska Press, 2010
Price: $16.95
PROS:
- well researched
- logically compiled
- easy read
- compelling argument
CONS:
- limited scope (US focused)
- soft ending
This is only our opinion. Do you disagree? Did we miss something? Are we totally out to lunch? Join the discussion in the forums here, and let us know what you think. People like/dislike gear for different reasons so chime in and we'll get a well-rounded evaluation. Check back mid-season to see how our review stands up to our in-the-field testing.
---

---
Backcountry skiing is an inherently dangerous activity that requires experience and knowledge to travel safely. Any of the routes on this site may be dangerous depending on conditions. You are responsible for your own safety in the backcounty—the team behind backcountryskiingcanada.com disclaim any responsibility for any injury resulting from people travelling on routes described on this site. To read our Terms of Use and get all the details, read HERE.
---