Icebreaker MerinoLoft Helix Zip Jacket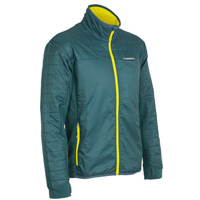 With a bit of a slow start to our winter fun-season this year, we're just getting to know some of the products we have to test. The Icebreaker MerinoLoft Helix Zip Jacket is an item that we have used during the shoulder seasons and are now looking forward to using it as a midlayer under a hard shell for ski touring—and maybe a little lift-access fun.
Icebreaker has been around for a while—20 years in fact. This, in my mind, is a good sign. It means they've work out the kinks in their manufacturing/design process and you can depend on the fact that the seams won't blow out, etc. It doesn't mean Icebreaker is a stodgy old company though; au contraire, they continue to come out with cool designs and patterns. Reminds me of the innovative designs the company developed based on snow-artist Simon Beck's design. Nice stuff for sure.
We have reviewed other items from Icebreaker on the site, if you're interested: Merino Base and Midlayers. Within this earlier batch of products, we looked at the Sierra Long Sleeve Zip jacket. This, like the Helix, is a midlayer that can be used on its own in warmer temps. The Sierra has become a staple "in-town, spring and fall jacket" because it looks somewhat formal. The Helix is waaaaay more sporty looking, and, as a result, is reserved for actual sports. But -- on to the Helix!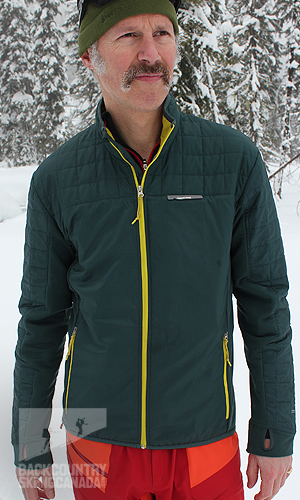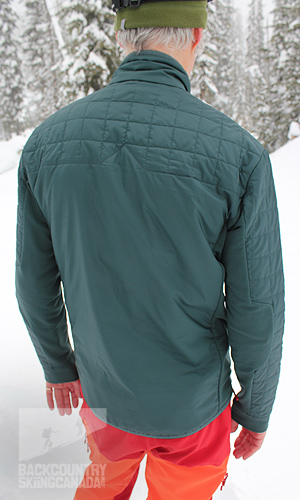 Features:
- Set-in sleeves for wide range of motion
- Secure zippered front hand pockets
- Internal storm flap keeps out cold
- Thumb loops keep sleeves in place
- Stretch binding at collar and hem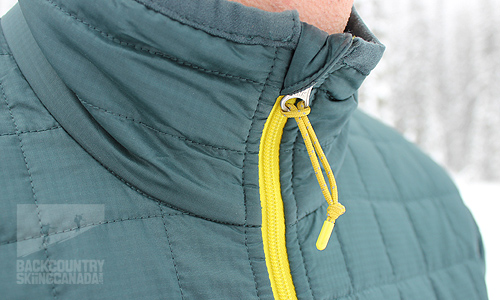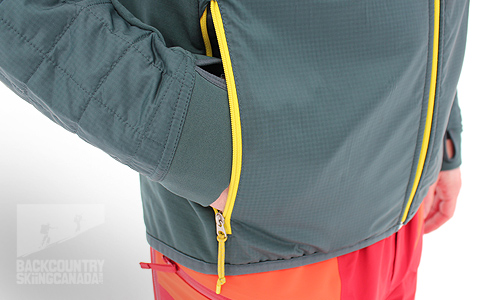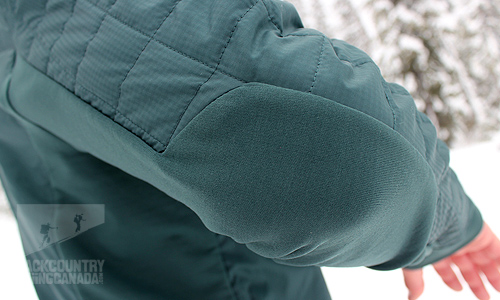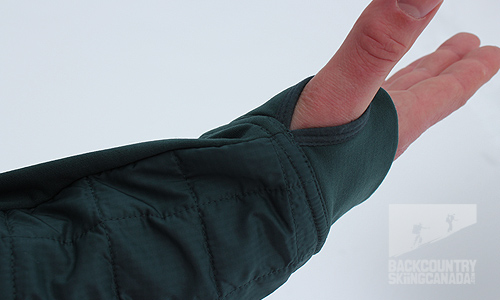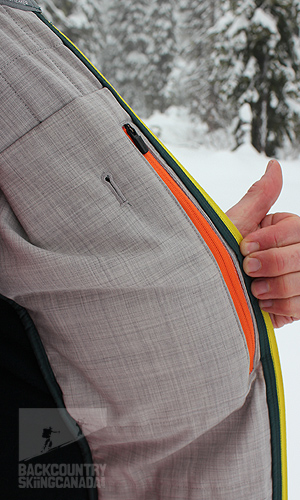 Fabrics:
- Exterior: 100% Polyester Fill: 88% Wool/12% Polylactide Body
- Lining: 100% Wool Sleeve Lining: 100% Polyester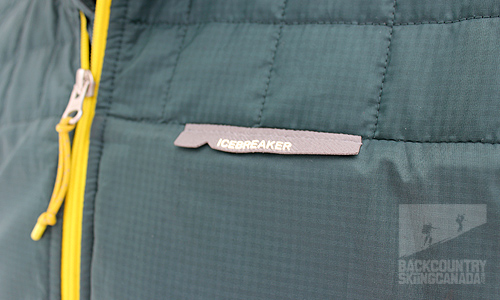 Verdict:
The Helix is remarkably warm for its weight and size. The inclusion of recycled merino, standard wool and other fibres as an insulator is a cool idea with good results. Icebreaker uses "regular" 100% percent merino next to your skin so you can comfortably wear the jacket with a t-shirt. I have worn the jacket in a light downpour and it has kept me dry and warm. I have worn it as a midlayer under a hardshell and it performs well in wintry conditions. I wouldn't call it particularly breathable, but it doesn't claim to be. In terms of ideal usage, I'd say it's best either as a midlayer on a day around the freezing point for light-excursion activities or a shoulder season outer layer.
The look (I have the dark green/pine) is pretty sporty – especially with the dramatically contrasting zippers. Unlike its cousin, the Sierra zip, the Helix probably wouldn't work with a collared shirt for a coffee-shop, mountain-town meeting—but it almost would. The Helix is most at home on the trail or slope and at the coffee shop or pub après.
Fit-and-feel for me was where the blips were. Every jacket fits differently and I suggest trying this and all jackets on before plunking down the cash. The body shape and size for me is perfect in a medium, but, with the thumb loops engaged, the arms feel a little short. This is totally depends on the length of your arms and whether you mind a little "tug" sensation. The other factor for me occurs where the stretchy fabric meets the not-stretchy fabric on the elbow. With your elbow bent, it feels a little awkward with these two fabrics exerting different forces on either side of a line across your elbow, along the back side of your arm. Am I picky and bordering on neurotic when it comes to this kind of thing? Definitely. Do I have waaaay too many jackets in my closet? Certainly. Is this something that will bother anybody but me? Probably not. 'just reporting my impressions and highlighting the fact that in-store test drives are always a good idea.
SPECS:
Price: $259 CAN
Colours: Lucky, pine and Aegean. (Translation: light green, darker green, light blue)
Weight: Not listed, unless I missed it. A little disappointing given the claim of light weight.
Sizing: S – XXL
PROS:
- Form fitting and distinctive style
- Good warmth-to-weight ratio
- Cool colours
- Good use of recycled materials
- Warmer when wet than down
- Cool inside media chest pocket suitable for iphone or big wallet
CONS:
- Elbow seam (subjective)
- Length of arms (subjective)
- Spendy
Rating: 8/10
Fit 1.5/2
Packability 1.5/2
Warmth 1.5/2
Features 2/2
Quality / Price 1.5/2

Join the discussion in the forums here, and let us know what you think. People like/dislike gear for different reasons so chime in and we'll get a well-rounded evaluation.
Back to the rest of the reviews.