Ibex Freeride Gloves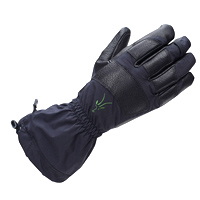 Ibex is a wool clothing company based in Vermont, USA. Aptly named and having a logo designed after a species of wild goats living in the mountains of the European Alps, Ibex Outdoor Clothing is said to be durable, evolving, active and modern. Since 1997 they have been making wool-based clothing for men and women, including everything from base and mid-layers to hats, gloves, socks and jackets that conform to modern-day styles. Whether you are hiking, camping, cycling, climbing, or traveling—in any and all weather conditions—Ibex has the products for you.
We've reviewed some other Ibex items on the site. Check out the Ibex Equipo Soft Shell Jacket, the Equipo Soft Shell Pant, and, perhaps what Ibex is best known for, their Woolies base layers.
The Freeride Glove is Ibex's only real waterproof ski glove. This unisex, all black, hand protector is accented in green with the Ibex logo on the posterior side and the company name stitched into the leather on the palm. It has a 100% nylon outer shell with Pittards permanent weather resistant leather on the entire palm and padded knuckles.
A single layer of wool insulates the palm, while a double layer keeps the back of the hand extra warm. The gauntlet is equipped with a dual pull-tab draw cord system—pull one to tighten, the other to loosen. This, in concert with the elastic cuff, will ensure snow is kept out of unwanted places. The micro fleece liner is warm and breathable with a fit that allows ample dexterity. The material between the elastic cuff and pull cords is an un-insulated 100% nylon shell giving it the mid-length status and enabling an under or over the cuff fit. Carabineer clips on the middle finger of each glove allow them to hang from your pack, but there are no leashes to hang them from your wrists.
Permanent weather resistant leather covers the entire palm, for durability where you need it most.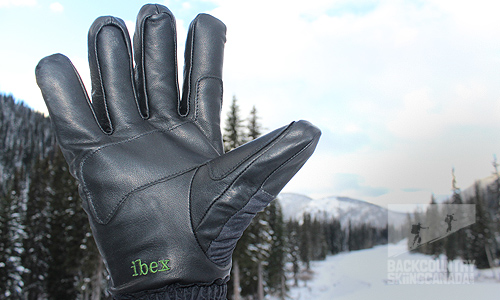 A carabineer clip on each middle finger is nice for hanging your gloves off your pack when they're not needed. Hanging them this way (as opposed to by the draw cords) keeps the cuffs pointing down, so snow is less likely to enter.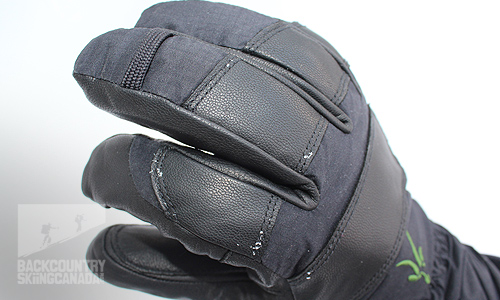 Buttery Pittards leather and bomber, reinforced stitching.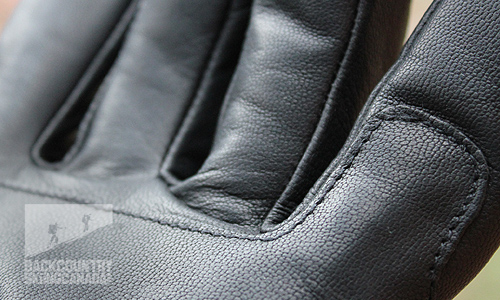 Micro stitching on the fabric-to-leather interface. Tight.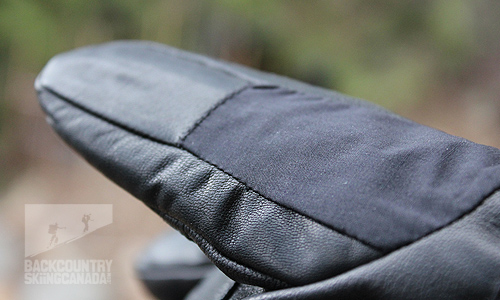 "Four-point" finger tips for dexterity.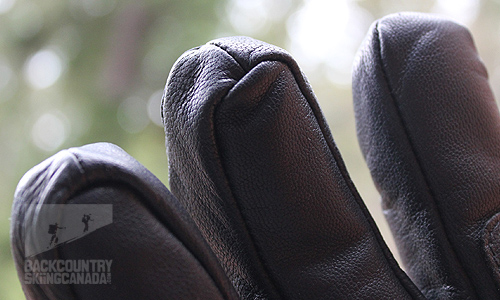 Dual pull-tab draw cord system on the cuff—one to open, one to close.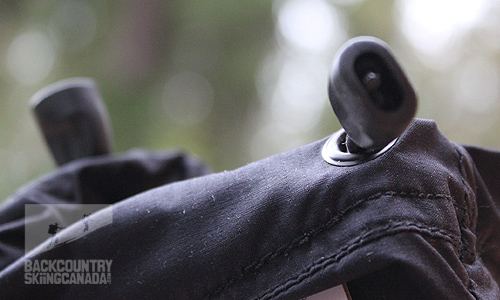 The green Micro fleece gives your hand a warm welcome and is extremely comfortable against your skin.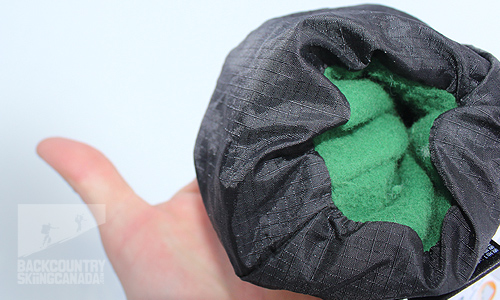 The Ibex Freeride Glove is stylish, comfortable and fits well for ample dexterity in the snow.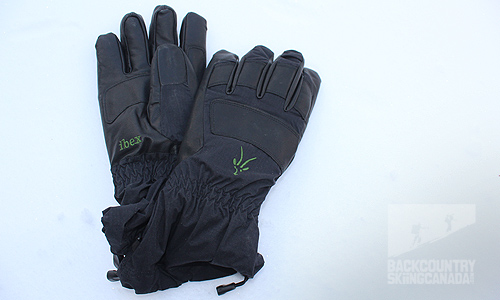 Features:
- Mid length with elastic cuff & dual draw-cord cuff.
- Weather resistant 100% nylon outer shell.
- Wool insulation: 100gm on the front, 140 on the back.
- Pittards permanent weather resistant leather palm and knuckles with reinforced stitching.
- Padded knuckles.
- Under- or over-the-jacket cuff.
- Carabineer loop on middle fingers.
- Breathable, comfortable Merino liners.
Verdict:
A well-made, waterproof & breathable, wool insulated glove that fits well and allows for excellent dexterity. Too good to be true? Perhaps. With no evident nose wipe I default to the hit or miss farmer blow technique. The un-insulated extended cuff is long enough to protect against snow and fits under and over the cuff of my jacket. The bulk of wool is concentrated on the palm and digits, where the majority of insulation is required. Leather covers the entire anterior side of the hand with reinforcement on the palm, while the posterior hand is only leather on the padded knuckles. Gortex fills the gaps on the fingertips, between and below the knuckles to the entirety of the un-insulated, extended cuff that keeps unwanted snow out. I would recommend this product for alpinists who, like the alpine Ibex goat, tend to live in steep, rough terrain above the snowline. A great glove for ski touring in the mountains or gripping the steering wheel while on your way.
SPECS:
Price: $180 US
Sizes: S, M, L, XL
Weight: 8.09 oz
Colors: Black (with green accents)
Fibers knit or woven in Japan, assembled in Sri Lanka
Materials: Pittards leather, merino wool insulation, nylon, polyester.
PROS:
- The elastic cuff and dual adjustable pull cord ensures snow will be kept out.
- 60 days to return for exchange, repair, or refund.
- Merino wool is warm when wet.
- Remarkably comfortable.
CONS:
- No evident nose-wipe
- No glove leash.
- Pricey.
Rating: 7.5/10
Fit/Dexterity 2/2
Warmth 1.5/2
Durability 2/2
Features 1/2
Quality/Price 1/2

This is only our opinion. Do you disagree? Did we miss something? Are we totally out to lunch? Join the discussion in the forums here, and let us know what you think. People like/dislike gear for different reasons so chime in and we'll get a well-rounded evaluation.
Back to the rest of the reviews.
---