Ibex Equipo Soft Shell Pants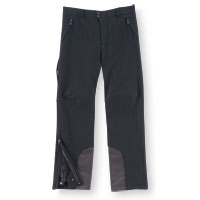 We have already reviewed the Ibex Equipo Jacket here so check that out if you are interested in the full monty. Because the jacket and pants are both made of the same Climawool fabric, many of the attributes are the same for each piece. In the world of softshells, baring lame features, itís really all about the fabric. Excuse me for repeating myself from the jacket review... What makes the pants really interesting is the blending of Schoeller and merino wool into a fabric the folks at Ibex call Climawool. Climawool is a 4-way stretch, double-weave fabric, comprised of 65% nylon, 30% wool and 5% elastane. For the wearer of the pants, this means they are like a regular softshell (breathe wonderfully, repels wind and snow, very comfortable) but has the added warmth and attributes of merino wool. There is no mistaking the 305 g/m2 wool content in this item. You can feel it in the interior of the pants and in how they hang on your body.
Aesthetically, as you can see in the picture at the bottom, the Equipo jacket and pants work well together. The pants we are talking about are grayish and feature red highlights that play off the red jacket. For the purpose of this review, let's assume you don't have the jacket as well. We'll focus on the pants which are classic softshell in their breathability, stretch and comfort. They feature a little elastic on the waist so they'll be snug and comfortable for a range of people and keep the snow out if it's super deep. We have had these pants out in all conditions (but nothing wet and too windy) and they maintain their warmth and comfort.
Laying flat. Note the super beefy instep patches.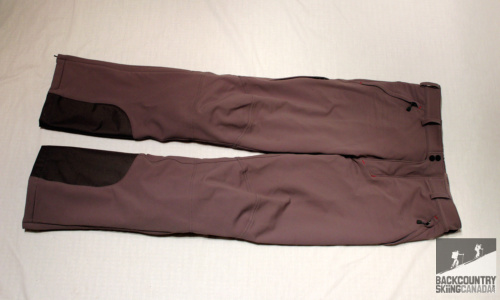 All pockets zip closed. Thigh pocket for valuable items.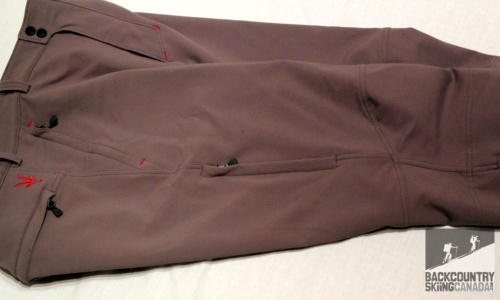 Climawool close-up with red accents.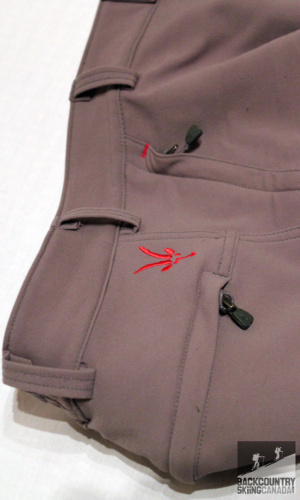 Internal gaiter action.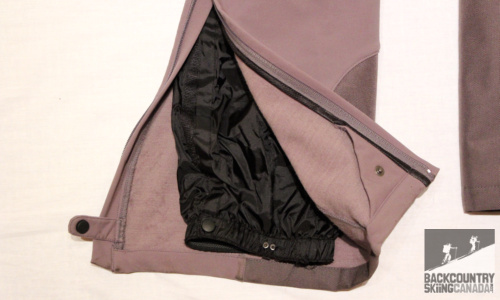 The pants on a body.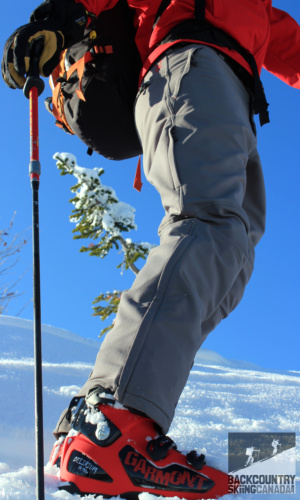 The Ibex Equipo Jacket and Pant Combo.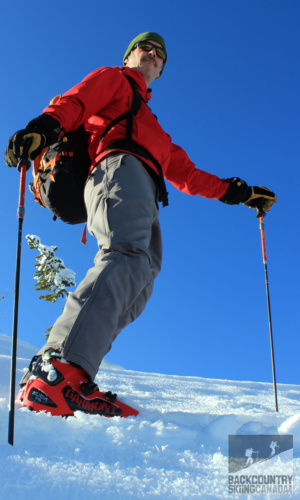 Verdict:
The Ibex Equipo Pant is a great piece of gear. Super comfy and high performance, these pants are perfect for a day (or a week) in the backcountry. Nice touches like the internal gaiters and instep patch show they were designed specifically for ski touring. As with the jacket, their wind proofing is not 100% so, if it's really honking, I'd recommend having a lightweight hardshell layer in you pack. I usually wear a pair of long-johns underneath but if it's super warm, I could see them being a little itchy against my skin (but I'm sensitive to that stuff). Softshell garments work best when you are moving; they won't keep you warm if you are standing around for too long or sitting on a windy chairlift.
SPECS:
Price: $295 USD
Colour: Stone Grey, Black
Sizes: S, M, L, XL
PROS:
Very comfortable softshell pants with a winning combination of Schoeller and Merino. Sealable pockets in all the right places, bomber instep patches. Made in Canada.
CONS:
Maybe a little scratchy for some people when worn without a base-layer.
Rating: 8/10
Fit / Mobility 1.5/2
Packability 1/2
Warmth / Breathable 2/2
Features 2/2
Quality / Price 1.5/2

This is only our opinion. Do you disagree? Did we miss something? Are we totally out to lunch? Join the discussion in the forums here, and let us know what you think. People like/dislike gear for different reasons so chime in and we'll get a well-rounded evaluation.
Back to the rest of the reviews.
---