Highgear Axio Max Altimter Watch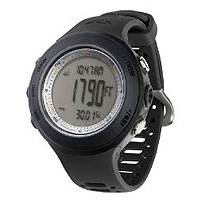 Highgear's AXIO Max wrist watch is a simple, functional and affordable timepiece that has all the basic functions a backcountry skier could want. It features an altimeter, barometer, compass, thermometer and chronograph in a relatively light and intuitive design. And after several months of abuse, it's proven it's up to the task of backcountry travel.
I've had several older altimeter watches and always felt like I had a bread loaf on my wrist. Not so with the AXIO Max. It's relatively compact and light design is comfortable and unobtrusive. It fits neatly under my clothes and gloves – a must in my book if you're planning to wear this type of watch for extended periods of time.
The 5-button layout of the Highgear AXIO (featuring adjust, recall/+, view/-, mode and light button) is easy to activate, even with gloves on. My only gripe is the buttons may be a bit too easy to activate as when it was in dual time mode it inadvertently switched from one time to another, confusing me more than once. The AXIO is made of a robust mineral glass display, steel case for durability, a comfortable rubber band with metal buckle, and is water proof to 50 meters.
The Swiss-made barometer/temperature sensor worked well throughout the test period with the requisite, regular calibration. Note that for accurate temperature readings the AXIO max must be off the body. As for altitude, with the calibration set I found it to be accurate (claimed within 1 meter/1 foot). Given altitude is based on barometric pressure, you need to reset elevation when you have the opportunity as pressure can change throughout the day. The total accumulated trip altitude and max altitude were also nice features.
With elevation/barometer set, the 12-hour forecast feature worked reasonably well and seemed to predict weather trends accurately.
The Highgear AXIO Max's digital compass also worked nicely but for the best accuracy it does require calibration, which can be a bit fiddly. I find the compass good for a quick bearing, but not my choice for taking precision bearings.
Features:
- Swiss air pressure/temperature sensor
- 1 meter or 1 foot local altitude resolution
- Mercury Inches and Millibar/Hectopascal Barometer Display
- Working range: -2303 feet to 30045 feet (-702m to 9158m)
-12-hour weather forecast icon
- Sea-level and absolute barometer display
- Digital Thermometer
- User option for Fahrenheit or Celsius, meters or feet, and quick reference between the two at a button's push
- 10-Run Memory
- Starting Altitude Record
- Accumulated Altitude Record
- Maximum Altitude Record
- Total Exercise Time Record
- 12/24 Hour Time Display
- Time/Day/Date
- Dual Time Zone
- 2 Daily Alarms
- 1 Rest Alarm
- 1 Hydration Alarm
- 2 Altitude Alarms
- Durable Steel Case
- Mineral Glass Lens
- 50 m Water Resistant
- EL Backlight
- User Replaceable Battery
Altimeter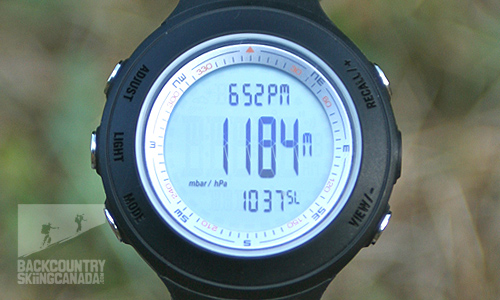 Chronograph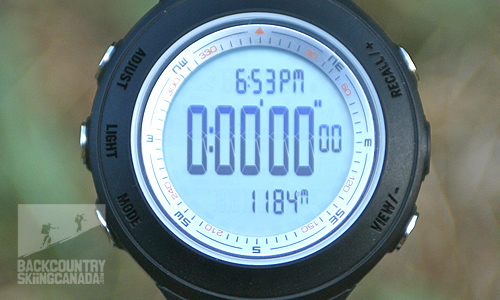 Compass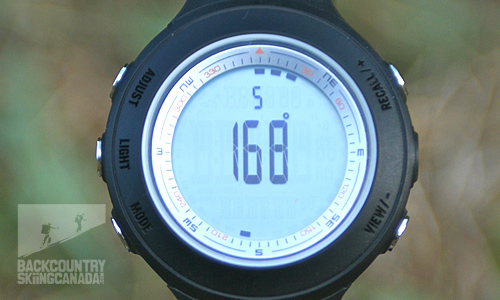 Time with date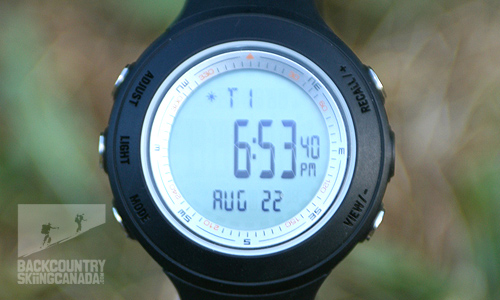 Adjust, light and mode buttons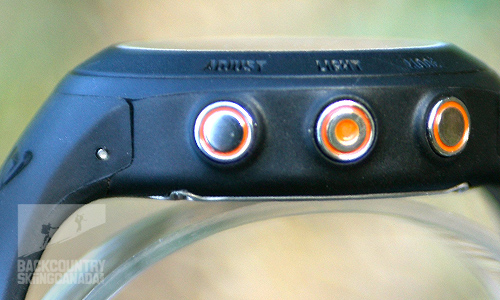 Recall and view buttons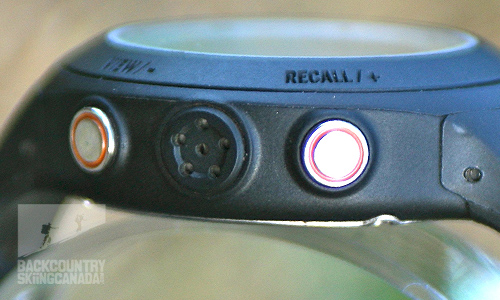 Simple and functional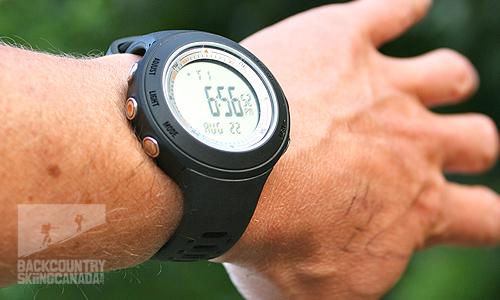 Verdict:
The Highgear AXIO Max is available at a number of online retailers for around $150, which is about $100 less than other brand models with similar features. The Max is no longer in production, but a nearly identical model is being produced by Highgear (the Axio HR) with a heart rate monitor for $190 US – still a great value with the additional heart monitor function.
I wear the Highgear AXIO Max daily and find it unobtrusive, if not attractive, durable and with simple yet effective functionality. There's no denying the usefulness of an altimeter in the backcountry, especially as an additional tool for location and route finding when things get dicey.
Overall, the HIghgear Axio Max is a comfortable, effective altimeter watch at a great price.
SPECS:
Price: $150-$170 US
Colour: Black
Weight: 454g / 16oz
PROS:
- Comfortable and light
- Accurate
- Uncomplicated design
- Durable
- Affordable
CONS:
- Buttons can be inadvertently pushed
- Proprietary band is durable, but replacement from company was required after some use
- Not flashy, but that could be a good thing
Rating: 8/10
Ease of use 1.5/2
Features 1/2
Quality 1.5/2
Size / Weight 2/2
Price 2/2

Join the discussion in the forums here, and let us know what you think. People like/dislike gear for different reasons so chime in and we'll get a well-rounded evaluation.
Back to the rest of the reviews.
---