Hestra XCR 3 finger gloves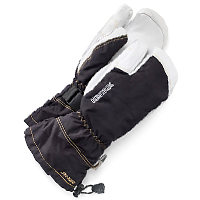 For the last two months I have had the pleasure of wearing Hestra's XCR 3-finger glove, otherwise known as the 'lobster claw'. I am a glove wearer from way back preferring the dexterity of gloves, particularly for ski touring. As a result I have been caught out on a number of occasions with frozen digits especially in the darkest months of the year or high winds. It could be that age is making me soft but I was on the market for some mitts this season for those colder months. I think I may have stumbled upon an ideal solution here—a glove that keeps you warm and somewhat nimble.
Hestra takes it's name from the town of Hestra in Sweden where the Magnusson family have been making gloves for over 75 years and four generations. They personally source all of their own leather, cloth, wool and other materials so that they can ensure high quality. As well as this some of their gloves are still handmade in Europe.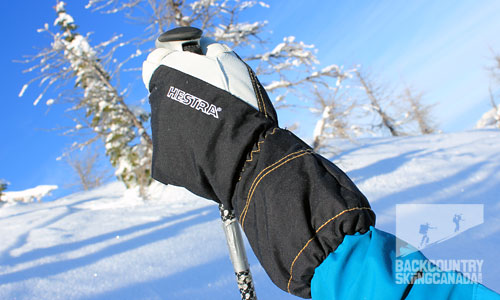 Gloves for the up and the down
Hestra's 75 years of glove-making expertise is most notable in their highly articulated gloves. I tested the Hestra Army Leather Spring gloves for use on the up-track. Designed for Spring conditions they are light enough for the hike up. I was most impressed with the articulated design which combines 4-way stretch windproof soft-shell with a full goat leather palm resulting in enhanced dexterity. These gloves felt like they were custom fit to my hands.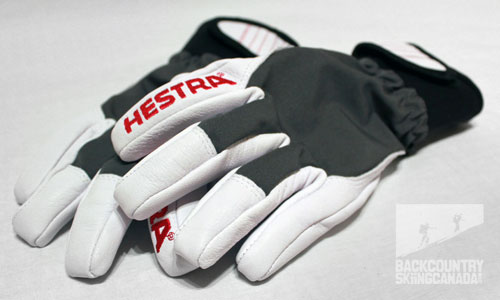 Maintenance
Worth mentioning before we return to Hestra's XCR 3-finger glove is that every Hestra glove comes with a maintenance plan— a sample of Hestra's Original Leather Balm. And on every glove tag it will recommend: "Leather must always be regularly waterproofed". According to Hestra greasing the leather regularly will help it to resist moisture, wear and tear.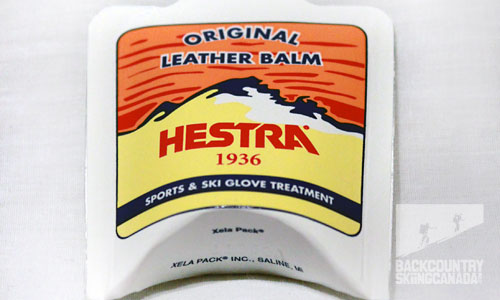 XCR 3-finger glove FEATURES
- Eagle Grip© design: the gloves follow the natural curve of your hands, for a closer, more comfortable grip.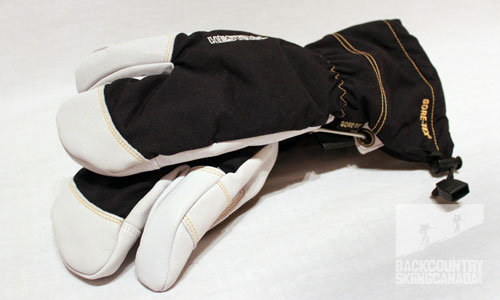 - Proofed, full "Army Leather" palms made from Hestra's most durable leather, a specially treated goatskin.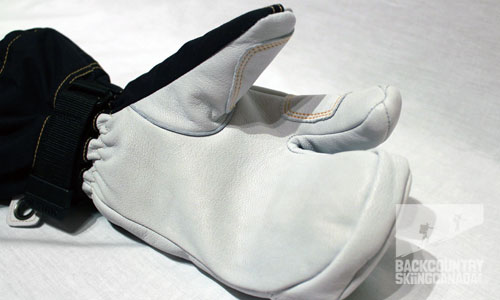 - Hard-wearing nylon outer fabric (Hestra Triton polyamide fabric) that is breathable, wind and waterproof.
- Gore-tex membrane (a must for any glove that will keep you dry)
- Reinforced index finger and thumb to protect hard wearing areas.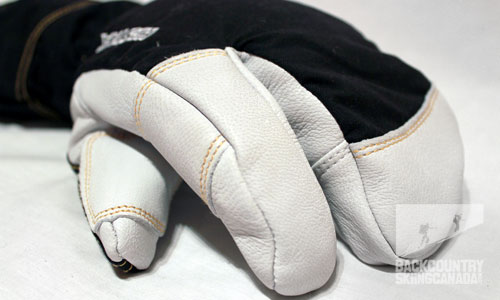 - Fiberfill insulated and lined with fluffy Bemberg polyester lining.
- Velcro enclosure for extra articulation at the wrist.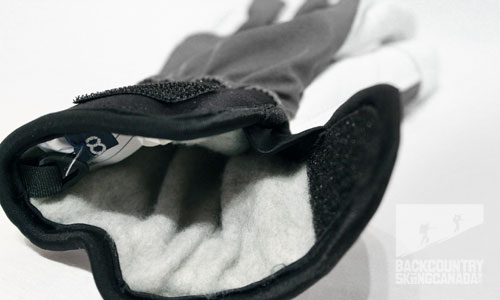 - Gauntlet design with snow lock toggle to cinch the glove closed and keep the snow out.
- Safety line with beefy wrist strap so you don't lose your gloves if you go for a yardsale.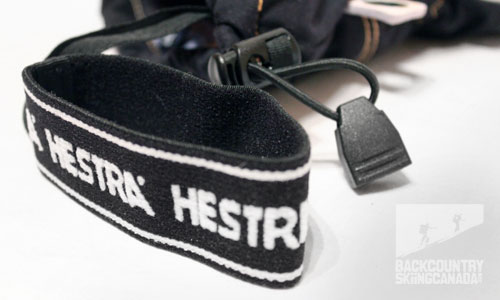 - Mini carabiner and grommets on each glove, handy for hanging to dry or clipping to a pack.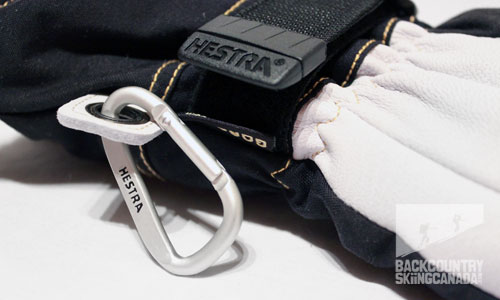 VERDICT:
The XCR 3-finger gloves provide an excellent alternative to a mitt. It's really a hybrid glove/mitt so you get the best of both worlds—warmth and dexterity. Just how much dexterity do you have? Well, enough that I could open a combination lock to my locker at the ski hill and more than enough to adjust my boot buckles. They are a little bulkier than a glove but the pay-off is comfort. The liner is plush and feels toasty warm the minute you put the gloves on. They insulate better than any gloves I have worn—even on the coldest days this season where my finger-tips felt the cold but weren't frozen. The safety line (dummy cord) is a feature I don't usually like on gloves but on Hestra's XCR it feels comfortable and though beefy, it's unobtrusive.
This is the first time I have worn anything in Hestra range. My experience with the XCR 3-finger gloves and the Alpine Pro has demonstrated superior quality and design for comfort, which more than justifies the higher price tag. These gloves are solidly constructed using noticeably superior materials. They feel like they are going to last a number of seasons. My partner has been wearing a pair of Hestra gloves for the last three seasons and the Army Leather palms on those show no signs of wear and tear—a true testament to the quality of Hestra's Army Leather.
SPECS:
Price:$180CAN
Weight: 12.2 oz / 346 g
Colour: Black with white leather
Sizes: 6 – 11
PROS:
Superior quality and comfort. Warmer than a regular glove, more dexterous that a mitt. Plush liner and beautiful full leather palms that are built to last (if regularly greased).
CONS:
White leather looks great but will show the grime.
Rating: 9/10
Fit / Dexterity 2/2
Warmth 2/2
Durability 1.5/2
Features 2/2
Quality / Price 1.5/2

This is only our opinion. Do you disagree? Did we miss something? Are we totally out to lunch? Join the discussion in the forums here, and let us know what you think. People like/dislike gear for different reasons so chime in and we'll get a well-rounded evaluation.
Back to the rest of the reviews.
---