Hestra Softshell Short Glove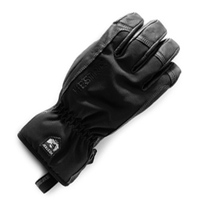 I recently reviewed the Hestra Seth Morrison Pro 3-Finger, touting its uncompromising warmth, durability and style. Where the Seth was lacking was in the most important design component for ski touring – breathability.
There are various options for ski touring glove system;
1. wear your regular warm resort gloves and deal with the heat, then strip them off when becomes too much and deal with the cold
2. carry two sets of gloves, one thinner breathable pair for hiking and one warmer, waterproof pair for resting and descending
3. wear a warm, waterproof glove that breathes
The Hestra Softshell comes close to fulfilling the conditions of option 3. Just like any type of apparel, breathability comes with a tradeoff – usually in the form of warmth and/or durability. There are definitely warmer gloves out there, but few will be as efficient at dissipating heat. While I would still carry a thinner glove or liner for warm days of Spring touring, this glove was able to maintain a comfortable temperature while hiking in mid winter temperatures, all the way to the top of the skin track.
The key to the breathability is 4 way-stretch softshell fabric on the back of the glove. This fabric makes the glove quite conformable and easy to wear straight off the shelf. The stretch fabric is treated with DWR coating but is only rated to 5,000mm, meaning if you have to go out in the rain you will probably want hard-shell type glove. But for even wet coastal snow conditions the softshell is sufficient to keep your hand free of moisture and at the end of the day they will dry quickly.
The gloves are low profile, allowing good dexterity while still keeping you warm. The 'wolf paw' design for the palm and fingers is seamless, meaning less potential points of failure in the stitching. However, I prefer the external seam design from Hestra, as seen on the Vertical Cut Freeride and Army Leather Short models. The external seams give even better dexterity and the build quality of Hestra means the stitching will rarely come undone, if it does, its usually covered by warranty or repaired free of charge.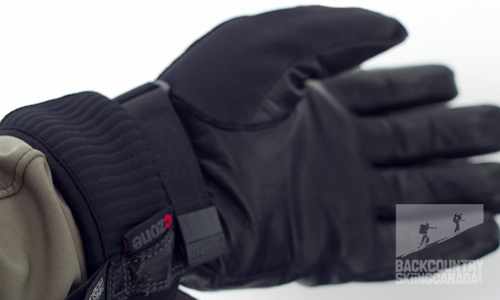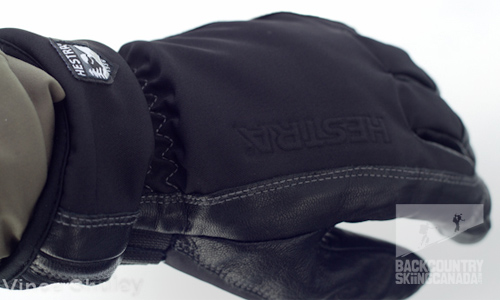 Verdict:
Durability on the front where it counts, breathability on the back where you need it. At around $115 this is glove represents exceptional value from Hestra/ If you are looking for the same glove with a gauntlet then check out the Hestra Softshell Gauntlet Glove which retails for $125.
SPECS:
Price: $115 CDN
Outer Material: Hestra Flextron, windproof, water resistant and breathable 4-way stretch, C-Zone membrane
Insulation: Thermolite/fiberfill.
Lining: Bemberg/polyester.
PROS:
Low profile, very breathable, stretch fabric on back makes them comfortable and versatile
CONS:
Will eventually wet out in the rain or wet snow.
Rating: 8/10
Fit / Dexterity 2/2
Warmth 1.5/2
Durability 1.5/2
Features 1.5/2
Quality / Price 1.5/2

This is only our opinion. Do you disagree? Did we miss something? Are we totally out to lunch? Join the discussion in the forums here, and let us know what you think. People like/dislike gear for different reasons so chime in and we'll get a well-rounded evaluation.
Back to the rest of the reviews.
---