Halcyon Hot Springs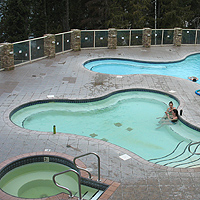 With the advent of Revelstoke Mountain Resort, Halcyon Hot Springs has become even better situated as a stop-in spot before or after skiing. CMH heli-skiing uses it as a place to entertain their guests after a day (or several) of powder skiing—a testament to the quality and atmosphere on offer. Located toward the north end of Arrow Lake, between Nakusp and Revelstoke, Halcyon Hotsprings is at the epicentre of BC backcountry skiing. I have visited the hotsprings a couple times on my way back from Rogers Pass (see touring routes here). I've also been to two or three other hotsprings in BC, and Halcyon is the best.
This time around, we stayed in the Village Chalets for the full swank experience. The chalets are split into two units, top and bottom, and feature all the bells and whistles a weary skier could possibly ask for—and then some.
The Village Chalet in which we stayed.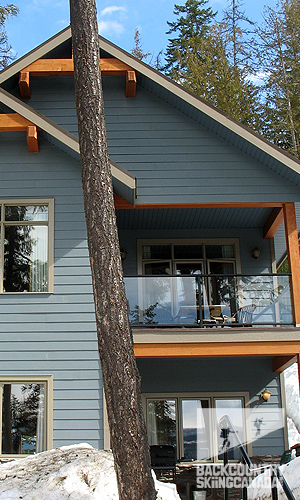 A plasma TV, giant bath and shower, granite countertops, fireplace, super comfy bed and a BBQ all add to the village chalet experience. We were there for two nights—first night we stayed home and cooked up a steak on the BBQ, second night we went out to the Kingfisher Restaurant. This establishment really adds to the quality of Halcyon. A smart, quirky menu with locally sourced produce and meats perfectly cooked—all in a space overlooking the pools, Arrow Lake and the mountains across the way—make for a very special time. I almost experienced something close to romance.
Inside the chalet, in the living room.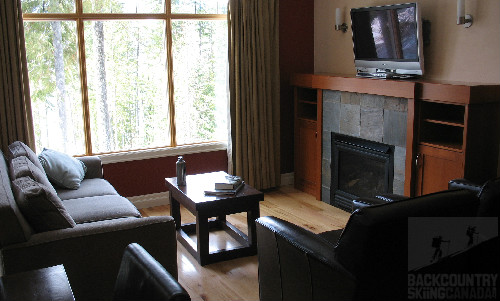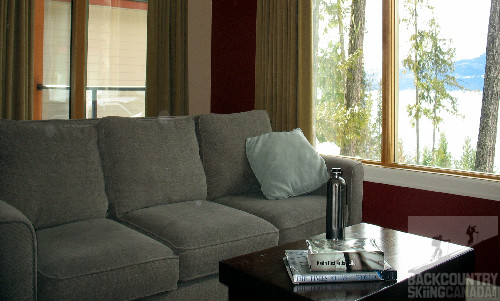 At the Kingfisher Restaurant. Something meaty, something veggie. Yumbo.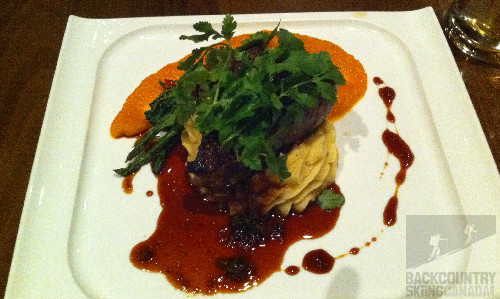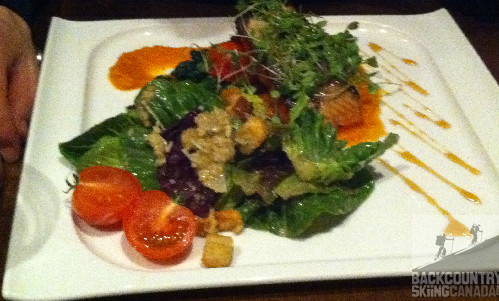 Rates and accommodation:
You should really visit the website to gain a full understanding of all the various packages and promos available. Here's a snapshot:
Village King Chalet:
Midweek: Between $319 and $419 depending on the season
Weekend: Between $339 and $449 depending on the season
These prices represent the full-meal deal. I'm certain guests pay less if they are part of a heli-skiing group. Sharing a cabin (or one of the many other lodgings) with a number of people is an easy way to keep the price down. Don't be intimidated by the quoted price of the Village King—there are many options and promotions to look into. Play your cards right and experience economical luxury. All lodging prices include unlimited soaking in the hot springs.
Cold, Hottest, Hot. No crowds to speak of.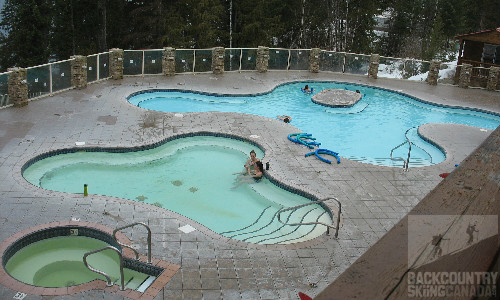 On one of the days, we decided to head down to the lake and walk along the shore. We came upon the little chapel pictured below. There's an interesting historical backstory to Halcyon which adds to its allure. The first iteration of Halcyon appeared in 1894. A massive hotel was built (look for the pics in the current building's foyer) and it was used as both a party space and eventually as a place for healing and healthy pursuits. If you think Halcyon Hotsprings is remote now, imagine it before there was a road. The original building burned to the ground in 1955 and all of the other buildings, apart from the chapel pictured, perished when the lakes were raised in the 1960s. Be sure to check it out to get a little of the old vibe.
Remains of back in the day.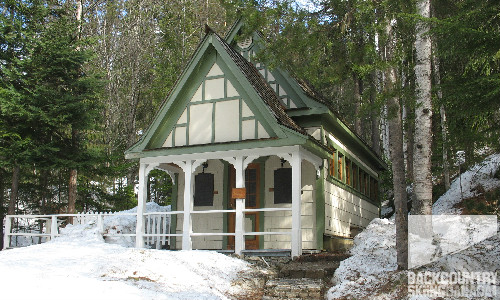 Looking out across Arrow Lake.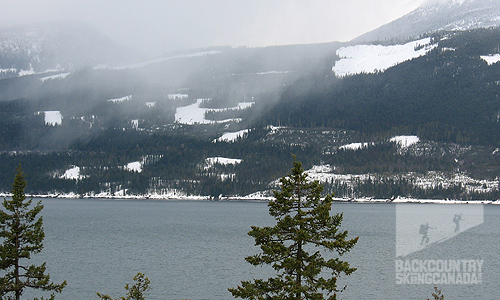 If you have the option, stay the night and eat at the Kingfisher Restaurant. I have visited Halcyon on the way back to Nelson from Rogers Pass and we just stopped for a quick dip. A soak is always nice but being there for longer makes for a more well-rounded experience. Also, visitors have been known to enter a near unconscious state after a soak so driving away may not be an option.
SPECS:
Location: On the lakeside just south of the Galena Ferry dock on Highway 23. If you are heading to Revelstoke or Rogers Pass, make sure to time it right for the ferry or you could be waiting for almost an hour. Same coming back.
Cost: The tab totally depends on how much you want to spend. For a night, a soak, dinner and drinks plan on having $100 in your pocket. If you go upscale, have 4X that amount.
Amenities: Depending on the lodging you choose. Runs the gamut but you can expect 'net access and healing waters regardless.
PROS:
Halcyon is likely one of the nicest hotsprings you'll ever have the pleasure of visiting. Limited crowds, many different options for lodging, high-quality healing waters, exceptional chow and proximity to some of the best backcountry skiing anywhere, all come together for a great experience.
CONS:
Save your shekels a little before visiting. Though not dirtbag unfriendly, Halcyon isn't cheap. And that's OK.
Rating: 9/10
Lodging:                             2/2
Staff:                                  2/2
Quality/Price:                     2/2
Location:                            1.5/2
Activities available nearby: 1.5/2
This is only our opinion. Do you disagree? Did we miss something? Are we totally out to lunch? Join the discussion in the forums here, and let us know what you think. People like/dislike accommodations for different reasons so chime in and we'll get a well-rounded evaluation. Check back mid-season to see how our review stands up to our in-the-field testing.
Back to the rest of the reviews.
---