Haglofs Naja Soft Shell Jacket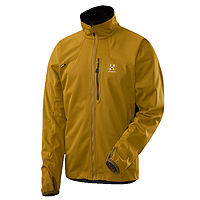 Haglöfs is a name that most North American backcountry skiers will likely never have heard of - no it's not a secret stash at Rogers Pass but rather a european manufacturer of quality outdoor garments. Haglöfs is the largest supplier of outdoor equipment in the Nordic region of Europe. They got their start in Sweden in 1914 with Victor Haglöf (hence the name) making backpacks. Now they have a full range of over 500 products which they sell all over Scandinavia, Europe and Japan. This popularity has put Haglöfs on our radar and so we've decided to see what all the fuss was about.
We wanted to put Haglöfs reputation to the test so we have chosen to review the Naja soft shell jacket and in a later review you can read about the new Endo hard shell jacket (available for fall 2011). Haglöfs seems to be a little ahead of their time with respect to design, fabrics and colours. It is refreshing to see some unique and creative solutions that venture out of the norm that we are familiar with here in North American. The Naja jacket is a traditional soft shell jacket with some less traditional niceties that we will talk about shortly. It is water resistant and breathable as one would expect and uses Gore Widstopper fabric to keep you warm without a lot of bulk. This lightweight soft shell is not super warm but this allows it to function well as an outer jacket when skinning up. It also provides good insulation from the wind (thanks to the windstopper fabric) and when you stop to enjoy the summit vista it works really well as an insulating layer under a hard shell.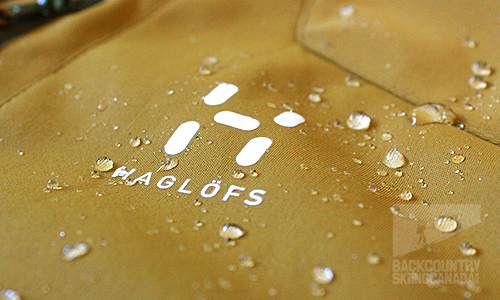 Features:
The Haglöfs Naja soft shell jacket has a long list of features (as you can see below) but it still offers that clean european design for all-year-round use. The absence of velcro adjustable cuffs is a great idea that saves on weight, eliminates bulk and prevents that eventual wear spot that you find with traditional adjustment systems. Elasticized cuffs with thumb loops and the lack of a hood allows the Naja to work really well as a mid layer when the weather turns. It's light weight and compact design is also a plus when you find it is not needed and you have to stow it in your pack. Other features include:
Fabric has smooth inside finish.
Abrasion resistant face fabric.
Highly wind and water resistant.
Full front zipper with chin guard.
Elasticized shaped cuff with thumbgrip.
Adjustable collar lined with brushed polyester lining.
Offset shoulder seams for increased comfort when wearing a backpack.
Two mesh-lined zip hand pockets pockets and one vertical zip chest pocket.
Extended back for warmth and comfort.
Rear hanging loop.
Single-hand adjustable hem.
Articulated elbows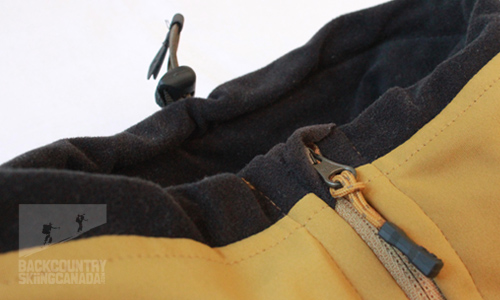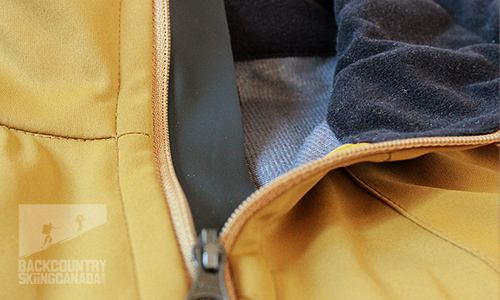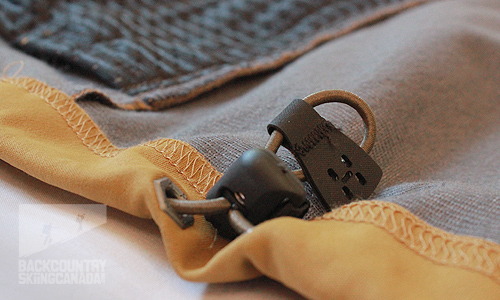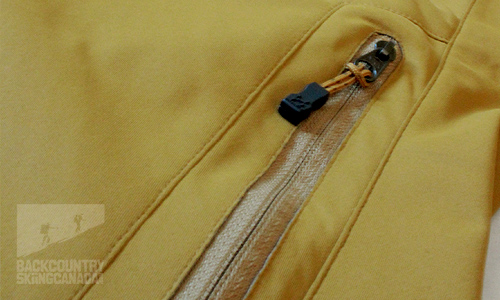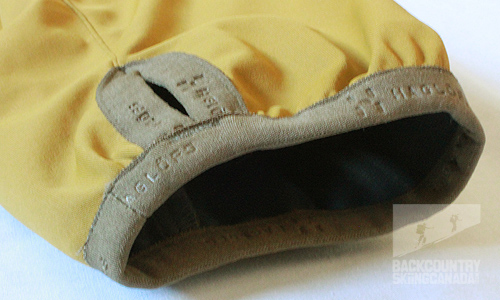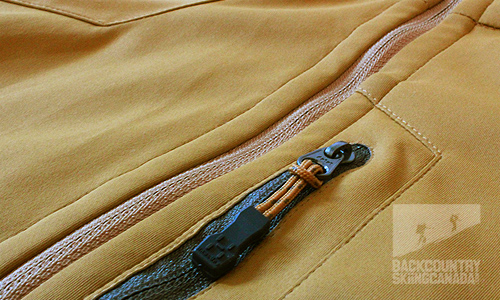 Fabric:
The Naja is a lightweight soft shell with a knitted backer that provides a comfortable next-to-skin feel with a high wicking function. The Gore Windstopper provides great wind resistance and excellent breathability, while the exterior fabric is incredibly soft to the touch an surprisingly durable. Thanks to the DWR treatment the Naja jacket is also somewhat water resistant.
Shell: Windstopper® Soft Shell 475
Face material: 100% Polyester
Membrane: ePTFE
Backing: 100% Polyester
Performance: Moisture Permeability, RET < 8,6
Weight: 186g/m²
Verdict:
Haglöfs philosophy is "about creating what people actually need for their outdoor activities, without adding anything extra." This is true for the Naja soft shell jacket as it maintains a refined, simple design that works well for ski touring and has great packability when you need to shed a layer. It's also not too overloaded with technical features so that it's not out of place as a functional day-to-day jacket in the city. One feature that is not included in the Naja that would be a plus for cruising around town would be the addition of a media port on the chest pocket - not a deal breaker but something that would make a great product even better. Quality fabrics, and solid design provide a soft shell that is big on comfort and style. The price may be on the higher end of the spectrum but you generally get what you pay for and in this case that saying holds true. Haglöfs definitely lives up to their reputation and hopefully they continue to innovate well past their 100th anniversary as their name becomes a little more common on this side of the pond.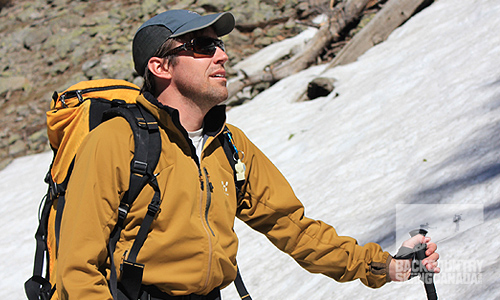 SPECS:
Price: $219
Weight: 435g (size Large)
SIze: S, M, L, XL, XXL
Colour: Malt, Oxy Blue, Deep Red, Black
PROS:
Like the inside zipper guard, Simplistic design, Windstopper, cuffs w/o velcro adjustments and thumb loops to use it as a mid layer, ultra soft fabric
CONS:
No interior Napoleon Pocket with Media Port, No Zipper Garages, the DWR is not very durable and will need replenishing over time.
Rating: 9/10
Fit / Mobility 2/2
Packability 2/2
Warmth / Breathable 2/2
Features 1.5/2
Quality / Price 1.5/2

This is only our opinion. Do you disagree? Did we miss something? Are we totally out to lunch? Join the discussion in the forums here, and let us know what you think. People like/dislike gear for different reasons so chime in and we'll get a well-rounded evaluation.
Back to the rest of the reviews.
---
UPDATE APRIL 2013:
Haglofs has been one of my favourite brands to review given their attention to detail and uniquely euro-inspired design sense. The Naja Soft Shell has been a staple in my wardrobe for over two years now and it doubles not only as a great mountain layer but also as my around town soft shell as it just looks great. I have re-applied the DWR a few times but the fabric is still like new and all the features still work. It hides the dirt well and cleans up easily. What more could you ask for from a soft shell jacket?
---