Grangers waterproof and cleaning products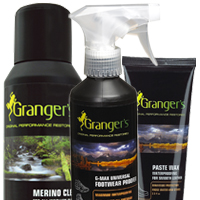 Working in retail you deal with a lot of frustrating things, while working in gear shops this is a scenario that played out regularly as one of those frustrations: I would spend half an hour with a customer helping them pick out a new waterproof breathable shell. Once they found one that they liked they would go through the internal monologue of justifying to themselves dropping $400 bucks, and decide it was worth it. Then I would tell them about a $10 product that would help them extend the life and performance of that shell, and they would look at me like I was trying to scam them.
This was far from the bulk of customers, most knew that if you were going to invest in high end outerwear or footwear it was worth having the right products to take care of that gear. Grangers makes products that do just that, I have been using Grangers products for years, so this review was an easy one for me, I knew what I was going to find even before I started testing. Here are the products that I looked at :

Performance Wash
Price:$11.95
Size: 300ml (washes about 8 garments)
Anyone that has a waterproof breathable jacket should have some of this. You should never wash waterproof breathable gear with a "regular" detergent. Your average laundry soap has surfactants in it that are designed to attract water into the clothes – which is great for getting clothes clean, not so great if the job of the clothing is to keep water out. This performance wash keeps your gear clean and performing. I also found that this product is particularly good at getting the residual stink out of cheap polypro base layers.

Performance Waterproofer
Price: $15.95
Size: 300ml (good for about 4 garments)
Beading is Breathing! if you notice after washing and drying your coat/pants that it is not beading anymore you have probably worn off the DWR coating that came on your coat/pants. Enter Grangers Performance Waterproofer. Make sure that your coat/pants are clean then throw it back in the wash with a couple capfuls of waterproofer, hang it to dry and your coat will be shedding water like it is new. I have a pair of old ski pants that I thought would never be waterproof again, but a fairly heavy dose of this stuff brought them back to life. The coating that this provides doesn't seem to last as long as the factory coating, but definitely, cheaper than buying new gear. I find that the more you fall down, or rub against trees the more often you have re-waterproof.

One Step Wash and Waterproofer
Price $16.95
Size: 300ml (good for 4 garments)
It is 2 in 1. This product combines the two above products into one step. Instead of doing two loads - one for washing and one for waterproofing you can do it in one step. It definitely works – I don't think the water proofing goes on quite as well as when you do it separately, but it is twice as convenient.

XT Waterproofer
Price: $16.95
Size: 275ml
Another waterproofing option, the XT comes in a spray bottle and predictably is designed to be sprayed on. I like this option because most time it is unnecessary and wasteful to do a full waterproofing on a coat or pants every time you wash them. What I did last season was just spray some of this on the high wear areas (shoulders, cuffs, knees, butt) to rebuild the DWR coating that wears off because of your pack rubbing or other contact. Doesn't seem to last as long as the wash in, but it is really quick to apply.

Down Wash
Price: $11.95
Size: 300ml (good for 2 jackets or sleeping bags)
In the case of down, "regular" detergents are bad for another reason – they are often harsh enough to strip the natural oils that coat the down feathers. Once those oils are gone, the down tends to start to clump together, making it less warm and less breathable. I didn't know about down wash until a few years ago, so I was using the performance wash on my puffy's and sleeping bags - with no ill effects. I am not convinced that there is any difference between the performance and down washes, but because they are the same price I now buy the down wash to do my sleeping bags once a year.

Merino Cleaner
Price: $11.95
Size: 300ml (good for 8 loads)
This is the Grangers product that I am least convinced on – I personally don't see the need to wash merino in a special wash. I thought this might also be the same formula as the performance and down wash just in a different bottle, but I now know that the Merino Cleaner contains a cedar extract. The cedar extract is in there to repel moths, so if you are worried about your $200 dollar Icebreaker top getting eaten, might be worth washing it in this product.

G-Max Footwear Cleaner
Price: $9.95
Size : 100ml
This little bottle comes with a foam applicator hybrid top, which is great for getting dirt out of all the seams and folds of boots and shoes. The foaming action supposedly pulls dirt out from deep in leather footwear, but I am not convinced that it gets my boots much cleaner than a scrub-brush and water.

G-Max Footwear Waterproofer
Price: $9.95 (spray) $11.95 (dabber bottle)
Size: 275ml (spray) 100ml (dabber bottle)
This is good stuff. It keeps the leather of boots nice and supple as well as making sure that water beads off. I put a coat of this on my all leather, gor-tex lined hiking boots in spring, and after a pretty decent hiking season, including lots of scrambling on shale, lots of dust and lots of creek crossings they are still beading. The spray bottle is a lot better value – the dabber applicator is nice for getting in all the folds and seams but the same can be accomplished with the spray on and a rag.
The Verdict:
If you are going to be spending good money on technical clothing and footwear, it makes a lot of sense to spend a little bit extra to makes sure you are caring for that gear with a product that is going to extend its performance, rather than wreck it.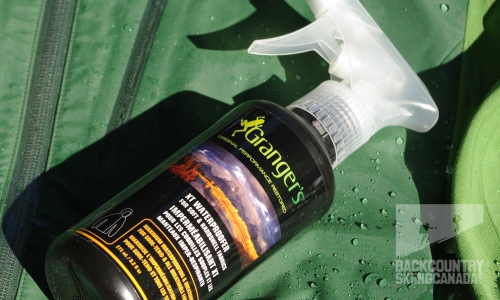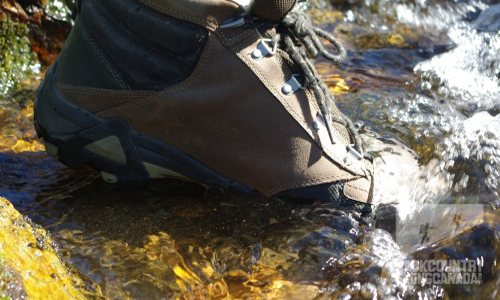 SPECS:
Price: $9.95 - $16.95 US (see above for individual pricing)
Weight: 100ml /3.38fl oz -300ml/10.14fl oz (see above for individual pricing)
Products: See above for individual descriptions
PROS:
Lots of different options to meet your gear cleaning and waterproofing needs.
CONS:
Too many products that seem to have overlapping uses - gets a little confusing of what to use when.
Rating: 9.5/10
Innovation 2/2
Function 2/2
Durability 1.5/2
Quality 2/2
Price 2/2

This is only our opinion. Do you disagree? Did we miss something? Are we totally out to lunch? Join the discussion in the forums here, and let us know what you think. People like/dislike gear for different reasons so chime in and we'll get a well-rounded evaluation. Check back mid-season to see how our review stands up to our in-the-field testing.
Back to the rest of the reviews.
---
UPDATE APRIL 2013:
Grangers has a long list of products to care for all of our technical fabrics and we have been putting them to the test over the past year and a half. I have been impressed with the ability of the G-Max Footwear Waterproofer to do just what the name says as well as the Performance Wash to get the grime off of my Gore-Tex jackets and pants. The Merino and Down wash products have also come in handy to keep my insulation gear clean - after all we spend a small fortune on out door gear and the best way to care for them is to use products like these.
---