Glacier Park Lodge
On a recent road trip to Golden through Rogers Pass we decided to stop and check out the early season touring. We had thrown around the idea of staying at one of the ACC huts, until we thought about stopping by the Glacier Park Lodge as it might be worth checking out.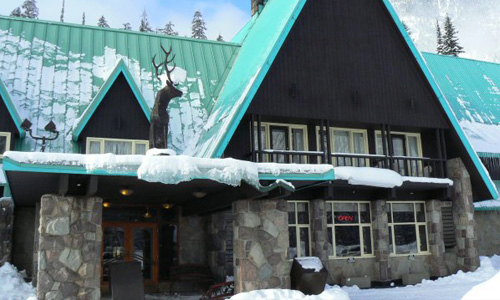 Rates and Deals:
We pulled up to the lodge and had a look and enquired about rates and this is what we found out:
- Regular room rate from $99;
- Group Rates from $79 per room 2 free breakfast per room;
- Skiers Rates from $30 per person/double occupancy; and
(Canine companions are welcome for an additional $10 per night.)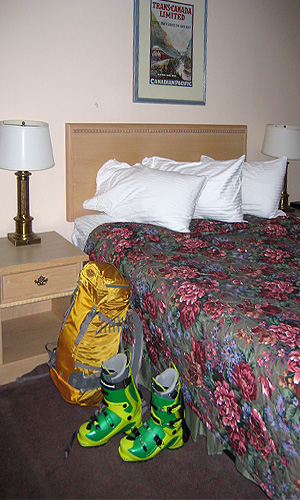 Amenities:
All rooms come with the following items included:
- Cable
- Wireless Internet
- Coffee and Tea
- Toiletries (mini shampoo, soap, and hand lotion)
- Bath tub
- Hair dryer available upon request
- And... drum roll... there is a hot tub.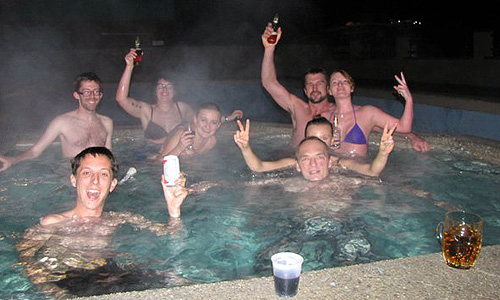 Since the Glacier Park Lodge gives the huts a run for their money and it's an easy drive in, drive out, with trail access 20 feet from the front door we decided to give it a whirl.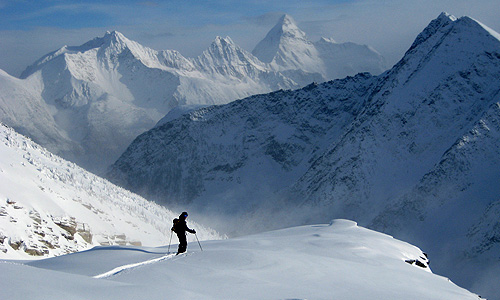 And the Beta?:
The rooms were clean, the bed and pillows very comfortable. The staff were friendly and helpful. The hot tub is big, with big views.
Location, location, location - We could ski right from the front door. On top of that the Parks office is currently located in the hotel so we could check out current avi conditions in our slippers. (The Parks building, located next door, is undergoing renos until April 2011).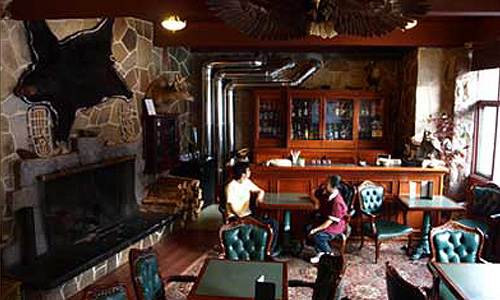 We were there for the skiing, not the decor, if up-to-date decor is your thing you might be disappointed. That aside, it has a certain charm to it, particularly the bar which has a huge stone fireplace, solid furniture and some local fauna hanging about. 
Wireless was handy but on the slower side, fine for checking emails or checking in at the office but you might wanna hold off on uploading your high-def ski videos.
The food is traditional meat and three veg faire, moderate servings but reasonably priced. They had a skiers bar special – beer – $3 a jug with any food order.
While we were there we found out that the hotel is under new ownership. Apparently the previous owners had run things into the ground a bit and the new management seems to be working hard to improve things. Whilst there's still things that can be improved the bottom-line is – serious value for your $. For the same price as staying at the Wheeler or the Asulkan Hut you can drive to the door, sleep in a clean private room, have somewhere to dry your gear, eat an easy meal, check email, and take a hot shower. Don't get me wrong there's a time and a place for the 'hut experience' but staying at the Glacier Park Lodge is the easy alternative.
SPECS:
Price: from $30.00/person/double occupancy
Location: Summit of Rogers Pass in the heart of Glacier National Park
Amenities: Hot tub, restaurant, Bar, Internet
PROS:
Great value for your money, comfortable surroundings after a big day of touring, Fireplace in the bar is BIG! The location could not be better. Did I mention the Hot tub?
CONS:
The decor is more than a little dated.
The menu selection is limited and food quality is not great.
A little run down and hence why it is closed and slated for demolition.
Rating: 5/10
Lodging:                             .5/2
Staff:                                 .5/2
Quality/Price:                    .5/2
Location:                           2/2
Activities available nearby: 1.5/2
This is only our opinion. Do you disagree? Did we miss something? Are we totally out to lunch?  Join the discussion in the forums here, and let us know what you think. People like/dislike accommodations for different reasons so chime in and we'll get a well-rounded evaluation. Check back mid-season to see how our review stands up to our in-the-field testing - Brad.
Back to the rest of the reviews.
---