Giro Flare Helmet and Field Goggles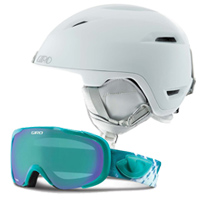 This season Giro introduced a new helmet and google duo well suited to backcountry skiing pursuits. The Flare helmet—the lightest full-featured women's ski helmet they have ever made—offers seamless compatibility with their new Women's EVX Field goggle. The news of the launch peaked my interest as I was in the market for a lightweight and compact helmet specifically for ski touring but that I could also sport inbounds. Here's the low down:
Giro Flare Helmet:
Designed with a women's specific fit the Flare accommodates a smaller average size head (than a men's helmet) and a more feminine palette. In-mold construction—where the outer shell and impact-absorbing liner are fused together during the molding process—reinforces areas around the vents and ribs and allows for better ventilation, lighter weight and more durability than traditional helmet designs. At 375g the Flare is on the lightest end of the scale for what's on offer for women's backcountry ski helmets this season. Despite it's featherweight it isn't trim of features.
Giro's Roc Loc 5 Fit system includes a micro-adjusting dial for one handed fit adjustment.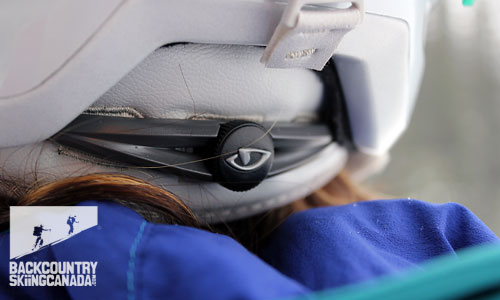 Giro's Super Cool™ vents help regulate your temperature according to the climate of the day. Top vents can be opened and closed at the flick of a lever (aka Giro's Thermostat Control).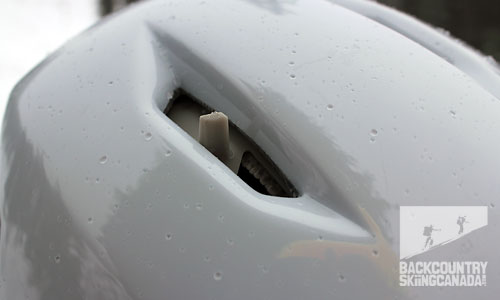 Giro's Stack Vent™ at the front of the front of the helmet exhausts the warm air from the centre top vent of the goggle to eliminate fogging of the goggle lens. The stack vent area doubles as a GoPro® compatible mounting system.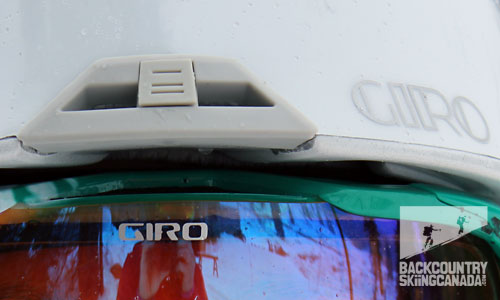 Strap baskets keep the helmet straps in pace and are insulated and fleece lined for additional comfort.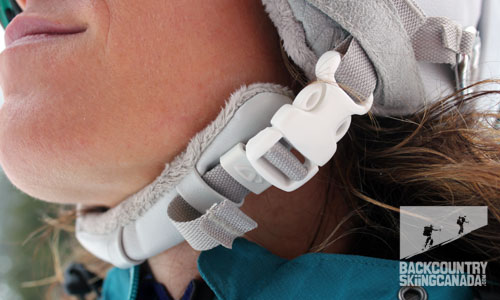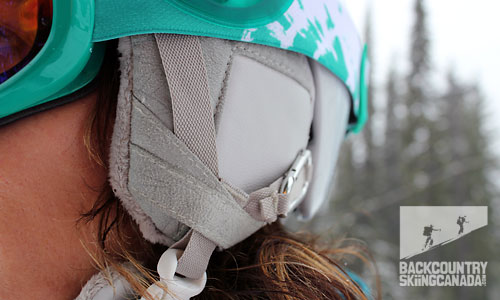 For comfort X-Static Anti-bacterial padding lines the helmet.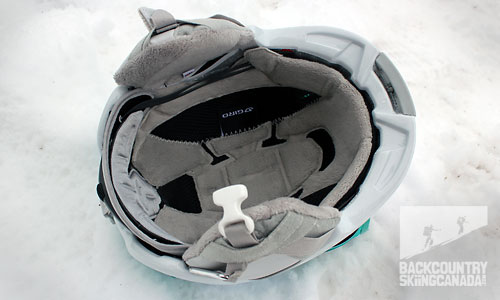 The Flare has seamless compatibility with all Giro goggles, a slick elasticized strap on the back of the helmet keeps the goggles tied down.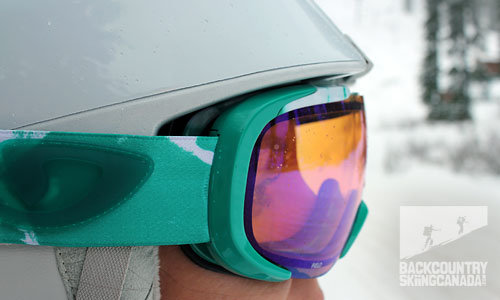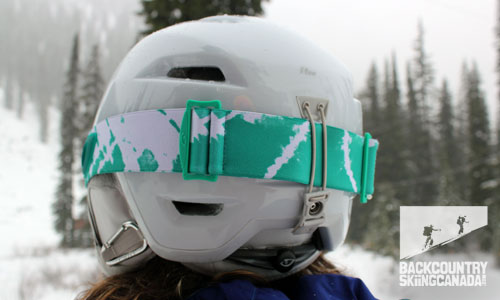 Features:
- Construction: In-Mold Construction, Ultra Lightweight (375g), Low Profile Design
- Fit: Roc Loc 5 Fit System, On-The-Fly Vertical Tuning
- Ventilation: Super Cool Vents with Thermostat Control, Stack Ventilation
- Ceritification: ASTM F2040 / CE EN1077
---
Giro Field Goggles:
This medium size Women's specific design uses Giro's EXV (Expansion View) technology. This is what Giro refer to as a platform technology for them. EXV aims to have seamless compatibility with all Giro helmets whilst offering the widest view possible.
To optimize the field of vision Giro have shaved down the frame rim and added frameless zones to hold the large spherical Zeiss™ Lens.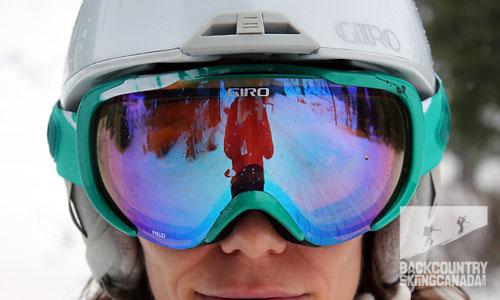 Ziess have been manufacturing quality optics for over 150 years, according to their website their goggle lenses are tested at their labs in Italy to ensure that they provide uncompromised vision. The lenses are interchangeable and come in a wide range of tints (shown here is Persimmon Boost) which allow you to choose from a variety of VLT (Visible Light transmission) ratings (see specs). Each lens features Giro's anti-fog coating.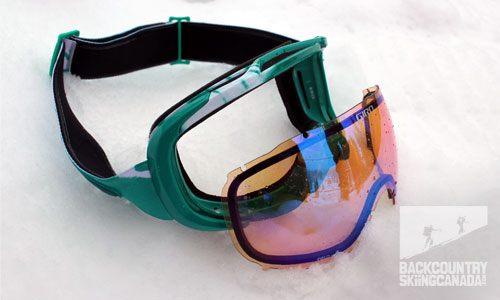 Triple layer face foam buffers goggle contact with the face, micro fleece facing adds next to skin comfort.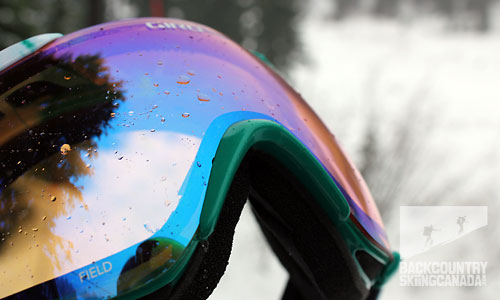 Vents at the top of the goggles are designed to line up with helmet vents.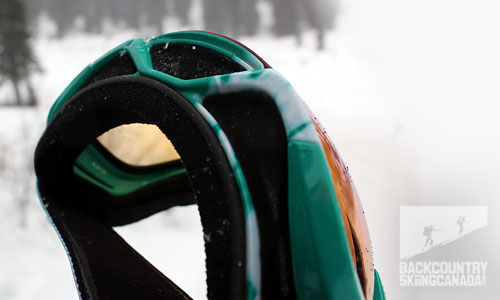 Silicon-like lining on the strap edges helps the strap stay in place on the helmet.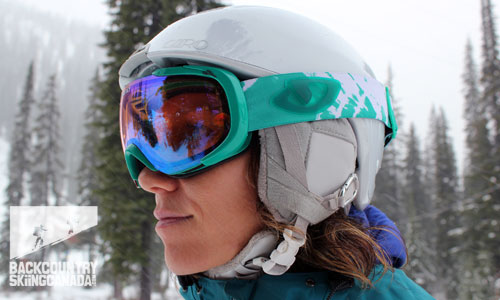 Fearures
- Designed Specifically For Women
- Expansion View Technology (EXV)
- Triple Layer Face Foam with Micro Fleece Facing
- Anti-Fog Coating
- Fit: Medium Size Womens EXV Frame
- Lens: Spherical Lenses by ZEISS
Verdict:
After a month of use I am pretty smitten with the low profile and ultra lightweight Flare helmet particularly for backcountry skiing. It's a 'less is more' helmet which is not to say it skimps on features, au contraire, it is packed with all you need from a helmet. It fits close and comfortable particularly with the plush padding. I don't feel like I have any extra weight on my head to contend with. The one thing I miss on high precipitation days, particularly skiing in bounds, is a visor. However, for the purposes of backcountry skiing a visor would add weight and bulk so it is something I can live without. The helmet fixtures and fit adjustments are slick. Best of all it packs easily in your pack and doesn't weigh you down when you are on the uptrack.
Having a gorby gap (the gap between the top of the goggles and helmet) and the brain freeze or sun stripe it brings is something I like to avoid so I am a fan of compatible goggle helmet set up. The other advantage of a well designed helmet goggle set up is that they are optimised for venting so potential for fogging is reduced. I haven't experienced any fogging with the Field goggles. I am guessing here that the "Field" is a reference to the wide field of view which it certainly delivers on. What I also like is that the goggles stick well to the helmet when you sit them atop the helmet. The goggle lenses are easy to switch out if you do want to adjust your lighting be sure to make sure they are clipped in place though as mine started to slip out on the go when I didn't clip them back into place correctly.
If you are like me and have a larger than average head be sure to fit the Flare helmet before you buy, you may be better off with a small mens as the Flare (size M) only just fits my head. 
SPECS:
Giro Flare™ Helmet
Price: $179.95 USD
Weight: 375g
Sizes: Small and Medium
Colours: Purple, Black, White, Titanium, Dynasty Green.
Giro Field™ Goggles
Price: $149.95 USD
Colours: Camo, White Geo, Black Geo, Black Polka Dot, Titanium Geo, Red Tapestry, Dynasty Green Shibori, Pink Aloha, Purple Color bars.
PROS:
- Super lightweight and packable helmet, ideal for backcountry pursuits.
- Seamless compatibility of helmet and goggles
- Wide field of vision of goggles
- Comfortable
- Feminine with a wide range of colour options.
CONS:
- The Flare helmet is not for larger than average heads.
- Goggle lens can pop out easily if not fitted correctly
Rating: 9.5/10 & 8/10
Giro Flare Helmet: 9.5/10
Features:         2/2
Innovation:      2/2
Ease of use:     2/2
Durability:       1.5/2
Quality/Price: 2/2
Giro Field Goggles: 8/10
Features:         1.5/2
Innovation:      1/2
Ease of use:     2/2
Durability:       1.5/2
Quality/Price: 2/2

This is only our opinion. Do you disagree? Did we miss something? Are we totally out to lunch? Join the discussion in the forums here, and let us know what you think. People like/dislike gear for different reasons so chime in and we'll get a well-rounded evaluation.
Back to the rest of the reviews.
---