Garmont Delirium Alpine Touring Boots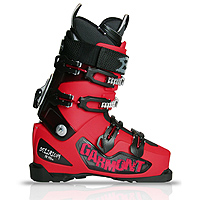 The term "Mac Daddy" has been bandied about to describe this boot and it may be an apt descriptor. I have been skiing alpine touring boots from other manufacturers for almost a decade and the Garmont Delirium is, without a doubt, the stiffest and beefiest mofo of them all. This is excellent news—depending on what you want to use them for. Beef is a double edged sword (ew) and it often comes with weight and other extended-tour-negatives.
Garmont is clear that the Delirium isnít for extended tours though. Au contraire, the Delirium is an unabashed "occasional" touring boot. If you want to dodge the ropes at your local hill and hit up the slackcountry, this may be the boot for you. I say it is for skiers who spend around 20% of their time in the backcountry. This is just one man's opinion but the big weight and the limited range of motion make the Delirium skier happiest on the down.
I tend to read all the features, not really understand what they mean, ski the boot and then have my own opinion. The Garmont Delirium skis like how I remember alpine boots skiing. The energy you put in translates into moving your ski with precision and economy. Paul Parker, ski and boot design legend developed these boots and some of his handiwork is apparent. We ran these with AT sole blocks but there are also alpine blocks available. They are dynafit/tech compatible which means that you compensate for the weight you save on your bindings with the weight you gain on your boots.
Let's let some pictures do the talking:
The EZ-Fit liners are thermoformable if you want them to be. Or you can just wear them out of the box. They are comfy but perhaps not as comfortable as some liners with a higher level of thermoformability. The fuzzy stuff around the entrance makes them easy to put on.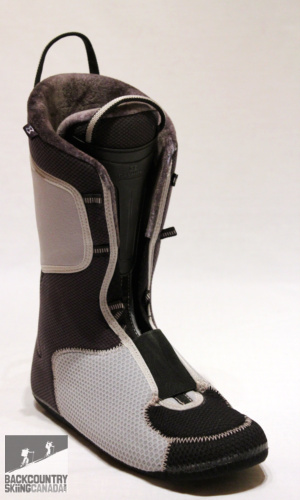 The overlapping alpine style cuff delivers a very alpine feeling smooth flex. Just like they said it would. This is one of the boots strengths, for sure.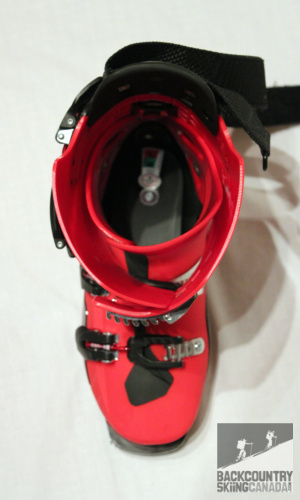 Here's a front shot of the two upper buckles and cuffs. There's a mechanism whereby one pushes down on the lever near the two screws you see at left. This lever depresses little "hooks" that run horizontally along the buckle (see the black line). This is handy if you're touring and want to hold an open buckle in place. Otherwise, it seems a little fussy and unnecessary.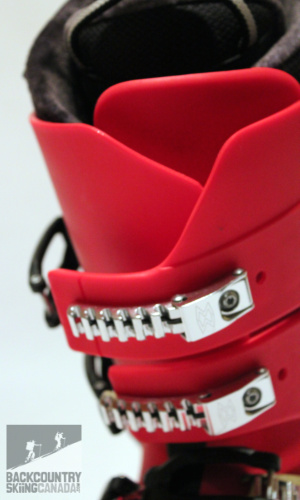 Magnesium buckles are micro-adjustable and do the trick.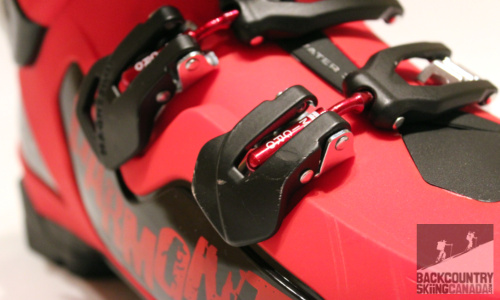 Taken from behind. A more-or-less external ski/walk mode lever that snaps into place. And an adjustable spoiler if you are looking for maximum support. The all important tech-happy heel fitting. Three-position forward lean adjustability.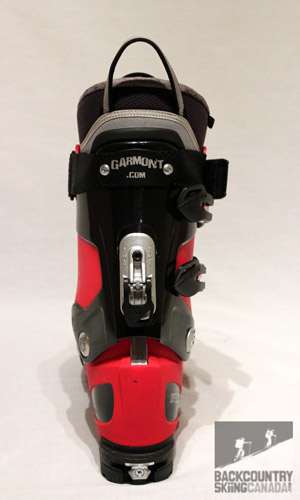 Yes, we use the boots in real-life, skiing situations and they get scratched. The boot itself is made with an interior "pod" which is darker in the photo below. Not sure if this is a gimmick or not but I am sure these boots are some of the most comfortable boots to grace my feet. The forefront is wide and accommodates feet which may have grown a little wonky after decades in tight fitting ski boots.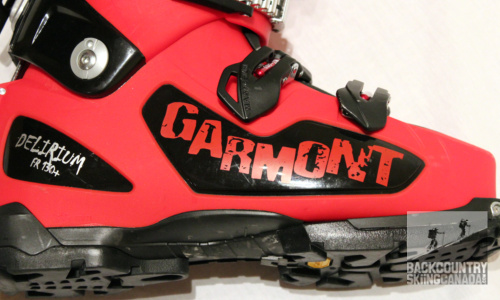 Heavy duty, slightly rockered AT, vibram brand sole. I've never put an alpine sole on the boot but it looks easy (just three big screws and a smaller one off the heel). Good grip for walking on rocks or kick stepping.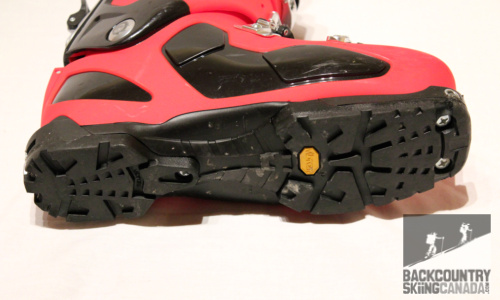 Verdict:
Weighing in at a porcine 2432 gr per boot for a size 27.5, the Garmont Delirium is not a light weight alpine touring boot—nor does it pretend to be. It's more of an alpine boot with an AT sole. If you, like me, have been on tele and AT boots for a long time, the Delirium is a pleasant reminder of the kind of downhill performance only an alpine boot can offer. This is a boot for people who tour occasionally—the two big factors here are the limited range of motion and the weight. They are remarkably comfortable if you want a boot with a wider last or some room in the front to wiggle the old toezies. The Deliriums can move and drive big fat skis no problem. Powder, groomers, whatevers... just don't go too far from the lift area boundaries.
Caution. Delirium at work.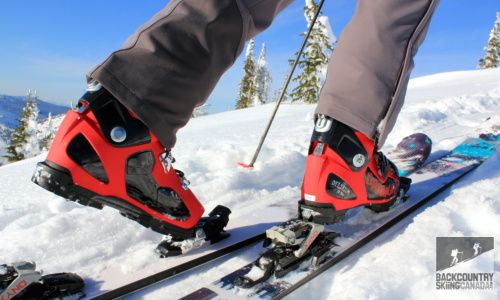 SPECS:
Price: $799 Can
Weight - A.T. Sole: 2432 gr per boot(size 27.5)
Weight - Alpine Sole: 2350 gr per boot (size 27.5)
Colour: Inferno/smoke (or red/black if you prefer)
Sizes: Men's 25-30.5 Forward Lean: 23, 25, 27
Flex index: 130
Shell: Selected Technical Polymers
PROS:
Super beefy boots with big toe box and alpine boot feel. Comfortable and stiff as all get out.
CONS:
Super beefy boots with big toe box and alpine boot feel (kidding... ).This is a slackcountry boot. The buckle catch things are a little finicky. The rubber, waterproof part of the cuff sometimes ìunderlapsî when it shouldnít.
Rating: 7.5/10
Fit/Comfort 2/2
Cuff Rotation 1/2
Function 1.5/2
Weight 1/2
Quality / Price 2/2

Join the discussion in the forums here, and let us know what you think. People like/dislike gear for different reasons so chime in and we'll get a well-rounded evaluation.
Back to the rest of the reviews.
---