Garmin Forerunner 610 GPS watch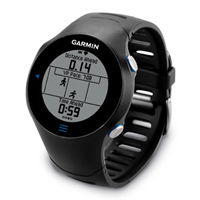 Technology is constantly evolving and the folks at Garmin are paying close attention. They have redesigned their popular Forerunner 410 and just released the Forerunner 610 GPS watch. Hand held global positioning systems or GPS's are nothing new and their value in the backcountry if you get lost skiing is unquestionable. Garmin has taken the traditional hand-held GPS and shrunk it down to fit on your wrist. That alone is a mystery of engineering. Add to that the fact that the Garmin Forerunner 610 has an interactive resistive tap screen which allows you to interact with it in thin gloves even in rain and snow. That is mind blowing. You can touch, tap or swipe to interact with the Garmin Forerunner 610. All this technology fits on your wrist and we're not talking the hockey puck style of the first Altimeter watches that came out last decade.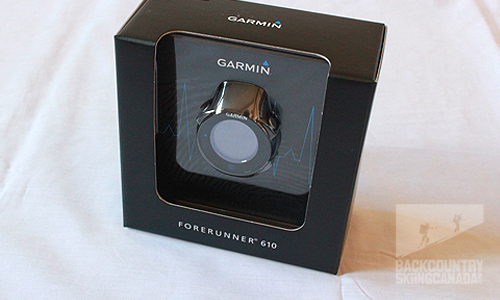 First and foremost the Garmin Forerunner 610 is a runner's or cyclist's watch but it can also perform well for backcountry skiers. Thanks to the GPS capabilities the Garmin Forerunner 610 will track your location, elevation, distance and rate of travel and if you are wearing the heart rate monitor you can see your performance relative to your heart rate. When you leave the trailhead you need to first locate satellites (this may take a few minutes as with traditional GPS handhelds) and from there it will record your every move for a full 8 hours. When you return home you wirelessly sync it to your mac or PC with the help of the supplied USB Ant stick. If you have signed up to Garmin Connect (which you really should) then all of your data is stored on the password protected site and displayed in several very useful graphs and charts, complete with a detailed map of your travels. You can even launch Google earth for a 3-D representation of your ski touring day.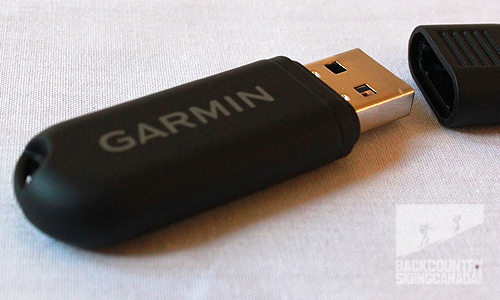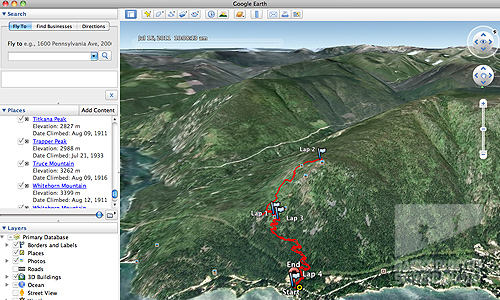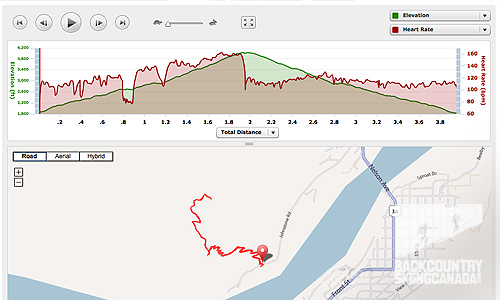 Main menus you can swipe or tap through are Clock/Date, Timer, Heart rate and Virtual Partner (this is program mode which shows your actual pace against that of pre-recorded or downloaded pace, again with runners/cyclists in mind). The majority of functionality on the Garmin Forerunner 610 are running and cycling specific and it would be nice to be able to customize these main menus so that you can make them more useful for backcountry skiing. The GPS derived altimeter reading is buried in sub menus and not easy to get to and many of the powerful running/cycling features make the user interface busy to navigate.The Garmin Forerunner 610 is waterproof rated at IPX7, meaning it can withstand being submerged for 30 minutes at a depth of 1meter so you need not worry about rain or snow, however it is not suited to swimming or training in the shower.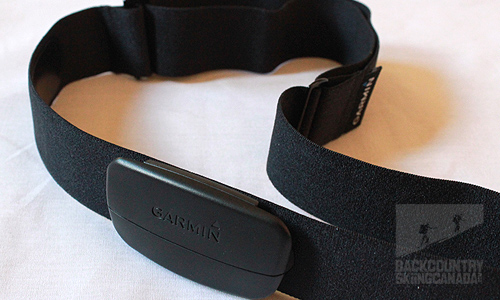 GPS:
If you run into trouble on your backcountry tour the Garmin Forerunner 610 can give you your latitudinal and longitudinal coordinates to help you find your way. It will also store up to 100 locations or waypoints along the way. If this is not enough, with a few taps you can use "navigate back to start" and the Garmin 610 will have you follow an intuitive compass arrow back to your starting point. You can also store up to 180 hours of backcountry trip data on the Garmin Forerunner 610 until you are ready to upload them to Garmin Connect.
Battery:
The built in lithium ion battery can be charged from a common electrical outlet or from your personal computer with the provided magnetic charging cradle and via a USB interface. The battery will last 4 weeks in power save mode which will be initiated automatically without any user interaction, or 8 hours of constant use. The Garmin Forerunner 610 can be used as your everyday watch however you will have to allow it to go into power save mode or charge it frequently as the battery life is limited given the functionality that it provides.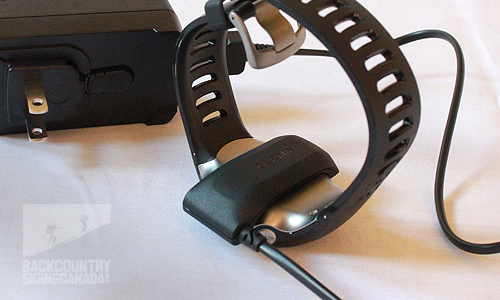 Features:
Heart rate monitor: Tells you when you are working too hard or not hard enough and provides heart-rate-based calorie computation.
Bike speed/cadence sensor: (purchase separately and not tested)
Foot pod: (purchase separately and not tested)
Automatic sync: Automatically transfers data to your computer via the provided USB Ant stick - very cool!
Garmin Connect compatible: This is an online community where you analyze, categorize and share data. Great interface and super easy to use.
Virtual Partner: Enables you to train against a digital person using previous data or downloaded data from the Garmin Connect site.
Auto Lap: Automatically starts a new lap.
Auto Scroll: Cycles through data pages during use.
Advanced workouts: Create custom, goal-oriented workouts.
Pace alert: Triggers alarm if you vary from preset pace.
Time/distance alert: Triggers alarm when you reach your goal.
Vibration alert: Choose between alert tones and/or vibration alert.
Date and alarm functions: Traditional time, date and alarm functions.
Verdict:
There is no question that the Garmin Forerunner 610 is a technically advanced watch with a lot of powerful features. The touch interface is brilliant and works well after some basic user training as you need to tap and swipe harder than with your average smart phone. The user interface is simple enough to understand given the complexity of the information that Garmin had to integrate into a one inch screen of only 128 x 128 pixels. Given that a good 50% of the functions do not pertain to backcountry skiers (remember this was designed with runner's or cyclist's in mind) it makes for a busy array of menus to delve through to find the ones that you want to use frequently. The altimeter is a function that I often wanted to access while climbing the skin track and there was no way to make it more readily available which was unfortunate. Two features that are missing and which are a must for any backcountry skiers is a barometer and temperature function.
The design and style of the Garmin Forerunner 610 is clean and simple and it is not excessive in size or weight. This is a watch that you could easily wear on a daily basis and not feel as though you have a hockey puck attached to you wrist. The only aspect that would limit this daily use is the battery life. It needs to be recharged frequently if you do not want to have the watch in constant power save mode as it only has a capacity of 8 hours of constant operation. That said, the recharging process is a snap as the recharging cradle attaches magnetically and can be used with your computer or a traditional electrical outlet.
The basic foundation of a solid backcountry skiing GPS watch is evident, the Garmin Forerunner 610 just needs some additional features added and some menu restructuring for it to be a true winner. Until this time, in its current form it works well to track your ski routes and output wonderful data but may not be the single solution that a serious number crunching backcountry skier requires.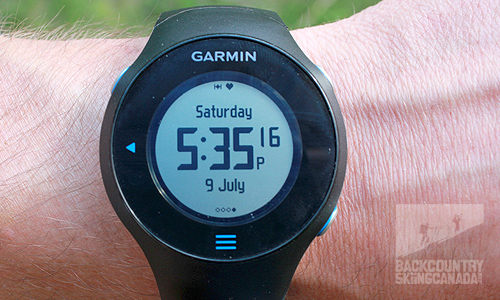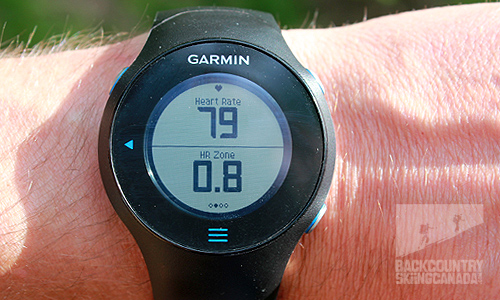 SPECS:
Cost $349.99 US ($399.99 with heart rate monitor)
Dimensions: 4.57cmW x 6.35cm H x 1.42cmD
Display: Round black and white TFT, 128 x 128 pixels
Weight: 2.54 oz / 72g
Battery: Rechargeable Lithium-ion
Battery Life: 4 weeks in power save mode, 8 hours in training mode
Computer requirements: Garmin Connect and Garmin Training Centre are compatible with Windows® XP or newer and Intel-based Mac OS 10.4.11 or later with Safari.
PROS:
Garmin connect and integration with Google Earth is super cool as is the touchscreen interface. Vibrate alerts are a plus and the price is more than reasonable for all this high-tech wizardry.
CONS:
Not a ski touring / mountaineering specific watch as it's missing temperature and barometer functions. Elevation data is buried in sub menus. Lengthy charging time and limited battery life.
Rating: 7.5/10
Ease of use 1.5/2
Features 1/2
Quality 1.5/2
Size / Weight 2/2
Price 1.5/2

This is only our opinion. Do you disagree? Did we miss something? Are we totally out to lunch? Join the discussion in the forums here, and let us know what you think. People like/dislike gear for different reasons so chime in and we'll get a well-rounded evaluation. Check back mid-season to see how our review stands up to our in-the-field testing.
Back to the rest of the reviews.
---