G3 Manhattan skis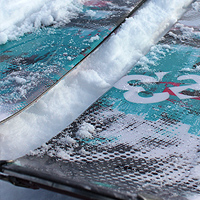 We here at Backcountry Skiing Canada have been testing the G3 Manhattan ski for most of the season and are ready to share our thoughts. The Manhattans have made the trip with us up to Carlyle Mountain Lodge for a week, on a lot of Whitewater slackcountry sessions (or is it sidecountry?) and numerous days of lift service skiing. In general, they have performed as promised in the G3 literature.
Many backcountry ski manufacturers have wisely split their skis (and sometime boots) into downhill- and tour-specific groupings. G3 has done the same and I agree with their designation of the Manhattan as the middle child in the Descent series. Weighing in at 3.9kg a set, these are not light skis and they aren't meant to be (maybe check out the G3 "Mountain" or "SuperTour" series if that's what you are after).
Rather than get into all the nitty gritty details of the ski, let me share with you the features which made a difference to us in how the ski skied.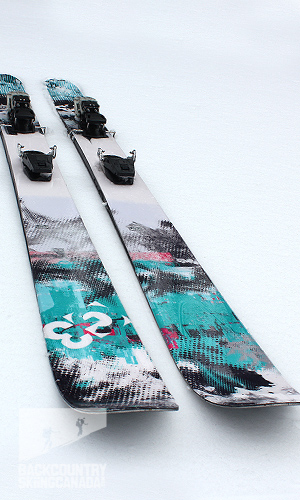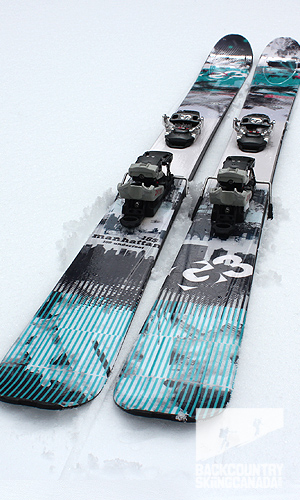 Dimensions
The 'what is fat' question is a subjective one. At 139/108/128 from tip-to-tail, the Manhattan is fat for this skier. The big platform underfoot allows for confident landing off little, and big, airs. It also means that you can't be lazy with the Manhattans. They don't ski themselves like some skis seem to these days. With the Manhattan, you get out what you put in. And that's OK. The size means plenty of float in soft and deep snow. What really impressed me was their ability to perform on groomers. I felt I could carve and crank with these skis, which is handy. If you are on them 100%, they also power through cruddy, chopped up snow. If you get lazy on anything but light and fluffy stuff, these skis can get away from you. Imagine the ski is like a standard transmission in your vehicle, rather than an automatic. It demands that you pay attention and engage yourself, but driving is a hell of a lot more fun.

Rocker Love
Anyone who has yet to ski a ski with a little rocker is missing something pretty special. The Manhattan has some rocker on the tip (G3 calls it the "early rise 2"), reduced camber underfoot and no rise in the tail. It's rocker with a little old-school thrown in (maybe that's why they can still carve). Skiing deep, steep conditions, they are a dream and have a big fat sweet spot. The tip rise let's you go with a longer ski because there's less ski making contact with the snow in firm conditions, and more ski when it's soft. Rocker also makes it easier to turn.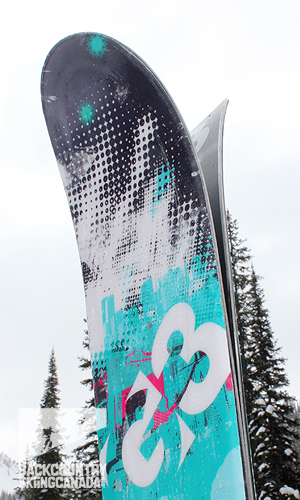 Low mass tip geometry
See the line inside the tip in the image below? That's G3's attempt to make the tip of the ski a little lighter and more nimble. Success. It seems like a detail but it was one of the features that make a difference. For the most part, the tips were easy to get around and felt lighter than their 139mm might indicate.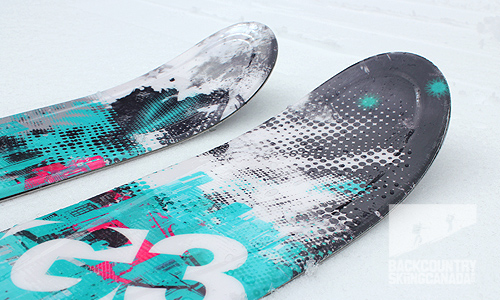 Who is the G3 Manhattan for?
The Manhattan fits comfortably in the "Descent" series. It is a downhill oriented ski and it performs accordingly. On the uptrack the weight of the Manhattans can get a little wearisome. If we wanted to split it into a suggested usage percentage, I'd say this ski is best suited for 75% lift-service, 25% backcountry. We like to ski the local hill as much as the next guy and the Manhattans are our friends on big snow days. If an opportunity for a half-day, lift-assisted tour comes up, these boards are invited (they have a notch in the tail for skins). If it'll be a full-day tour, or a multi-day hut trip, these skis may stay at home—unless we are feeling super-strong. With the advent of fatter touring skis with some rocker here and there, there is little need to go for a full-weight ski. FYI, we had the Manhattans mounted with the G3 Onyx tech binding. See the review of the Onyx here. 

The Manhattan, as the name indicates, may work well for a mostly-lift serviced eastern skier also. On an icy day, I might opt for something a little thinner with more sidecut. Or, I just might not go skiing. We are big fans of G3 gear and, judging from what we've seen (and skied) so far, the 2011/2012 line-up will be killah. Check it out, A-Z, here.
SPECS:
Price: $739.95 CDN
Length (CM): 175/180/185/190
Dimensions: 139/108/128 mm Turn Radius: 20-24m
Weight: 3.9kg / 8.6lb (175 cm)
PROS:
As advertised. An excellent, hefty downhill oriented ski that worked on all conditions tested.
CONS:
Minor drawback for me is the glossy topsheet. I prefer the textured finished on other G3 skis. Snow sticks to the Manhattans a bit. No biggie.
Rating: 8/10
Powder Performance         1.5/2  
Groomer Performance       1.5/2     
Stability                            2/2
Weight                              1.5/2
Value                                1.5/2

here, and let us know what you think. People like/dislike gear for different reasons so chime in and we'll get a well-rounded evaluation. Check back mid-season to see how our review stands up to our in-the-field testing - Andrew.
Back to the rest of the reviews.
---