Full Tilt High Five boots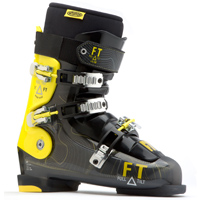 The presence of Full Tilt Ski boots in the ski-o-sphere has been growing rapidly since its introduction in 2006 so it is only natural that we wanted to take a closer look and see what all this hype is about. Being owned by parent company K2 with pro riders such as Seth Morrison doesn't hurt a product's marketability but the real story started way back in 1980 with the Raichle Flexon Comp boots. Back then Sven Coomer, Al Gross and Erik Giese came up with a design that controlled forward flex in a predictable way and provided skiers with a more comfortable ski boot which was easier to put on and take off. It was a three-piece design that professional skiers loved and Bill Johnson wore to gold in the 1984 winter Olympics. Raichle eventually went the way of the Dodo bird but the three piece design lived on in Dalbello's now popular "Cabrio" design thanks to Glen Plake's input. Dalbello's Cabrio design can be found in alpine touring boots such as the Dalbello Sherpa 2/8 ID Boots and the Dalbello Virus Tour ID Alpine Touring Boots. Fast forward to 2004 when K2 bought the original Flexon moulds and then purchased Line skis who subsequently decided it wanted to bring the Flexon three-piece design back to market. Et Voilà, Full Tilt Boots were born.
A package arrived on my door step last winter which contained this season's Full Tilt High Five boots and since I had heard so much hype about this Raichle revival ski boot I was naturally curious to take them for a spin. Have a read below on my thoughts on the Full Tilt three piece boot design and the High Five boots specifically.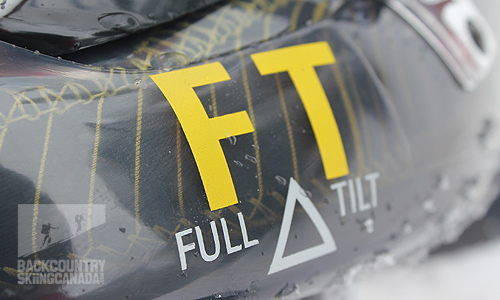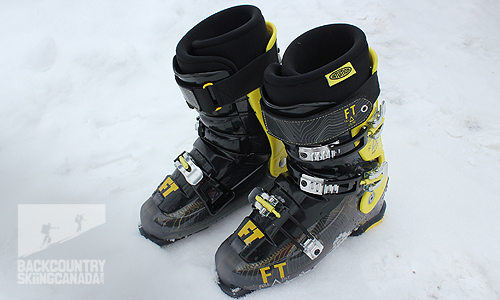 Features:
Jbar
More than just a cool sounding term a Jbar is a small piece of foam that Full Tilt added to both sides of the High Five liners . It's located around the ankle area to improve hold and keep your heal down for more responsive performance.
Wide Toe
Just like the term describes, this wider toe feature uses thinner foam around the toe box to provide more room for your toes and those with a wider foot.
Intuition Liners
Intuition Liners have a reputation for being the best liners on the market and rightly so (a Canadian Company to boot —pardon the pun). The Full Tilt High Five boots use Intuition liners made of closed cell foam which is body heat activated to form to your foot over time or you can get them instantly heat moulded at your local boot fitter. Full Tilt also pre moulds the liner to the boot shell for a better fit and reduced hot spots. The liner composition is 4mm of open cell foam, 2mm soft density foam then 7mm high density foam and finally a "powerwrap" which is discussed below.
Powerwrap
Powerwrap is an additional layer of ergonomically shaped high density closed cell foam on the outer edge of the upper liners. This wrap is what comes in contact with the shell of the boot and is said to more effectively transfer energy between liner and shell.
Let's take a quick three-sixty, shall we?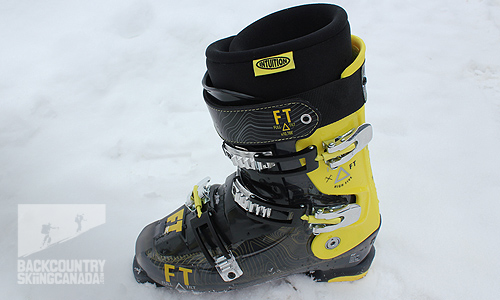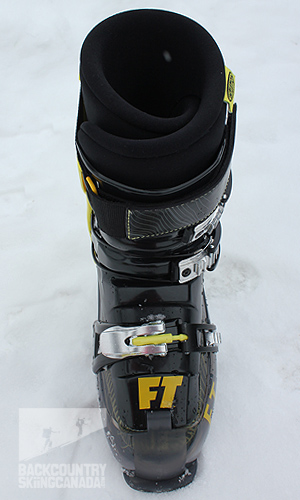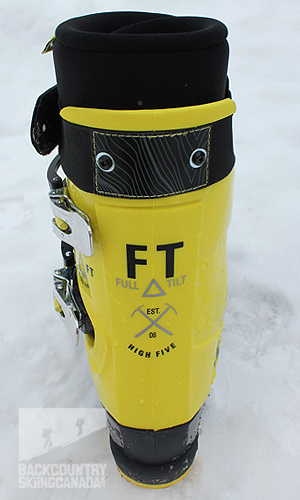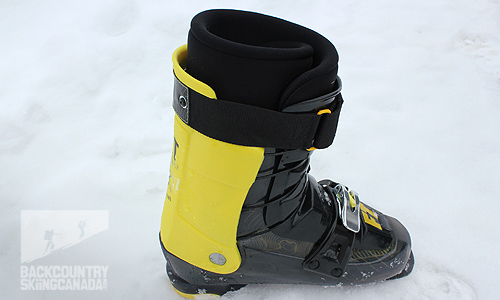 And now one look down under where you can see snow accumulation and traction which is an issue with these non-Vibram soles.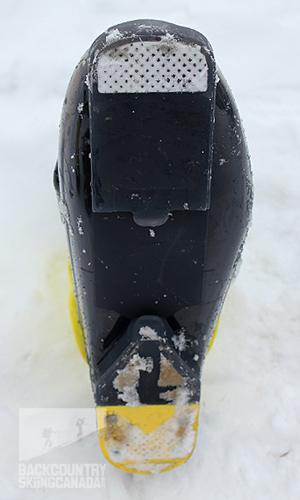 Cables and a corrugated tongue system allow for uniform-progressive flex that feels natural. The three piece shell design is superior to the traditional overlap shell design as there is no distortion in the shell when flexing the boot because the corrugated tongue gives room to deflect this energy. Added bonus, no more shin bang and super easy to get in and out of.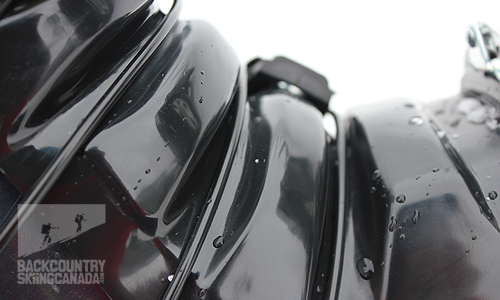 Wrap around Intuition liners all the way; the only way to go in my books.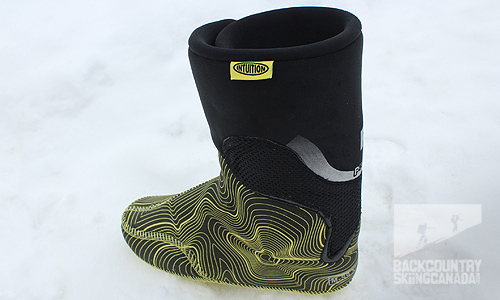 Micro on-the-fly buckle adjustment with marco adjustment in multiple locations.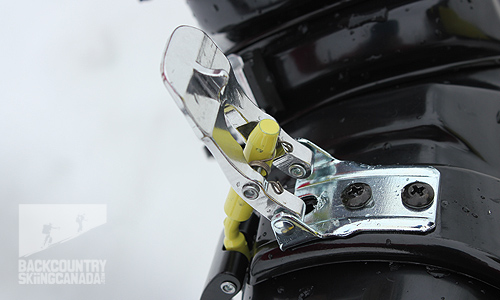 Relatively low profile buckles which are still glove friendly.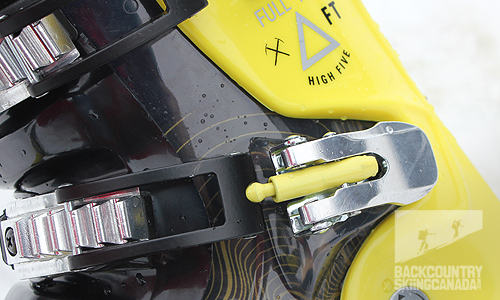 Easy in/out with the flip out tongue, which is also replaceable in under 5 seconds.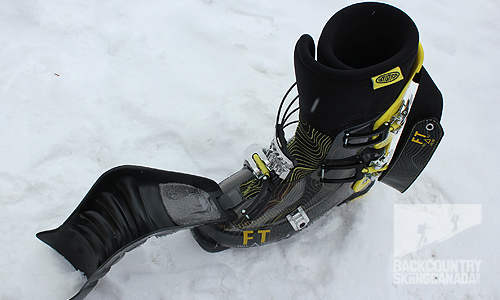 Verdict:
The plethora of adjustment options on the Full Tilts allow for a very customized fit. I have a pretty normal size 10 foot and it initially took the better part of 30min to reconfigure each and every buckle in order to properly fit the shell to my foot which made for a better fit but was time consuming. There are a multitude of buckle adjustments that can be performed; some easily and some not so easily such as when the bolt end rotates and you have to dig deep into your tool box to find the right tool. Luckily this was a one time adjustment and once made I found the foot entry and exit to be the best on the market and super quick; even in arctic temps there was no fighting with the shell to cram my foot in—all praise the three piece shell design.
Once inside I found the intuition liners to be super warm and comfy and in conjunction with the corrugated tongue helped reduce that dreaded shin bang. Straight out of the box the fit was one of comfort with good heal hold thanks to the 'Jbar' feature and wide toe design of the Intuition liners.
The Full Tilt High Five boots skied as well as many boots I have tested that were one to two pounds heavier. The High Five is not designed to be a pure backcountry alpine touring boot as the absence of a walk mode denies entry to that club. My first thought at having to tour in the High Five Boots was one of apprehension and remorse for my poor shins. With no walk mode how would I ever be able to put in more than a quick side country lap? Thankfully things were not nearly as bad as I had anticipated. Once I opened two of the three buckles the progressive flex took care of the rest. I would not want to use the High Five as my sole touring boot but they were not uncomfortable or cumbersome to crack out 2,000 plus feet on the skin track.
The Full Tilt High Five boots were definitely more at home in bounds than out providing a solid, responsive and comfortable ride. The progressive flex of the corrugated tongue was noticeable (in a good way) on variable days with hard pack bumps and, of course, the skin track as I already mentioned. I found the weight, fit and feel of the Full Tilt High Five boots very similar to boots in the Dalbello line up which is only natural given their similar design constitution.
On the fit side there was ample room in the toe box and a footbed that actually gave some arch support right out of the box. Also, any boot that comes stock with Intuition liners (a Canadian Company) is OK in my books. One beef I had was with the top buckle; once it was ratcheted tight it created a pressure point directly under the buckle on the outside of my shin. This was in part due to the fact that I had to adjust this buckle to its minimum configuration in order to get the holding power that I was looking for. The only other negative with the Full Tilt High Five was non Vibram soles. No tread what so ever underfoot made these very dangerous to walk in and a magnet for clumping snow on warmer days. Being used to AT boots with Vibram soles it's hard to get used to anything else.
Overall I think the hype that Full Tilt boots are generating is warranted and I am glad that they have not let the original Raichle Flexon Comp design die. Now I just wish they could make a true alpine touring boot for us more serious ski touring types.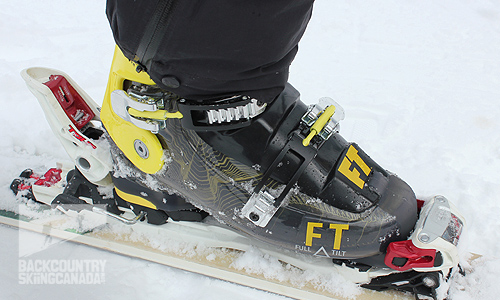 SPECS:
Price: $500 CAN
Weight: 1942g / 4.28lb (per boot)
Size: 24.5 - 30.5
Shell width: 102mm
Flex rating: 7
Liner: Pro Liner, Powerwrap, J-bar, Wide-Toe
Colour: Grey / Yellow
PROS:
- Buckles have multiple adjustable options in addition to the micro adjustment so they can accommodate a wide variety of sizes within one shell (on the claps end of the buckle, the buckle itself and the wire tensioner at both ends).
- Very comfortable wrap around Intuition liners.
- Super easy to put on and take off thanks to the flip out tongue and wrap around Intuition liners.
- Equivalent performance of boots two pounds heavier.
- Three piece shell design is the only way to go (in contrast, wrap around shells are heavy, hard to get in/out of and cumbersome).
- Interchangeable tongue for more or less stiffness depending upon your skiing style or the conditions.
CONS:
- No strap at the top front and back of the liners for easy carrying and to facilitate putting them on and taking them off.
- No walk mode for ski touring or simply walking around the ski resort lodge so it's more of a resort and slack country ski boot.
- Top buckle creates a pressure point on the outside of my shin when cranked tight.
- A Vibram sole would reduce snow build up under foot and provide better traction in the field and in the lodge.
Rating: 7.5/10
Fit/Comfort     1.5/2
Cuff Rotation   0.5/2
Function          2/2
Weight            1.5/2
Quality / Price 2/2

Join the discussion in the forums here, and let us know what you think. People like/dislike gear for different reasons so chime in and we'll get a well-rounded evaluation.
Back to the rest of the reviews.
---