Flylow Vixen Jacket
Born out of the desire to create ski specific clothing with the mobility of mountain gear but the style and fit of free ride gear, Flylow first came on the scene about 10 years ago. When I received the Women's Vixen jacket, I was super curious as to where the company's name came from. A quick Google searched revealed that it is in fact from a quote spoken by a friend of the creators: "When you guys ski you don't ski fast, you fly low."
The Women's Vixen jacket is one of 6 women specific jackets in the Flylow line-up. It is a softshell jacket designed with the ambitious goal of fitting in at the hill, in the backcountry or hanging out at the end of the day.
The Vixen is a 3 layer softshell jacket, designed with Flylow's proprietary waterproof and breathable Intuitive™ fabric. Due to our super warm weather this winter, I did get a chance to test the waterproofing of the jacket (read: skiing in heavy wet snow and/or near rain conditions) and I found it to be really waterproof. After a full day in wet, sloppy snow my top half was still totally dry. Flylow claims that their jackets retain 80% of their waterproofing over 20 washes. I haven't owned the jacket long enough to know if this is true, but I was happy with the waterproofing of a new jacket.
The inside of the Vixen has a brushed finish which I found to be very comfortable even against my skin. The inside of the collar and cuffs have a microfleece lining, which was super soft and great to wear. The arms also include wrist gaskets with thumb loops which I love. They are super comfortable, prevent a gap between your glove and sleeve and are sleek enough to fit under gloves (even lightweight gloves for touring up). After about 15 days of wear the gaskets started to show a bit of wear (pulls on the fabric). The cuffs on the Vixen are low profile and adjust from large to small without much bunching of the material.
The Vixen is designed to have some stretch to allow it to move with the wearer. I found the jacket comfortable to wear as an outer layer for skinning up, skiing down on warm days or walking around town. For me the jacket was a bit bulky for wearing under a down jacket or other outer layer. I think this may be because the softshell material is a bit stiff so the jacket does not sit too well under another layer. It was not super uncomfortable, but it did make me feel bulky and a bit squished under my outerlayer. Otherwise I found the jacket to be a good fit; it has a nice long body (a must for me in the mountains) and the arms were the perfect length. The sleeves and the shoulders are articulated, which probably added to the ease of fit in the arms.
The hood on the Vixen is 2 way adjustable: around the face and around the head. The same style of small toggle was used on all three adjustment points. I found the small toggles worked well on the face adjustment as they are low profile and out of the way. For the around the head adjustment, on the other hand, the small toggle was difficult to access and required me to remove my gloves, which was annoying in really windy weather. The hood is a great size and fits well with or without a helmet. It also has a nice big brim to protect your face.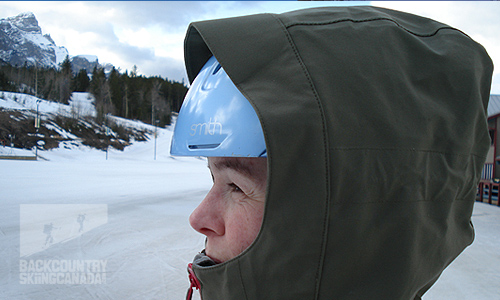 The Vixen has 6 pockets: 2 hand warmer pockets, 2 mesh open interior pockets, and 2 chest pockets (one interior and one exterior). I really love the concept of having open pockets inside a jacket. Often times skinning up I want to quickly shove my toque or gloves in a pocket without having to stop or undo my waist belt. Unfortunately, I did find these pockets a little small and low on the Vixen so it was harder than I would have liked to shove items in. I did find the exterior chest pocket useful for small items I wanted easily accessible (like chapstick). The exterior hand warmer pockets were on the small side but were adequate for town or on the hill. They are low, however, so they are covered by the waist belt on backcountry days. Next to the open interior pockets, the Vixen has powder straps. I didn't use these as, well, we had very little powder this year, but I did notice that the brushed material is starting to wear where the straps rub against the inside of the jacket.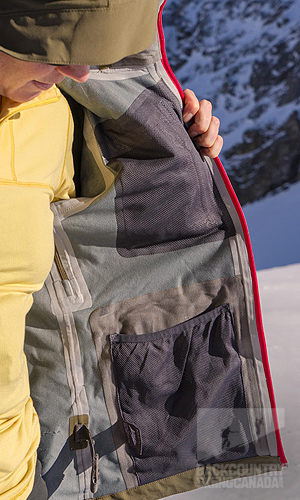 The zippers on the Vixen are waterproof YKK zippers. I really like the colour contrast between the Olive jacket and the bright pink zipper. It really brightens up the jacket and adds an interesting touch. The zippers on the exterior pockets and the main zipper all have tabs on them making them easy to use with gloves on. The pit zippers, on the other hand, have cord extensions but no tabs. I presume this is to keep them low profile for comfort, but I did find the zippers tricky to open with gloves or a pack on. I also felt the pit zips could have been a bit longer to add more ventilation.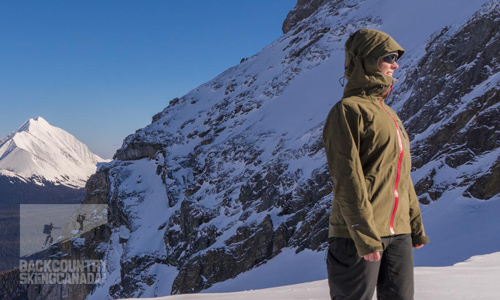 Features:
Materials: 3 layer softshell with Flylow's proprietary Intuitive Fabric
Exterior: 79% Nylon, 13%PU, 8% Spandex with Durable Water Repellent (DWR) coating
Middle: 20K/20K waterproof, breathable membrane
Interior: Brushed Tricot
Seams: Fully taped with 20mm tape
Pockets: 6 pockets (3 interior and 3 exterior)
Hood: Helmet compatible, 2-way adjustable, wide brim
Zippers: YKK waterproof
Adjustable cuffs and thumb loops.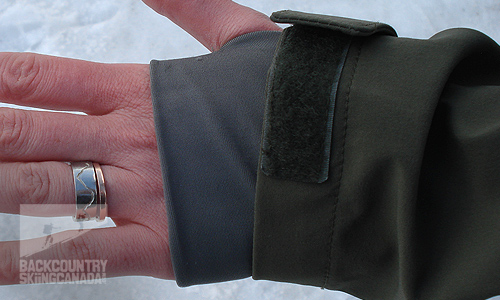 Pit-zips of course.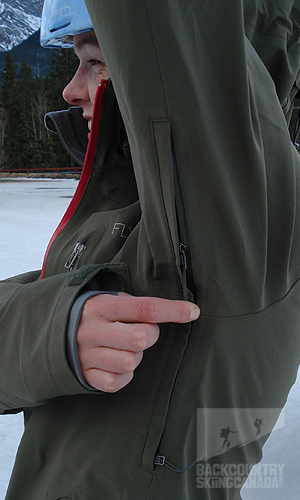 Verdict:
Overall this is a great jacket. It looks sharp (I get compliments on it all the time), it is a functional length (I hate when my lower back is exposed when I bend over), the brushed interior is super comfortable (even against bare arms), it is waterproof (a must in the backcountry), it has wrist gaskets/thumb loops (love!), it comes in a variety of colours (with fun zippers) and it has a nice big hood (with micro fleece lining the collar). As with most clothing, there is definitely room for improvement in a few areas: easier to adjust hood, more functional pockets, longer pit zippers as well as more flexible material to increase packability and comfort for wearing under another jacket. After reviewing the Vixen, I'm excited to watch Flylow continue to grow and create more clothing in the years to come. For a relatively new and small company they are certainly on the right track for making fashionable, well-designed gear that will fit in at the hill or in the backcountry.
SPECS:
Price: $300 US
Sizes: XS, S, M, L, XL
Weight: 630g / 1.38lb
Colours: Denim, Spice, Olive, Mahogany, Camel, Seafoam
PROS:
- Brushed interior makes jackets comfortable even with a t-shirt on
- Good waterproofing
- Fun bright main zipper
- Big, adjustable hood
- Good length
- Wrist gaskets and thumb loops
CONS:
- Bulky as midlayer
- Not easy to adjust hood around head
- Open interior pockets a great idea but too small and too low
Rating: 8.5/10
Fit / Mobility 1.5/2
Packability 1.5/2
Warmth / Breathable 2/2
Features 1.5/2
Quality / Price 2/2

This is only our opinion. Do you disagree? Did we miss something? Are we totally out to lunch? Join the discussion in the forums here, and let us know what you think. People like/dislike gear for different reasons so chime in and we'll get a well-rounded evaluation.
Back to the rest of the reviews.
---