Five Ten Freerider Pro Danny MacAskill biking shoe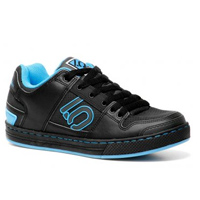 Since his sleeper hit debut on YouTube in 2009, Scottish freerider Danny MacAskill has become a household name. If by some rare chance you haven't heard of him, then you obviously are not one of the 31 million people who have seen his Inspired Bicycles' video where he rides a chainlink fence and pops inverted aerials off a tree. Since that video went crazy viral, MacAskill has been picked up by Red Bull, he's designed his own bike frame, and Five Ten has had him create his own shoe, appropriately called the Freeride Pro Danny MacAskill. I was recently given this shoe to demo even though I have never, and will never, ride a fence. Nor will I ever throw down a tail whip or a back flip – at least not intentionally. Which is unfortunate because that's exactly what these shoes were designed for, not for downhill or cross-country riding, which is what I prefer. Five Ten claims these shoes are good "from urban trials to freeriding…and ripping your favorite trail" and I agree with the first two points but definitely not the third. The Freerider Pro Danny MacAskill sports Five Ten's Stealth® rubber on the outsole and I've said in the past how much of a fan I am of the company's proprietary rubber. (See here for more about the great qualities of Stealth). I'm also a big fan of the shoe's wide toe box, under-the-ankle cuff and reinforced heel and toe caps. The main issue for me with these shoes is the sole's design: the toe and heel boast diamond-shaped teeth, which are good for traction, and in the hindfoot you'll find the same dimpled pattern that's been proven on many of Five Ten's downhill and approach climbing shoes. But right underneath the midfoot area, where your foot connects with the pedal, it's blank. This makes sense if you're hucking tricks and you don't want your shoe sticking to the pedal as you kick your bike around – but it's problematic if you're hooning downhill and you don't want your shoe leaving the pedal.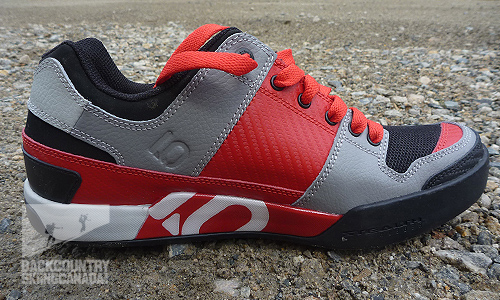 Features:
- Stealth™ rubber on the outsole
- Reinforced TPU toecap
- Reinforced TPR external heel cup
- Stiff sole
- Under-the-ankle cuff
Some up close beauty shots: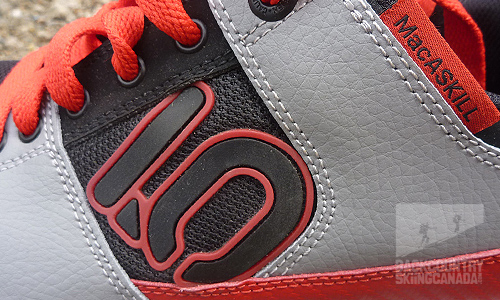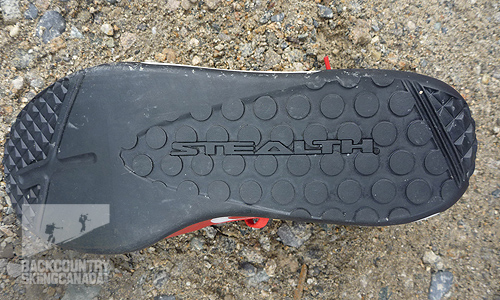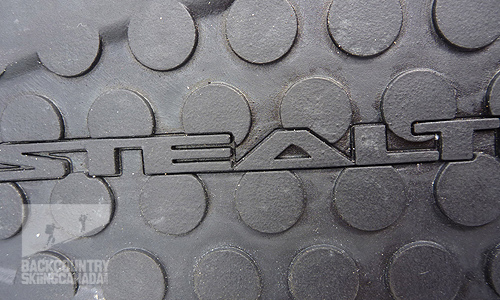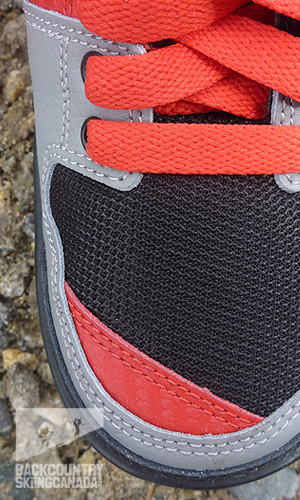 Verdict:
I've heard that the next version of the Five Ten Danny MacAskill freeride shoe has a fully dimpled, sticky sole which is a good thing because the version of the shoe I took out for this review was disappointing. For the style of riding I do, I never want my foot to leave the pedal unless I've leaned too far into a bermed corner. But with these, it was all I could do to keep my foot on the pedal given the blank sole under the forefoot. Again, this might be fine if you're performing slopestyle superman stunts but for the average mountain biker this shoe's sole definitely has some flaws. I'd recommend Five Ten's Impact or Raven shoes for those of us who prefer cross-country or downhill as opposed to trials. I'm also a big fan of biking shoes that have a leather flap that covers the laces, which these shoes do not have. The reason being is when I barrel into foliage or through rock gardens I don't want my laces to get nicked and scarred from impact. As for good points, all Five Ten shoes sport Stealth rubber and it's my opinion that this is the stickiest stuff on earth. (I swear by Five Ten climbing shoes for this reason.) The MacAskill freerides are also comfortable and the reinforced heel and toe ensure you're protected.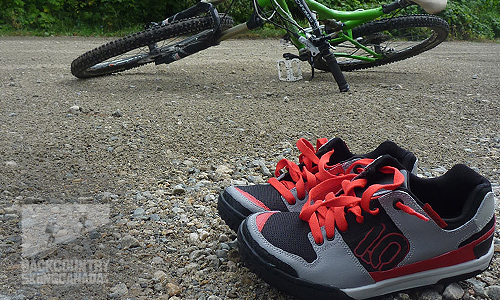 SPECS:
Price: $135
Colour: Blue/black
Sizes: Men's US 6-14
PROS:
- Stealth rubber on the outsole
- Wide toe box is comfortable
- Reinforced heel and toe
CONS:
- The sole has a blank spot under the forefoot, which compromises pedal adhesion
- Laces are exposed and prone to damage
- I prefer a stiffer sole for maximizing pedal stroke

This is only our opinion. Do you disagree? Did we miss something? Are we totally out to lunch? Join the discussion in the forums here, and let us know what you think. People like/dislike gear for different reasons so chime in and we'll get a well-rounded evaluation.
Back to the rest of the reviews.
---