First Ascent Karakoram 20 sleeping bag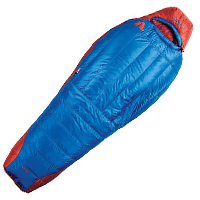 The winning combination for a quality sleeping bag is simple; it has to keep you warm relative to its weight and be comfortable to sleep in. A few important features can be thrown in to round things out, such as a two way zipper that doesn't snag, an easy to find zipper pull, a built in zipper draft tube, an adjustable hood and neck collar draft tube and an ergonomically designed foot box. Pretty simple really. Put all these together in a -10 down sleeping bag and you have a single bag that's ideally suited for summer alpine hikes and multi day hut-based ski tours in winter. For the most part First Ascent got things right with the First Ascent Karakoram 20 Down sleeping bag; it gets full marks on all of the above except for the adjustable neck draft collar. The Karakoram even gets bonus marks as I found that it kept me warm below its -7 rating.
First Ascent is the relatively new off-shoot mountain brand of Eddie Bauer which has been around almost 100 years. They have been making down sleeping bags since Eddie Bauer himself developed hypothermia on a fishing trip and soon after patented the first down jacket. The original Karakoram sleeping bag has a 60 year history behind it and is named after the first attempted ascent of K2 in 1953.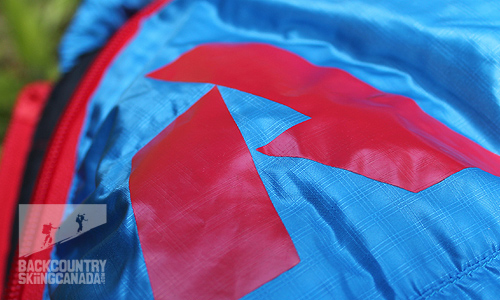 The big story with the First Ascent Karakoram 20 Down sleeping bag is the multi-directional baffle design. Unlike most bags, the Karakoram has seven inch vertical baffles that run the length of the chest area to better distribute the heat that your body produces in this area. The remainder of the sleeping bag uses a more traditional horizontal baffle design around your legs and feet. The 850 fill premium European goose down is kept in place by a water-resistant/breathable, 20-denier Pertex Endurance shell which has a DWR finish to keep the exterior free of moisture, even if your sleeping bag is against the condensation soaked tent wall.
Over the past four years we have reviewed a variety of First Ascent products and have come to be routinely impressed by their quality of design and manufacturing. These reviews have ranged from the First Ascent Guide Pants and High Route Shirt, to the Hyalite Jacket, Seba Heli Guide Jacket, BC-200 Jacket and the Front Point Jacket which won our Gear of the Year Award a while back. Lets see if the First Ascent Karakoram 20 Down sleeping bag carries on this tradition. Read on...
Features:
20-denier Pertex® Endurance DWR nylon shell: Light yet tough and sheds rain and snow, plus abrasion resistant without excess weight.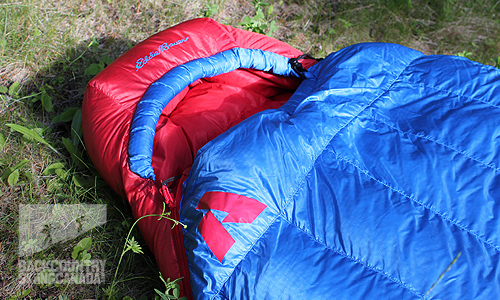 Foot Box: Three dimensional design to accommodate your feet in their natural position.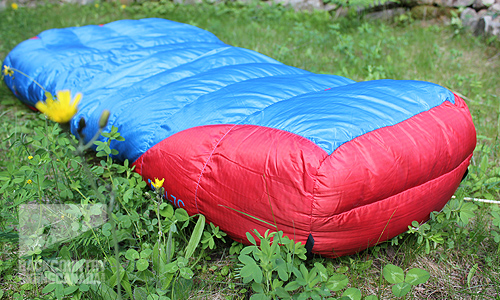 Single hand adjustability on the hood allows you to cinch things tight and keep any drafts out.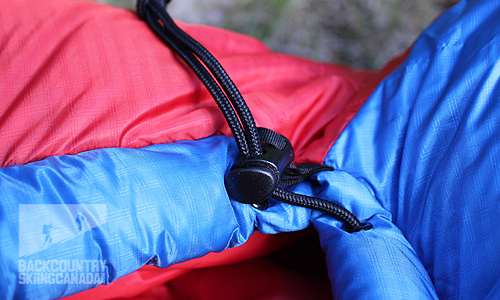 850 fill Premium European Goose Down: For high-performance warmth and loft.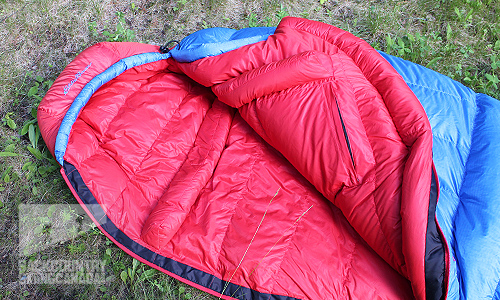 Interior pocket: Keeps electronics and other essentials safe from freezing temperatures.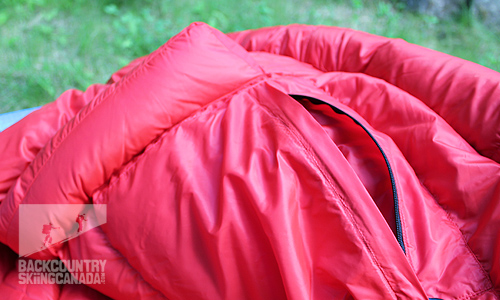 Multi-directional baffle design: Vertical 7" baffles move heat from the chest region down to your lower extremities where less heat is generated and traditional horizontal baffles are found.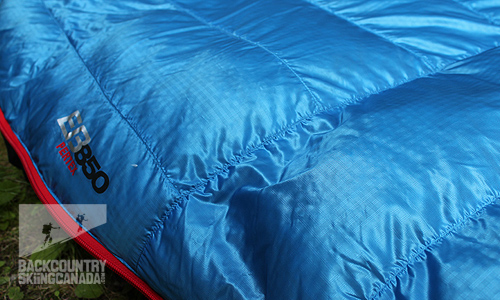 The Included stuff sac compresses the bag pretty small!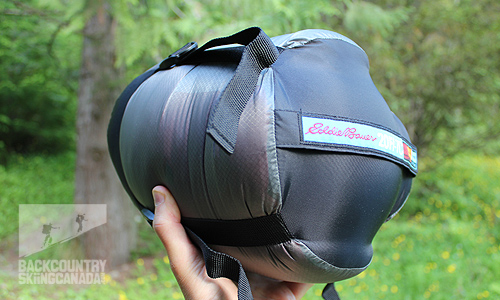 Fabrics:
Fill: 850 fill Premium European Goose Down
Exterior: 20-denier Pertex® Endurance DWR nylon shell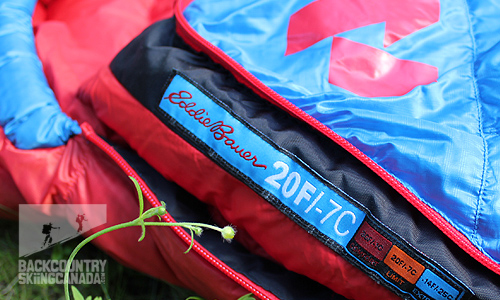 Verdict:
The best way to evaluate any product (aside from the obvious method of simply using it for a while) is to compare and contrast it with other similar products. This provides an easy way to find the points that shine and those that do not. In testing the First Ascent Karakoram 20 Down sleeping bag we here at Backcountry Skiing Canada decided to simultaneously review several other down sleeping bags with a rating of around -10°C. We choose seven of the latest down sleeping bags from manufacturers such as Deuter, Sea To Summit, Sierra Designs, The North Face, Big Agnes and Mountain Hardwear.
Although the Karakoram is rated as a -7 bag, this reviewer felt it could have received a lower rating as it kept me warmer than other bags rated as -7 or even -10. Perhaps this had something to do with the unique multi-directional baffle design? First Ascent was the only sleeping bag we reviewed with this unique configuration. Having said that, the Sierra Designs sleeping bag also used vertical baffles in what they call "Insotec Flow Construction".
The interior fabric of the Karakoram made for a very (very) comfortable sleep as it was soft against the skin. In addition, the exterior 20-denier Pertex®Endurance DWR nylon shell kept abrasions at bay. Other sleeping bags we tested used the same exterior fabric, however the Karakoram was the only sleeping bag where down plumes started to poke through. Something to keep an eye on.
Heavy duty fabric prevented the 2 way zipper from catching and provided smooth operation. Unfortunately, like most other sleeping bags tested, only one zipper pull was provided and it would sometimes be outside the bag when you were inside. This often made it difficult to easily find the zipper pull and unzip the sleeping bag. Only the Sea to Summit and Sierra Designs sleeping bags provided a solution to this by offering a zipper pull on the inside and the outside of their sleeping bags. The non-fabric zipper pull on the Karakoram was also very small and thus hard to locate in the middle of the night when half asleep.
A super comfy and form fitting hood was easily adjustable with one hand which is a relatively simple feature that was standard issue on all of the other bags tested. The neck collar draft tube, however, was not adjustable which was true of about half of the other sleeping bags we reviewed.
The length, articulated foot box and overall dimensions of the Karakoram provided more than enough room for a comfortable sleep on your back or side depending upon your preference.
A large internal zippered pocket which was better than most others we encountered provided enough space for earplugs, iPod and almost anything else you need to make it through the night.
As a bonus, the compression sac that was provided was better than the majority of others we reviewed. This to me is a great extra that saves the buyer an additional $20 after your sleeping bag purchase. Surprisingly two of the more expensive sleeping bags reviewed provided nothing more than just a simple nylon bag. As with other sleeping bags the First Ascent bag comes equipped with a long term cloth storage bag to keep the down loft, well... lofty.
Overall the First Ascent Karakoram 20 Down sleeping bag received one of the highest ratings of all the bags we tested and was one of my personal favourites. It seems that First Ascent got the equation right: warmth + light weight + comfort + features = winner. It also doesn't hurt that this was the least expensive sleeping bag and best looking bag we tested. Combine all those great features above and pair it with one hell of a deal and you can't go wrong!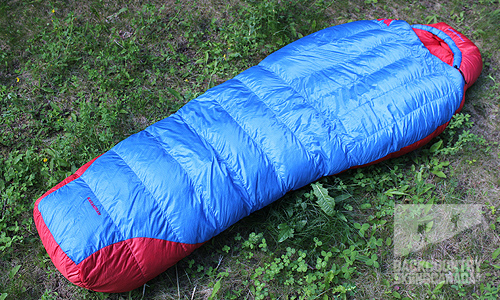 SPECS:
Price: $349 US
Weight: 1105g / 2lbs 7oz
Size: Long
Dimensions (L x Width at shoulders ): 211 x 84 cm / 83 x 33 inches
Fill: 850 fill Premium European Goose Down
Fill weight: 624g / 22 oz
Stuff Size: 30 x 20cm / 12 x 8inches
Temperature Rating: -1°C comfort, -7°C lower limit, -25°C extreme
Warranty: Unconditional lifetime guarantee
PROS:
- Keeps you really warm
- Sub $350 is a great value
- Big zippered storage pocket on chest has plenty of room
- Comfortable fabric inside with plenty of room
- Great looking
- Compression sac included
CONS:
- Down feathers tend to poke through the Pertex shell
- The neck collar draft tube is not adjustable
- Non cloth zipper pull tab is small and can be hard to find
Rating: 9/10
Warmth                2/2
Compressibility     2/2
Features              1/2
Weight                 2/2
Quality / Price     2/2

This is only our opinion. Do you disagree? Did we miss something? Are we totally out to lunch? Join the discussion in the forums here, and let us know what you think. People like/dislike gear for different reasons so chime in and we'll get a well-rounded evaluation.
Back to the rest of the reviews.
---