First Ascent Haines Pack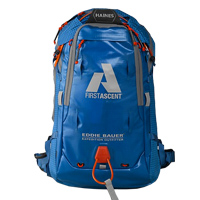 There are many different types of folks in the world, just as there are many different types of ski personalities in the world. There are those who have their office and kitchen drawers organized to a "T," with a specific spot for each type of fork, pen, whiteout, ruler, plates, and everything under the sun. Then there are those that stuff everything in whatever drawer is closest to them. To take that analogy into the world of backpacks for backcountry skiing. The Haines First Ascent pack is your co-worker that organizers their various pencil types each in their own compartment and freaks out if you put their HB pencil in the 4H pencil compartment. If you even knew that there were 20 different official types of pencils, this might be the pack for you. 
Designed with input from some of the top names in backcountry ski travel, the Haines First Ascent pack has a place for everything you'll need, and possibly some for things you'll never need. That said, it is a versatile pack with a ton of features designed with backcountry travel and avalanche safety in mind. It'll meet your needs for a quick day trip to your favourite secret stash, just as well as it will carry the load on a multi-day epic traverse. It is in essence a fully loaded, if slightly over engineered alpine touring / mountaineering pack.
My first impression when I picked it up and carried it to the car was "Who left the tambourine in the pack?" With no less than 8 zippers and a host of straps, clips, grommets, toggles and tubing, it could also come in handy in a lively rendition of jingle bells should you happen to be out on a lovely Christmas ski tour.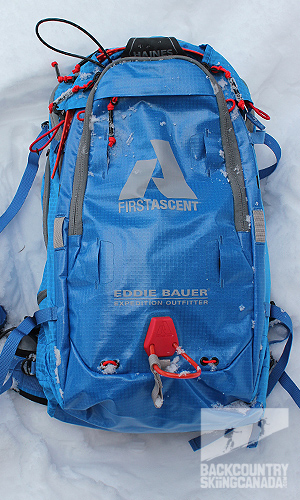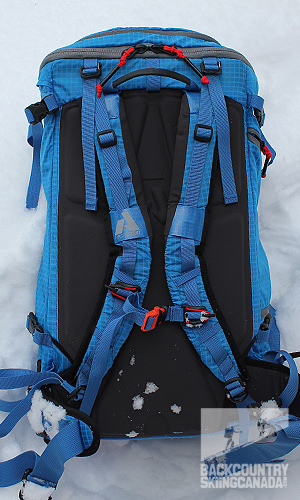 Beyond its musical accompaniment ability, the second thing I noticed was the rubberized material making up, perhaps strangely, just the back of the pack. The 420-denier ripstop nylon with TPU coating on that one section looks waterproof and bomber. When attaching and carrying skis in the vertical ski carry mode, it'll take a lot of beating and grinding of skis, edges and poles and likely last the test of time. With surgical tubing for the lower ski carry loop and a reliable voile strap for the upper loop, the vertical ski carry option looks to be the best and most sturdy set up for this pack. The rest of the pack material is 210-denier ripstop coating. I suspect that if you're more in the habit of using an A-frame ski carry mount, that the pack may have a significantly shorter lifespan. 
Starting from the back, beneath the first zipper, you will find a deep lined pocket. This is one of my favourite features of the pack. The built in lining is designed to house your wet, dripping skins, in their own pocket, keeping the moisture away from the main compartment, keeping the rest of your gear dry. The one potential downside of this pocket is the depth to opening size ratio. For skins it works beautifully, for anything smaller, it is fairly difficult to reach anything in the bottom of the pocket with the relatively small pocket opening.
Moving one zipper back, is a specialized avy gear compartment. The organization freak will love this section. It's a got a sheath for your probe, and your shovel and shovel handle each with Velcro adjustable sizing for a precise fit. Provided you pack it correctly it could potentially shave a few valuable seconds of your avy search readiness, not having to dig through the rest of your gear to quickly access the rescue essentials. In the bottom of this section you'll find grommets embedded into the pack in which you can run through straps needed to carry crampons or other gear. You'll also find pull toggles for the ice axe loops. Combined with the compression straps on top of the pack for carrying your ropes, this pack is legit when it comes to being ready for full on mountaineering if you're one that looks to go where no tracks have gone before.
Designed with avalanche safety and mountaineering in mind, specially designed sheaths to probe and shovel handle.

The main compartment comes in at 35 litres in standard setup with a hydration bladder pouch slot. When venturing a little further out for multi day trips it also got a handy Velcro pouch in which you can pull out a pack extension providing an additional 10 litres of pack space. I particularly liked the multiple access points to the main compartment to provide easy access for either A-frame ski carry mounts of vertical mounts. If you/re utilizing an A-frame mount, the traditional top access allows you easy entry without removing your skis. If you're in a vertical ski carry, you've got side access to the main compartment. It is of course also nice not having to dig down from the top entry in the dark to get to that extra pair of dry socks at the bottom of the compartment.
The usual features of an emergency whistle on the sternum strap are there and handy. On the arm straps there are two interesting, if not over engineered elastic pieces that I assume would be for holding your hydration tube. It could also potentially be used as an easy clip on point for easy access if you're carrying along extra gadgets like a GPS, altimeter or camera. The waist belt fell short on features compared to other packs I've used in the past. Most notably, there are not waist belt pockets for grabbing your energy bar on the move.
Features:
- A frame and vertical ski carry systems – fully adjustable for any ski size
- 35 liter main compartment expandable to 45 litres
- Sheaths for probe, shovel and handle – easy/quick access to avy gear
- Retractable Ice axe carry loops
- Lined front pocket for keeping wet skins away from dry gear
- Side and top access to main compartment
- Removable aluminum pack frame
Large top access point to the main compartment – expandable from 35 liter to 45 liters.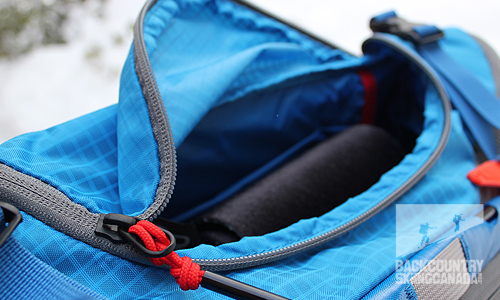 Hydration pack compatible.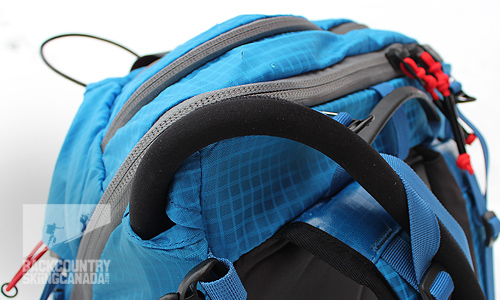 Sternum strap with emergency whistle. Red elastic staps for attaching gadgets like gps, altimeter.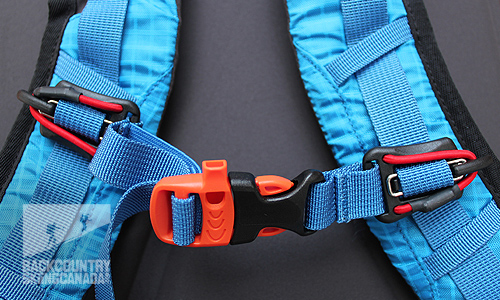 Main compartment – with expandable top to go to 45 litres. One more shot of the Hydration sleeve on the shoulder strap.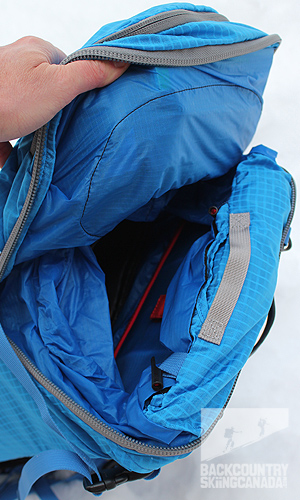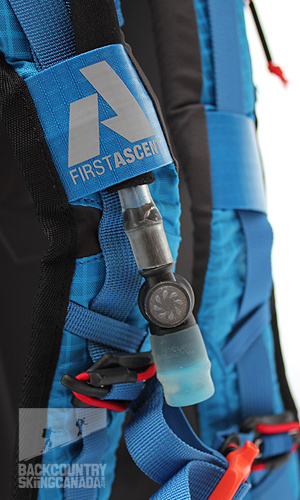 Pack fully extended to 45 liter max with compression strap and water resistant top cover for expanded main compartment.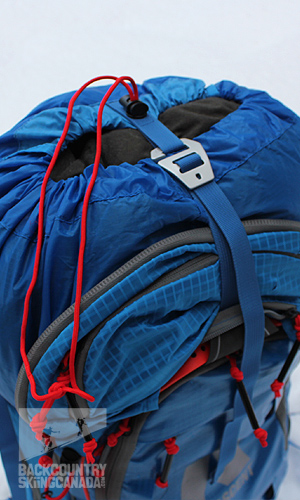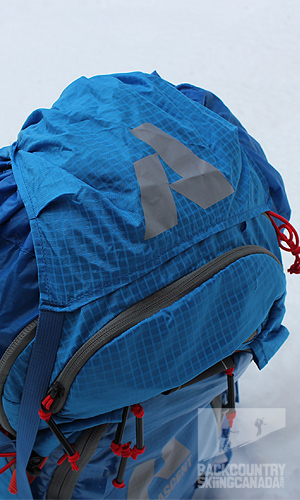 Top pocket for easy access items.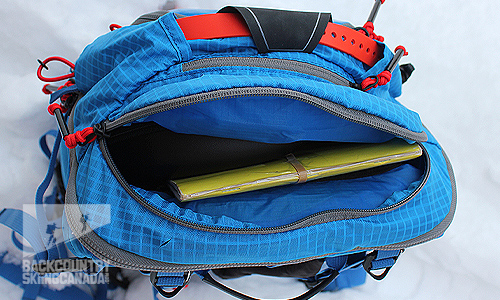 Zippers Galore! The 420 Denier Rip stop with TPU waterproofing coating is attractive and bomber.
Verdict:
Overall, it's a highly technical pack that clearly had a lot of input from real world, high end backcountry ski touring pros. If you're that person that likes the latest gadgets, and nifty features to show off and enjoy while keeping everything in its place, you'll likely love this pack. It's versatile enough to be your one pack for most backcountry trips. In places it feels as if they were looking to go as hi-tech as possible, and perhaps missed a few basic pieces along the way.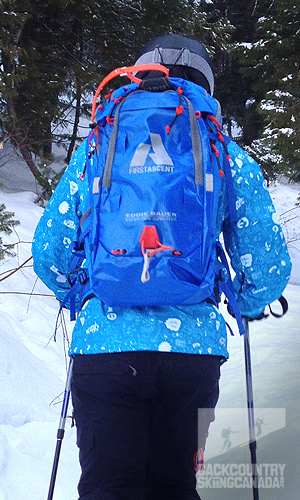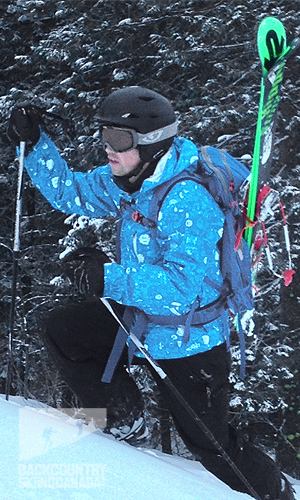 SPECS:
Price: $249 US
Weight: 1767g / 3.9lb
Colour: Blue
PROS:
- Tech'd out with lots of innovative features
- Adaptability with expandable pack size
- Designed specifically for backcountry skiing / mountaineering gear
- Sturdy ripstop fabric
- Expands from 35 - 45 Litre carrying capacity
CONS:
- Over-engineered for the average skier
- Lots of dangling zippers, toggles, ski loops, etc for potential snags
- No waist belt pockets
- Would be nice to have the stronger 420 denier ripstop fabric on the sides for A-frame ski mounts as well.
Rating: 7/10
Comfort / Fit       1.5/2
Features              1.5/2
Durability            1.5/2
Function              1/2
Quality / Price     1.5/2
This is only our opinion. Do you disagree? Did we miss something? Are we totally out to lunch? Join the discussion in the forums here, and let us know what you think. People like/dislike gear for different reasons so chime in and we'll get a well-rounded evaluation.
---

---
Backcountry skiing is an inherently dangerous activity that requires experience and knowledge to travel safely. Any of the routes on this site may be dangerous depending on conditions. You are responsible for your own safety in the backcounty—the team behind backcountryskiingcanada.com disclaim any responsibility for any injury resulting from people travelling on routes described on this site.  To read our Terms of Use and get all the details, read HERE. 
---